In this lead generation, we got 3D specifications, and VR featured apps for our Android smart devices. Along with that, Virtual Reality Apps are one of the current hives for android users. The newest VR technology is designed to play virtual video games and be used for many cool VR apps for Android smartphones. First, to run any VR apps, you need to connect a VR Headset Box via Bluetooth or W-LAN with your Android devices. It can be used on your Android phones, Smart TV, or any kind of Android gadget.
Best VR Apps For Android
---
No worries about getting or download a VR application. Because there are plenty of free VR supporting Apps available in the play store, so that you can easily enjoy the motion or 360-degree cinemas, YouTube videos, Animations, or can surf in Google Earth and for many more entertainments. Now, if you are curious to know more about some of the best VR Apps for your Android devices, then don't stop reading here. Just keep scrolling till the end for vast information about the top 20 VR apps for android devices.
1. Cardboard
---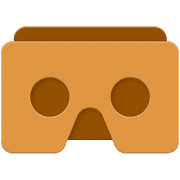 To get better Virtual Reality Experiences and for more android VR apps. Cardboard is the best of all and a complete package of VR apps store. Basically, Google LLC has developed this VR cloud store, especially for android users who have VR boxes to use. You can storage many Virtual Reality apps from the Cardboard library store. Discover the newest apps daily from the cardboard store and jump into the thrilling experience of realistic views.
Important Features
The QR code scanner is available for the viewers at convention options to see.

Free VR apps are available in this Cardboard android app, including some demo Virtual apps too.

Enjoy personal 360° videos and images from your phone gallery through this app in the massive screen.

Play VR features video games via LAN with your friends with the help of this Virtual reality app.

Get hundreds of VR games and exciting entertainment apps for android devices in the Cardboard store.

Set forth of view on cultural artifact shows to make good observations from every angle.
2. Expeditions
---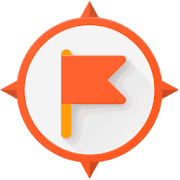 This unique VR app will navigate you to real-world experiences on VR trips. Without leaving your room, you will get to see the AR objectives of different places you can only dream of visiting. With this android virtual reality App, you can visit hundreds of cities, roads, historical landmarks. You can even go under the deep ocean and explore many more places with your VR devices.
Important features
You can connect your VR set with this android VR app to the same Wi-Fi network.

Change the viewing aspect lighting ratio from day to night mode for a great atmosphere.

In this VR app, you can pinch to zoom any object while you are surfing a place.

You can get the benefits of using this VR app on your Tablet or Chromebook too.

There are 800 plus expeditions to set for VR imageries to explore and get into the travel mood.

Use this app as the tour guide in a projector. So that students can learn about places practically in the classroom.
Download
3. Netflix VR
---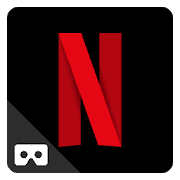 Want to pass the lazier time full of excitement and enjoy Netflix TV shows or dramas in VR mode. Then this Android VR app is way too perfect for your satisfaction. There is great control over your TV screen mode in this app, and it will let you feel like a small movie theatre without popcorns. This 3D theatre room looks like a pretty realistic theatre room in the VR applications.
Important Features
A great virtual reality application for Netflix users who has a VR headset of their own.

You can stream on the Netflix server and search for your favorite tv shows with this VR app.

Just set up the VR headset with your device where the Netflix screen allows this app to play.

Share your favorite blog posts from Netflix shows in social media with this Netflix VR app.

To run this app, you just need to install the 'Daydream' android VR app store; then, you can play.

Great sound quality like a home set theatre, so plugin the headphone with the device to enjoy your most loving TV series.
4. VaR's VR Video Player
---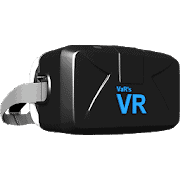 Most virtual reality video players unable to complete the best graphics performances. This one is way too popular and still now the most downloaded VR player than the other video players. Easy configurations and setup procedures will be mesmerizing your viewing perceptions.
For a perfect and true appetite for a VR life experience, you can download this best VR app for your android smartphone. It has a great self-control system and auto-generation of interesting videos to show base on your tastes.
Important Features
There are two types of video playing mode: the normal mode and 2nd one is the stereo mode.

Check on the immersive mode to change your VR control system with your purpose of interest.

Before download videos, preview any video with a thumbnail viewing mode in this app browser.

Auto-detect subtitles of videos without being select or download additionally from the browser.

Control over all display parameters of eyesight distance, the field of view, and lens correction also.

This app gives full access to display brightness, contrast, saturation, color mode to the users.
5. VR Theater for Cardboard
---
If you are just looking for a perfect VR Theater app to enjoy your movies in peace mode. This outbound VR player is good enough for your android device. The developer uploaded this app in the apps store, not for earning, so it is totally free to download from the google play store. Though this app has limited features as it is still under development. But you will love the basic features of this Cardboard VR app, I guess so.
Important Features
Though this app is under maintenance, it still has a great quality viewing mode.

A sight-activated VR control systems that can pull out on the screen while watching a movie.

You can change the screen ratio, 3D formation, and the viewing experience in this VR theatre.

In the seek-bar, you will get the playback button and theatre's screen re-alignment options too.

Browse from internal storage or download from existing videos to store in the 'MY videos' section.

If you have any queries or problems using this app, then there is a full instruction guideline given by the developer.
6. Daydream
---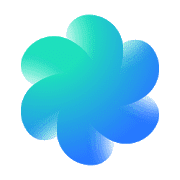 For a high-quality VR experience, the Daydream app is an excellent example of the best VR android apps store. You can lunch thousands of VR apps and exciting games from this VR store. Set up a comfortable setting according to your vision. Explore new and trendy virtual reality applications daily through this app.
Put a collection into your app's library with eye-thrilling android apps and immersive VR games in this apps store. This app brings so many cool features content, which is given below.
Important Features
It supports most of the VR headset box which is available to buy in the market.

You can enjoy the view of VR google street in the 360° mode to do free movements.

Easily set up the VR tools like VR glasses, VR remote controller, VR gamepad, and other gadgets.

With this VR app store, get a daily update of the newest apps, games, and their future versions in the notification.

In the Daydream app's VR setting, you can choose your hand side for authentication to use VR accessories.
7. Within VR – Cinematic Virtual Reality
---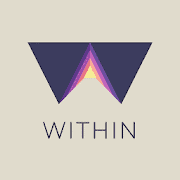 What if you can enjoy your favorite CGI film or animated movies in a VR headset. This is only possible by this Virtual Reality app to give such opportunities. Not only can you just enjoy animation but also many 360-degree videos, animal documentaries or shows, any videos shoot by GoPro camera, and more. You can adjust the quality of your cinemas or videos from lowest to highest resolutions. Just turn on the app onto any android device and plug it into connecting with the VR set to enjoy.
Important Features
There is a curated library, including hundreds of motion and virtual videos and games.

Enjoy the award-winning virtual documentaries, short films, animal planets videos, and more 360° videos.

This cinematic virtual reality app uploads the best creators, filmmakers, and festival movies to their video store.

Get the experience of the fastest live streaming video with the help of this app from online sources.

Some fun-loving interactive animal games are also available in this VR android app for kids.

It is totally free to download from the play store and contains no charges or ad services.
8. VR Player
---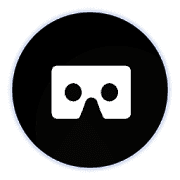 To watch any VR cinema from your phone storage of the saved videos. Firstly, A VR player needs to get installed on your android phone. This VR cinema player is good with its gestures and multiple options. In the virtual reality, mode gets the ultimate experience of HD and up to 4K video clips from any supported android devices—an easy and friendly interface to use and maintain this android VR player.
Important Features
Make your favorite scene save onto your device by taking a screenshot with the snipping tool.

The developer built this VR app to watch movies with full HD or up to that.

Enjoy the subtitle of any VR or plain videos. Just set up to choose your preferred subtitle.

It has an intuitive larger screen mode for a better watching experience on 360° videos.

This VR media player has a dual audios mode for boost up your listening enjoyment.

Without a VR box, you can have an easy solution to watch your personal saved videos too.
9. YouTube VR
---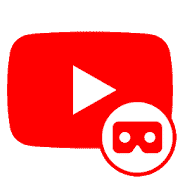 The greatest source of entertainment is YouTube for a recent generation. Let's imagine you are watching your most likely video over YouTube in a VR box and getting real-life feels. For that, the google play store presents you with the YouTube VR app to enjoy imaginary virtual videos. This VR app is only available for 3D and 360-degree videos from YouTube channels. YouTube VR app contains only to show thousands of 3D videos in one place.
This android tube app turns the platform of virtual reality videos from YouTube channels.

Experience the virtual reality content with great theatre mode by using a VR cardboard.

A microphone can be used for making voice commands over search anything in this app.

You can watch and browse to search for any video content from the app at the same time.

The sound quality is better, and doodle music facilities like you are in a movie hall.

Switch the keyboard according to your region languages and choose for voice command.
10. Titans of Space® Cardboard VR App
---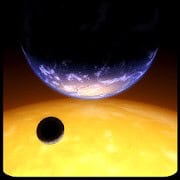 This VR app is a good way to enjoy the boundless beauty of outer spaces and stars. However, it is impossible to make a whole ride of space to space for you. It will still give you the warm ride as short tours from one space to another one. This program runs upon your android phone if the Google Cardboard is installed. To get the better performance of this VR app, make sure to have a proper compatibility configuration in your smartphone.
Shows the actual distance and measurements of the planets and moons in the background.

Enjoy the full delight colors on the space tour through this android app.

Turn on the voice narration option on the green panel setting during the tour period.

Display the information of the solar system at every planet stoppage on the cockpit dashboard.

Most of the details show in English, and it can translate the continent details base on your language.

Contain the most introductory music according to your space journey and just relax to enjoy the soundtracks.
11. MXVR Player
---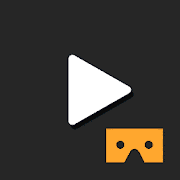 There is nothing new remain to say about various types of VR players. But what if you get your most favorite MX video player as a 360° video VR player. One of the excellent facts is you can use this VR player to see 360° clips with or without VR headset tools. Also, any sort of 2D and 3D videos from any sources into your android devices. Let's welcome you in the amazing world of 360° to roam around the VR video clips.
Important Features
Supports all kinds of VR videos and GoPro video format in this VR player.

Operate any link or website to play directly for any sort of cinematic clips or videos.

This free android app holds up most of the VR headset to work on your devices.

Virtual reality images and movies can easily watch through the MXVR player.

As part of the performance, this VR player supports playing 360 videos and general videos to enjoy.

It may ask for storage permission, but this one is compatible with all android devices.
12. VR Media Player- 360° Viewer App
---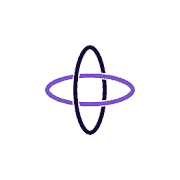 This epic VR media player will be the first choice for a full widescreen of virtual reality shows. It has a very smooth gesture and a very iconic natural look in the surface. With this app, you can easily play any type of video from mp4 to 4k resolution videos from your device storage. It contains a 3D stereo format of 360-degree cinematic videos. This app is supported by the Google cardboard and available in other Android devices, which can mount the display for the phone.
Important Features
A total of 4 types of fisheye lenses are in this VR player android app.

You can use the gyro sensor rotation to see around while using the VR box.

This VR app supports google map photo and image spheres into the other geographical format.

Change the viewing style like fish-eye view sight, spear eyesight, and ultra-widescreen mode.

Open and change the storage path of any supported images and saved videos from your mobile.

Browse for more online videos and by directing with any URL to open 360-degree videos from this app.
13. VR Roller Coaster- GALAXY 360

°

in Deep Space
---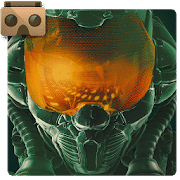 To surf into a galaxy, you just need to be an astronaut or get the approbation from NASA. Take a deep breath and get ready to step into the virtual deep space. Feel the remote space territories in the 360° mode in a virtual coaster ride. Visit the universes and get a shuttle from one remote space station to another station with your virtual image. On this exciting galaxy trip on a virtual roller coaster, you will have a peaceful soundtrack and great lighting combination throughout the whole journey.
Important Features
Designed for some compatibility android devices by using google cardboard for this VR app.

You will be lucky to roaming in the space with many different types of rides and sites.

Most of the rides featured the unique atmosphere and real lighting solar system.

Give you the thrill of balance gravity and experience the infinity beauty of space in this virtual reality android app.

The perfect combination of viewing pixels while riding on the VR roller coaster without having a VR cardboard.

Provide Ultra high definition graphics ride of the galaxy, turning your head to see a full 360° view with the help of VR glasses.
14. Sites in VR
---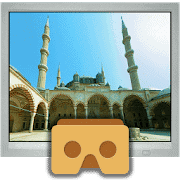 You love to travel and want to explore every possible ancient creation around the world. But sadly, you cannot avail to pay for visits in different historical landmarks or places at the same time or to have a low budget to travel to those places. So, google cardboard presents a great package of various site images of different countries on your phone. This travel VR app is cooler than any other VR apps. You can zoom for more close observation of any VR/AR objects.
Important Features
It has an integrated QR code scanner to link up with any type of VR cardboard headset.

Enjoy the widescreen mode from your phone or the inside of the VR glass.

In this virtual traveling world, get a high definition image quality to observe everything from the site's view.

There is no need for a gyroscope or compass to navigate your destination of site viewing.

Pinch to zoom in or out any small object to larger images with the site's free VR apps.

From Asia to Europe, it almost contains 20 countries' sites with different heritages views, old cities, bookmark architectures, and tools, etc.
15. Littlstar- VR Video Network
---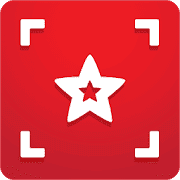 A great platform for entertainment with delighted sources. Experience the world's best VR content from the biggest brands and channels. Hundreds of video content and TV shows appear in this app. For the biggest server to search, Learn, and discover the top-listed 3D and 360-degree videos Everday. Enjoy any 360-degree videos without having a VR headset with this android app. Just tile around the motion of the phone screen to watch the videos in VR mode.
Important Features
In this app, get the 360° panoramic videos and VR Cinematic clips of brand channels.

There is a set in the categorize segment format with hundreds of cool 3D videos.

The option to use gadgets on touch screen gestures or gyroscope to have control in the video.

You can follow your favorite animator or show creator in the fundamental social community.

Move your phone for motion gestures to watch any 360-degree content with or without a VR set.

Save your most loved video collections by starring in the category of 'My videos' option.
16. Oculus – VR Apps Store
---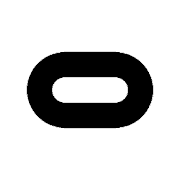 A great source of android and full of categorizes VR apps store is Oculus. Manage your VR video players, VR games, and other VR apps in this apps store manager. You can install hundreds of VR games instantly from this VR apps store. Many trendy paid and top free virtual reality android apps are listed in this cloud store to download. Get the latest and new app update notifications from this VR apps store.
Important Features
Buy and install hundreds of cool and exciting VR games from this store.

Manage and maintain your Oculus account, VR apps, and notifications with the store.

Build a community to get connected with your oculus friends via this VR android app.

Get the latest contents and app updates of the daily provision sector on the home page.

Play games or can enjoy any cinematic events in real-time with your oculus buddies.

Lunch any virtual reality android apps with this for live broadcasting and share directly in the social pounds.
17. Coastiality
---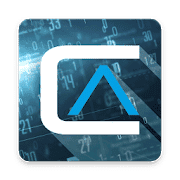 A totally new concept has hit this unique VR app for Android. A dream park of the virtual world with great graphical creations can see from your android devices. A mind-blowing combination of costars rides in the different surfaces or backgrounds with exciting side music or sounds. That will take you to a dream parkland without just moving an inch from your place. Jump into the vision of a virtual adventure journey with many dangerous seafaring and breath-taking roller-coaster rides.
Important Features
Ride in world-class roller-coasters and unlock many exciting events from the app.

The fabulous VR video recordings will take you to the center of the main attraction.

Discover and take a peek at the world's best and nearby European theme parks from this app.

Zero cost for any 360-degree VR video clip to see or download from this android VR app.

You can buy real tickets from Alpen express Coastiality of any Europa theme park directly.

Re-live from this exciting roller-coaster adventure with realistic natural sounds of screaming and riding.
18. Skydiving- VR 360

°

Watch Free
---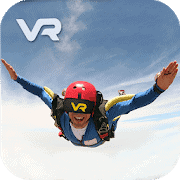 You might be wonder how is the feeling when you are flying in the sky recklessly? And you are at 4000 meters up from the ground. Well, don't worry, we are not talking about throwing you out from the plane's window. But we are talking about an android VR app that will give you the fun of skydiving by sitting on your couch.
For fearless and dynamic people who have a VR box and an android mobile. He/she may then try this virtual reality app to enjoy the thrilling experiences of 360-degree footage of skydiving in VR mode.
Important Features
Enjoy a free-falling skydiving training and flying mode from this VR app.

Multitasking 3D simulations movements for the whole time of riding in the sky.

The Hill station fun on Paragliding in the hilly environment and realistic mode on a flying machine.

Have full driving control in paragliding and free to do the course of action in this VR mode.

You can also try the Skyscraper Air Race, tumble, and many tricks and stunts through the sky to perform.

US military skydiving and wingsuit VR videos will let you think that you are a professional skydiver.
19. Caribbean- VR Google Cardboard
---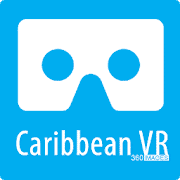 The sun gets overheated, and you are pissed off with your regular lifelines and just looking for a vacation trip on a beach or an island. But in the meanwhile, you are busy with your works and daily life routines. So, an easy solution is, first, to step out to your balcony or outdoor.
Second, take your VR set with you and install this Caribbean VR app into your android phone. Lastly, sit back to your favorite chair to enjoy the 360° view of sunny bunny Caribbean islands as you wish.
Important Features
It helps to find nearby beaches and islands to enjoy with your VR box.

Without a VR headset, you can just enjoy a plain view onto your phone screen.

Select your headset mode for advanced options to see better results and features on viewing.

The supported developers are Google Cardboard, Homido, Zeiss VR One, GearVR, and more other headsets.

Pay a virtual trip on the amazing Pinel Island, St Maarten, St Barts, and the magic Sandy Islands.
20. Gizmo- VR 360

°

Player App
---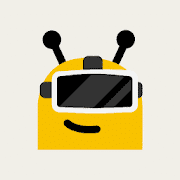 Get the most pro specifications in this VR player to run any 360° videos with your phone. Now you might wonder why I choose this VR player on this list. A new state of the art in this player will lead you to a whole new world of superior and fascinating contact with virtual life. An all-new version of this android app really worth paying a great performance in the cinematic mode. Install it and see its magic.
Important Features
Build-in an integrated browser for playing or downloading any 3D or 360° videos directly from the internet.

You can playback YouTube videos and supported videos inside of this VR app on your android phone.

Auto-stop playing videos and get pause when the VR headset disconnect or remove from the devices.

Control the VR apps with an electric gaze or a remote in the free-hand mode and manage your screen.

It has a flexible playback setting and automatically frames the videos on the aspect ratio of your VR screen.

In the media library, capture your favorite and save the download VR files from the browser for offline view.
Finally, Insight
---
For entertaining us, VR players and apps play a significant role in android users. Those virtual reality apps are not just used to entertain us but also have many useful sights. To relax and enjoy any 3D shows or 360° videos from your android phones, all you need is to install a good VR media player too.
There are hundreds of VR players and VR apps in the play store. I put the most outstanding list of free android VR apps in this article compared to most of them. You may find out different types of VR apps that maybe not be used as video players or for similar purposes.
Now, this is impossible to install every possible free VR apps on your android phone. Some apps may require a higher android version for better performance, or some may be eligible with any android devices.
So, it is good to have a broader idea about them and how those apps work. From my observation, 'Google Cardboard' and 'VaR's VR Player' are the total combinations of all the other VR apps. Most of the listed apps in this content are supported by google cardboard.