File manager in Linux systems plays an important role in organizing and managing the file system. It is the main interface used by Linux users to access the data and folders. With Linux file managers, you can easily copy, move, delete files or create new directories.
Linux users are spoilt for choice with a wide range of Linux file managers, each with its own unique features. To help you choose the Linux file manager that best meets your needs, here's our review of 20 of the most popular Linux File Managers.
Best Linux File Manager
---
There are many excellent file managers available for Linux, and in this article, we will explore some of the best options. Whether you are a seasoned Linux user or new to the platform, we think you'll find something here to increase your experience. So let's get started.
1. Dolphin
---
Dolphin is a free, open-source application that's also lightweight. It's the default file manager for KDE environments. What sets Dolphin apart are its features: double panels, multi-tabs, and split view–all of which make it very user-friendly. Not to mention you can browse both local files and remote ones too. And if that weren't enough, it has a zoom drag bar as well as encryption capabilities. So basically, it's perfect for new users!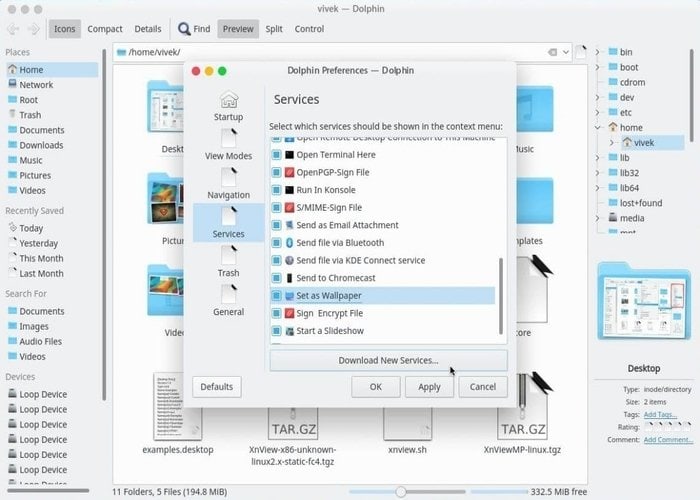 Important Features
The application can preview both local and remote files.
This software can open multiple tabs simultaneously.
This software had a backward and forward button to undo or redo previous steps.
The split view lets you effortlessly and rapidly copy or move files.
You can choose from three different types of view styles.
2. Nautilus File Manager
---
The Nautilus file manager is a popular choice for the GNOME desktop environment thanks to its clean and simple interface. While it comes with primary and essential functions, you can extend its features by adding plugins. This is the default Ubuntu file manager.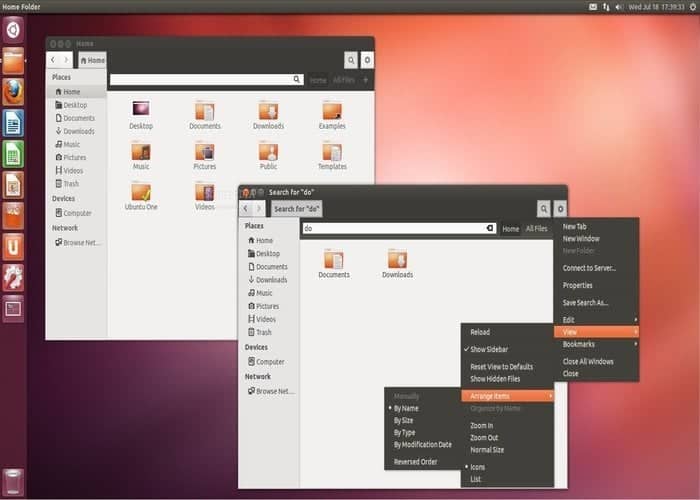 Important Features
Provides three viewing options: icon, list, and compact view.
Browser mode can record the history of visiting folder.
Can browse both local and remote files.
Fast file search capability can locate any file quickly.
Undo support for the back step.
3. Thunar
---
Thunar is not nearly as popular as other software options, but its functional quality is much better. This application comes with Xfce by default, but it can be used on different desktop environments and still work well.
Thunar is very lightweight and perfect for old laptops or desktops that might not have a lot of processing power. It's easy to use, even if it doesn't have a ton of features–any additional features you need can be added through plugins.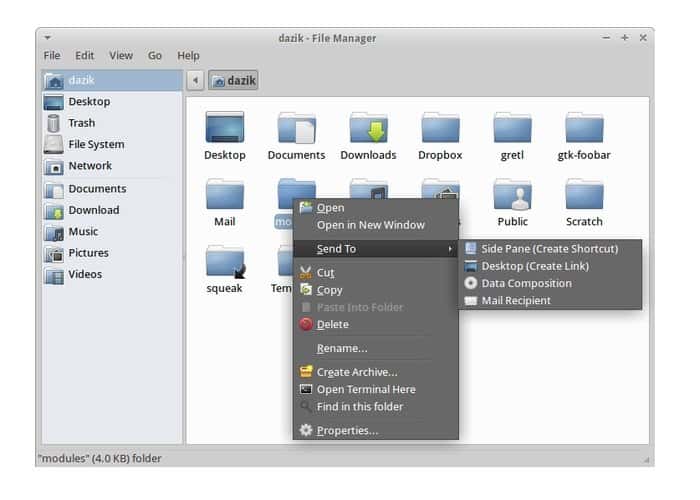 Important Features
Comes with limited features but is highly pluggable.
It has some exclusive features in hidden settings.
The application can rename various files at once.
Important information is displayed on the icon caption.
List view and order appear in the column.
4. Konqueror
---
Konqueror is a feature-rich file manager that packs a lot of punch. It's also flexible and powerful, making it ideal for any user. With Konqueror, you can open multiple tabs at once, each with three parts showcasing the files you want to see. The first part also helps you navigate quickly and easily. What's more, if you use Konqueror as your default file manager, it delivers superior performance every time – guaranteed!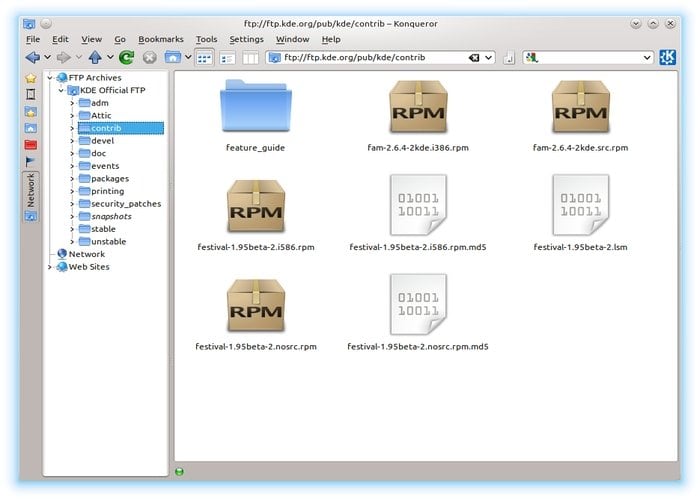 Important Features
Highly customizable as you need.
Able to rename multiple files at once.
It has access to SFTP and FTP servers.
Allows seeing the property and changing attributes.
Deleting, moving, and copying can be made easily by dragging and dropping of files.
5. Midnight Commander
---
Midnight Commander is a text-mode file manager for Ubuntu that operates in full-screen mode. Novice and expert users alike can find their way around this software easily, as it employs two panels to display the file system navigator. Selected files are moved using arrow keys, while functional operations such as editing, copying, and renaming use dedicated buttons.
Additionally, Midnight Commander supports connecting to remote file sources, issue commands, syntax highlighting within code editors, manipulating archives, and much more.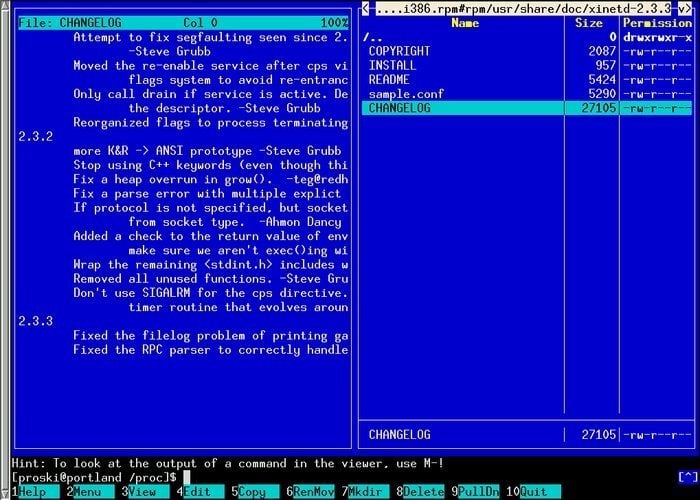 Important Features
Allows common directory manipulations like renaming, linking, moving, copying, and deleting.
Any file can be searched by file content or a file name which works just like a dictionary search result.
Archive files can be treated as .zip and .tar.
The user needed a hotlist of commonly used directories that can be created with the application.
6. Krusader
---
Krusader is a top-tier Linux file manager that was created shortly after Midnight commander. It greatly improves upon the design of its predecessor while still retaining many of the features that made Midnight commander so popular.
Krusader's interface is graphical, allowing for easy navigation with either mouse or keyboard commands. One of its most distinguishing features is its dual pane display which shows the directory name at the top of each pane.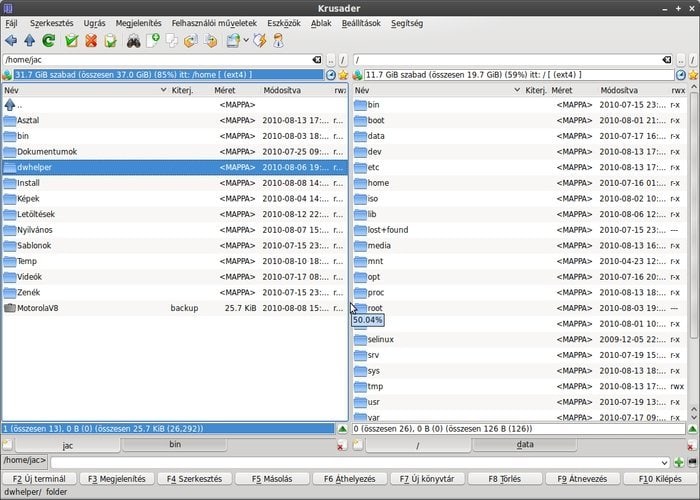 Important Features
Extensive archives can be handled.
The advanced search option allows both file name and file type search.
File transfer can be done quickly with FTP.
Two panes view for quick navigation.
7. PCMan File Manager
---
PCMan is a quick, lightweight file manager for Linux that takes up little space on your computer. It's widely used because of its small size and ability to run on old machines. Even though it's such a small application, PCMan has a lot of features. For example, if you use any Linux web browser, you can open multiple tabs in PCMan.
You can also transfer files between tabs. On the side panel, there is built-in volume management as well as options to bookmark pages, search for files, drag and drop them, and plenty more useful features.
Important Features
Quick start-up.
You can open multiple tabs at once and dragging of files between them.
Clean, clear, and easy user interface.
Contains multiple view options such as icon view, detailed view, compact view, and thumbnail view.
Bookmark support.
8. Nemo File Manager
---
Nemo is a widely used file manager among those familiar with Linux Mint. It is the default file manager for the Cinnamon desktop environment. It is lightweight yet packed full of important features. You'll find options for forward, back, up, and refresh–plus bookmarking capabilities. Plus many more useful options! Another great option is that Nemo displays the progress of any operation involving moving or copying files.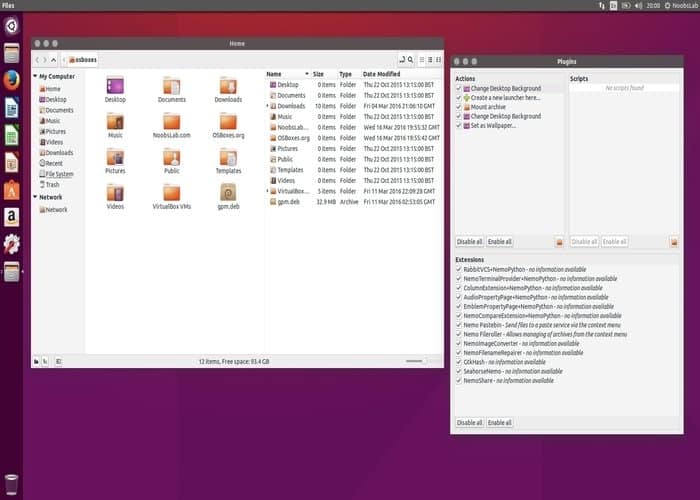 Important Features
Application shows the actual progress of the operation.
Contains bookmark management.
It contains all navigation options, including back, forward, up, and refresh.
Contains all the missing features of Nautilus.
9. XFE
---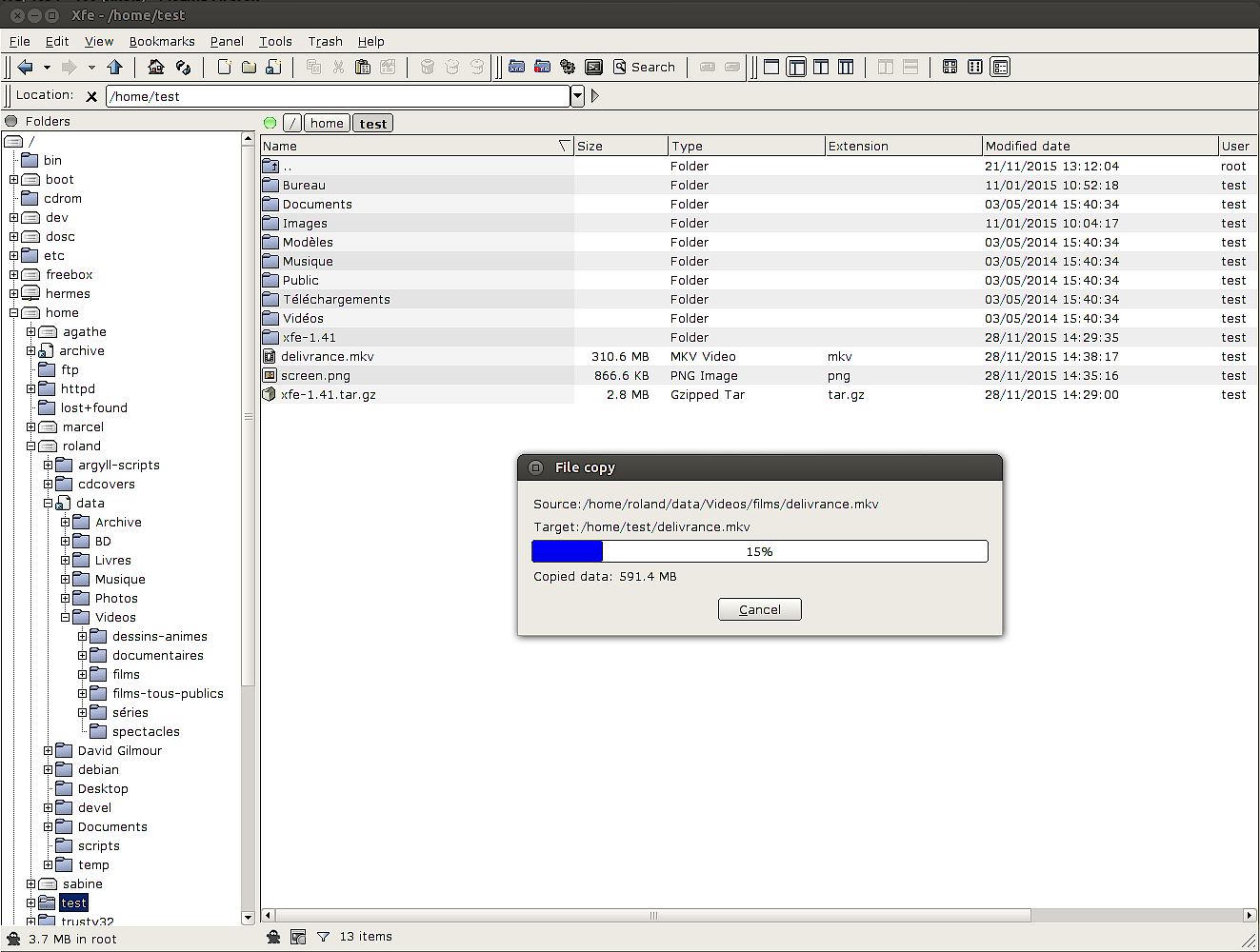 XFE is a user-friendly Linux file manager that rivals some of the best ones out there, like midnight commander or MS Explorer. You can easily configure it to your own preferences and style, whether you want one directory pane or two! Additionally, XFE supports bookmarking and can be used in 18 languages, making it the perfect choice for any Linux/Unix desktop user.
10. emelFM2 File Manager
---
EmelFM2 is a file manager application that runs on most Linux distros. It contains many of the standard features you would find in new, modern file managers but also has some unique features which set it apart from the others.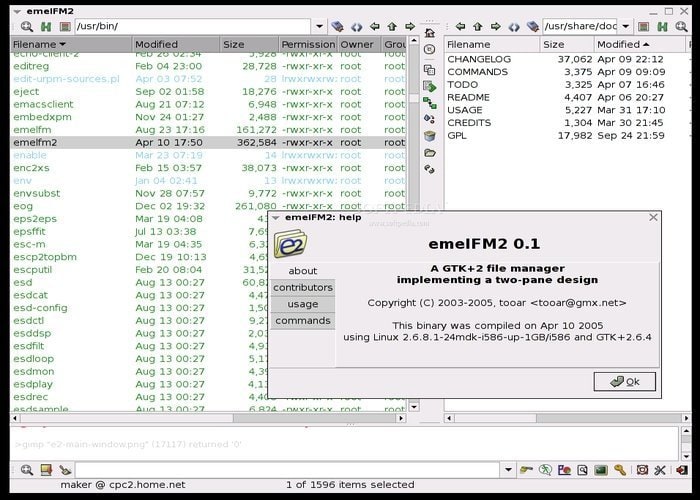 Important Features
The default system shows two panes layout of directories.
Two pane layouts can be configured into one.
Mounted file systems and archives can be handled with emelFM2.
Features can be used by creating keyboard shortcuts.
11. Nemo
---
Nemo is one of the best Linux file managers available and is free to use. It has a plethora of modern features, including GTK bookmarks, progress information, versatile navigation, and many more. Nemo also comes with Cinnamon by default. It is an excellent file manager that offers everything you could possibly want or need in a management suite.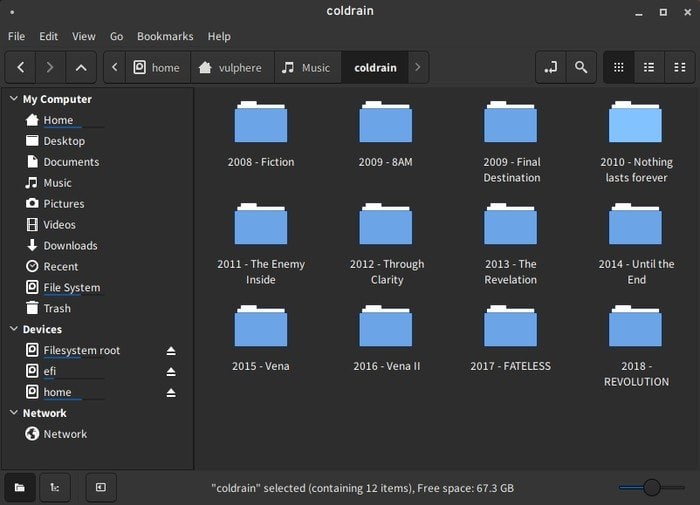 Features of Nemo
Nemo is built on top of GTK and utilizes GNOME's virtual filesystem GVfs alongside the GIO library.
It allows users the ability to open files in the terminal and open them as root.
The configuration options are vast and allow users to toggle between the path entry and breadcrumb widgets.
Nemo is exceptionally customizable and can be extended easily using many third-party plugins.
12. Gentoo
---
Gentoo is a powerful file manager that runs well on most Linux and BSD systems. It has a sleek GTK+ build which makes it look cool and appealing. Some of its modern features include two panes, file typing, and an innovative styling system. If you have ever used Total Commander, you'll find Gentoo similar in many ways – and useful too.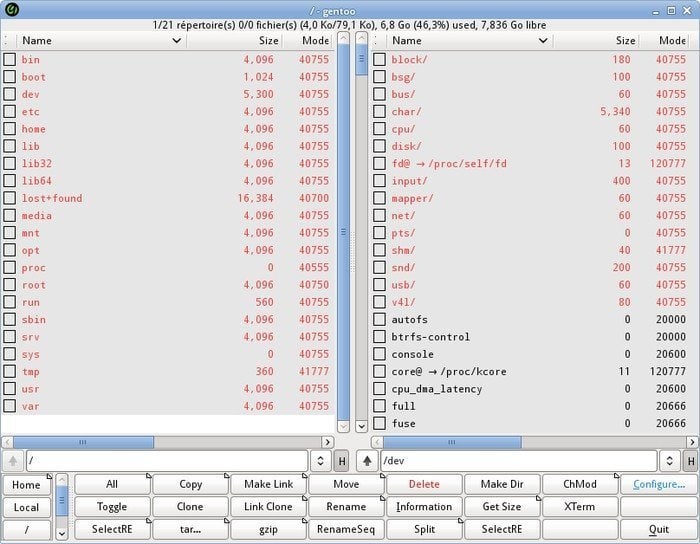 Features of Gentoo
It is among the fastest Linux file manager you can use on one of your old PCs or laptops.
The software comes pre-packed with an innovative set of over a hundred specially crafted icons.
Its open-source GNU GPL licensing allows users to modify Gentoo as per their requirements.
Gentoo isn't to be confused with the Gentoo Linux distro; in fact, the former coined the name first.
13. ranger
---
ranger is a powerful file manager for Linux that comes with an impressive amount of features, like VI keybindings. If you're looking for a reliable console file manager that doesn't require much in terms of resources, the ranger file manager is definitely one of the best choices out there. Plus, since the source code is publicly available and licensed under GPL, anyone can modify it to their own needs and preferences.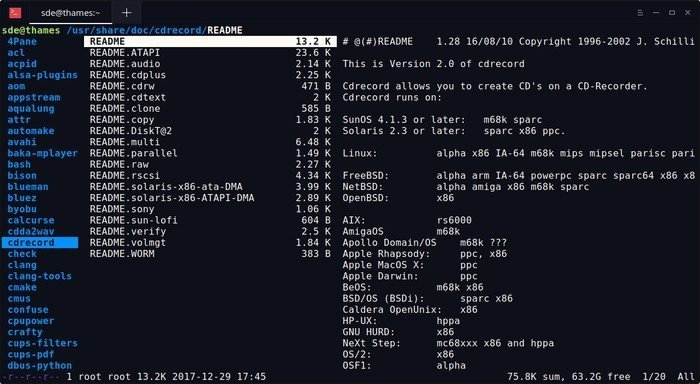 Features of ranger
ranger is written in Python and requires Python versions 2.6 or 3.1/onwards alongside the curses module to run the program.
It has default support for multi-column display and allows users to preview files or directories directly from the terminal.
Ranger enables users to rename multiple documents simultaneously alongside other everyday file operations like create/chmod.
It can detect file types automatically and chooses the appropriate programs required to run them from the command line.
14. Caja
---
Caja is the by-default file manager that comes with the MATE desktop environment. It has a beautiful, modern interface yet remains easy to use. With Caja, you can explore directories, start programs, and even preview files – all while handling both local and remote filesystems simultaneously. If you're in love with MATE (like we are), then Caja is definitely one of the best file managers for your system out there.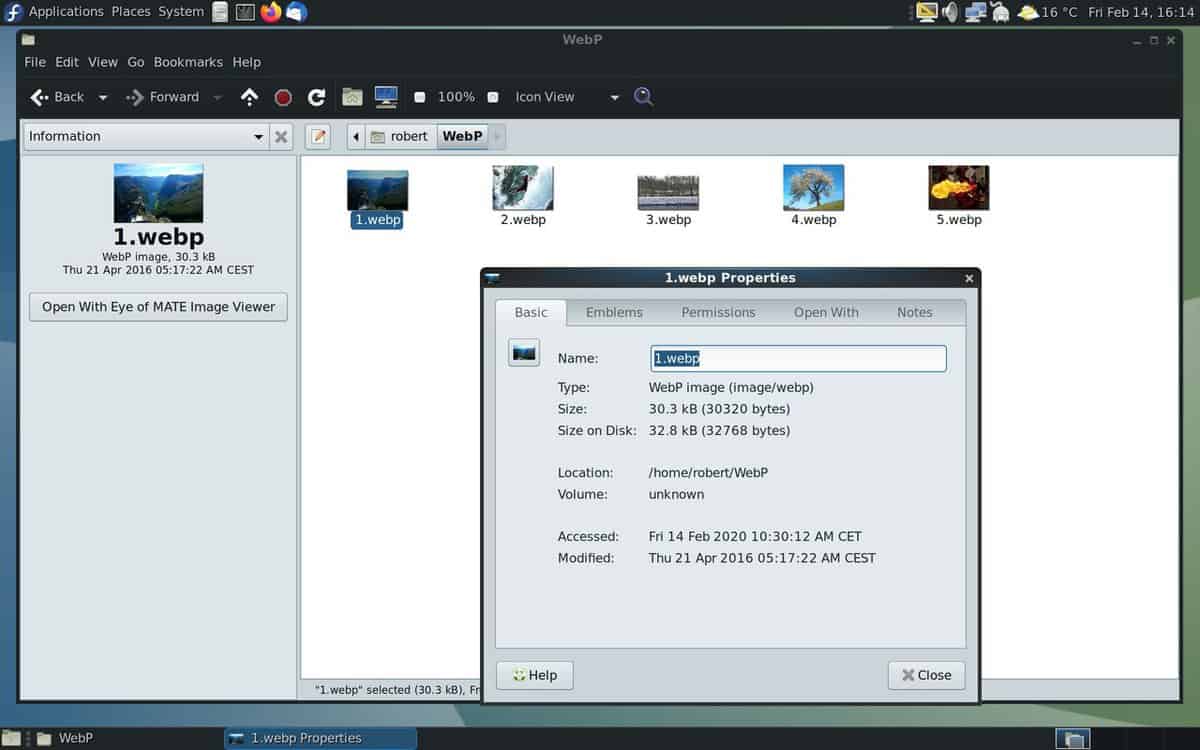 Features of Caja
Caja follows in the footstep of GNOME Nautilus and sports a visually appealing yet user-friendly GUI interface.
The split and tree views are very productive while adding emblems or folder backgrounds is relatively easy.
Caja allows users to run scripts or launch applications directly from the Linux file manager.
Its versatile customization capabilities make arranging your system's files and folders fun.
15. Vifm
---
Vifm is, without a doubt, one of the best console file managers for Linux. If you're looking for a robust and lightweight file manager with a Vi[m]-like environment, then Vifm is the perfect solution. It utilizes the curses interface in order to achieve this and is extremely efficient. Plus, if you already use Vi[m], then you won't have to learn any new commands!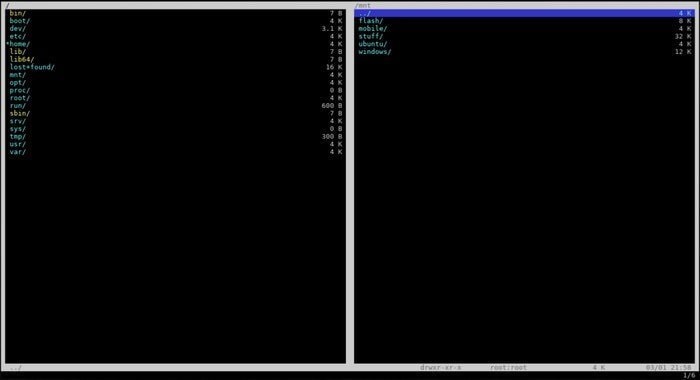 Features of Vifm
It has vim-like user mappings, command-line mode, marks, and registers and supports features like multi-block selection and remote command execution.
Vifm provides users the ability to script directory-specific configurations and allows smooth integration with GNU Screen and tmux.
It offers various customization capabilities, including color schemes and decorations based on file types/names.
Vifm allows shell-like external console editing and offers both one and two-pane views.
16. Double Commander
---
Double Commander is a console file manager for Linux that was inspired by Total Commander. It is written in Object Pascal, and the source code is available to the public under the GNU GPL license. Double Commander has many features, such as two side-by-side panels, a built-in text editor, file viewer, and text search. Out of all resource-efficient file managers for old Linux machines, Double Commander runs the smoothest no matter what hardware it's being used on.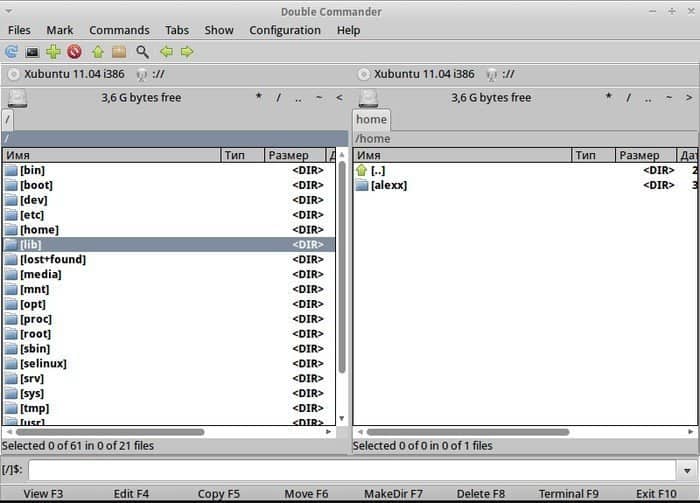 Features of Double Commander
The internal text editor supports syntax highlighting, and the file viewer allows one to view files either in hex, binary, or text format.
It comes with an in-built, powerful multi-rename tool that makes it easy to manage large directories with files having similar filenames.
Double Commander enables users to copy files to/from archives as if they were subdirectories.
The button bar is entirely customizable and allows the calling of external programs or internal menu commands.
17. fman
---
If you're in the market for a Linux file manager that is both contemporary and easy to use, fman may be the right choice for you. File management can often feel like a daunting task, but with fman, it is streamlined and straightforward. Some of its key features include dual-pane support, quick jump functionality, as well as plugin support.
The design is minimalistic yet robust – perfect for those who are looking for an uncomplicated solution. Keep in mind that fman is proprietary software still under development, so expect periodic changes and updates down the line.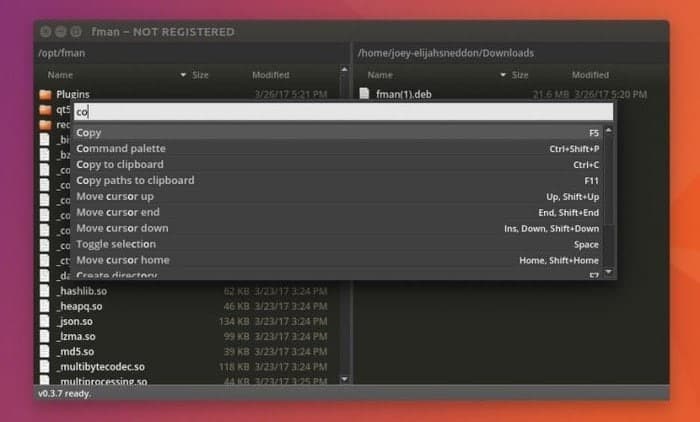 Features of fman
fman is highly customizable and can be extended conveniently using custom plugins.
It relies heavily on keyboard shortcuts, which can prove to be a viable productivity booster for many.
fman allows users to mount external drives such as HDD/SSD very efficiently and without hassle.
The software can quickly move between directories and provides many robust search mechanisms.
18. Polo File Manager
---
Polo File Manager is an intelligent file manager crafted with a focus on multi-pane, archive support, cloud storage, and much more. It has a sleek GUI interface that's easy to use and lets you boot ISO files in KVM or run KVM images. Moreover, Polo File Manager lets sysadmins create USB boot devices on the go using plugins.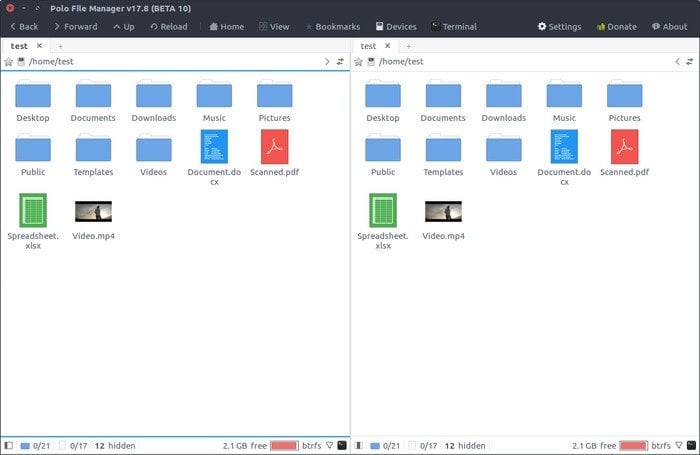 Features of Polo File Manager
The software features a flexible layout grid that can be configured for several views, including Classic icons, Commander Icons, and Extreme.
Users can connect to the file manager remotely via FTP, SFTP, SSH, and Samba / Windows shares.
Polo File Manager is highly customizable and supports several GTK themes like Adapta-Eta-Maia, Adapta-Maia, Adwaita, Emacs, and HighContrast.
The plugin support includes an ISO device burner, an Image plugin, a PDF plugin, and a Video download plugin.
19. PeaZip
---
If you're looking for a streamlined, unified file management solution for Linux or BSD systems, PeaZip is definitely worth checking out. It's free to use and very lightweight, plus it offers native support for the PAE archive format. In terms of supported file extensions, it comes in at an impressive 188!
PeaZip has many file management capabilities, such as multiple views, advanced search, and bookmarking. If you want a portable file manager that is straightforward and does its job well, PeaZip could be the right fit for you.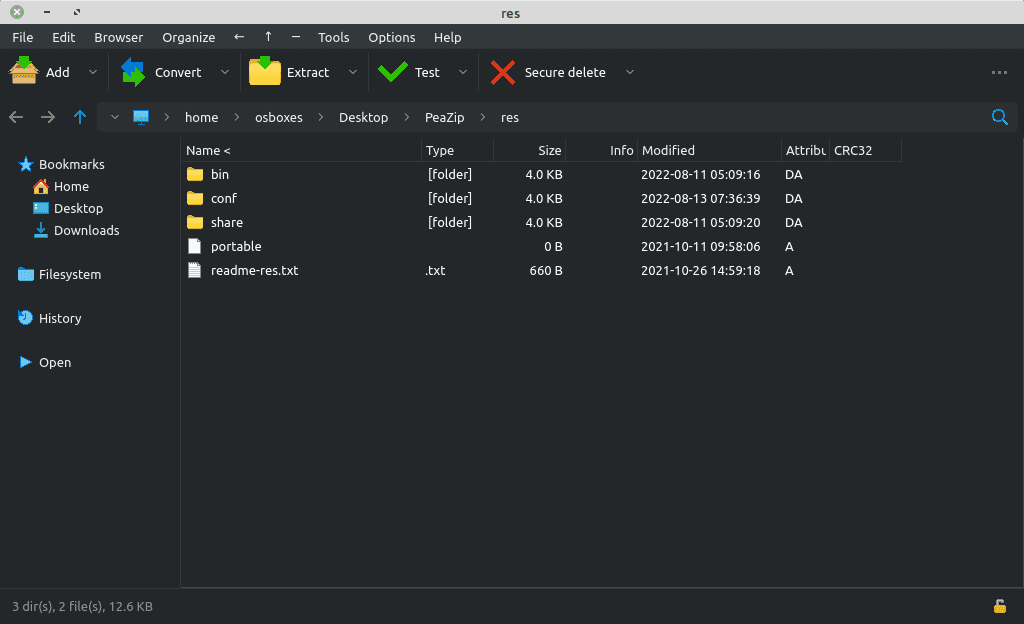 Features of PeaZip
The software allows strong encryption support in the form of two-factor authentication and provides a built-in password manager.
It can create, extract, and convert multiple archives simultaneously and quickly split or merge files.
The open-source GNU GPL license of the software allows complete modification of the original project.
PeaZip can be handy when calculating checksums or hashes and can check them correctly.
20. muCommander
---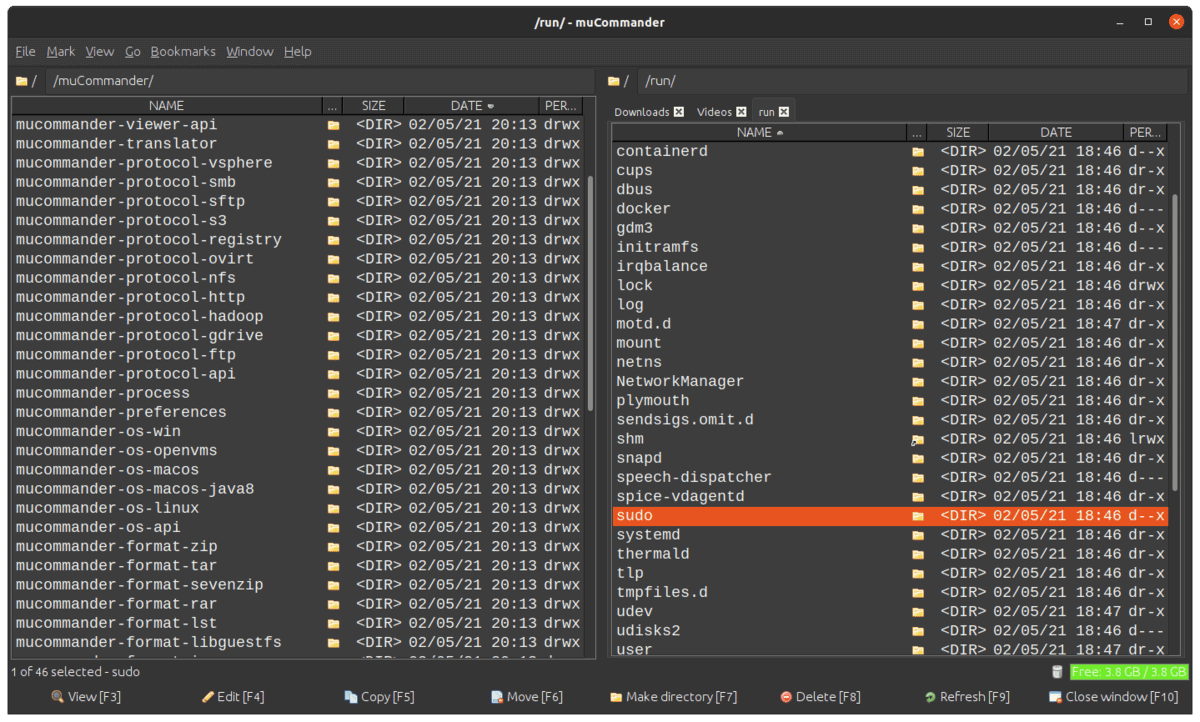 If you're looking for a Linux file manager that is elegant, intuitive, and powerful all at the same time, muCommander could be a great option. It supports several different formats, such as ZIP, Tar, 7z, rar, and more. Moreover, it even comes with an integrated text editor, which makes editing files a breeze.
Features of muCommander
Supports a multi-tab interface which makes it quite convenient to work with multiple directories at the same time.
Allows the user to lock files and folders using copy-on-write, making them read-only for other applications.
Has an inbuilt FTP, SFTP, and WebDAV client, which makes uploading/downloading files to remote servers hassle-free.
Supports several different Linux file systems natively, including ext3, ext4, Btrfs, and ZFS, among others.
Customizable, with plenty of configuration options available for power users.
Integrates with version control systems like SVN and Git, allowing users to keep track of their file changes.
FAQ: Best Linux File Manager
---
Q: What is the best Linux file manager?
A: It depends on your needs. Some of the best Linux file managers are Nautilus, Thunar, Dolphin, Nemo, PCManFM, Konqueror, and Midnight Commander. Each of these has unique features that may be more or less suitable for you, depending on your needs.
Q: Does Linux have a built-in file manager?
A: Yes, Linux does have a built-in file manager – Nautilus (also known as Files). It is the default file manager for most Linux distributions and comes with many features, such as multi-pane layouts, archive support, cloud integration, and more.
Q: Is the Linux file manager free?
A: Most Linux file managers are open-source and available for free download from their official websites. Some may offer additional features such as in-app purchases or paid subscriptions. In any case, Linux users can find a suitable file manager at no cost if they do some research.
Q: Does Linux have a graphical file manager?
A: Yes, Linux does have graphical file managers. The most popular Linux graphical file managers are Nautilus (also known as Files), Thunar, Dolphin, Nemo, PCManFM, Konqueror, and Midnight Commander.
Q: What Linux file manager is best for beginners?
A: For Linux beginners, the best Linux file managers are Nautilus (also known as Files), Thunar, and Dolphin. These file managers are easy to use and have a graphical interface that makes navigation straightforward. They also come with helpful tutorials, making it easier for Linux beginners to get started.
Q: What Linux file manager is the fastest?
A: The fastest Linux file manager is Midnight Commander. It has a text-based user interface which allows for fast navigation and file operations. It is highly configurable, allowing users to customize their experience as they see fit.
Q: What Linux file manager has the best features?
A: The Linux file manager with the best features is muCommander. It supports several different formats, such as ZIP, Tar, 7z, rar, and more. In addition to that, it also has an inbuilt FTP/SFTP client and version control integration. On top of all that, the file manager is highly customizable, with plenty of configuration options available for power users. This makes muCommander the Linux file manager with the best features.
Bottom Line
---
In this article, we will be discussing the 20 best file managers for Linux distributions. Although each application varies in terms of functionality, they all share some essential features that make them unique and superior to other options.
While making your final selection, you can closely investigate the features of each option. Or else, try out a few file managers and see for yourself which one works best "out of the box." If you liked this article, please share it on social media. And don't forget to leave your suggestions and experiences in the comments below!