In this connected world, everything is meant to be shared with the world. So, why not your computer screen? If you want to record and share the things going on your Windows computer's display, then you must need a screen recording software for Windows. From gameplay to a workflow, anything can be recorded as video files by using the screen recorder. Some software can give you the flexibility of editing and share the recording right from the app. In fact, screen recording has become part and parcel of distance learning and homeschooling.
Best Screen Recording Software for Windows PC
---
Nowadays, even smartphones are capable of recording the screen. So, undoubtedly the Windows operating system will provide you more flexibility on that. Therefore, there are many free and paid screen recording software for PC available out there. Even Windows 10 has a built-in screen recording function. But that is pretty basic.
So, it's better to use third-party software featuring more customizations. Since screen recording is a sensitive task, you need to pick the best and trust-worthy software. Therefore, I am providing you a list of the best screen recording software for Windows PC.
1. OBS Studio
---
OBS Studio is a popular open-source software for different platforms. There's barely any kind of streaming and recording related tasks that you can't do using this powerful software. The performance and capabilities totally justify the word "Studio" in the name. And the OBS portion stands for Open Broadcaster Software.
Screen recording is just a single part of its collection of great features. You can even manage a complete television or IPTV channel using OBS Studio. But above all, this tool can record individual windows, browsers, slideshows, and much more. And, the tool is very lightweight and completely free to use.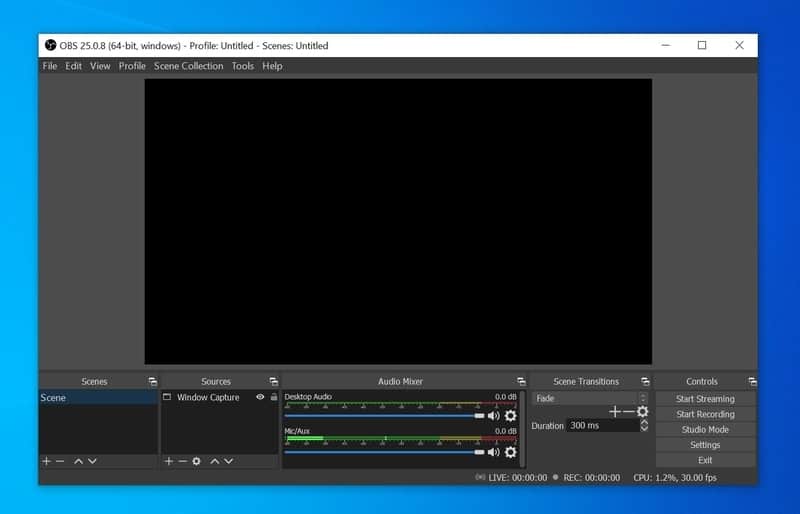 Key Features
You can set up different internal and external sources for recording.
The voice-over recording is much easier with this app that is great for recording tutorials.
It doesn't provide any recording limit or watermarks on the recording.
You can live stream the recording in real-time by using the built-in feature.
The recording parameters, such as resolution, aspect ratio, fps, etc., can be controlled individually.
Pros: The free and open-source code is the power of this tool. You will get community-developed features, and you don't have to take the hassle of licensing or registration.
Cons: Since this is a multi-purpose tool loaded with a lot of advanced features, it's difficult to master this tool for a beginner.
2. Camtasia Screen Recorder and Video Editor
---
This is a popular video creation tool for Windows PC. However, this tool is many people's first choice for screen recording. This is because of the powerful annotation and markup tools inside this software. All these things make it a great program for recording walkthroughs and tutorials.
Since all the good things come at a cost, you will have to buy the license, which is not that affordable. But there is a free trial option for you to check out before buying. I am sure that you will be convinced.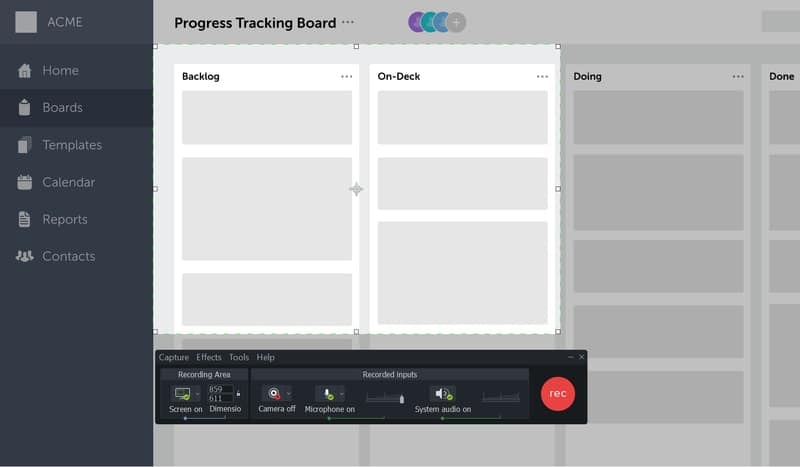 Key Features
This screen recording software for Windows is great for creating explainer and instructional videos.
You can add texts, effects, transitions, and much more in real-time.
This tool is capable of taking input from the mic and webcam while recording the screen.
It can add interactive quizzes inside the screen record to engage the audiences.
The theming option is great if you want to promote your brand inside the captured screen.
Pros: This tool is designed for online educators in mind. So if you are a teacher of an online course, then this is a must pick for you.
Cons: The price is very costly. Besides, there's no option to buy the screen recorder tool with less money, which is a bummer.
3. Filmora Scrn
---
Filmora Scrn is yet another powerful Windows screen recording software for recording your workflow on the computer. This tool is almost similar to Camtasia in terms of features and functionalities. However, if you are a regular user of Wondershare's other productivity tools, you know quite well that they design the UI beautifully.
You will find the same intuitive user interface that doesn't require a steep learning curve. Rather you can just focus on your contents and creativity while making something great with this software.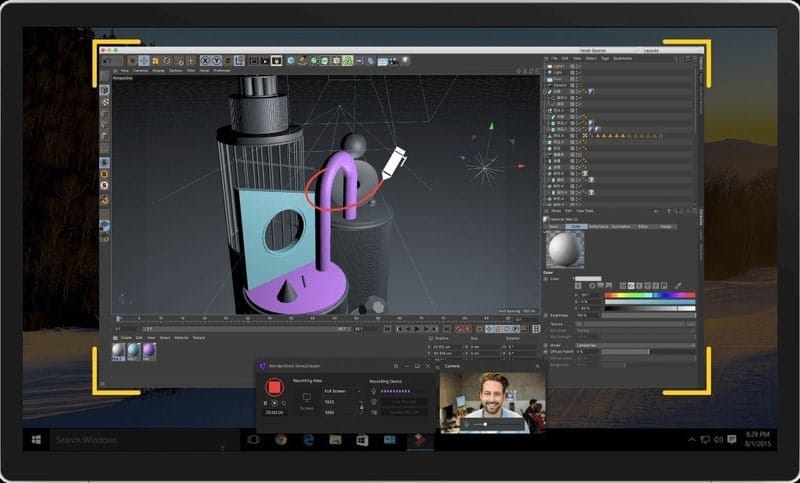 Key Features
This tool lets you draw on the screen while recording for explaining things.
You can use the zooming feature for highlighting your activity with the cursor.
The built-in video editor has a lot of graphical elements that you can use on your video.
You can specify a particular area on the screen, and only that will be recorded.
It supports high framerate recording up to 120fps for game capture.
Pros: This program is loaded with all the advanced features, and it costs less than other premium tools in this category. This is a life-saver for budget buyers.
Cons: The complimentary editing suite is not that convenient to use. Some people reported lags and hiccups while using that.
4. Free Cam
---
Free Cam is a feature-rich screen recording tool available for your computers. But don't let the name fool you. Because this is not a totally free screen recording software for Windows. Rather if you want to get advanced features like annotations and high-resolution recording, you must buy the pro version.
The free version is limited to just 760p recording with only WMV format. This is an annoying thing. They should have provided the MP4 recording in the free version. Other than that, this is a pretty capable tool with the most beginner-friendly user interface.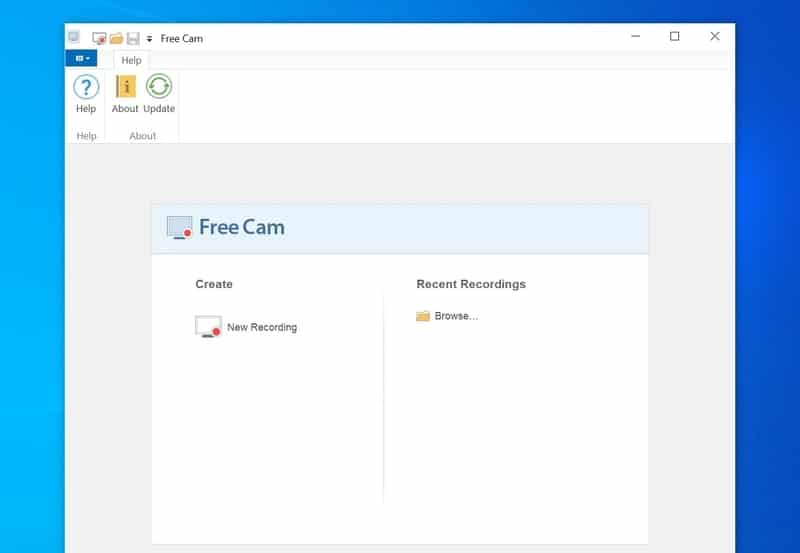 Key Features
It has an advanced voice and video recording feature with denoising.
The built-in video editor is great for fine-tuning your videos.
There is a large elements library for use on the recorded screen.
This tool is integrated with third party services for sharing videos online.
You can select custom areas on the screen for recording.
Pros: The UI is simple, clean, and minimalist. You can launch the screen recorder quickly during an emergency, which is a great advantage.
Cons: The pro version doesn't have a lifetime licensing option, and the yearly charge is unbearable for most users.
5. ShareX
---
This is a completely free and open-source tool. This is not only a mere screen recording tool, by the way. This tool has a bunch of features packed in a tiny package. Although the UI is a bit clumsy, I don't think it will create any problem for the new users.
Since the tool was intended for the power-users, there are some advanced features also. The after capture tasks are great, and you can use those to fine-tune your screen captures. Besides, the link-sharing option is very convenient if you want to share them with your colleagues.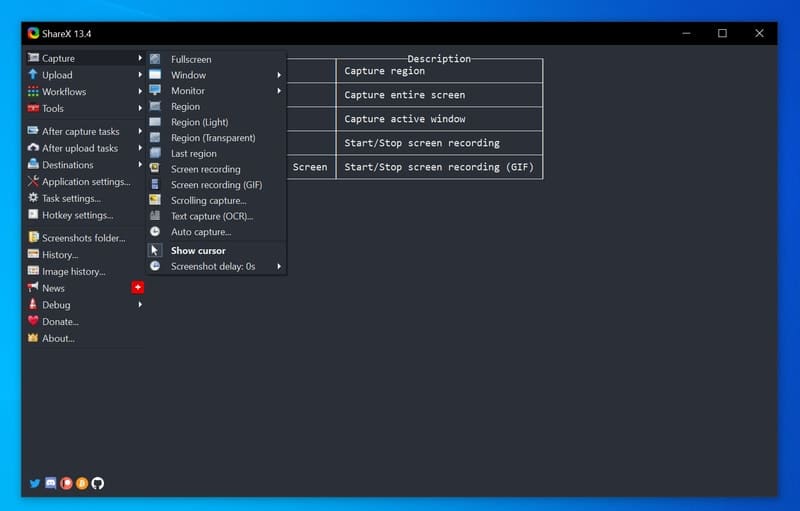 Key Features
You can import assets from your computer to use them with the screen record.
It features some screenshot features such as scrolling screenshot and much more.
You can perform full-screen capture as well as a particular region on the screen.
This tool has cloud storage sharing options built-in inside the package.
Annotation features are a great way if you want to teach with the screen recording.
Pros: No other open-source tool offers you this much productivity features inside a single package, which is the strongest side of ShareX.
Cons: To get the screen recording feature to work properly, you will need to download additional files, which is another hassle.
6. Movavi Screen Recorder
---
Movavi develops many popular productivity tools for the Windows operating system. As always, their screen recording suite totally impressed me. This is a paid tool, but you can get a free trial to check out the features. The stand-out feature of this tool is the quick launching system.
I liked the recording widget very much, and it will require just a few clicks to configure the tool and start recording completely. On top of that, you can take advanced screenshots with GIF exporting, which is superb.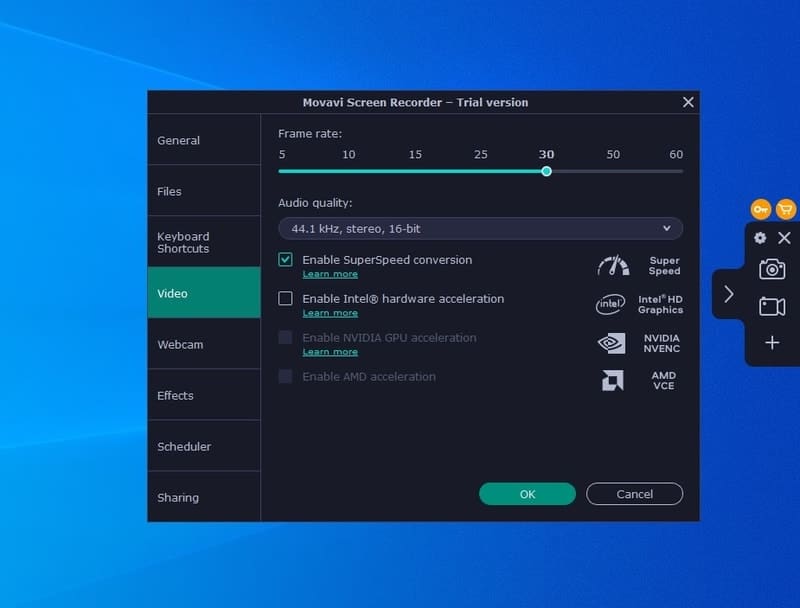 Key Features
You can record the screen with UHD resolution and high FPS without limits.
The widget sidebar provides several annotations and drawing tools.
There is a preview window to customize the recording feed in real-time.
It supports almost all the common recording formats that are compatible with any device.
Movavi Screen Recorder has a multi-track recording feature to include multiple sources in the output.
Pros: This tool provides some great advantages while using in an organization. You can share the recorded screen link directly with your co-workers without using any third party services.
Cons: The recording output is capped to 60 fps, which is not useful for gamers who want to record in 120 fps or more.
7. Ezvid Screen Recorder
---
Ezvid is originally a video wiki developed by some brilliant minds in California. Being a free-to-use video wiki site, it gained much popularity over the years. Ezvid Screen Recorder is a video capture software for Windows developed by the Ezvid team.
However, you can use this tool for free in your personal and commercial projects other than contributing to the Ezvid wiki. Although it is a special-purpose tool, you will get a lot of handy features with a powerful video editor right into the software package.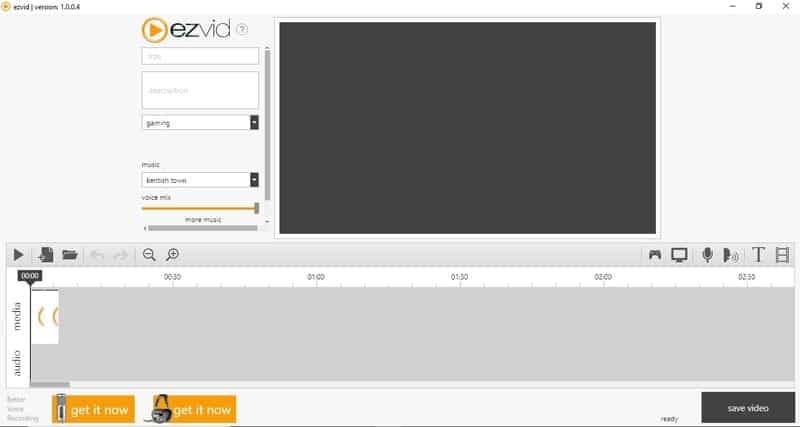 Key Features
There is a voice synthesis feature if you want to make tutorials without your own voice.
You can draw on your screen while recording, which is very convenient.
The speed of the video playback can be adjusted after recording.
You can add additional elements such as slideshow, images, videos, etc., to your screen record.
Instant face cam and HD recording is also a great addition to the awesome features.
Pros: This tool uses C++, and thus it is much faster even in weaker computers. You can even start the recording with just one click.
Cons: The drawing and annotating feature has some limitations. Besides, the user interface looks a bit old-school.
8. CamStudio
---
CamStudio is a great little open-source screen recording software for Windows. This tool is here in the game for a long time. Being a community-contributed project, we haven't seen much improvement over time. However, it still offers great value considering that you are getting it completely free of cost.
This tool can record the screen in AVI format, which is great if you record a simple workflow or something like this. There are several customization options, too, for convenience.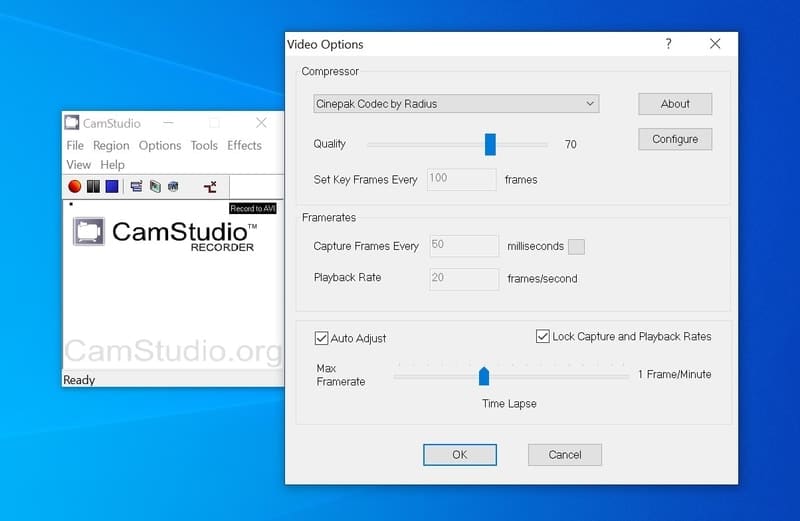 Key Features
The package is very lightweight that runs on the older versions of Windows.
It can create SWF videos that require less storage and bandwidth for sharing.
You can modify the appearance of the mouse cursor to get the viewers' attention.
There is an official forum for providing support to the users.
It comes with a proprietary codec for lossless compression of the videos.
Pros: Compatibility with the older versions of Windows without any glitches is a great strength of this tool. Besides, if you don't care about the quality, you need a small file size to pick this up.
Cons: It produces output only in AVI file format, which is not good for recording high-definition video.
9. Thundersoft Screen Recorder
---
Thundersoft Screen Recorder is another great feature-packed tool for PC users. However, the tool is not free at all. There are two different variants of this tool based on the cost. The standard version is less costly, while the pro version will require you to spend more for the one-time license.
Obviously, you will get all the screen recording features in the standard version. However, the pro version includes a handy video editing tool that is very convenient if you want to fine-tune your creation.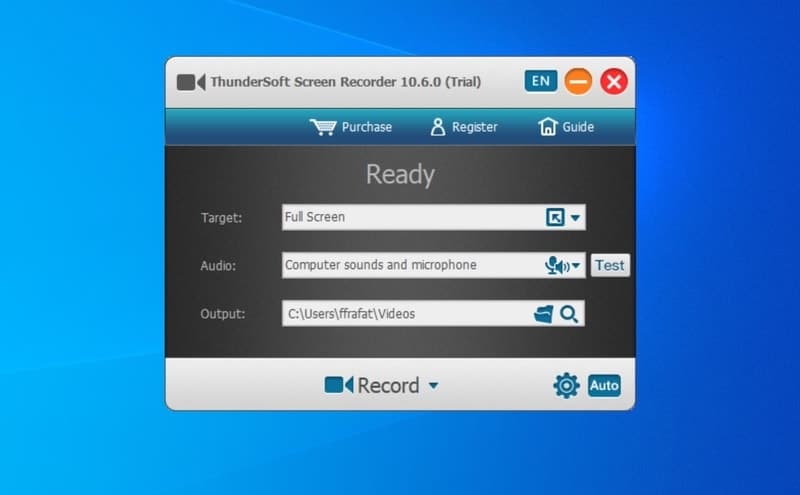 Key Features
This tool supports output in different file formats with the latest H264 codec.
You can define custom hotkeys for quick launching the record function from anywhere on the system.
Thundersoft Screen Recorder supports a dual monitor setup, which is useful for gamers and developers.
Pro version has a video editor with an easy-to-use user interface.
You can set up target windows, video sources, and audio sources in the settings.
Pros: The standard version doesn't put any limitation on the recording capability. Thus you can get all the features without spending much money except for the video editor.
Cons: This tool doesn't support annotation and additional visual effects, which is a bummer considering the price for both versions.
10. Auto Screen Recorder
---
Wisdom-Soft is the developer of this awesome piece of software. Auto Screen Recorder is a great companion for those who want a lossless screen recording for official tasks or important tutorial. A lossless video codec comes with the software to achieve maximum quality using less storage space.
Hence, this tool is very convenient for running the screen recorder all the time in the background. On top of that, you will get one of the simplest UI that even beginners can use without any issues.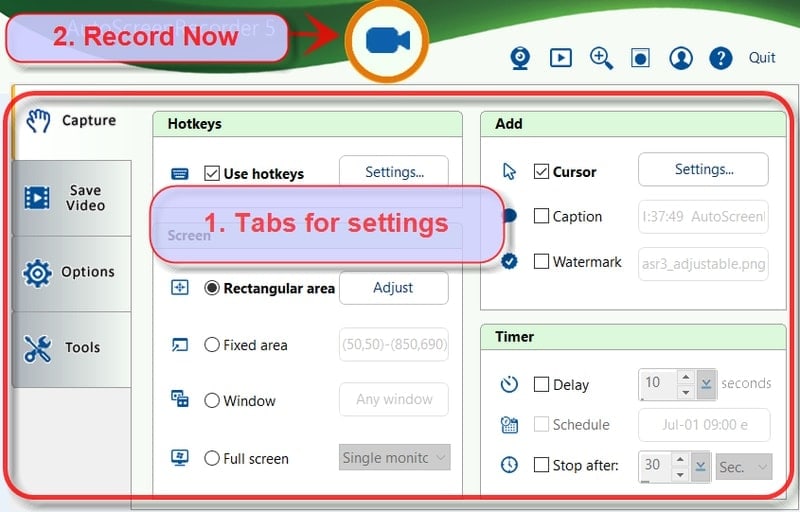 Key Features
You can adjust the cursor and mouse pointer size, colors, shape, etc.
It supports AVI file format, which uses very little storage on the hard disk.
You won't have to face any size limit or video duration limit while using this tool.
This tool will automatically install WisCodec, which is a highly efficient video codec.
There is support for setting custom timers and schedules for automatic recording start and stop.
Pros: Fully automatic recording capability without putting a load on the storage device is a great feature of this tool.
Cons: It doesn't offer any free version. Besides, the new license and up-gradation cost is huge comparing the features it provides.
11. Debut Video Capture and Screen Recorder
---
This screen recording software for Windows is developed by NCH Software. They are a popular vendor of Windows applications with a lot of popular tools in their portfolio. Unfortunately, the Debut Video Capture and Screen Recorder are not that popular. However, it offers great value for money with some exclusive features.
As you can see, this is not a free tool, and you can choose either a subscription plan or a lifetime license key for using the software. The home edition is less costly, but if you want to use this for commercial purposes, then you'd better buy the pro version for you.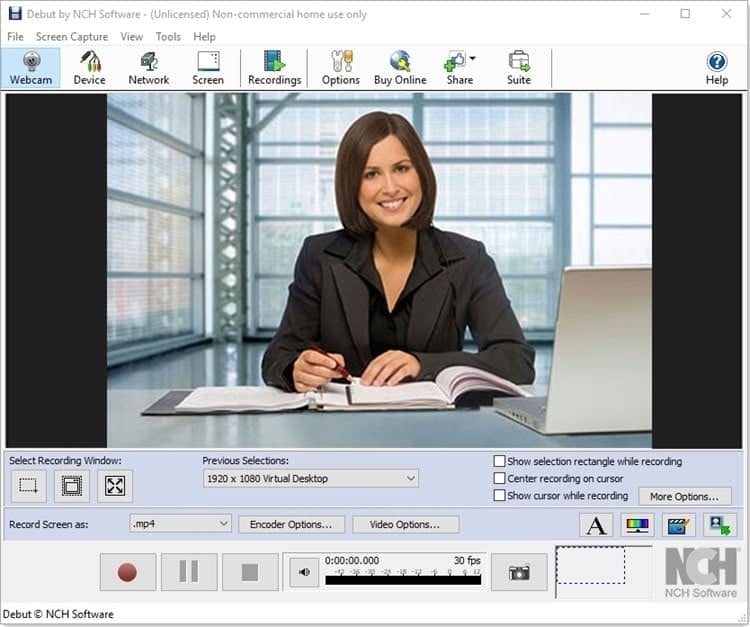 Key Features
You can capture videos from the network devices along with screen capturing.
There is a feature that can add text overlays and subtitles to your recorded screen.
You can create direct timelapse videos of your workflow, which comes really handy to keep the videos short.
It supports customizing the mouse cursor for better visibility and audience engagement.
Burning the captured screen into the DVDs is a great additional feature to mention.
Pros: You can schedule recording right into the program for automatic recording. Besides, the timelapse video feature is awesome if you want to share quick tutorials.
Cons: It doesn't offer many post-processing tools, and you will require an additional editor to complete basic editing.
12. Elgato Game Capture
---
This is a dedicated gameplay recording tool for Windows PC. Of course, you can use this as a regular screen capture software for Windows. But the dedicated features for capturing games makes it a favorite choice for the game streamers out there. This tool was developed by Elgato, which is now a part of the popular gaming hardware make Corsair.
They also make their own gaming accessories that work great with this software, which is also a benefit. And, last but not least, this is an open-source product that is completely free to use.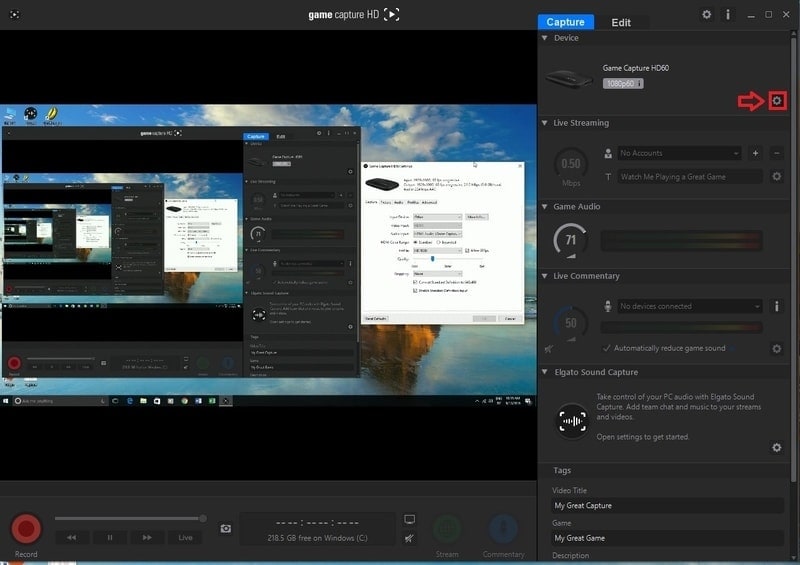 Key Features
It can record from the external capturing device for maximum performance.
You can set up your social media accounts for quick streaming.
You can monitor and tweak the sound in real-time using the graphical knobs.
The file management system is very organized for easily finding the desired file.
It can record smooth gameplay with high resolution avoiding frame drops.
Pros: If you want a screen recording software that will record your HD gameplay and utilize an external capture device, then there's nothing to beat this tool.
Cons: If you don't buy their dedicated capture devices, you will see any drastic difference using this tool over others.
13. Free Screen Video Recorder
---
This tool is developed by DVDVideoSoft and has some great features. Even you don't have to spend any money to avail the features. The thing that impressed me most is the beautiful and clean user interface. All the tools and buttons are arranged neatly on the widget. Hence, anyone can launch the recording function at ease.
The menu provides intuitive control over the windows and the recording area. Overall, from my experience, I can clearly say that you are getting much in this tool, considering it's a free tool.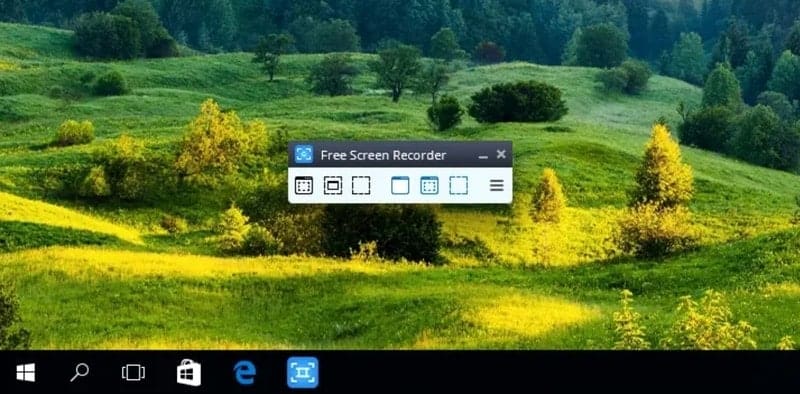 Key Features
There is a screenshot tool built-in with a powerful image editor.
You can select a particular region by dragging the mouse cursor to record.
You can capture more than one window at a time for special use-cases.
This tool can record system audio as well as from external sources.
The recording widget is very small that doesn't require much space on the desktop.
Pros: Beginner-friendly user interface and image editing features are the key selling points of this tool.
Cons: It doesn't offer customizations over the video properties such as resolution and frame rate.
14. TinyTake
---
TinyTake is a tiny screen recording software for Windows PC, which totally justifies the name. But don't underestimate the power of this tool. The developers have loaded wit with some handy features and powerful functionalities. There are four different plans to choose from, and all of them are yearly plans.
However, the basic version is free to use with 5 minutes recording limit. This is annoying considering the competitions. But you are getting 2GB of cloud storage and an online web gallery, which will compensate for that.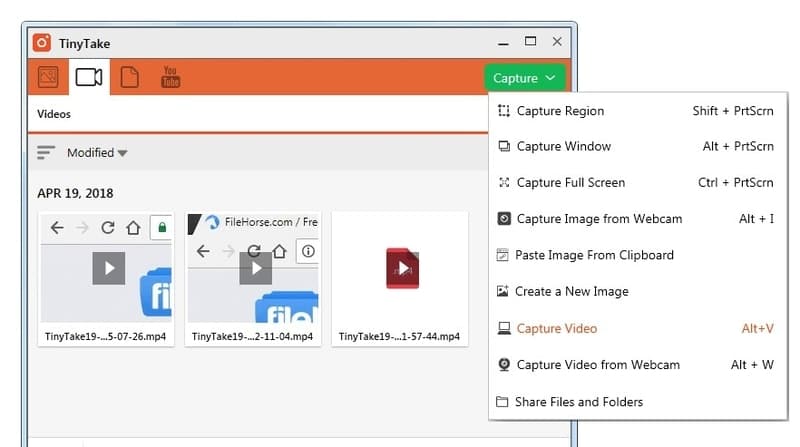 Key Features
You can save your videos to the cloud drive by using the complimentary free storage.
There is an option for assigning hotkeys to launch the recorder.
It offers YouTube integration for publishing videos directly.
The highest tier offers up to 1 TB of video storage to share with colleagues.
You can annotate on the screen using markup tools for explaining things.
Pros: I didn't find any other screen recording software that provides dedicated cloud storage for storing videos like this tool.
Cons: Even the top-tier plan has a recording limit that is not acceptable at this price point.
15. FlashBack
---
The FlashBack is a modern and elegant screen recording tool for Windows PC. There is even a video editor that comes with the package. This tool is specially optimized for recording training videos and demos. Hence, the professions can learn this tool without going through any steep learning curve.
There is even a great library of transitions, effects, and other graphical elements that you can use on your screen recording to attract the viewers. There is another version named FlashBack Express that has more advanced features.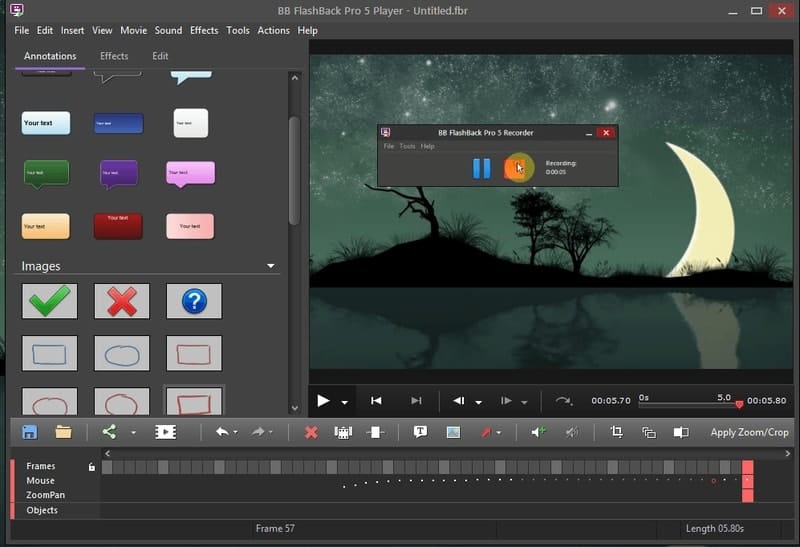 Key Features
You can start recording from three different modes, including windows, area, and fullscreen.
You can add your real-time voice commentary, which comes in handy in terms of tutorials.
It supports exporting recorded screens in multiple lossless video formats.
The editing suite is fully featured with multi-track support.
Powerful annotating and highlighting features make it a powerful competitor in this genre.
Pros: If you are going to use this tool to record video calls and software demonstrations, this is a great choice due to the annotating features.
Cons: The tool has a heavy graphical UI, which doesn't run smoothly if you have a weak CPU and less RAM.
Our Recommendation
---
Choosing a screen recording software entirely depends on your use case scenarios. If you need just basic recording without any customizations, then you can choose whatever you want. But if you don't want to lose a single frame while recording your gameplay, you have to use a recorder that is blazing fast.
In that case, Movavi Screen Recorder can help you with its 120 fps capability. But if you are looking for something for teaching online or for a software demonstration, then Filmora Scrn is my personal favorite with a bunch of post-processing features.
To Conclude
---
I hope the above list of the best screen recording software for Windows PC will help you make a firm decision regarding which screen recorder to use for your required tasks. Recording screens and distributing them has become a trend nowadays. Besides, it's helpful in many ways.
But always, keep in mind that you should not record or distribute that is an intellectual property of someone. I mean respect the copyright acts and enjoy the freedom of recording screens. By the way, please don't forget to share this resource with your friends.