Do you remember the discontinued Nylas Mail Client? Yes, being a fork of Nylas Mail Client, Mailspring affords you way better performance than the previous one. The best part about this Linux Email Client is this provides you with the native C++ sync engine. So, no more JavaScript from now on, with C++ you can rule the Email Client's world. The development team of the Mailspring Company says that they are sunsetting the elevated development of the software.
All the ideal attributes that were housed in the Nylas Mail are offered by the Mailspring now. You must thank the native C++ sync engine because this will cause you fewer dependencies and as a result, you will face less lag also.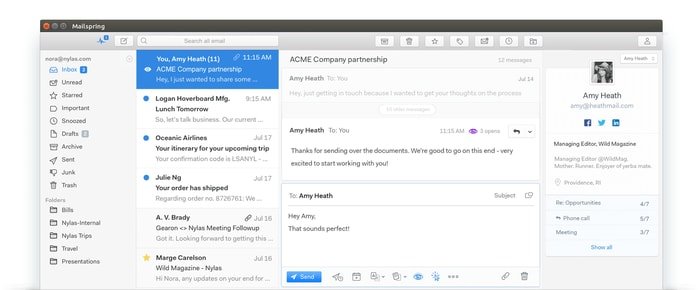 If compared to Nylas Mail, along with less lag you will also get a RAM usage reduction of up to 50%. If you were with Nyla's Spring, then you already know the details of Mailspring, but for your convenience, we are presenting them to you again.
Features of Mailspring
---
The software is free for everyone so just download and enjoy

For people who want additional features, they can also go for the Paid version of this application which is available in the name of Mailspring Pro

Partially an open-source app, you can get the source code in the GitHub

Includes a minimalist User Interface

Contains togglable panels

The User Interface is customizable

Setup can be done for multiple accounts which includes Office 365/Outlook and IMAP also

Includes quick reply templates

Ability to link tracking
Download Mailspring Email Client for Linux
Final Thought
---
As we have said, Mailspring is a FREEMIUM service and you can enjoy it just by downloading it but there are Paid versions of this cross-platform email client, and its name is Mailspring Pro. The free version may lack some features that are available on the paid version. We feel that the free version is enough to serve you but if you require some additional features then settle on the Paid version.
In companied by these features, Mailspring also contains the attribute of using advanced shortcuts and different themes and layouts. You can also go for touch and gesture support. The message language translation helps you understand the language. Spell check and signature are also added with the other features.
So have you gone through the Nylas Mail or Mailspring? Let us know which one is the best by commenting below. If you know any other profound software that we have not yet reviewed, feel free to share with us and share this with your circle.