Android TV has now become as popular as Android phones. So, lots of functions that we generally enjoy in an Android phone can be experienced in an Android TV. The first thing that comes in our mind when to enjoy Android features on a TV, is games. Yes, you can enjoy Android TV games too if you have an Android TV. Without any doubt, it will be more exciting and innovative. The games' developers so try to attach the option for tv connection in lots of popular Android games. That means you can enjoy shooting games, racing games, arcade games, and other exciting games on the big screen. 
Android TV Games to Enjoy on The Big Screen
---
It is true that thousands of game developers have added a big screen function with lots of games. But it is also true that all those games are not well enough to call the bests. Even finding some really exciting Android TV games is pretty tough because of the traffic, made by those silly games. This is why I made up my mind to show you the right way. Here, I have added 20 best Android TV games for you. Hopefully, you will find your favorite from here. 
1. Crossy Road
---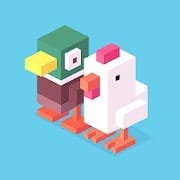 If you are fond of racing games then Crossy Road is a cool option for you. This game comes with great graphics where you will find lots of amazing and super cute creatures. You can play this game for a long time without loosing interested. Recently the new update has attached multiplayer options. Racing will be more fun with family and friends. There are also some interesting features that have made this game so popular. 
Important Features
Lots of characters including some secret one and collection of 150 retro-styled.

Can be played with more excitement on the big screen. 

Sign-in option to save the gameplay.

Advantage of playing multiple accounts.

Same device multiplayer option lets play with friends and family.

Crossroads, rivers, train tracks and lots of exciting locations.

Simple, easy and classy gameplay.
2. Highway Rider Motorcycle Racer
---
Highway Rider Motorcycle Racer is one of the most daring and furious motorcycle racing games. This is a time-killing and exciting game. Awesome graphics and slow-motion accidents and injuries give lots of charm to the gamer. You can also share the injured pictures and videos of crushing and it is another source of fun. You can also challenge your friends online. There are also some other interesting game options and features.
Important Features 
You can enjoy 4 different highways with awesome graphics.

10 locked characters with their own motorcycles.

With the online multiplayer option, play with friends.

Unlock achievement by playing in-game challenges.

2 different modes, arcade and fugitive along with Speed booster for increasing speed.

Can be played on Android TV with more excitement.
3. Rally Fury – Extreme Racing
---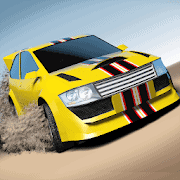 Rally Fury – Extreme Racing is another exciting racing game for racing fans. This game is a perfect rally racing game with a realistic map. The graphics of the game are also super cool. You will have a great experience of corner drift with thrilling racing. Boost up the speed with the nitro boost. A great source of fun is the multiplayer option. Multiple camera views let you play with comfort. Without these there also some other cool features.
Important Features
Experience a realistic feeling with awesome graphics.

Lots of options like painting, changing the license plate, etc. to customize the car.

Upgrade the speed, handling, accelerate and others.

Nitro boost option is here to increase the speed of your car.

Save your gameplay and no chance of losing your game progress.

Play it on android TV and enjoy the big screen.
4. AirConsole – Multiplayer Game Console
---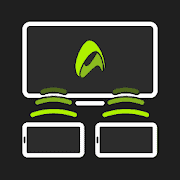 This is a big package of games specially for multiplayer games. You can play with more excitement with your friends or family members. You can use a Tablet, PC or Android TV as a console and your smartphone as a controller. It is very easy to get started with this Android TV gaming app. There are so many games and it's to decide what to play. There are also some other advantages. So I think you can have a try on the starter pack with 5 free games. 
Import features
Tablet, PC, Android TV, etc. can be used as a console's screen. 

Gaming will be a lot better with the huge screen where the smartphone can be used as a controller.

The starter package comes with 5 free games.

With monthly subscription play over 130 multiplayer games.

Play with your friends and family as there is a multiplayer option.

Easy and simple to get started with this app.
5. Manuganu 2
---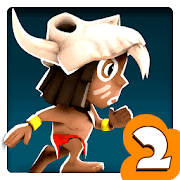 Here comes a great running advantage game Manuganu 2. You have to help the boy Manuganu in a quest to rescue his best friend. You can play the game on Android TV as well. This is an amazing adventure game. There are different languages available. There are 40 levels and 4 epic bosses. There are also some exciting features that will never make you bore.
Important features
Beat 4 bosses and complete 40 levels to complete the saga.

Comes with the original soundtrack and amazing sound system.

Different languages (English, German, Italian, Brazilian' French Portuguese and Turkish, Spanish.)

Supported Android TV.

Finish the games with different actions, fly, swim, run, jump and roll.
6. Reaper
---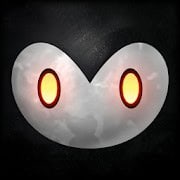 It is always fun to play games on your Android devices and even on your Android TV. Reaper is such a game that will take you to the world of magic and monster as you roam and enjoy the adventure. It is equipped with very modern graphics and a lot of special features that are rare in the world of role-playing games. Become a tough swordsman and compete with numerous enemies.
Important Features
Provides countless missions and mysterious adventure in the wilderness.

Supports any Android devices, works on phones, tablets, and Android TVs.

Lets you play with numerous 3rd party game controllers and also available in Nvidia shield.

Works great in your Android TV, not just watch your favorite shows you are able to take a break in the magical world of RPG as a noble swordsman.

Offers character upgrade and interactive level up functionality with lots of in-game collectives.
7. Horizon Chase – World Tour
---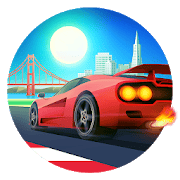 Racing games are always exciting to play and Horizon Chase is one of the very few Android games that supports almost all the capable devices. It offers classic arcade racing experience with very beautiful graphics and a marvelous in-game environment. It provides a taste of the 70s and 80s classic racing experience with numerous rare features.
Important Features
Let's have a world tour in your own way with lots of tracks and car upgrade options.

Integrated with lots of awards and exciting missions with the implementation of marvelous 16-bit graphics.

Provides very realistic graphical content and a highly featured game environment.

Let's you play with your friends online and also supports Google cloud for better organization.

Offers compatibility with lots of game controllers and also supports the Android TV remote and controller system.
8. AirAttack 2 – WW2 Airplanes Shooter
---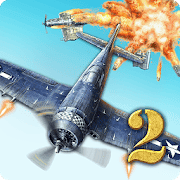 Live the adventurous life of a pilot as you make war with your enemies and all that can be done in your Android devices. AirAttack 2 is a very sophisticated shooting game with beautiful graphical content and versatile support for almost all types of smart Android devices. It is equipped with 3D graphics and epic soundtracks and background sound effects as you play numerous missions.
Important Features
Offers the environment of world war 2 as you play with different aircraft and enjoy arcade-style shooting.

Integrated with lost of campaigns and survival missions.

Provides an interactive upgrade path for your aircraft with versatile weaponry collection.

Supports lots of gamepads, Android TV remote play options and also Nvidia shield support.

It lets you have the freedom to play both in online and offline sessions. 
9. Shine Runner Free
---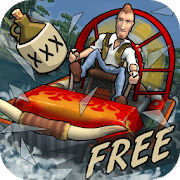 Shine Runner Free is one of the best-suited arcade-style boat simulating games for Android devices, especially for your Android TV sets. It is packed with great gameplay environment and fantastic in-game graphics. It comes with a compact size for better storage management but provides jaw-dropping high definition graphics while you play.
Important Features
Smash and race for glory in the action-adventure world where you take missions and gain fame among other players.

Offers a total destructive environment where you can break away obstacles and snuggle riches for maximum profit.

Provides awesome high definition graphics in your Android devices even on your family Android TV.

Integrated with good play game services where you can compare your position with your friends.

Supports numerous gamepads for better control and overall experience in gameplay.
10. Alien Invaders Chromecast game
---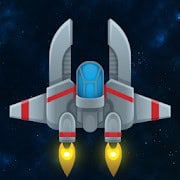 Alien Invaders is a very compact and classic flavored game that can be played on Chromecast and Android TV with ease. It is one of the best Android TV games that can be played competitively with a TV remote. You can enjoy it with your friends as it is integrated with multiplayer functionality that is capable of accommodating up to 6 players simultaneously. It is packed with many other fun features, let us check them in the following section.
Important Features
Play in your phones or tablets with the help of Chromecast or Android TV.

Offers fascinating multiplayer capabilities that let you play the game with your family members.

Supports both Android and iOS smart devices for better compatibility.

Equipped with a simple and logical controlling system as well as swipe controls for a smooth experience.

Provides classic in-game environment as you fight for saving the Earth from the aliens.
11. BADLAND
---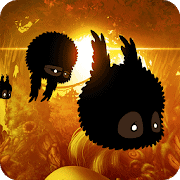 Flying simulating action-adventure games are always exciting and challenging to playing, BADLAND is one of the most popular games for Android platform that supports all the capable smart devices along with Android TV support. You can play with friends and family in your drawing room to have a very exciting gaming session. It is very well presented with modern graphics and a marvelous in-game environment that keeps you come back and play.
Important Features
Provides very beautiful graphics with high definition animations and gameplay environment.

Offers wild and jungle setting where you can roam around to survive and enjoy the mind-blowing adventure.

Provides with options to play in multiplayer mode locally up to 4 players simultaneously.

Equipped with more than 100 missions and campaigns in the single playing sessions as well as level upgrading capabilities.

Integrated with always update functionality as new level and fresh in-game environment are always available.

Supports almost all the popular game controllers and works well with Android TV.
12. Toy Truck Rally 3D
---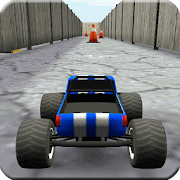 Now you can enjoy the fun of playing with RC toy cars inside your favorite Android devices. Toy Truck Rally 3D is one of the very few games that offer toy car roaming experience and it has been made even better as most of us do not have such vast areas to play within the real world. It provides 3D graphics with a vast in-game environment with lots of variety to make you love the game.
Important Features
Let's have the challenging and exciting fun of controlling a mini toy truck.

Offers modern graphics with 3D rendering that holds the marvelous game environment.

Integrated with challenging missions and time-based campaigns.

Let's you have free-roaming capabilities in the vast open-world settings that change from time to time.

Offers fully functional controls as well as support for other gamepads and Android TV.
13. Perfect Shift
---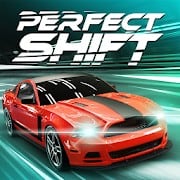 We all love to play drag racing games as they are challenging and fun to play. Perfect Shift is a game that is giving you the flavor of racing in your Android devices with mind-blowing 3D graphics and marvelous racing tracks and in-game environment. It supports almost all the modern Android devices, gamepads for better control, and you can also play it with your Android TV. It is equipped with lots of missions and updated daily awards.
Important Features
Play with supercars and compete with the toughest opponents in different racing events.

Provides the industry's best gaming graphics with 3D effects presented in the urban in-game environment.

Offers more than 25 racing cars and a lot of game area that are in urban settings.

Lets you upgrade your vehicles and gives you the freedom to customize your car's outlook and performance.

Offers both online play and offline roaming sessions as you have fun with your dream cars. 
14. SoulCraft- Action RPG free
---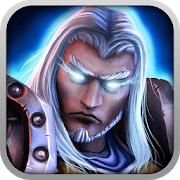 Role-playing games are very popular among the gamers of the Android platform. SoulCraft is a very challenging and addictive RPG title, it is equipped with high-quality graphics, fascinating in-game environment, and lets you roam around the mysterious magical world. It is payable in the Android TV with the integration of supported gamepads.
Important Features
Provides a mystical storyline with action-packed adventure-oriented gameplay.

Offers a lot for different characters and the database is always updated with new stuff, collectives, and interactive upgrade path.

This action game is free to play with lots of features and also includes real-life location in the game and the database keeps upgrading.

Offers both single and multiplayer gameplay where you can play with your friends.

Includes lots of different items and numerous weaponry that you can use as an angel character. 
15. Delta eForce
---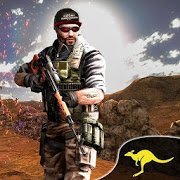 If you want to have some good time in the world of role-playing shooting game then you will love Delta eForce. It is one of the best free FPS shooting game that can be played in conjunction with Android TV. It is equipped with awesome graphics and a fully functional AI and Physics-based system for interactive gameplay. It is packed with lots of different features.
Important Features
Supports VR functionality, you can enjoy the game with your VR headset.

Provides great gun shooting RPG experience where you can use many military tactics and weaponry.

Offers outstanding gaming graphics and in-game texture as well as provides a lot of challenging missions and campaigns.

Supports capable gamepads and also numerous capable joysticks and controllers with Bluetooth connectivity.

You can play it with your Android TV using different gamepads and also supports numerous touchpads for the flexible gaming experience.
16. Daytona Rush
---
If you are a car racing fan then get introduced with Daytona Rush. This is one of the best car racing games. Happy to know that you can play this game on Android TV. It's easy to get started with the game. Controls are very simple and car upgrading addicted gives more fun. There are any locked cars. Unlock them winning racings and completing missions. Experience great speed, drifting, and competition. Night races give more rewards. You will also get some other exciting options in the game.
Important Features
Enjoy the game on Android TV.

Tap or swipe to switch lane.

Normal and easy gameplay.

Color your cars and make them more attractive.

Upgrade the cars for better racing.

Secure your gameplay connection to Google accounts.
17. Street Racing Car Driver
---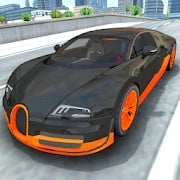 Get introduced with another realistic car racing game, Street Racing Car Driver. This is a popular game with a small size. Another great advantage of the game is you can play it on Android TV. You will find lots of options in the game. Play more and more and unlock the super fast and fabulous racing cars. Controlling is much easier than the other racing game. Experience great competition with racing in multiple big cities. Without these a lot more actions, you will enjoy while playing.
Important Features
Unlock new cars by winning the racing.

Play with on Android TV with more excitement.

An easy controlling option is also here.

You can enjoy a realistic feel.

Smooth and easy gameplay.

Multiple open-world cities to race in.
18. Dead Effect 2
---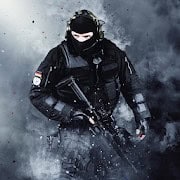 Looking for an action breathtaking sci-fi shooting game? Dead Effect 2 is here to satisfy you. The game comes with awesome graphics. You will find lots of weapons, missions and campaign game missions. Upgrading weapons and bodies are other challenges. Happily informing you the game is made using the latest Android and Nvidia technology. Awesome environment and professional voice effect take this game to the next level. You can also play this game on Android TV. So play and enjoy this stunning game and explore all the exciting features.
Important Features
High-quality graphics with a fabulous environment.

Real, professional and movie quality voice effect.

Latest Android and Nvidia technology used.

More than 100 body implants and gear sets that you can upgrade.

Over 40 upgradable weapons are also available here.

Train your characters and develop their skills.
19. BombSquad Remote
---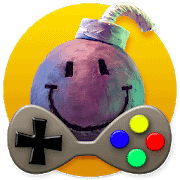 BombSquad Remote is an awesome arcade party game. This game comes with great resolution. The game is made of high-quality graphics and features. A piece of good news is you can play this game on the big screen of Android TV. In that case, your smartphone will be used as the controller. The game offers lots of mini-games for a single player. Unlock the next levels by completing one after one. You will experience a colorful display in the whole game. Multiplayer options are another addition of fun. There are some other options which will cheer up your mind.
Important Features
Play the game on Android TV and use your smartphone as a controller.

It is packed with smooth gameplay.

Save your game progress on the google account. 

Gaming is another fun with a multiplayer option.

Play and complete levels to reach the next level.
20. City Racing 3D
---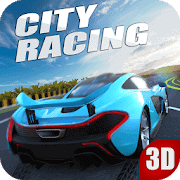 Another exciting and charming car racing game comes for you. It is City Racing 3D. The game has great graphics and a huge number of options. You can race on the big Android TV screen. Multi-player racing options another addition to fun. Racing will be challenging with friends and family. Car upgrading and customization is another sort of excitement. You will get lots of racing mode and you will never get tired of playing this racing game.
Important Features
Play in different modes such as elimination, championship, time trial mode, and career.

Challenge your friend by playing multiplayer options.

Smooth gameplay and easy to control.

Upgrade your car and experience super-fast racing.

Make your car attractive with different colors and stickers.
Final Thought
---
So, you must have found a variety of games for your Android TV. Now, tell me which one you have fixed your mind on? Or you are still in confusion? If you are, then my personal suggestions can help you a little bit. Crossy Road, Shine Runner, AirAttack 2, Reaper, and Manuganu 2 would be the best. But the taste of everyone is not the same. So, I must request you to read the features of all the games with proper concentration. Only that can bring the right decision. 
Don't forget to inform me if I have mistakenly left anything undone. Also, inspire us with your valuable comments and feedbacks. Thank you for your support.