There are gaming genres like kingdom building games, decorating games, or similar that provide tons of customizations. But none of them can let us use our free will to expose our creation. However, if you haven't ever heard about the sandbox game ever, I am here with goodness for you. This particular gaming genre names sandbox games as it lets you give shape to the plot and gameplay as you wish. So, everything will be there for your free will. If you are interested in this innovative gaming genre, you are on the right track to learning about the best sandbox games for Android.
Best Sandbox Games for Android You Shouldn't Miss
---
This impressive genre is not very popular, so you may not find thousands of games there. But what you will find still can disappoint you with lower graphics, less customizing options, small space to explore, and, more importantly, boring gameplay. But we have found some of the games that are free from such unusualities. And so, we can guarantee you will love those games to enjoy creating your new virtual world.
1. WorldBox – Sandbox God Simulator
---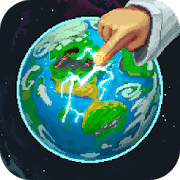 Let's start with a popular 2D game, WorldBox. It is a wonderful sandbox simulation game where you will perform limitless activities with no rules. It will initially provide you a taste of god-like power that lets you create, build, and even destroy in countless ways. Besides, boredom won't be an issue if you start spectating the evolution process of your creations. You can check some more interesting parts about this game.
Important Features
You can add various life forms in your world, including humans, dragons, zombies, and more, and drive them as you want.

Apparently, this game features magical and nature powers, which will certainly give you a godly experience.

The game also features many events that indeed are the reason for the game being so popular.

The game-logics are quite impressive. Especially the lives that act pretty realistically.

It lets you share your map with other players and highlight your creative skill to the world.
Pros: You can initially enjoy this game on PC and MAC with the same account using premium packages. Moreover, you can run it without any internet connection.
Cons: You may not like the 2D perspectives of this game
2. Pocket Build – Unlimited open-world building game
---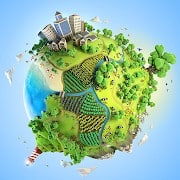 The search for the perfect sandbox games for Android cannot be completed without Pocket Build. This open-world 3D sandbox game has impressive graphics and friendly control that eventually makes it appropriate for everyone. Moreover, it includes many real-world properties such as snow, night and day, desert, etc., to provide a complete experience of civilizing a medieval era. So, there's no way to get bored with this exciting game.
Important Features
You can initially build countless items and arrange them according to your will.

Apparently, this game includes the first-person mode to provide you a realistic view of your world.

It also lets you adjust the view from any angle or zoom in or out to see in detail.

You don't have to wait for anything to get constructed; it does it in the blink of an eye!

This game doesn't initially involve any brutal animation, making it safe for children to play.
Pros: The unlimited resource mode lets you build your world without gathering resources one by one. Additionally, it gets updated frequently and will have many new items in them.
3. Sand: box
---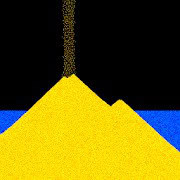 If you are looking for a relaxing game to enjoy the free will of directing the game, Sand: box is probably the best answer. This is a 2D game, but it is quite different from the traditional sandbox games. The developers basically created this game to relax your mind. Here, you can build anything you want and erase them to make new ones on a 2D slate. Moreover, it features real-life elements for creating, which makes the game more pleasing.
Important Features
The game-control is super easy and indeed effortless for everyone to operate.

It offers more than 50 elements. You can initially use their particles to shape your imaginations.

The in-game logic is appreciable and satisfying to see materials working logically.

This is eventually a perfect game for kids to learn about various materials and their properties.

There are no ads that can ruin your mood.

You can apparently enjoy this game on almost all versions of Android smartphones and tablets.
Pros: The premium version of this game is way cheaper than any others, and it is not even mandatory. Moreover, this is an offline game, and you can play it anywhere.
Cons: The updates don't come frequently, and you may not like the graphics.
4. StrikeBox: Sandbox & Shooter
---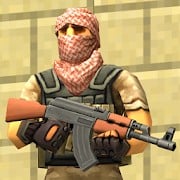 StrikeBox is basically an impressive action game that comes with a complete sandbox experience. And so, users of this game call it the best sandbox game for Android. Here, you will fight with enemies just like an action-packed fighting game, but still be able to use various materials to build traps, shields, or tricking enemies! Moreover, there are many mythical creatures on the battlefield to make the game more challenging. Also,
Important Features
It is an online game where you have to start battling with real players.

This game server initially takes 10 players in 5 vs. 5 battle matches.

You will find apparently no blood effects or realistic violence in the game, and so, it is safe for young kids.

The battles run for a limited time, so you won't have to spend extra time to finish the game.

There are tons of weapons and vehicles you can initially purchase and use in the battle.

It is a light game that never consumes more data or space on your phone memory.
Pros: You can enjoy this game in the FPP mode to deliver you a real battle experience. Additionally, controlling is quite easy and smooth here.
Cons: You will need a stable internet connection to play this game.
5. The Sandbox Evolution – Craft a 2D Pixel Universe!
---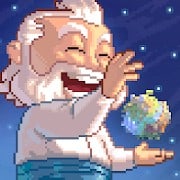 The Sandbox Evolution is another sophisticated world-building sandbox game for your Android phones and tablets. It works smoothly and allows you to use pixel art maker. You can also make retro chiptune songs within the game. Moreover, it gives you immense freedom to make your own 2D game. You can create your own hero and much more. Additionally, you can share your creation with other players and friends who play this game.
Important Features
You can use over 170 different elements and numerous controllable heroes.

It allows you to create any type of game world, whether it is dungeons, prehistoric jungles, villages, cities, etc.

You can add trees, animals, humans, and other creatures in the game world.

It includes all kinds of destructive elements, such as nitro, TNT, nukes, etc.

You can make a runner game, too, with special runner heroes, level-up elements, and exciting campaigns.
Pros: It allows you to make interactive pixel elements. You are free to create and destroy the world.
Cons: Some players did not like the overall gameplay mechanism.
6. Payback 2 – The Battle Sandbox
---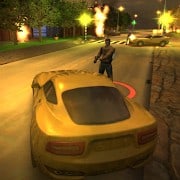 Payback 2 is a highly appreciated sandbox game that you shouldn't miss either. It offers a mixed type of gameplay With ultimate action experience and adventure. You can do almost anything within the game universe, from walking to riding any type of vehicle. Moreover, you will have a GTA-like experience which is the most loved game in this era. The game also has a rich storyline with tonnes of campaigns and missions to complete. It includes occasional ads within the game interface, but you can get a premium experience using the in-app purchases section.
Important Features
This game includes over fifty different campaigns.

You can play the game again even after completing the whole storyline using the custom mode.

It includes an easy and detailed game hud.

The touch controls and responsiveness are top-notch.

It includes online multiplayer gameplay where you can interact with friends and other players from worldwide.
Pros: You can use tanks, helicopters, and other vehicles in gang wars and high-speed campaign races. Moreover, in Payback 2, you will have frequent daily, weekly and special challenges to join.
Cons: Some players faced occasional crushes and annoying glitches.
7. Simple Sandbox 2
---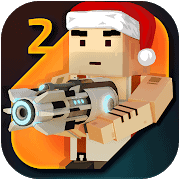 The second part of the famous game, Simple Sandbox, is so far one of the most realistic sandbox games for Android. You can use it to enhance your creativity by doing a massive number of activities and constructions. Moreover, it lets you play with your friends and other players online to increase your excitement in double. Also, you can enjoy different mini-games like racing, shooting, and a lot of similar ones.
Important Features
This game features an FPP mode that indeed makes the game much more enjoyable to play.

You can eventually help out your friends by creating an imaginative world or ask them to help you.

This game also offers tons of items like trains, planes, robots, etc., to interact with.

You will eventually find this game more enjoyable with its online battle feature.

For smooth racing game lovers, this game provides a vast area to explore while operating the vehicle. You can also build tracks with friends and race on them.

It also comes with brilliant in-game physics that apparently makes it very lifelike.
Pros: This game requires a minimal level of internet on multiplayer mode. Besides, the graphics and animation quality are far richer.
Cons: Ads may annoy you on the free version.
8. WW2 Sandbox Tactics-turn based strategy war games
---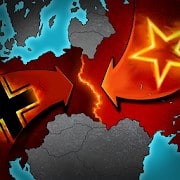 Unleash your inner warrior with WW2 Sandbox Tactics, an exceptional sandbox game, and indeed a recommended one if you are searching for a unique one. It will take you back to the time of world war II and allow participation in it as a powerful commander. You just have to select your favorite country and start conquering surrounding regions with alliances. Moreover, different types of war artilleries, fighter planes, ships make it an addictive game.
Important Features
This game is an online one, and you can eventually play the game until you decide to quit.

You will enjoy decent graphics and stunning audio quality in it.

This game Initially features more than 39 countries which you initially choose and play on behalf of them.

Apparently, there are lots of WW2 war vehicles, including 4 types of ships that make it appealing to play.

You will plan attacks and calculate resources to win a battle. This will initially improve your power of thinking and planning.

Also, you will enjoy exciting events occasionally where you can earn extra rewards.
Pros: This game includes more than 950 regions on an accurate real-world WW2-period map. Additionally, this game provides you with objectives making it more challenging.
Cons: This game requires a stable internet connection to play.
9. The Sandbox: Craft Play Share
---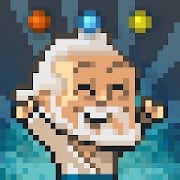 You will get a superior experience of creating a world of your own with The Sandbox. In the game, you can create a landscape with spectating realistic physics. You can also experiment with countless chemical reactions. You can eventually craft many things with these elements to decorate your world. Moreover, there are around 20 campaigns, including 300 plus game levels, that make this game more entertaining. Let's see what more it will offer.
Important Features
You can add many real-life wonders like the Statue of Liberty or the Pyramids to your world.

There are apparently more than 200 elements in the game that can be combined and used.

You can indeed share your creativity with the world through it in The Sandbox's Online Gallery.

From dinosaurs to humans, you can create many life forms, watch them evolving or destroy them.

This game also includes various transportations like cars, trucks, tanks, etc., which you can enjoy riding while roaming the map.
Pros: This game lets you create mini video game levels and play them with friends. Moreover, you can see other's creations and rate them on the Online Gallery.
Cons: The game graphics may feel cartoonish to some people.
10. Pixel Worlds: MMO Sandbox
---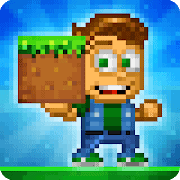 The last one on the list is Pixel Worlds, an incredible MMO sandbox game for Android that all youngsters and adults will enjoy equally. You can unleash your creativity by mining resources and creating new items to beautify your very own world and make scopes for tons of activities. Additionally, you can interact with other players online and help each other out. Still not impressed? Then check out the following details to get amused.
Important Features
This exciting MMORPG game takes player connections to a greater level by forming communities on almost all popular social platforms.

You can apparently craft items and then buy or trade them with other players.

This game is full of adventures where you have to fight various monsters and loot items and gems from them.

This game initially lets you participate in adventures made by other players to win rewards.

You can eventually play this game from MAC or PC with the very same account.

This game also offers various events to make your gaming more pleasant.
Pros: You can enjoy playing various mini-games made by the game communities. Moreover, you can even trade your world to other players or buy one.
Cons: You cannot enjoy this game without an internet connection.
Our Recommendations
---
To be honest, all these games are quite compatible and won't disappoint you. Apparently, you can choose any games of your interest. And all these games will let you direct the games as you wish. The theme is different on different games, and so you have to check it yourself.
But I would like to recommend WorldBox or Sand if you don't have any issue with 2D graphics. But if you like to try to enjoy a 3D sandbox game, then Pocket Build would be your best pick. You can also check out the brief details of the game to have the right selection.
Finally, Insights
---
Because of the less popularity of this genre, most of the giant game developers are still not involved with developing a sandbox game for Android. But the mentioned games are not less worthy of being masterpieces. So, just check the details and find your favorite one to try. Also, share your first-hand experience and help other viewers to select the game. We will soon come back to discuss something new. Till then, stay safe and connected to us. Thank you again for your time and support.