Email apps are a must for anyone, and there are tons of available apps for email on the internet. You should not waste your valuable time on a garbage quality email app on your iOS and macOS. Generally, most of them are quite good at dealing with basic email management, but you surely don't want to compromise your privacy and productivity by using a random tool. You should choose that particular app to offer more features and a completely secured environment comparing the stock application existing on your devices. And if you are looking for such an email app for iPhone, iPad, or Mac, then you are just on the right track.
Best Email Apps for iPhone, iPad, and Mac
---
We have already tried a considerable number of apps to find out a list of the best ones. Some of them disappointed us with so many cons. Still, some apps act as a complete hub and allocate all the email accounts you use under the same platform. Hopefully, our thoroughly picked suggestions will guide you to the most appropriate email apps for the iPhone and Mac without a doubt.
1. Microsoft Outlook
---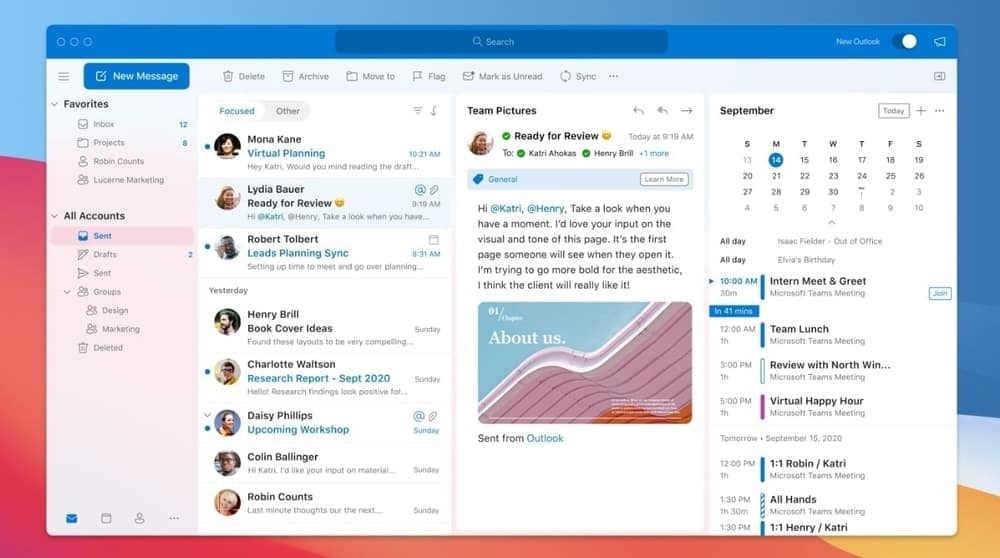 Ain't you a great fan of Microsoft? If yes, why don't you try their official email app for your iPhone, iPad, and Mac, Microsoft Outlook? This supportive app lets you manage all your email accounts from only one convenient place.
A spotless and minimal interface will let you use this app quickly. Besides, it takes only a few clicks to swipe the schedules and delete messages from the archive and drafts. Plus, the smart inbox system will let you focus on just what you need to.
Important Features
This productive iOS mail app works great with your Microsoft Exchange and Office 365 account on any Apple device.

It also works well with your Gmail, Yahoo Mail, and iCloud accounts.

Let's you bring all your favorite apps in this app to manage.

A brand new search experience will find everything that you search for in this app.

Just a single tap is enough to share a meeting with your colleagues.
Pros: This app supports Word, Excel, and most other Office documents adjacent to the email s that you can just open and edit. You can also view files from OneDrive, Dropbox, and similar.
Cons: You may face trouble in synchronizing and with poor customer service.
2. Mail
---
When you are using an Apple device, you should try its official mail app, Mail. It is like the must-have if you wish to try a very smooth user interface with a smart inbox option. This app is free of charge, and you can compose and send emails just like you do to send a message.
No complicated formality will appear to bother you either. Besides that, you can open any type of file format using this app. You can check out more details if you are interested.
Important Features
You can search for emails by their sender, recipient, and subject.

Lets you attach files and images with an email.

This app lets you enjoy access to iCloud, Gmail, Exchange, Outlook, and Yahoo.

You can flag all your important contacts as VIP and get instant notifications from them.

You can also add drawings, comments, or a signature with the Markup function.
Pros: The interface of this email app for iOS comes with a huge number of language support. Also, it will show all your email accounts in a single box.
3. Gmail – Email by Google
---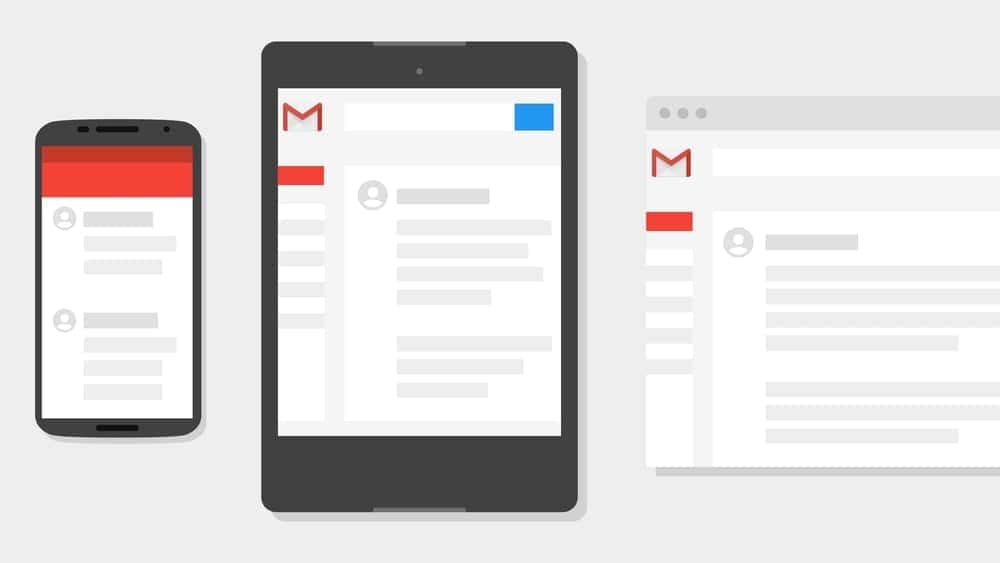 Gmail has spread its wings over iOS, and so, it can be the greater option for you if you are looking for the best email app for iPhone. This app is designed with a super simple user interface that keeps everything just on your fingertip.
It also supports multiple accounts, and you can check and edit almost all types of files that show as attachments. I think you have already known everything about this app. Still, you can check the following features for more details.
Important Features
Switching between multiple accounts is very easy here.

You can customize the notification option and mark VIP contacts.

Easy and smooth swiping option and cleaning the archive and trash is also easy here.

Contact names will be automatically completed from the Google Contact access.

You are allowed to make threaded conversations and read emails.
Pros: You can add the Gmail widget to your home screen. Plus, it lets you see profile pictures of others while having a conversation.
Cons: You may find issues with browsing and the old interface.
4. Airmail 4
---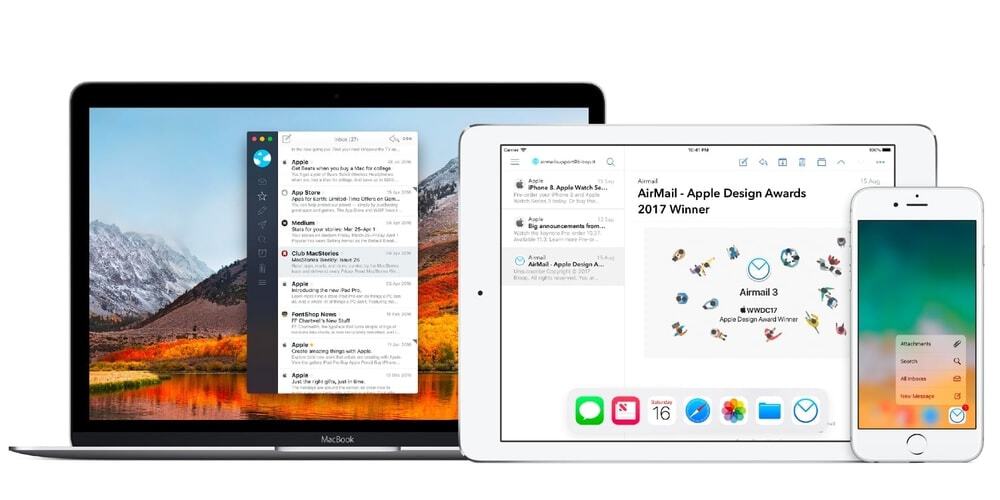 If you are looking for an email client that works on macOS and iOS, I wonder what can be better than Airmail 4. This email app for iPad comes with many rich features, and almost everything here is free. You have to pay for only a few premium features.
Aside from that, this app supports a good number of file formats so that you can check and edit all files that come with an email. A beautiful design and minimal interface have made it easy to use and quick to manage.
Important Features
It provides Handoff support with a unified inbox.

You can enjoy access to your accounts on iCloud, MS Exchange, Gmail, Google Apps, and similar.

You can easily import files from Apple Mail, MBOX archive, EML, and EMLX.

Let you use it for both online and offline interactions.

You can make group conversations with ID and subjects.

This app also lets you customize folders and levels.
Pros: This app offers you customizable and flexible notification support. Plus, it provides customizable layouts.
Cons: This app can annoy you with a list number of keyboard shortcuts.
5. Polymail
---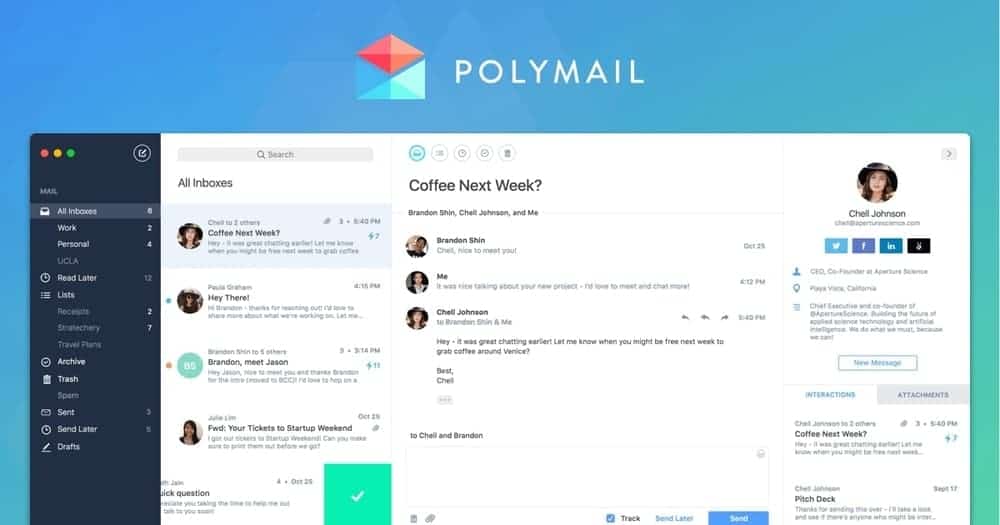 If you are curious about how and when people are reading your emails, I show you how to learn that. Well, try Polymail. You can manage your emails like a master with this app. Besides, this modern email client lets you create, share, and customize email templates smoothly.
It is easy to install and set up. The user interface will also mesmerize you as it comes with multiple language support and beautiful themes. Still not impressed? The following features are then waiting for you.
Important Features
It only needs a single tap to unsubscribe and removes all the unwanted spam.

You can check real-time message tracking activity from this app.

You can also snooze and schedule emails to send them later.

Lets you use the customizable swipe actions to organize your emails.

This app will always provide you a detailed report of your team's activity.
Pros: This flexible Mac email client provides a Unified inbox and active search bar.
Cons: You may have to face poor documentation and synchronizing functions here.
6. EM Client
---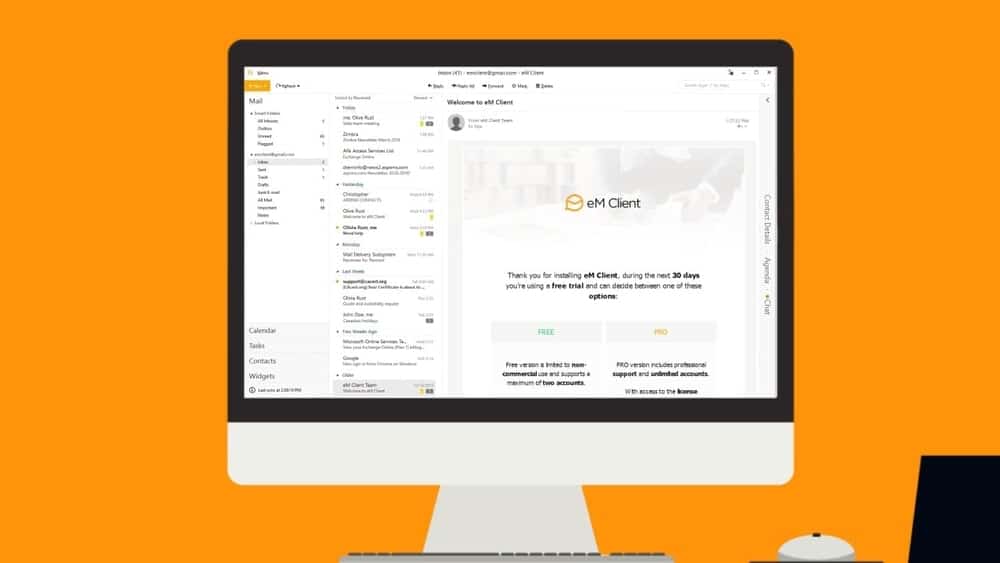 If you are looking for the best email app for mac that comes with a bucket full of rich features, then I hope you will have no better option than EM Client. This app works flawlessly on all iOS devices, whether you're using iPhone or Mac. It is just a perfect email tool that you can use to manage the emails and keep them orderly.
It makes things easier for you, and you can keep track of all the schedules and organize your to-do lists. Besides, keeping a backup of all your emails on your PC is very easy here. Let's see what's more it will offer.
Important Features
It will help you to keep in touch with Google, Facebook, and Jabber.

You can easily change the image size, rotate, and flip it when it comes with an email.

You don't have to download contacts from the webmail rather;, it will do that automatically.

PGP encryption will ensure a better security function, and it is available here too.

This app also supports the auto-reply function and multiple account management.
Pros: This email app for Mac uses the Bing Integrated chat tool to offer a built-in translation function. Plus,
Cons: You can't use more than 2 accounts in the free version of this app.
7. Spark Mail – Email by Readdle
---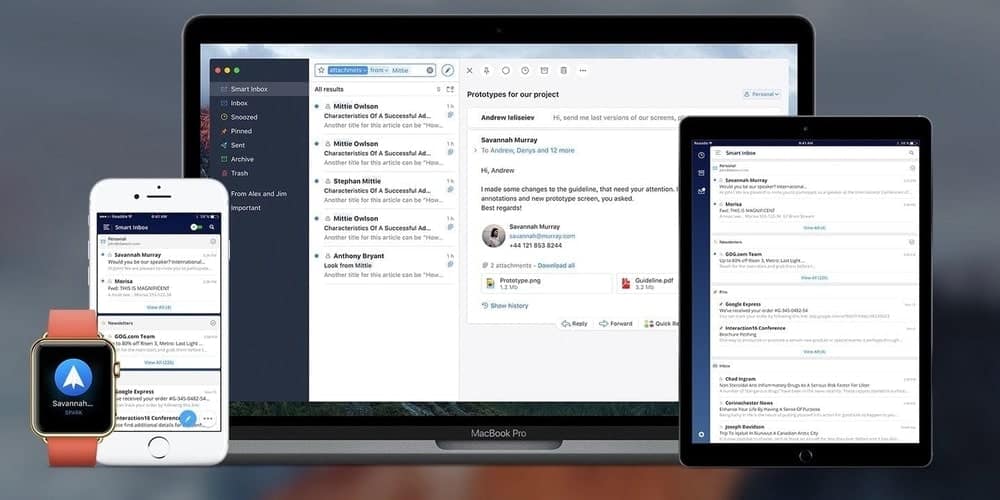 We all want an email app that supports multiple accounts, isn't it? Well, then Spark Mail can be your best pick. However, this email app for iPhone lets you use a universal inbox, which will sort all the incoming emails into different categories.
Even it will sort off all emails sent by humans or for the promotional items. Besides, you are allowed to customize the notification options with this app. As a consequence, you will never be disrupted by notifications appearing for unwanted emails.
Important Features
The smart inbox will let you see what's truly important for you first.

You can use dark mode at night to save your battery power.

By using a real-time editor, you can create emails together, collaborating with all your teammates.

The snooze option will remind you about the emails that you wish to read later.

You can also schedule some of your drafted emails that you wish to send later.
Pros: This iPhone mail app comes with a powerful integration that supports Dropbox, iCloud Drive, Box, and similar. Plus, an elegant and threaded message design will definitely convince you to try it.
Cons: You may face a problem in syncing your email signature with your other devices due to the poor synchronizing function.
8. Zimbra
---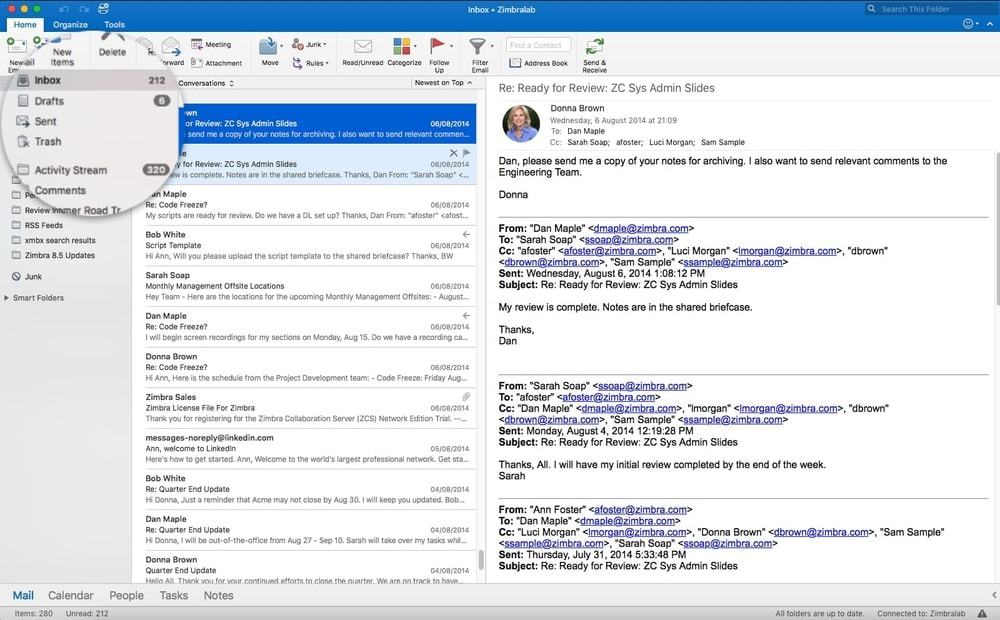 You can also try Zimbra if you want to try the best email client for Mac. This email tool supports email and calendar with a collaboration solution, which is built for cloud computing. Besides, you will enjoy an exquisite user interface with a nicely decorated theme.
You can now enjoy both online and offline access to all your email accounts. Moreover, it's an open source and free Mac email client with almost all necessary features. Let's have a look over them in the shot.
Important Features
You can compose multiple emails at the same time using this app.

The user interface comes with multiple language support.

With an email, you can attach multiple files from your PC or iPad.

This app allows you to recover deleted or removed messages from the trash folder.

You can quickly make schedules and to-dos with the access of an email.
Pros: Using this tool, you can share your message folder by collaborating with other people. Also, you can drag and drop emails to a selective folder.
Cons: The interface of this email tool looks too old, and it works a little bit slower.
9. MailTime Email Messenger
---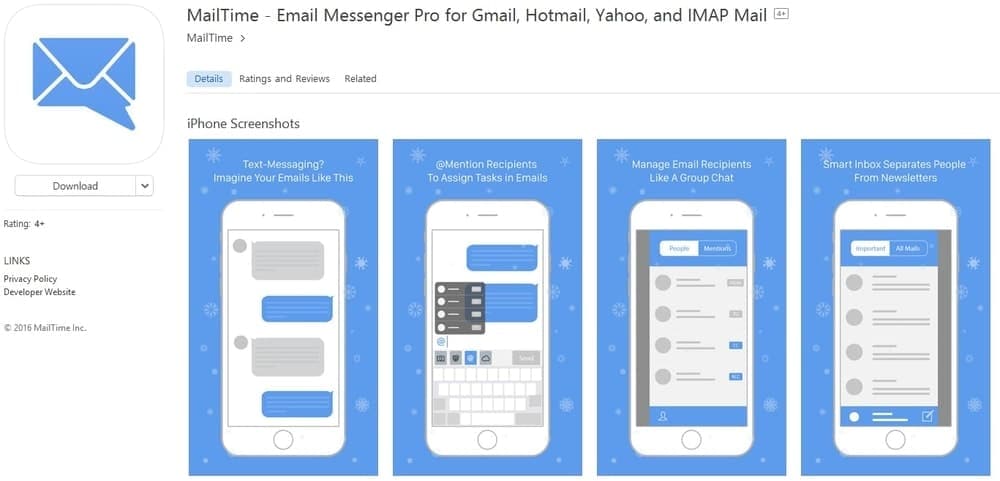 If you are looking for an email app for iPhone designed with a mobile-friendly messaging mode, why not try MailTime Email Messenger? This email app for iPhone has bought a whole new level, and even your friends are not using this app, it's fine.
Instead of using different software, your friends can simply send you an email and if you intend to see the original email, just click on the chat bubbles. Enjoy your emails as if you are chatting with your friends rather than having a conversation in threads.
Important Features
MailTime is a multifunctional app that will let you text fast, and it turns all your desktop email into a user-friendly messenger platform.

To add a member or remove, switch the members to 'cc' or 'bcc' or swipe in the left to deflect the member's status.

The app will automatically alert you not to send your message in more than 140 words.

It works and receives from all the email providers like Yahoo, Outlook, Tencent Enterprise, Google Apps Mail Services, etc.

You can attach the files out of iCloud, Dropbox, Google Drive along, One Drive with Mail Time.
Pros: Through this iOS mail app, you will find an intelligent inbox that finds the important person out of the newsletters and separates other emails in all Mail. Plus, you can cooperate with your friends in a group chat.
Cons: Due to poor customization, you will be able to swipe only left to do your thing.
10. Hiri
---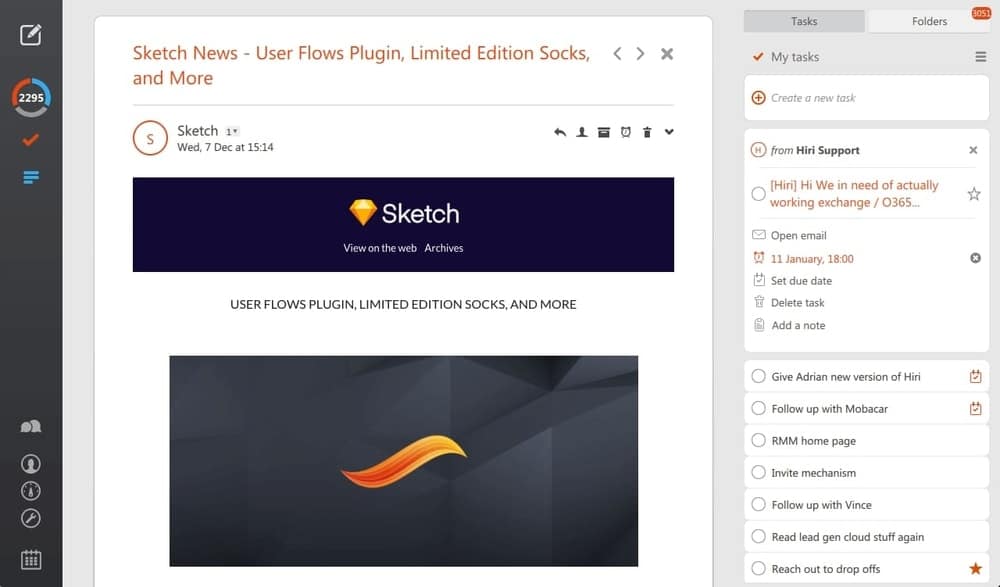 I have another recommendation for you to look for the best email client for Mac with the best privacy. Hiri is the one I am explaining, and it comes with tons of rich features. An outstanding interface of this software makes the email less awful.
Plus, the software includes a dashboard along with a timer, so you don't need to check the inbox repeatedly. Besides, it supports almost all the email providers and popular protocols. Also, its unparalleled cross-platform support makes it more appealing in comparison to other alternatives.
Important Features
You can purchase this software at a very reasonable price and run it in macOS, Linux, and Windows.

The software provides a calendar and a to-do list, and there it keeps a record of messages that you have turned in a task.

Through Hiri, you can easily keep a record of your previous and recent emails.

You can also separate the personal and professional emails to work more reliably.

While updating a status, Hiri permits you to knock a message to your colleagues.
Pros: To have a clear idea about its interface, you can give a try to Hiri for seven days without purchasing it. Plus, you can run this software smoothly in all versions of Windows 7.
Cons: You can not run Gmail or non-Microsoft accounts with Hiri.
11. Email – Edison Mail
---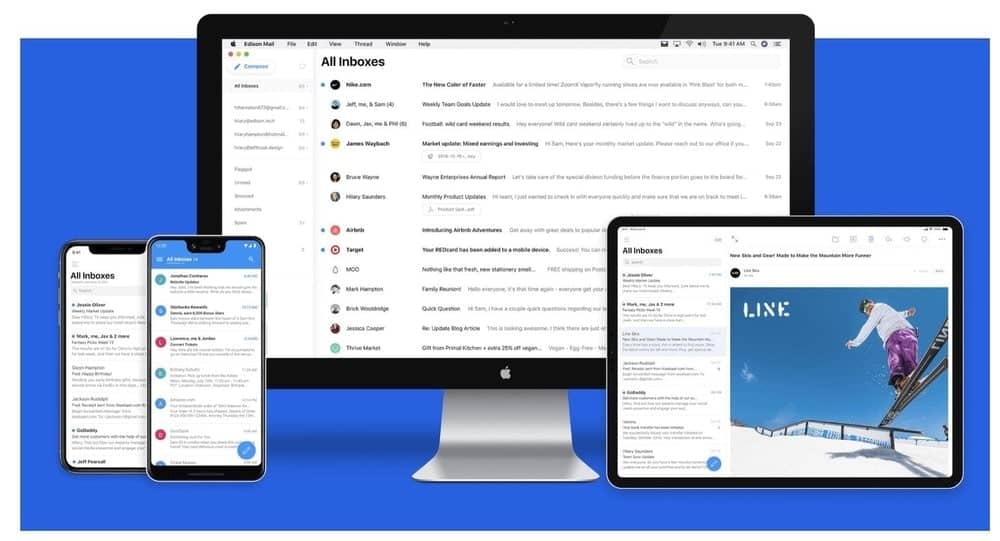 Edison Software Inc. has an excellent design that works faster than Gmail and ensures better privacy settings. And it is called Email. Well, people often get annoyed by the email phishing epidemic. With this email app for ios, you won't get in trouble because it offers AI-based technology.
The sender proactively will alert you of any danger as the suspicious email arrives in your inbox. Furthermore, you will be provided Touch ID protection along with many other high tech developments.
Important Features
This app comes with a simple interface that allows unbeatable speed, less spam, no ads.

Comfy your eyes with the dark mode while checking your inbox at night.

With a single click, remove the unnecessary messages, unsubscribe and clean your inbox quickly.

The app is organized to notify you about the upcoming entertainment, recipient and purchases, meetings, significant travel, etc.

To inquire about any person, you can check the previous emails, meetings, files, and photos exchanged.
Pros: This iPhone mail app allows multiple account views so that you can work from a different account simultaneously. Additionally, there will be an undo option, so even if you send someone the wrong data, you can quickly remove that.
Cons: Often, you will face trouble while sending an email from a different account.
12. Spike – Your inbox, reinvented
---
You can also choose Spike as your go-to email app for its user-friendly interface and free access to all the features. The best part of this email app for the iPhone is its unparalleled synchronization capabilities. Your daily emailing will be much fun and easy.
This app features a modern app interface while maintaining a materialistic design. Anyone above age four can operate this email app, and users rarely face unnecessary add-ons and pesky advertisements. You can take notes, make lists, and chat with other users on this app.
Important Features
Provides an ad-free environment with superior security and privacy protection.

This iPhone mail app allows you to sync with all your devices using the same account.

It supports multi-platform synchronization and allows you to connect an unlimited amount of email accounts.

Integrates real-time collaboration works on doc and note files, which you can edit and share instantly.

Includes voice and video calling options. You can use the live group chat and email chat function.

It supports dark mode natively, which will save some battery power.
Pros: It is a complete communication package with all the premium features of email. You will like the advanced search panel and customizable action tools.
Cons: Some users found it to be overwhelming and had faced synchronization issues.
13. TypeApp Email, Mail & Exchange
---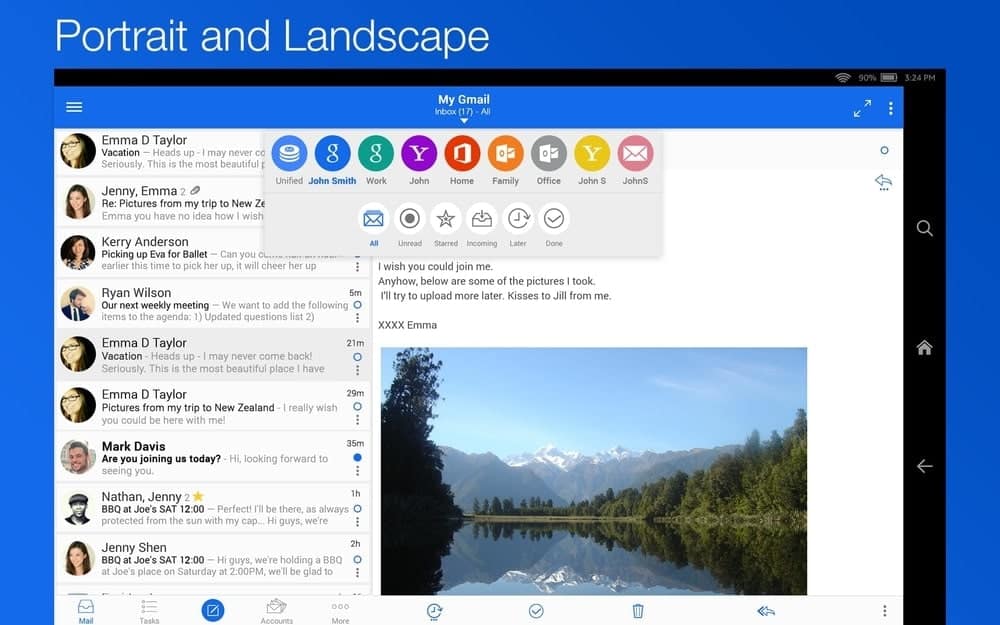 Let's look into TypeApp Email, Mail & Exchange, a fantastically designed email app for iPad and other iOS devices. It is free to use and includes all the features you need to fulfill your emailing needs. It comes with a unique facility called Unified inbox, which allows you to integrate all your email accounts under one system.
You will have a smooth experience while syncing with multiple accounts from multiple devices. It also supports cross-platform synchronization. You will have complete access to all the tools while you enjoy a secured environment for your daily emails and document sharing workloads.
Important Features
Allows advanced push notifications services and exchange protocols.

Offers complete customization and a simple app interface.

Users can filter received and sent emails using quick filters such as unread, flagged, etc.

Supports password protection system and Touch ID natively for providing optimal privacy.

You can choose the dates for backup and syncing, saving data, and offers smooth offline operations.
Pros: Offers very smooth performance on iPads, iPhones, and other supported devices. The response rates are rapid and prompt.
Cons: You may have to find loading issues and a few minor bugs.
14. Yahoo Mail – Organized Email
---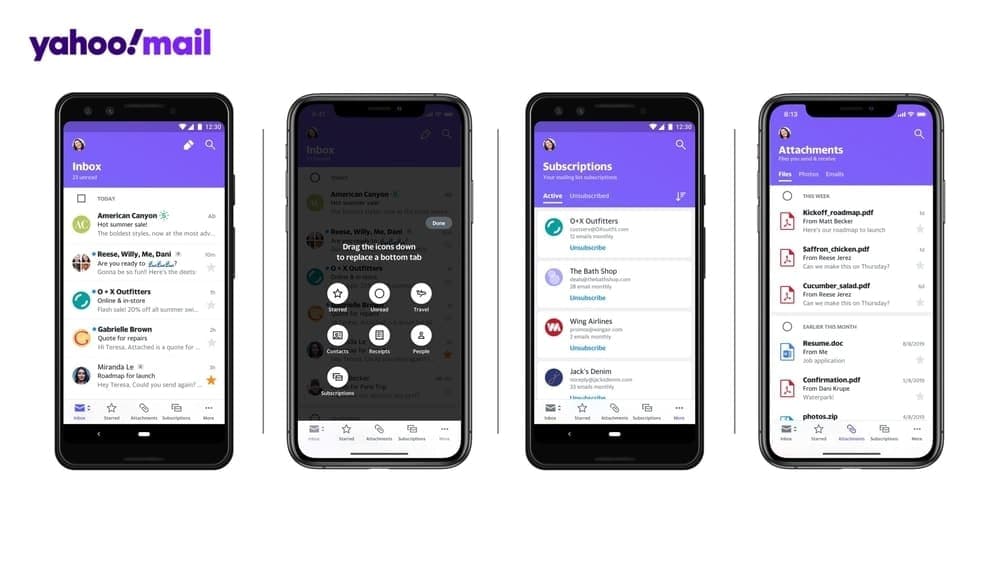 Yahoo Mail is an excellent alternative for your stock email app for its multipurpose uses and lots of exciting features. This email app for iPhone and iPad is different from its competitors for its manifold customization options and features such as weather information, navigation system for exciting deals, and groceries.
This app is designed for iPads and iPhones. You will need at least 350Mb of free system space and iOS 12 to run it properly. A Pro version comes at affordable prices with lots of premium features, such as an ad-free environment, tremendous cloud storage support, etc.
Important Features
Offers daily news updates and the latest weather info within the app interface.

Includes attachment viewing function for easy previewing of attached doc files and photos with emails.

You can change the inbox color according to email accounts.

It supports dark mode and includes advanced notifications with customizable sound alerts and visual effects.

Offers advanced filtration and search options for quick access to your desired email.
Pros: It is a complete package, and all the functions can be handled with a single hand. You will like its built-in support for multiple languages along with English as default.
Cons: Some users found notification related issues and false alerts for new emails.
15. Canary Mail
---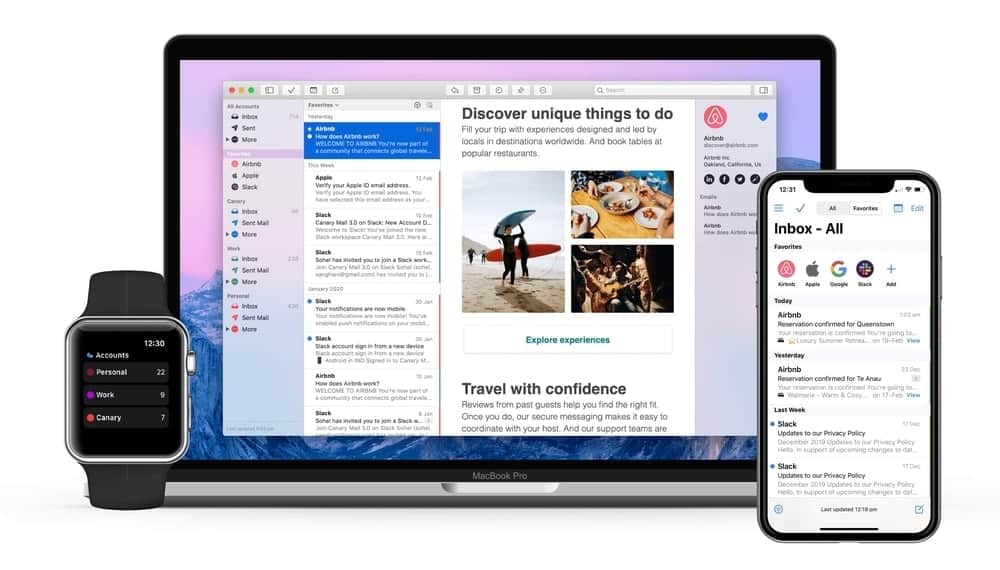 With a fresh update, Canary Mail has brought everything you need altogether. It is known as the best mail app for your iPhone for its rich features. Gmail, Yahoo, iCloud, Office365, and what not it has access to! Also, you can exchange accounts, and even social media profiles are here.
You can sort out the action thread according to the workflow you are comfortable with. Suggestions of this app can get your emails composed with just a single tap. Notifications are instant as soon as they are read.
Important Features
Your emails will encrypt via PGP or with Canary's built-in zero setup encryption.

The emails that are used often can be saved as a template so that you can again use them later.

You can set an individual notification sound in each of your accounts.

Customize snooze time to deal with the emails after getting prepared.

Pin your most essential emails from the inbox, and they will be at the top of other emails.
Pros: The calendar in this app can organize all your events scheduled for you. You can also add your favorite contacts to another list to not miss any email from them.
Cons: The snooze function has some complaints for not working correctly.
16. Postbox
---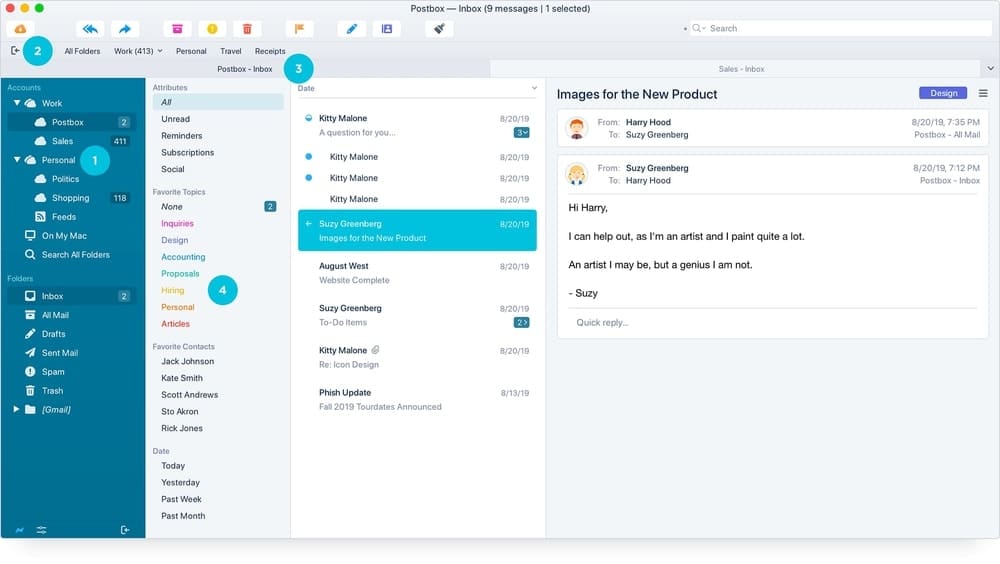 Postbox is another excellent Mac email client for your email management. It is also available on Windows PC. As a Mac email client, it is among the most versatile ones. You can try it for free with the 30 days trial pack, then move to the paid version with lots of premium features for your convenience.
This application provides top of the line organization facilities where you can fetch your expected email in the quickest time possible. There are many features, such as tagging, leveling, account-based grouping, smart folders, etc. You will like its working environment for its colorful and modern interface.
Important Features
Offers more than 25 different templates for your convenience.

Allows the users to share or forward email content to lots of different supported apps, such as Evernote, Slack, etc.

You can do some minor image editing and resize with this software.

Includes around 70 or more professional-grade email responses for quick use. Users can customize them according to their needs.

Supports cloud file sharing and integrates advanced search options.

Users will be protected with the industry's best security system and also include anti-tracking technologies.
Pros: Users can insert random data fields within emails. You will love its documents files and image searching tools of this iPhone mail app.
Cons: Some users think the pricing of the software is too much.
16. Unibox
---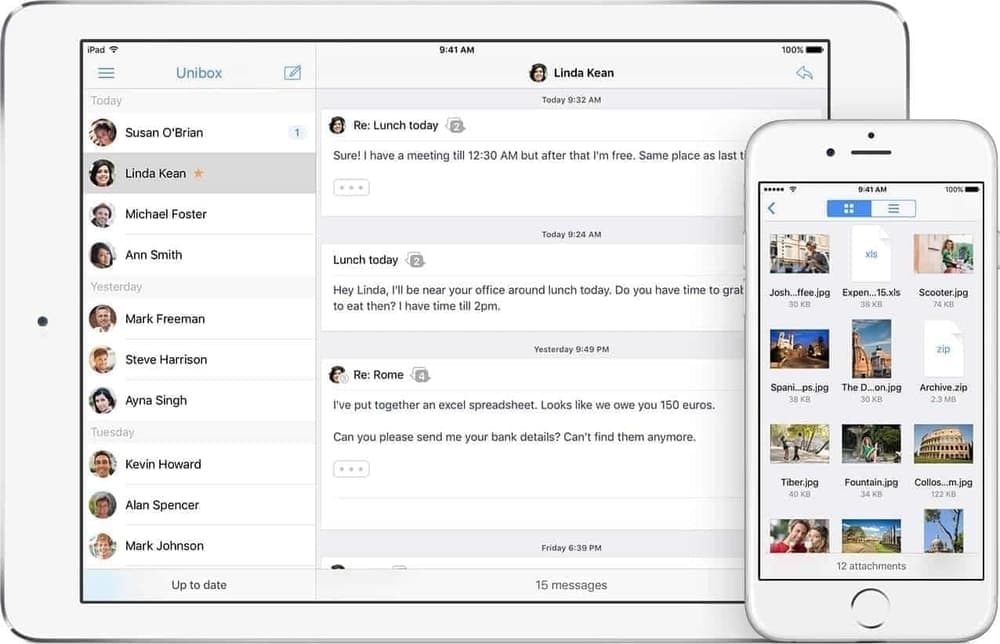 People are often bothered by having many unnecessary emails, and to avoid such trouble, I would like to suggest Unibox. This email app for iPhone and Mac comes with a simple interface, and you will have control over the inbox very quickly.
With the help of its outstanding performance, you can gather up all the important mail in one place and the rest of them in another place. Unibox is specially designed for Mac, and it operates with multiple email providers like Gmail, Outlook.com, Yahoo, Office365, Hotmail, Live.com, etc.
Important Features
You can check all the exchanged messages and attachments with a person in one place as the app keeps records data.

To get rid of spare newsletters and notifications from the same sender, swipe it, and clean your inbox.

You can access this app with multiple accounts, and it will be helpful for both personal and professional email app users.

There will be a plus icon on the top of the screen, and to send an email, tap the icon and start your draft.
Pros: You can smoothly go through the previous draft and the recent one with a navigation bar and keep track of the number of emails. Besides, the app deals with the text threads and separates the sent and received emails.
Cons: Sometimes, the app works a bit slow, and it takes a few times to log in to the email account.
18. Mailspring
---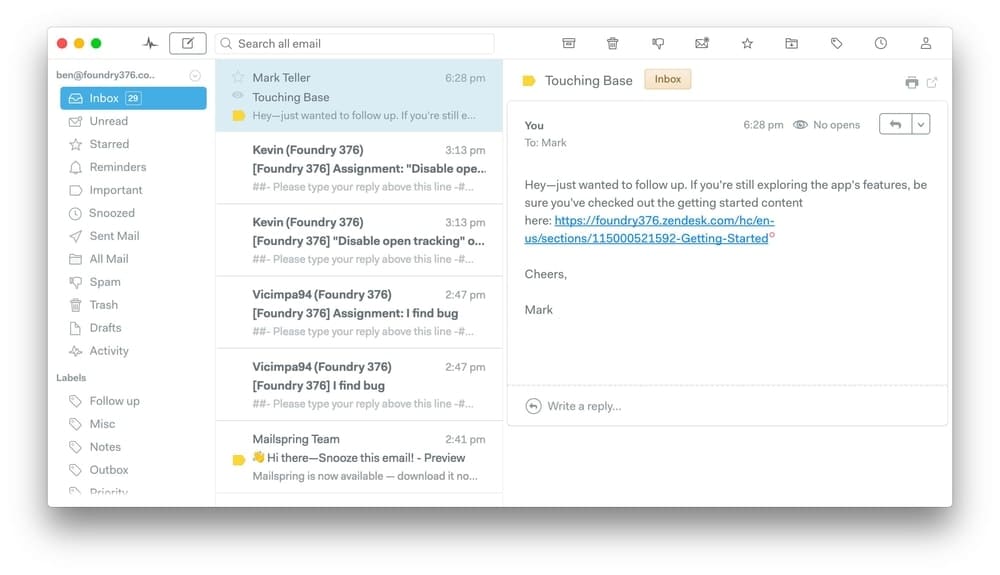 Here is another supportive email app for your Mac device. And I am talking about Mailspring, and it is free to use. If you want to move from the basic version to the Pro edition, you will have to buy one of its packages. This software is widely accessible and features a very familiar interface.
You can surely make it your daily email management hub for its user-friendly ecosystem and smooth operations. You can even find it on other platforms, such as Linux and Windows, convenient and helpful.
Important Features
It offers a variety of themes that you can use as you like. It makes the software interface more fun and less tedious.

Supports approximately nine different languages natively.

Users can quickly add their signatures in the emails.

It supports touch and gesture commands while operating with supported devices.

Includes translation facilities from English to other supported languages.

It offers handy shortcuts and lighting fast searching capabilities.
Pros: One of its positive features is the undo function, which saves from accidental forwarding and mistakes. You will like its language detection technology with auto spelling checking facilities.
Cons: Some users found minor issues while using the undo function.
19. Email Client – Boomerang Mail
---
Want to try the best email app for iPhone that comes with an intelligent inbox facility? Just try Email Client of Boomerang Mail. This email tool has been brought in town by Baydin Inc, and you barely find a lacking here for sure. You can try the smartest inbox functions with an easy schedule and draft making options with this app.
For its elegant but straightforward interface, you will fall for it in the very beginning. But the best part to convince you is its availability that you enjoy just for free.
Important Features
It supports sharing sheet extension and multiple email account management.

You can use various email accounts and manage them using this app.

This supports sheet extension and contains a quick search box.

You can take notes from the emails and add reminders for yourself.

Quick schedule making option will also let you send scheduled email immediately.

A 'brief to me' option will explain briefly about the unread emails.
Pros: You can add events to your calendar directly from an email. Besides, This app lets you use it even without an internet connection.
Cons: You may face trouble using this app on your iPad.
20. Thunderbird
---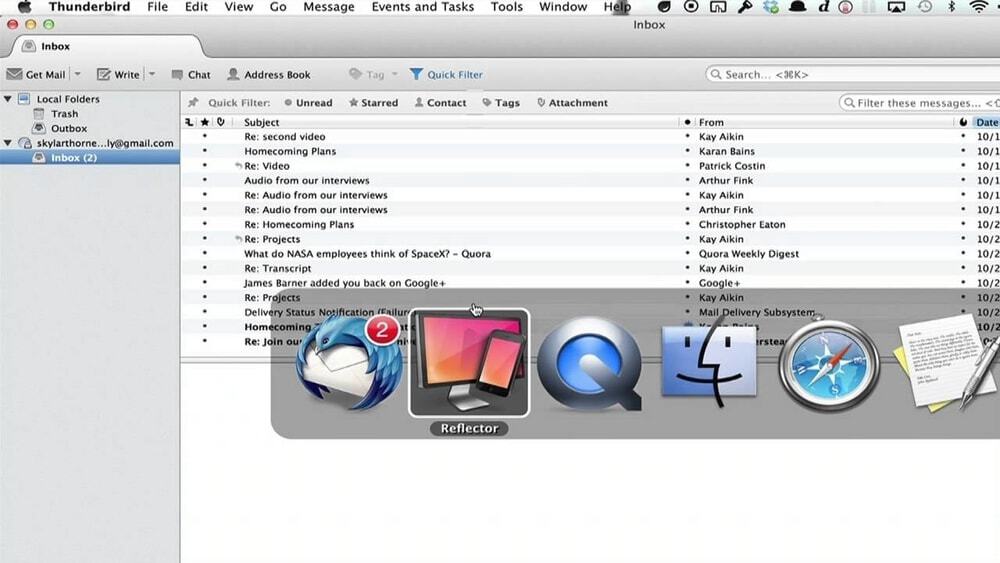 Let's check out the last option for today, and it is another popular Mac email client for sure. Well, it is Thunderbird by Mozilla. I think most of you already have experience using this email tool. This supportive app combines the latest technology, speed, and privacy to ensure a better email experience.
It is easy to use and lets you use multiple accounts at a time. Besides, it is a free app that offers tons of exciting features. If you are entirely new to learn it, follow the details mentioned below to be more specific about it.
Important Features
You can combine inbox, draft, archive, and other folders to manage multiple accounts.

When mail arrives, the app shows the name on the top of the notification bar.

You can resize the texts, change colors, themes, and mold the app as you wish.

Offers a very colorful yet minimalistic app design and navigation panels.

You can expand it via plugins, and also, it is effortless to set up.
Pros: With this software, you can keep a backup of all the messages on your PC. Also, you are allowed to choose the folder or location of it.
Cons: Some of the essential features of this tool rely on third-party extensions.
Our Recommendation
---
So, after learning about 20 compatible email apps for iPhone and Mac email clients, don't you think that it's quite confusing to choose one or two? I think most of you are thinking, so all these apps are equally compatible. Besides, they share quite a good number of similarities. However, using an iPhone or an iPad, Mail, Gmail, and Spark would be the best option.
For Mac, you can try EM Clients or Thunderbird. And if you like to try one tool for multiple devices, you better try either Microsoft Outlook or Airmail 4. Besides, you can check out other apps and tools, and I can assure you that none of them will disappoint you. So, now, it must be easier for you to pick the most suitable email app for iOS or macOS.
Finally, Insights
---
Whether it is for an official reason or personal, an email app for your iPhone, iPad, and Mac is like the must-have. And if you don't have a flexible and smart ios mail app, install one from the list you think is appropriate. So, I'm done for today. Hopefully, you have learned about what you are looking for. Don't forget to share your experience of using the app to help others. Also, stay connected with your valuable opinions. Thank you a million times for your support.