All are grown up enjoying lots of cartoon series and Avatar shows. In our childhood, we loved to get lost in the animated world. But this is not possible in reality. Still, you can cherish your passion for animation by making avatar characters of yourself and also your friends. Sounds impressive, right? It must be. Today, we will learn about the best Avatar maker apps for both Android and iPhone. If you really want to know how you would look if you are a cartoon character, then you must stay with us today till the end.
Best Avatar Maker Apps to Make Cartoon Avatars of Your Friends
---
Unfortunately, we have to go through a lot to list the best Avatar maker apps. It's because most of the apps from random developers promise to create realistic 3D about others but fail horribly. So, we have to check twice to form the list and ensure that the ten apps we recommend will work perfectly. Still, we added a brief description of each app. So, we suggest you check all the details of the apps and select the most appropriate one to use.
1. ZEPETO
---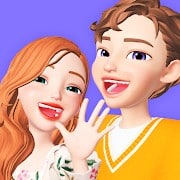 Now, you can make your own avatar and cartoon characters with a fantastic app, ZEPETO. Eventually, it's not just a mere avatar maker app that only makes cartoons and avatars; it will let you play with those avatars. You can choose trendy clothes, hairstyles, and fashion customizations to make your own avatar. This way will be so fun to express yourself and your creativity. Besides, this app provides an ample virtual space that your avatar character can explore. 
Important Features
This creative multiplayer game lets you make an avatar with your friends and play together.

You can initially create multiple avatars to amaze your friends and share them via different social media.

Making and customizing your own fashion kits and dress for your avatar character will be more fun in this game.

Here, you can find new players from around the world, and the chatroom lets you have a conversation with them.

This app also makes occasional events where you can join the community and party with other avatar characters.
Pros: Finally, this app lets you make your own avatar squads where your friends can join you.
Cons: Many items require a premium subscription in this game.
2. Avatoon: Avatar Creator, Emoji
---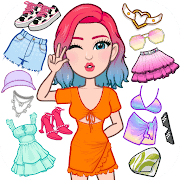 For many years, I used this app to make avatars of myself and my friends. That's why I can tell you more about this app. Making an avatar character is super fun here, and an actual image of the person is required to create an avatar. That means you have first to click a photo or import one from the media or gallery. Then let this app customize the image and make an avatar of the person in the photo. Sounds funny, right? Well, it is. You don't initially have to do a lot to make an avatar, but you can certainly enjoy lots of customization options.
Important Features
Not just the avatars, you can also make stickers with this app. Eventually, you can set cute cartoons on those stickers as well.

Enjoy hundreds of stylish customizing options while making the avatars. You can simply change the color and style of your hair and choose dresses for the cartoons.

The initiative face recognition system of this app will initially make avatars by itself.

This app's potent photo editing tool will let you change the background and other aspects of the photos.

This is indeed a free app to make avatars. But, it offers some optional in-app purchases, and the functions are really very unique.
Pros: Simply edit your photo, make our avatars and cartoons to share this with your friends. You can introduce different social media to share these images with your friends.
Cons: I didn't like the long commercial advertisement this app shows so often.
3. Facemoji: 3D Emoji Avatar App
---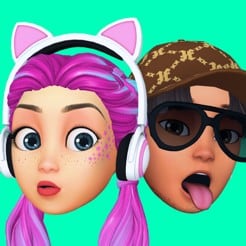 The next one is a 3D emoji Avatar maker app, and it is Facemoji. Basically, this app is built for iPad, but iPhone users can use this app properly. The best part of this app is its user-friendly interface. You don't need any additional graphics designing knowledge to use this app and make exciting cartoon characters.
Simply you can upload your photos and let this app change the face of the person in the photo into a cartoon character. Also, remember that this app will make a very look-like avatar of that person. So this is how easy it is to use this app. Ain't you getting excited?
Important Features
This app initially takes a few seconds to make avatars of a person from the photo.

You can either capture an image using this app or just import one from your gallery or media files.

Eventually, after making an avatar, you can make additional customization. You can change the hairstyle, skin color, and other things as well.

This app additionally provides lots of makeup kits and many dresses that you can use to customize the avatars.

This interesting cartoon Avatar maker comes for free and provides some in-app purchases for a premium subscription.
Pros: this app lets you turn a group photo into a group Avatar image. Additionally, you can share the photos with your friends using different social media.
Cons: Though you can make stories of a photo in this app, you can not comment on other people's stories.
iPhone
4. MojiPop: Art Metaverse
---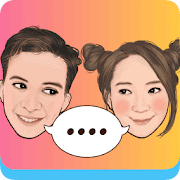 Let's meet one of my favorite masterpieces, the 3D Avatar maker app, MojiPop. Eureka studios brought this app to the town for both iPhone and Android users. You can eventually use this app on your iPad and tablets. This app initially lets you make plans of funny cartoon characters and adds some humoristic customization to it.
This app can make the most humorous cartoon and animated stickers by using hundreds of caricatures and customizing options. So, you can now surprise your friends with their face avatars and stickers to make fun of different situations.
Important Features
This app lets you make different avatars from only one photo, and only two taps are enough to make an avatar here.

You have to take a selfie or import an image from the gallery on media to make an avatar with this app.

There are hundreds of sticker-making templates that you can use to make stickers with your own avatars.

Eventually, this app lets you write down personalized messages on the stickers.

When you have already made a lot of stickers, you can add them to your keyboard and use them anytime in a conversation with your friends.

This app will be updated to get you more 3d Avatar-making functions and sticker templates in the future.
Pros: MojiPop keyboard is one of the best creations of the same developers. You can use the keyboard of this exciting emoji app to make more stickers and use them all in a conversation with your friends.
Cons: You cannot use the animated stickers on platforms that don't support gifs.
5. Dollify
---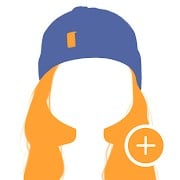 If you want to create 3D avatars, then Dollify should be an excellent app for you. With this realistic avatar creator, you can make symbolic avatars of almost all people of the world. It offers more than 14 different categories to create realistic but cuter avatars. Besides, this app provides more than 30 skin tones.
Apparently, it is one of the best avatar maker apps that offer different skin tones to resemble any person. Not only skin tones, but it also offers more selections for every category than most similar apps.
Important Features
This app is relatively easy to use. Apparently, all the categories are in one interface.

There are hundreds of color options available for most of the categories on it.

You will find lots of outfits in this app for your avatars, and you can even change their colors and design too.

It initially offers an online shop to purchase premium features, updated items, or different categories like pets.

You can indeed save as many avatars as you want with a customized name. Eventually, you can keep them or share them directly on social platforms.

This best avatar maker app lets you use individual colors for each eye.
Pros: With this incredible free avatar creator, you can make duo avatars representing bonding between two persons. Additionally, you can add beauty marks on the avatar's face at any position.
Cons: This app consumes more system space than similar offers from other developers.
6. BOOO – Your 3D Avatar Emoji
---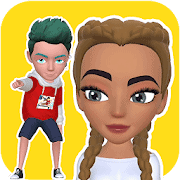 BOOO by Emoji voice changer inc is a great anime avatar creator to make any person's close and symbolic avatar. Especially its step-by-step method makes creating and modifying avatars a lot easier and hassle-free. Its large number of outfit collections provides thousands of possibilities for dressing sense.
This app makes cute 3D avatars that are 360° rotatable. Apparently, it lets you look at the avatar that most 3D avatar makers don't offer. Besides, this app is capable of running on lower Android versions without any lag.
Important Features
There are initially a good amount of customizable selections for every category.

At the very first, you have to choose the gender of your avatar in it. Apparently, this app provides more specific gender-based categories to make your job easy.

It indeed offers lots of accessories that are great for decorating your avatars.

You can simply share your avatar to any platform with just one click with this app.

This amusing app also offers tons of backgrounds, and so, you can easily get rid of the messy background of a photo.
Pros: It offers full-body avatars, which are great for resembling any person. Plus, you won't need an internet connection to use this app on the go. 
7. Bitmoji
---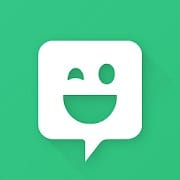 How about an avatar maker app that lets you make cartoonish full-body avatars? Bitmoji app not just makes avatars but also enables you to use them as emoji stickers. Meaning, you can have your personal emojis that you can use while chatting. With dozens of categories, you can make the perfect avatar of any person you want.
The best part of this app is, you can instantly make a close-looking avatar of any person on it by simply using the camera. Besides, it doesn't put much pressure on your device while in use.
Important Features
There are initially hundreds of fashions and customizable colors for outfits that you can use for your avatars.

After making an avatar, you will get hundreds of that avatar-featured emojis.

The emojis are incredibly easy to use by using the Bitmoji keyboard.

It features emoji search in the app. Apparently, you can find any type of emoji for any avatar within a second.

This app is available on both Google Play and the Apple App Store.

The interface of this app is quite minimalistic.
Pros: It is a very user-friendly app, and everyone will feel comfortable with it. Plus, you can purchase Bitmoji merch from its shop.
Cons: You will not find every type of activity-emoji on this app.
8. Avatar & Cartoon Maker: Zmoji
---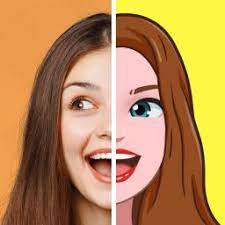 Zmoji by Quick Atom Ltd. is one of the most user-friendly apps for making avatar emoji on iPhone or iPad. With a significant number of items in every category, you can make an avatar of any person. This realistic avatar creator offers tons of fun outfits for both males and females. Apparently, it creates full-body avatars, which are really great for generating activity-based emojis. Besides, it gets item updates pretty frequently that contain exclusive items for various categories and new emojis.
Important Features
Sharing emoji while chatting is effortless with Zmoji's in-build keyboard.

You can instantly create emojis with it. Apparently, this app uses the device camera to recognize a person and create a resembling avatar.

It indeed creates emoji of your avatars almost in a few seconds. So, you won't have to wait to send your personalized emojis to others.

This incredible app includes different types of face structures so you can make more accurate avatars with ease. 

It features emoji GIFs along with standard ones.
Pros: This is one of the best avatar maker apps that let you make countless avatars and store their emojis. Besides, you won't need an internet connection to make an avatar with it.
Cons: The customizable categories for personalizing avatars are less than other similar alternatives.
9. SuperMe – Cartoon Avatar Maker
---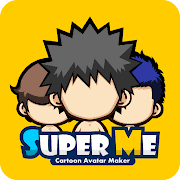 You can now make stylish cartoon avatars in a hassle-free environment with SuperMe. This game-style avatar maker app makes avatar-creating more enjoyable. This fantasyland-based 3D avatar creator lets you make cute avatars that are only imaginable. The good thing is it gives you interesting tasks and achievement that keeps you addicted to it.
Moreover, its expression personalization features open a new door for making avatars. Also, sharing avatars on social platforms is easy enough for everyone.
Important Features
It initially features different types of face structures. Apparently, it helps to make the avatars cuter and funny.

Along with basic customizations, there are lots of accessories that you can use for your avatars.

There is an option to bind SuperMe with Facebook or Email to keep your app data safe.

You can indeed select the background for avatars and background color from tons of options. It eventually is great for creating cartoon badges and community logos.

This incredible app features lots of mini-games that are perfect for spending free time.

It smoothly runs on almost all Android devices that are 4.4 or up.
Pros: Compared to its features, the size of this app is relatively smaller. In addition, you can shake your phone to create random cartoon avatars.
Cons: It may require an internet connection to use some features of this app.
10. Myidol · 3D Avatar Creator.
---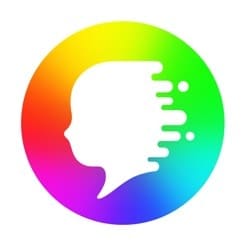 Lastly, it is Myido, your must-try, especially if you want to customize your selfies with animated features. It is an avatar maker app where you can find hundreds of outfits to perfect your avatars. This anime avatar creator is a minimalistic app where you only get the features you need for creating personalized avatars. Its intelligent, fast facial recognition technology lets you create an accurate-looking avatar for a person. Besides, it is an account-based app so that you won't lose your avatars by any means.
Important Features
You can simply create unique and personalized emojis with it.

It initially lets you play with your friends online. Apparently, it is great for keeping friends in a good mood.

With this app, you can share your avatars instantly and hassle-free.

It looks much more minimalistic and handy compared to other best avatar maker apps.

You can also make your own MV show with your created avatars.
Pros: It lets you use your created avatar as your profile picture. Moreover, it runs on iOS 8.0 or higher, which is excellent for older iPhone owners.
Cons: This app is not available for Android users.
FAQ
---
Q: Is there any app that turns a person in a photo into an avatar?
A: Yes, many apps turn a person in a photo into an Avatar. And we call them the avatar maker apps. In the Play Store and App Store, you will find lots of apps of this genre. Basically, these apps require a photo of you, and then they use the photo to make your lookalike avatars. Most of them eventually let you customize the avatar and make it funny or beautiful.
Q: What is the best free Avatar maker app for iPhone?
A: ZEPETO, Bitmoji, and MojiPop are the best free Avatar maker apps for iPhone, and they are eventually available for Android users as well. All these apps come in different features and functions of making animated avatars, and ZEPETO is the most different one here because it lets you make avatars and then play games with them. The other two apps are also very compatible, and they let you make avatars and animated stickers for fun.
Q: Which app lets you make animated stickers and then use them as gifs?
A: MojiPop and Avatar & Cartoon Maker by Zmoji are the best apps that let you make animated stickers and then use them as gifs. Here, MojiPop is available for both Android and iPhone users. But Avatar & Cartoon Maker by Zmoji is not available for Android devices. Both of these apps are free, and they will make funny animated avatars of you. 
These apps will also let you make many stickers, and you can customize them with avatars as well. And finally, you can use those stickers and others as gifs. Also, you can send them to your friends while being in a conversation on different social media that allows gifs.
Q: Is Bitmoji safe to use?
A: Basically, Bitmoji is a safe app that has no records of violence or cyber threats. Still, for some reason, we cannot call it a completely safe and protective app. The privacy policies of this app once raised some red flags.
Also, the Bitmoji keyboard generally asks for full access to your phone and address. That's why some people don't like to use this app. Even though I never heard about any records of Cyberthreats by Bitmoji. 
Finally, Insights
---
Hopefully, your long-last dream of making your own avatar is now about to come true. Just use the mentioned Avatar maker apps to make your dream about others and animated stickers. All these realistic cartoon Avatar makers impressed us with excellent Avatar-making functions and customizing options. That's why we recommended them out of hundreds of apps of the same category. So, let us know about which one you are going to try and how it works. Thank you for staying with us.