A contract is the beginning of a business. Two parties agree to perform any task in exchange for a mutual agreement. Here, a contract is a legal format of a business. Basically, a contract spells out how a transaction will be done. So, it denotes a vital document for a business—many business losses opportunity for improper management of the business contract. A contract management software simplifies business. It automates the creation, negotiation, and management of the business process. And it makes the process faster while reducing finance costs and audit risks.
Best Contract Management Software
---
In recent times, contract management systems are available in many forms. To find out best for your business, you should evaluate key features of the software, including customization, automation, repository. And, you should also consider the pricing plan, integration, security of the software. Here, we have discussed the top 10 best contract management software that contains most of the key features.
1. PandaDoc
---
When you are looking for a contract management solution, you may hear the name of PandaDoc. Founded in 2011. Basically, PandaDoc is a document automation software. You can improve your document workflow. Consequently, you can deliver an amazing experience for your customers. More than 23000 companies trust PandaDoc. Are you ready to join with top performers in the field of contract management platforms?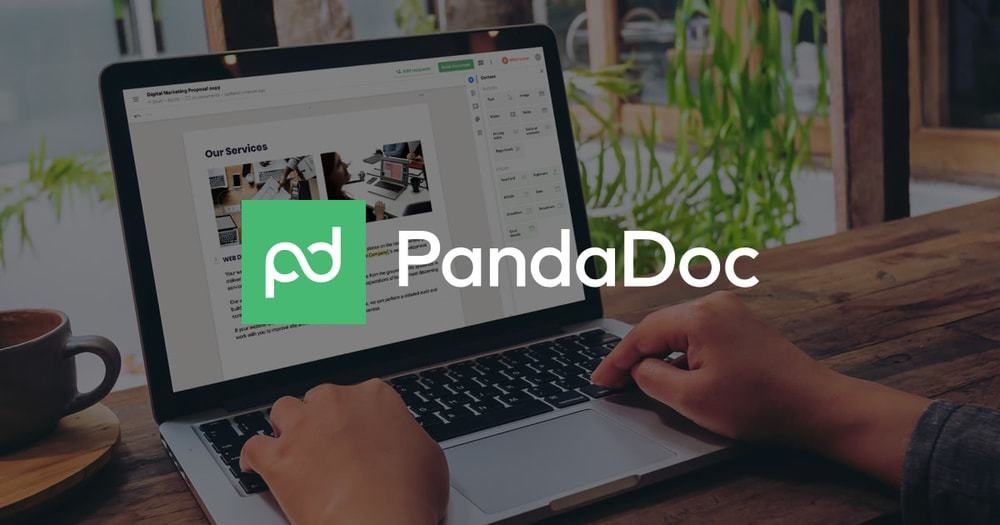 Key Features of PandaDoc 
You can use this software simply using a browser-based program or downloading a mobile app for Android or iOS.

You can collect information from your stakeholders by sharing a PandaDoc Form via direct link or embedded in your website link. For this, no coding knowledge is required.

There are many pre-designed templates and custom content libraries. Therefore, you can create a fast contract with pre-approved templates.

You can execute your contract digitally with innovative e-signature technology. Furthermore, it ensures the security of the documents.

PandaDoc offers integration with leading accounting and CRM software.
Pros: You can conduct fast deals using PandaDoc many pre-designed templates, e-sign, and pre-approved forms.
Cons: UX/UI still has room to develop.
Pricing: It starts at $19/month but saves up to 24% if you subscribe for annual plans. You can enjoy a 14-day free trial.
2. DocuSign
---
DocuSign was the first company who introduced electronics signature technology in the world. The company started its journey in 2003. But, after the purchase of a contract lifecycle management (CLM) company called SpringCM, the company extends its service features.
Now, the company offers complete contract management solutions. More than 750,000 organizations across 180 countries in 44 languages are experienced  DocuSign services. Overall, DocuSign accelerates doing the business process.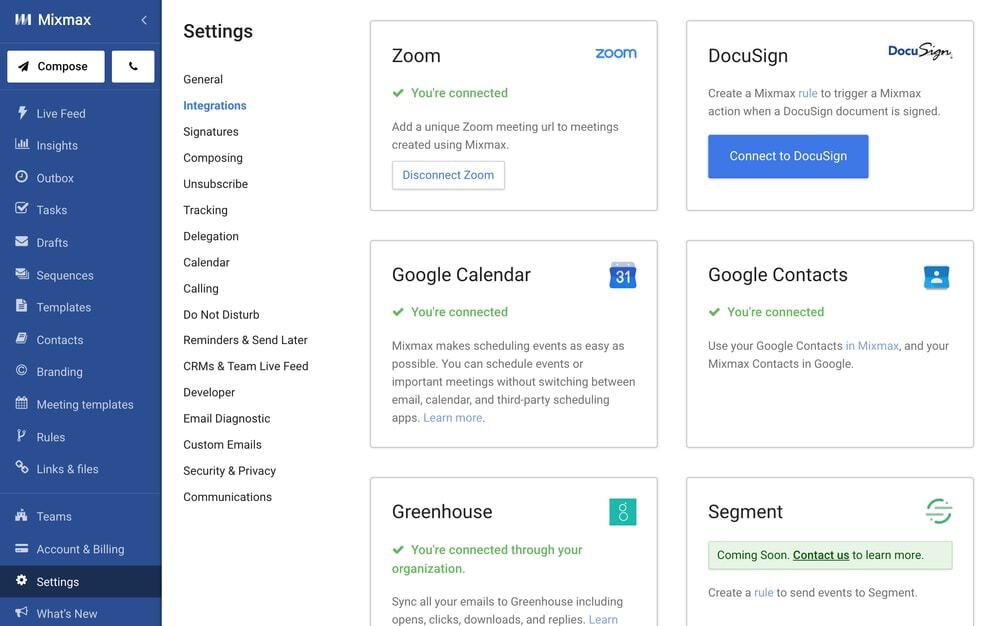 Key Features of DocuSign
Small enterprises can easily avail of e-signature plans because the company offers different service plans for small to large enterprises.

DocuSign has a rich content library. You can use many reusable templates.

A real-time notification service is available here. You have to set a date, and then you can enjoy auto-email reminders, notifications.

You can use DocuSign on a web-based platform. Besides, a mobile app is available for both Android or iOS.

There are 350 pre-built integrations with DocuSign, which smooths business deals.
Pros: You can customize your workflow. And customer chat is available 24/7.
Cons: Though DocuSign provides a flexible workflow initial workflow setup is complex.
Pricing: It starts at $15 for a single user. DocuSign offers both monthly or annual pricing plans. Its services range varies according to the pricing plan. You can enjoy a 30-day free trial.
3. Concord
---
If you are looking for simple design contract management software, Concord is the best choice for you. Founded in 2014. Concord provides a simple dashboard like Gmail. Because most of the business applications are integrated with Concord, you can easily collaborate with your employees and negotiate with customers and vendors. More than 500,000 companies rely on concord services.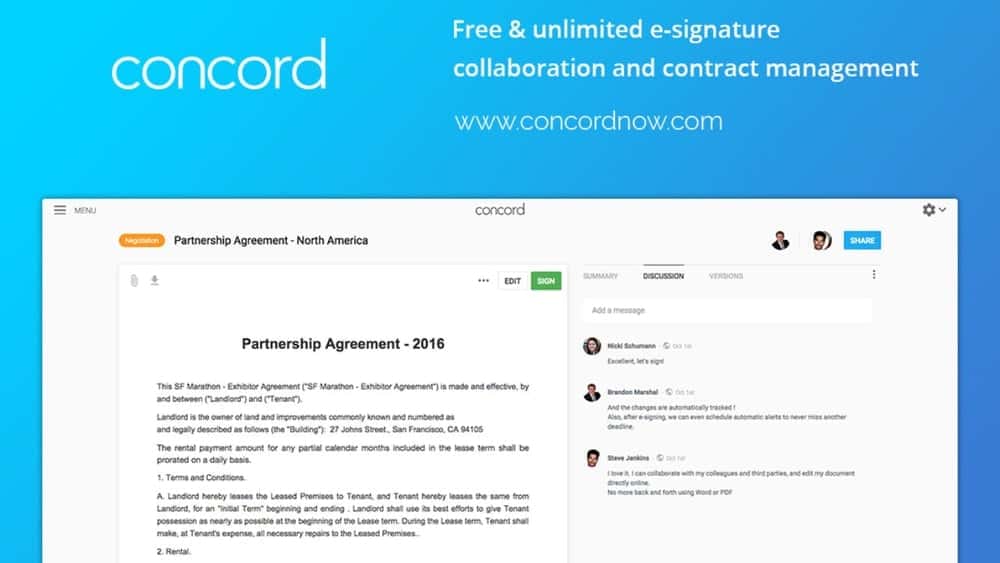 Key Features of Concord
Sending bulk messages and storing unlimited contracts are only possible in Concord. Besides, its OCR technology helps to find any contract quickly.

A simple interface makes it easier to collaborate with your team, customers, vendors, and counterparty. 

You can create agreement drafts by using pre-approved clauses and pre-designed templates. So, you can accelerate the negotiation process.

Key business applications integration with Concord accelerates doing the business process.

Live editing, auto smart fill, and automatic notifications tools make a comfortable experience in the business process.
Pros: Concord is the only software that provides unlimited volume and key integration.
Cons: Contract integration with an outside platform is complex. Besides, no key integration is approved in the starter package.
Pricing: It starts at $279/month. They offer four transparent pricing plans. You can request a demo.
4. Juro
---
If you are looking for a contract management solution but you have no budget. Then, Juro is the best option for you. Does it sound good! However, Juro also has paid packages with high-level functionality. But its free version is good enough for a starter. Because you may get incredible contract management features just free. More than 100,000 contracts have already been negotiated for world-class companies by Juro.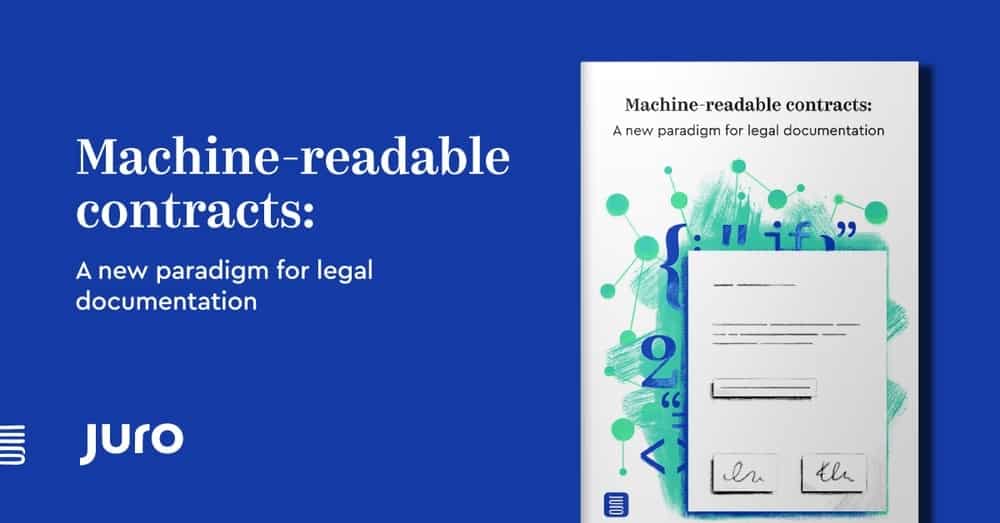 Key Features of Juro
Collaborate with everyone- your team, customers, vendors – in one place. And you can control the workflow.

Juro's built-in template editor helps you to design a professional contract paper. Moreover, You can send them out from the template platform for conducting fast business deals.
Though Juro data is hosted on Amazon Web Services (AWS) servers, you are ensured the security of your data highly. Besides, it complies with e-signature regulations.
Advanced search tools help to find data quickly. Furthermore, you can edit documents if you need them.
Key business application integration with Juro is possible if you subscribed for a paid plan.
Pros: For the first 50 contracts in a year is completely free. You can customize your plan if you wish to subscribe for a paid plan. And, its kanban dashboard is user-friendly to use.
Cons: Surprising that they have no mobile app. The paid package is too expensive.
Pricing: It starts at $450/month if you are interested for a paid plan—15% standard discount for non-profit organizations.
5. Agiloft
---
If you don't have coding knowledge, but you want to customize your contract management software. Then, Agiloft is recommended for you. Since 1990 Agiloft has provided intuitive contract management solutions.
One of the oldest contract management platforms. But, recently, they have made plenty of updates confirming the best customization experiences for all sizes of business. Not only that, they automate workflow, including all contract management tools.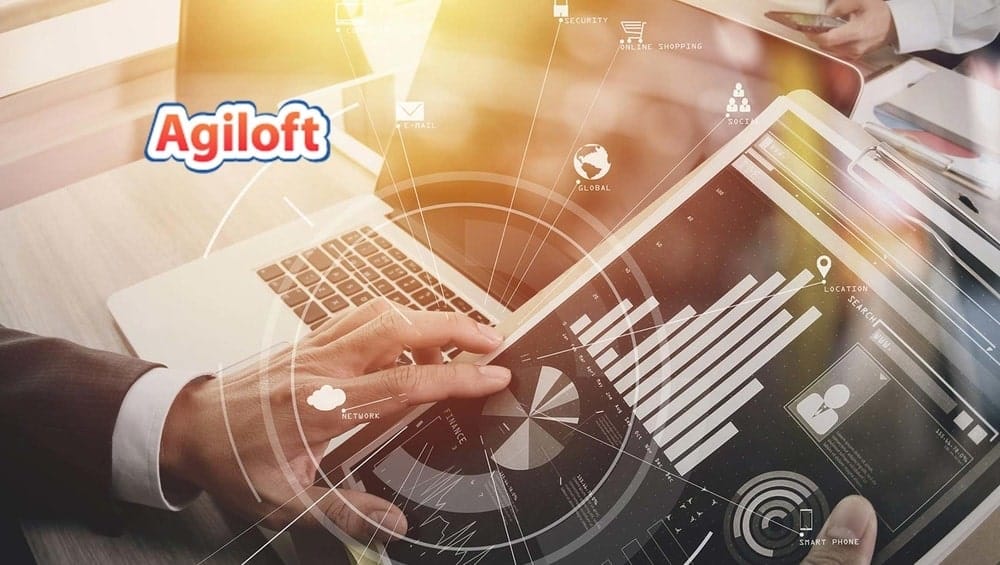 Key Features of Agiloft
You can get instant access to all data and find any contract or clause. Besides, OCR technology can convert images to text.

You can manage complex workflow by analyzing routine processes. And, the Contract process can be accelerated by automation of redline and integration with key business applications.

Your data is highly secured and authenticated. Besides, all regulatory requirements have complied.

You can manage a custom dashboard and get custom reports.

They have pre-built Artificial Intelligence (AI) technology that can recognize and import metadata.
Pros: Though data is stored in doubly redundant infrastructure, you can get a 99.9% uptime service.
Cons: There are many options in customization, making the system clumsy—no live chat system.
Pricing: Pricing plans are based on the number of users. It starts at $65 per user/month. You can choose a monthly, quarterly, or yearly plan. There is a free trial.
6. Outlaw
---
If you are looking for contract management solutions with an awesome reporting dashboard, you trust the outlaw. But outlaw became popular within a very short time because of its plenty of effective features. Outlaw offers a flexible pricing plan that's why all sizes of businesses can afford outlaw. Moreover, its advanced innovation accelerates doing business process.
Key Features of outlaw
No need to worry about storage capacity. Because Outlaw offers an unlimited volume of storage, contracts, and e-signatures.

There are a pre-built clause library and smart variables which helps to generate error-free contract document quickly.

Optimizes business by collaborating with team and clients through a cloud-based system. And, Outlaw automates workflow with real-time notifications.

You get highly secure API documentation and an e-signature module.

Integration with key business applications is simple.
Pros: The platform provides unlimited cloud storage. Easy to setup. Live chat is available.
Cons: Few features are not included with the package.
Pricing: Two types of plan is offered which is named as – core user and collaborator. The Core user plan starts at $125/month/user with full control. On the other hand, the collaborator plan starts at $60/month/active user without full administrative features. But, you need five users to unlock the collaborator plan.
7. ContractWorks
---
If you are looking for quick implementation, you trust on ContractWorks. Within 30 minutes, you can complete the full setup. Founded in 2012. Basically, ContractWorks focuses on an unlimited volume of storage. This contract management software offers an unlimited number of users and an unlimited number of contract options. There interface user friendly. And its artificial intelligence technology automates the contract process.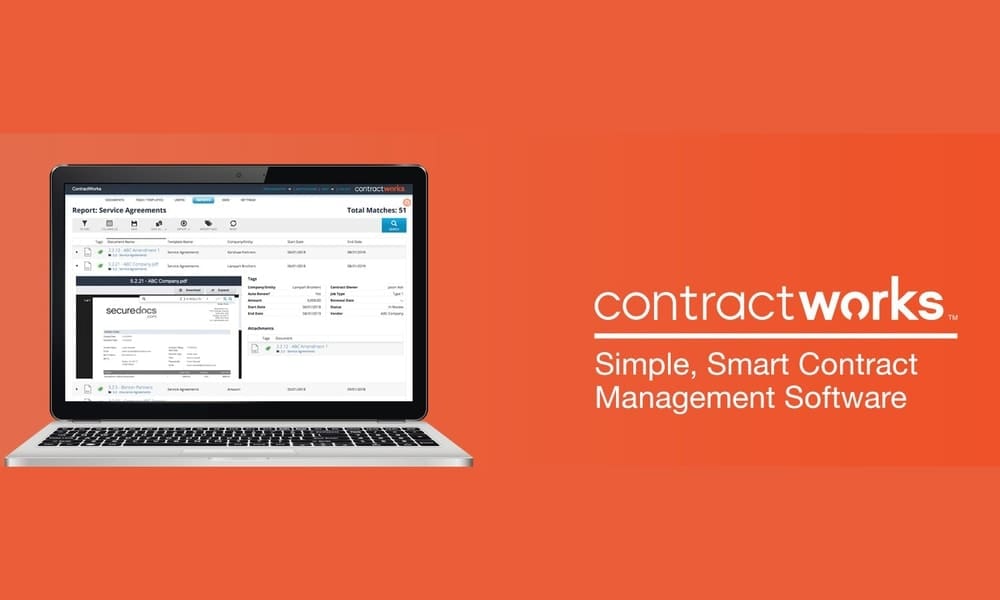 Key Features of ContractWorks
You can use smart auto-tagging AI technology that automates for doing the business processes.

There is a pre-built e-signature that helps you to manage and track online contracts.
Your data is highly secured and encrypted because data is hosted in Amazon Web Services (AWS) Platform.
You can run custom reports. Besides, you can set flexible alerts.
If you search for any contract, you can get results quickly because OCR technology can convert images to text.
Pros: Unlimited number of users get access to this software. You can get customer support 24/7.
Cons: Only a limited number of third-party integration is possible. Though ContractWork is a cloud-based platform, they still have not developed a mobile app.
Pricing: The pricing plan is billed based on documents and e-signature license volume. It starts at $600/month. If you need a large volume, then you can contact the company for price quotes.
8. LinkSquares
---
A contract does your business. Basically, this is a legal document. Most of the time, contracts guide your revenue, operational and financial activities. So, it is a very important issue for a company. If you don't have an experienced lawyer, you can make deals with LinkSquares. Founded in 2015. Though LinkSqaures focus on legal work, you can get a full contract lifecycle management solution powered by AI.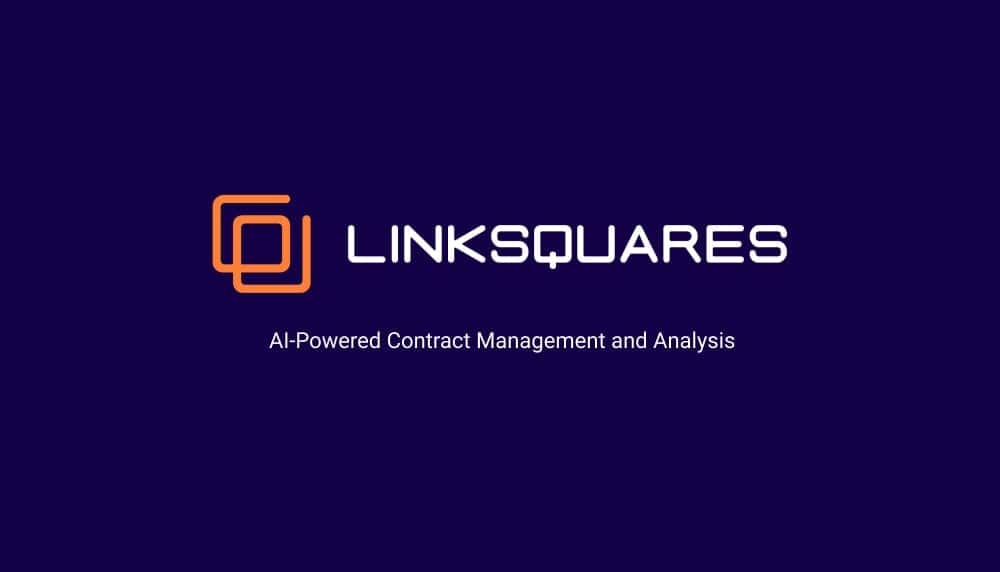 Key Features of LinkSquares
Its smart AI can extract metadata and full text, keyword, phrases search. And get to understand the contract matter.

You can run custom reports using smart variables. And, the report can easily share reports across the system.
Furthermore, you can manage business dates by setting renewal dates and termination dates.
The system is integrated with a SAML-based Single-Sign-On provider. So, you can upload documents via email or SAML.
Your data is highly secured in Amazon Web Services (AWS) server.
You can collaborate with your team by providing custom user roles and controlling their access.
Pros: This contract management software provides a super clean and user-friendly interface. You can securely share your content. Besides, you get dedicated customer support.
Cons: The company needs to update "Smart Variables" and "Scheduling Task" features.
Pricing: Please contact the vendor for a price quote. Besides, You can request a demo.
9. Contractbook
---
Contractbook automates the entire lifecycle of a contract. Founded in 2017. More than 100,000 users across 75+ countries trust Contractbook. Most of the contract tools partial solutions but Contractbook design a single workflow for an end-to-end contract lifecycle platform. The system collaborates with everyone in a single platform and negotiates them for making secure best possible deals.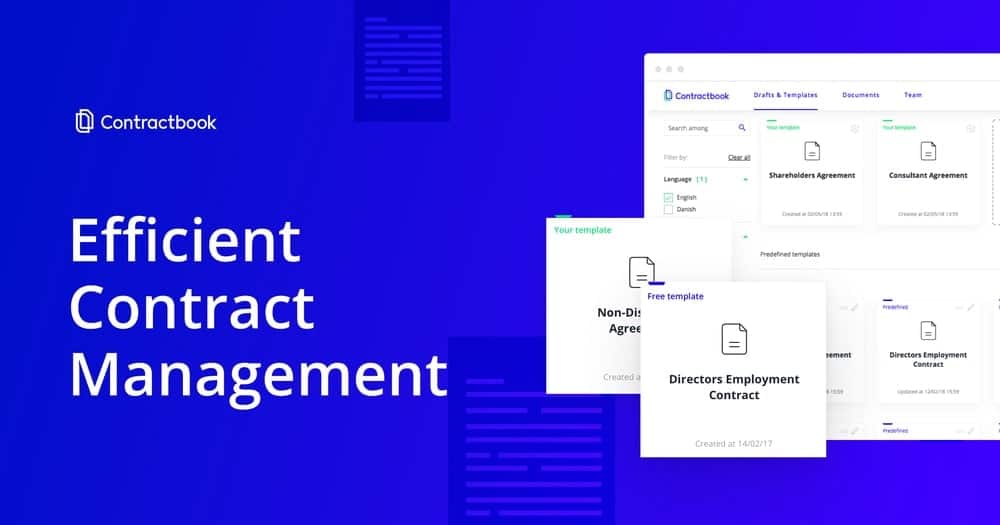 Key Features of Contractbook
Design a fully automatic workflow from drafting to executing a contract.

More than 100 free contract templates are built with Contractbook. So, you can draft an error-free contract agreement in a short time.
You can connect with multiple stakeholders – employees, customers, vendors – and negotiate seamlessly with them. Furthermore, you can maintain a hierarchy to set access to data.
Store your documents in the cloud and organize centrally with smart tagging technology.
There are also auto-reminders and auto task managers that help to maintain obligation in time.
Pros: The interface looks so professional. Their pre-built contract templates are legally bound. Besides, you can add your own logo when you customize a contract template.
Cons: Text editor is not updated. More updates are required in the text editor.
Pricing: It starts at $97/month. The company also offers a free trial version for 1 user with limited access.
10. Onit Contract Management
---
Onit Contract Management offers a complete business solution. The system provides not only contract management but also business process management. While every contract management application design workflow up to the approval of the contract.
But, Onit conducts the entire contract lifecycle and monitors the post-execution of the contract. This innovative workflow platform empowers teams to solve real business problems. So, you can generate revenue and minimize operating costs.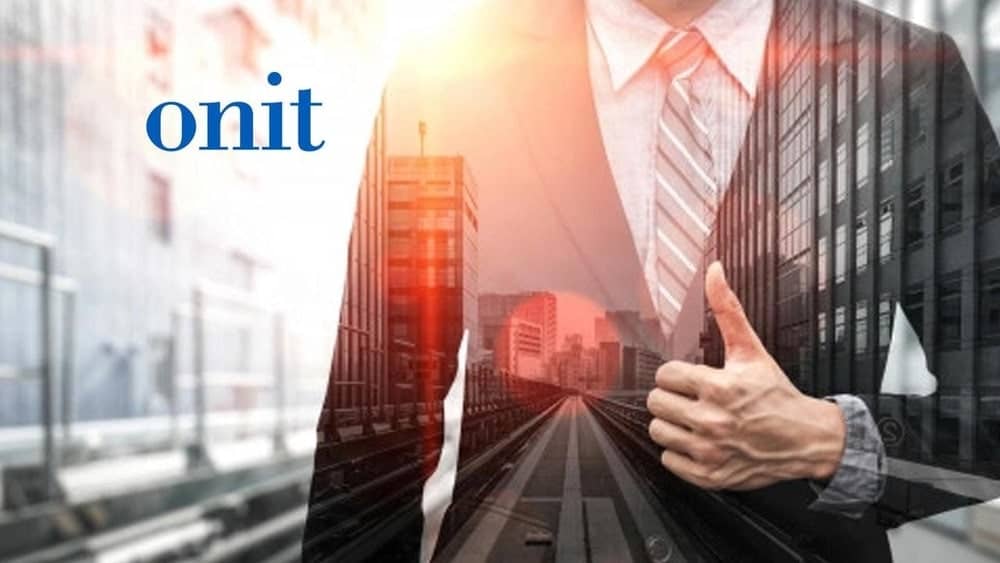 Key Features of Onit Contract Management
Their pre-built rules can generate contracts automatically using metadata.

The system automatically provides feedback on tasks and monitors the progress of the task.
The AI can audit risk trails. So, you can negotiate your contract agreement by mitigating risk factors.
Your partner can get access to use your portal for conducting contract requests, submit or approval. So, you can make a good relationship with your vendors.
Your data is highly secured and hosted on an

Amazon AWS

server. And all regulatory compliances have complied.
Pros: You can access detailed business processes from your web browser or mobile app anytime, anywhere. And, Onit is integrated with Microsoft Word and DocuSign.
Cons: Though it seems easy to use the interface, you need an instructor for the first time to use this software.
Pricing: Please contact the vendor for price quotes. You can schedule a demo.
Our Recommendation
---
While reviewing this 10 software, we find that most of the software offers similar types of features. The most common of each software are cloud-based platform, automated workflow, digital signature technology. But, each has some specialty in particular features that makes it stand out from others. So, we cannot use a single contract management software for you.
Firstly, you determine your number of users and documents. Secondly, you decide your requirement of customization and workflow. Thirdly, you delimit document retention and storage capacity. Fourthly, you demonstrate auditing and analysis tools. Fifthly, you consider categorization and reporting. Finally, you consider your budget. Therefore, you make a final decision for your best-suited software.
Finally, Insights
---
So here are the best contract management solution that you can use for automates your business contract. We have listed cloud-based software. So, you can get service anytime, anywhere. In this article, we provide every software website link. So you can visit their website and get in-depth knowledge about their service features.
Definitely, you may find many alternative contract management software besides these. But, if you do not have enough time to explore and satisfy our review, you can choose from the above list. And, do not forget to share your user experience of the software.