The online forum has been a popular and helpful platform for different kinds of professionals and bloggers. Based on the posted topic, people do discuss and provide their opinions. It works as a great place to get a clear idea of any item you prefer in the specific community. Like the other platforms, Linux also has many useful forum applications. Today, we are going to show you a comprehensive list of the best forum software for Linux users.
Linux always helps with a lot of applications for free. We researched from different sources to find out the best open source forum software for your need. Some of them allow you to open a single discussion forum only. On the other hand, some applications support multiple forums. Now, before going to the central point, we should know something crucial. Let's have a look below! 
The Ideal Characteristics of Forum Software
---
How can you determine an ideal application for your need if you don't know the best characteristics? You are going to use a forum for a reason, not to make fun! So, this is essential to gather knowledge by which you may know the ideal features. 
Easy-to-use

: Make sure the application you are going to use has an easy-to-use interface. It enables a simple and clear understanding at the time of installation and the profile set up. 

Update Feature

: An ideal forum software ensures the update feature consistently. If it doesn't provide the support, it can be outdated after a certain period. 

Text Editor

: It's all about the text in the forum software. Another essential feature of this type of application is a powerful editor to create posts in comfort. 

Secure Messaging

: You can call it private messaging also. Sometimes, you may need to send some private text to a specific member or a group. So, it should be secure in the ideal forum software. 

Signatures

: Signature is kind of fun for forum users. It helps you to increase the engagement between the members and for linking to external resources.
Best Forum Software For Linux Users
---
Now, it's time to provide the resource you are waiting for. We have summarized the list of the best forum software for Linux regarding their features and some specific functionalities. You will also get the official page as well as the download link of the applications here. So, let's move on to the discussion. 
1. Discourse
---
Discourse is one of the most popular and feature-enriched forum software in the Linux community. It is an open source forum software with a lot of amazing features your community will love. Discourse is built with JavaScript, Ruby on Rails, Redis, and also with Ember.js framework. Besides a forum application, you can also use it as a mailing list, long-form chat room, and more. It provides internationalization support in different languages.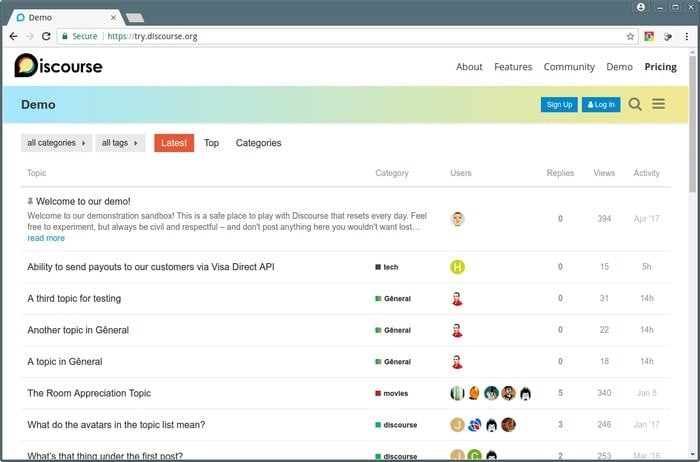 Noteworthy Features
Discourse is a simple, modern, and 100% free open source forum software.

Facility to integrate with social logins like Facebook, Instagram, Yahoo, Twitter, and Github.

It ensures account security through a two-factor authentication system.

Discourse Includes a comprehensive API to do the task you see in the screen via API call.

This application is SEO optimized for Google indexing and searching.

It has a bunch of badges and different emoji sets.
2. Vanilla
---
Vanilla is a cloud-based community forum software that provides a modern forum experience. It is easy to install and maintain for both beginners and professional level users as well. Vanilla has a friendly customization panel with native gamification. It helps the members to participate with badges and reactions.
This free forum software makes the way more comfortable to share data through integrations with MailChimp, Salesforce, Zendesk, Hootsuite, and more. Besides the facilities, Vanilla can be a great resource to drive loyalty and increase customer service for your business.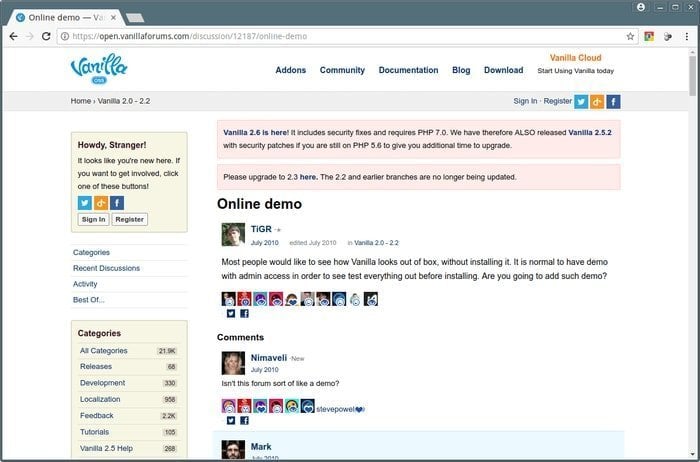 Noteworthy Features
Vanilla is an easy-to-setup and maintainable software for the community members.

It is a mobile-ready application that works on every device or screen size.

Vanilla enables integration with social networks for easy sharing and log in. 

It has plenty of themes and plugins to enrich its functionality.

It enables data sharing facility with Salesforce, MailChimp, GitHub, and more. 

Allows importing content from other forums.
Get Vanilla
3. phpBB- Open Source Forum Software
---
phpBB is another free and open source forum software used by millions of people daily. You can edit or change anything to the code without any restriction. This application is built with PHP programming language and the Symphony framework. phpBB offers a user-friendly interface with a comprehensive administration panel with proper documentation. So, anyone can handle this environment without having much technical knowledge.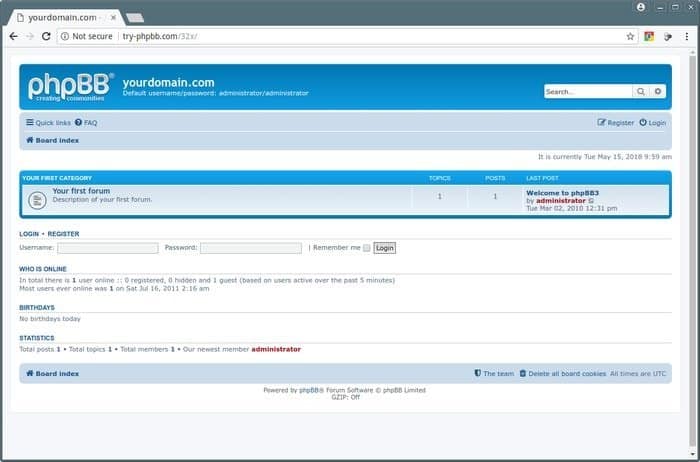 Noteworthy Features
phpBB offers a modern and responsive design that ensures optimal performance and cross-browser support.

It provides a comprehensive administration control panel.

It enables sending private messages to any member directly via the board.

Offers different types of groups like Closed, Hidden, and Open, keeping the option to make multiple group leaders.

phpBB ensures strong security at registration via multiple CAPTCHAs, reCAPTCHA, 3D CAPTCHA, and also customizable Q&A CAPTCHA.

It provides detailed documentation and helpful video tutorials.
4. Simple Machines Forum
---
Simple Machine Forum is free and professional-grade software with many powerful features. It is built with PHP programming language and MYSQL for database management. Simple Machines Forum provides all the possible features you need from an ideal bulletin board. Its powerful package manager allows you to apply any of the modifications in the database and themes that change the outlook of your site.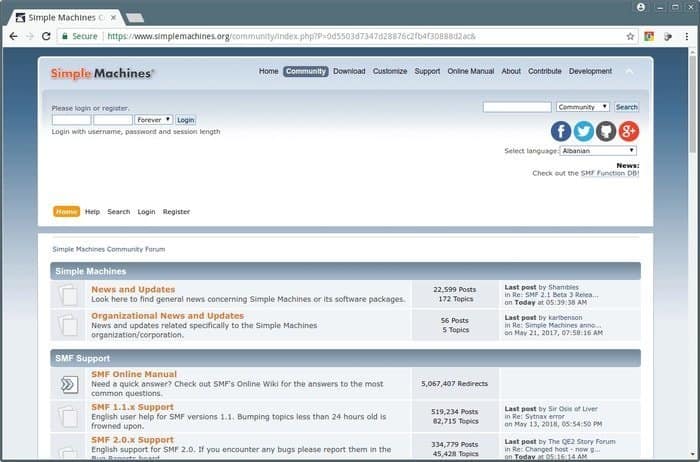 Noteworthy Features
Highly customizable with a lot of extensions.

It ensures high-quality support through the SMF team and the community members.

SMF community provides the facility to search the entire forum within a topic to find your query or solution.

Ensures well-documented and structured code and provides optimal performance and scalability.

Simple Machines Forum is enriched with security features.

It provides internationalization support in over 47 different languages.
5. bbPress- Free Forum Software
---
bbPress is another free and open source forum software with a good range of features. It offers easy installation and configuration with supports in setting up multiple forums. You will get a user-friendly environment that always keeps things simple and makes them intuitive for the users.
bbPress has numerous customizable templates to dress up your forums however you like. Besides this, something is interesting in this application. It supports search functionality and shortcodes like the most popular Content Management System, WordPress.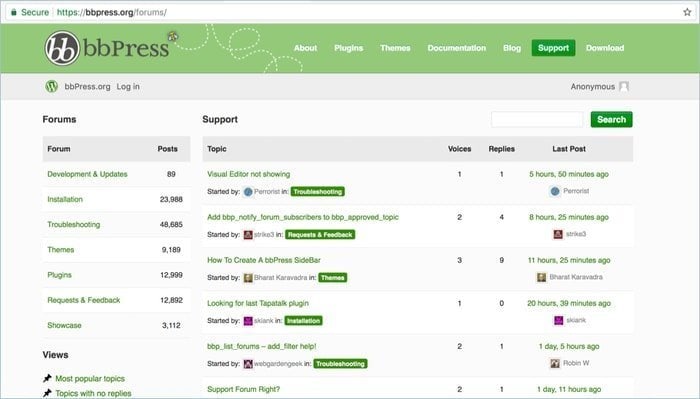 Noteworthy Features
bbPress is simple to set up and easy to moderate.

It Supports several plugins and RSS feeds.

It offers robust security, including spam blocking functionality.

Supports plugins, including Login Widget, Akismet, BuddyPress, Forum List, and more.

It provides a subscription facility to various topics and forums.
6. miniBB
---
miniBB comes with an interactive open source platform to establish a comfortable, lightweight, and speedy quick web forum. This Mini Bulletin Board is written in PHP programming language and uses MySQL for database management.
It provides you a responsive layout to cover both small and large screens. Integrating with your website may help you to discuss and solve problems in different purposes. It is a platform to bring more audience to you to increase your business community.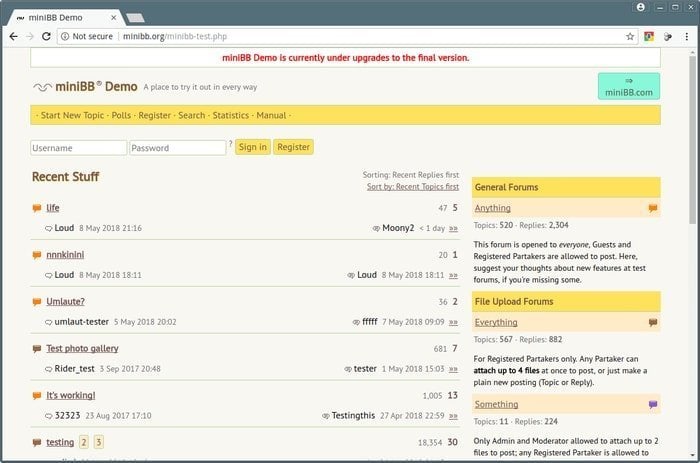 Noteworthy Features
miniBB offers to create an unlimited amount of member accounts, including messages and topics.

It supports guest posts and quick moderation.

miniBB consists of clean and optimized code and offers SEO-friendly results.

It offers immediate security fixes by miniBB developers with notifications.

miniBB is available in over 40 languages, including Arabic, English, Danish, Finnish, Italian, Korean, Malay, Spanish, Polish, and more.

Facility to integrate with extra functionality through paid extensions. 
7. Phorum
---
Phorum is another one of the best forum software. Since its development in 1998, it has turned into a mature discussion platform. This open source platform is written in PHP programming language and uses MySQL for database management. You can run a single forum here with over 2000 new posts per day.
It shows the versatility of this unique product. It enables the users to make the message board fit into their site. Phorum templates are built with pure HTML, and you can use them as a starting point.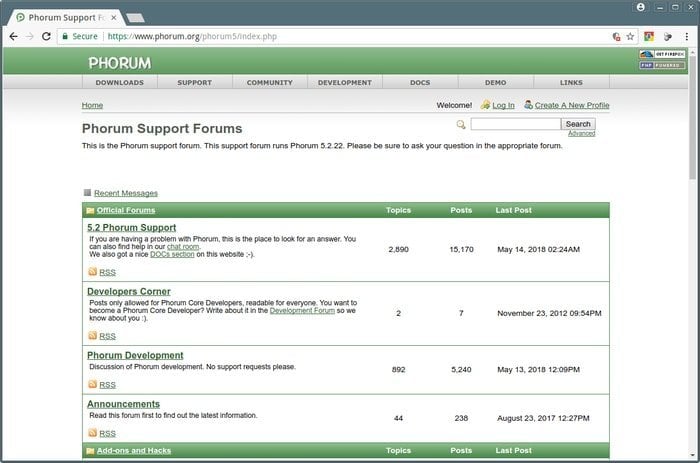 Noteworthy Features
Phorum provides a flexible hook and module system for its users.

Enables serving over 200000 messages per day without bogging down servers.

Provides the freedom to select forum language, file storage area, and timezone.

It provides the support of posting in HTML, plain text, and BBCode.

Phorum can provide support in Arabic, Danish, French, German, and other different languages.

It allows sending private messages.
8. myBB
---
myBB is an extremely powerful open source forum software with an interactive user interface. It offers an advanced plugin system to add more features in your forum discussion. You will get built-in templates and a theme editor with this free forum software to make the activity easier.
myBB is written in PHP and supports different database systems, including MySQL, PostgreSQL, and SQLite. It ensures the database backup if anyone from the list fails to provide support.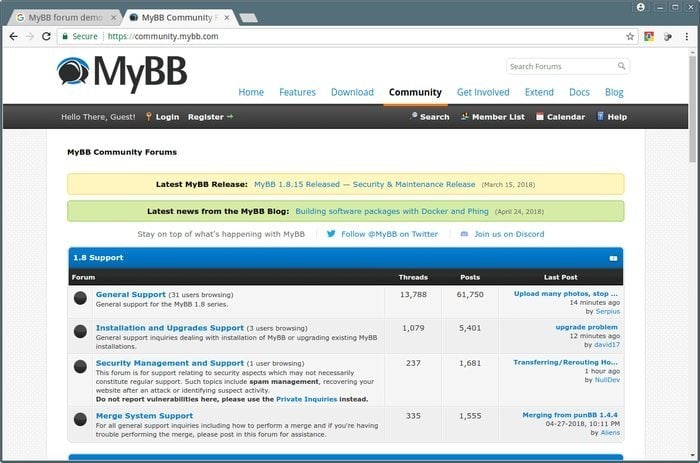 Noteworthy Features
myBB provides complete control over the forum's design via a built-in template and theme editor.

Allows participating in private conversations at a time.

It ensures database backup through several database management systems like MySQL, SQLite, etc. 

myBB has an advanced feature to warn users for improper behavior. 

Like email or social networks, it allows private messaging with the forum members.

Able to extend functionality through a large number of plugins.
9. Thredded
---
Thredded is a free forum software built with the Ruby on Rails program. It does not have infrastructure dependencies. Thredded supports SQLite, MySQL, and PostgreSQL relational databases. You can format your posts with MarkDown by default or BBCode, with onebox and <spoiler> tag support.
It offers updates with email notifications, @-mentions, and unread post tracking. It also provides a responsive minimalist theme to run the forum in both small and large devices smoothly.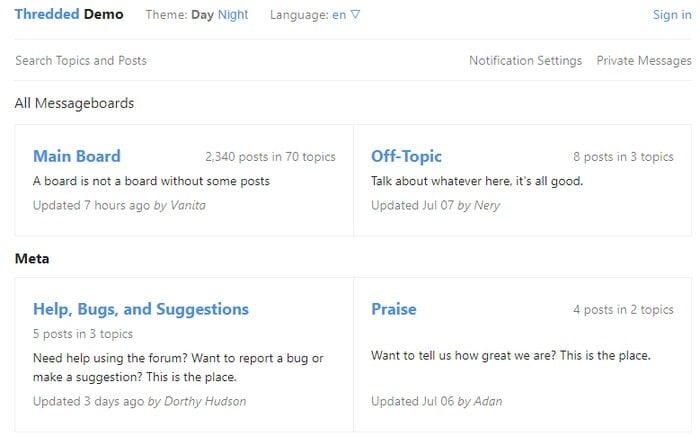 Noteworthy Features
It enables finding posts quickly using the database with 'full-text search.'

Thredded Offers private group messaging.

It ensures a fantastic page speed score of 99+/100 in user experience and 88+ on the mobile device. 

It can be easily integrated into the rest of the Rails app as an engine.

It supports all modern browsers, including Turbolinks, IE9+, and more.
10. FluxBB- Free Forum Software
---
FluxBB is an easy-to-use, stable, and lightweight forum software. It is under GNU General Public License and an alternative to the traditional feature heavy forum online tools. FluxBB is a multi-lingual and PHP-based application. It comes with a structured administration panel.
It has increased features focusing on security issues in its latest update. You will get a secure and flexible permission system with this free forum software, including some well-featured plugins to make it more functional. It also allows the group-based permission system for the users.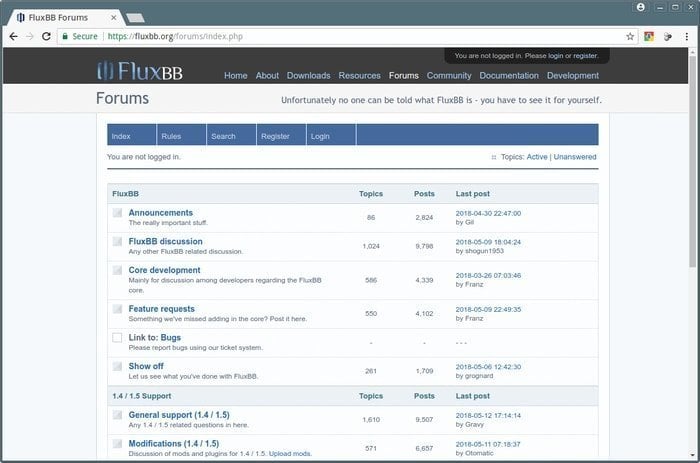 Noteworthy Features
FluxBB provides easy installation and setup for the users.

It Allows longer SMTP passwords over SSL for powerful security.

It provides a clean and straightforward administrative interface.

FluxBB Allows lots of community modifications.

Provides RSS and Atom feed support.

FluxBB provides the authority to ban users by email, IP address, and username.
Get FluxBB
11. PunBB
---
PunBB is a free and lightweight PHP-based forum software with a user-friendly and flexible layout. It is an open source platform released under GNU General Public License. PunBB has not enriched features like Vanilla or phpBB but can work as a good alternative for commercial discussion boards. It offers private messaging, polls, and file attachments like the other communities. It also supports essential extensions to enrich its features than before.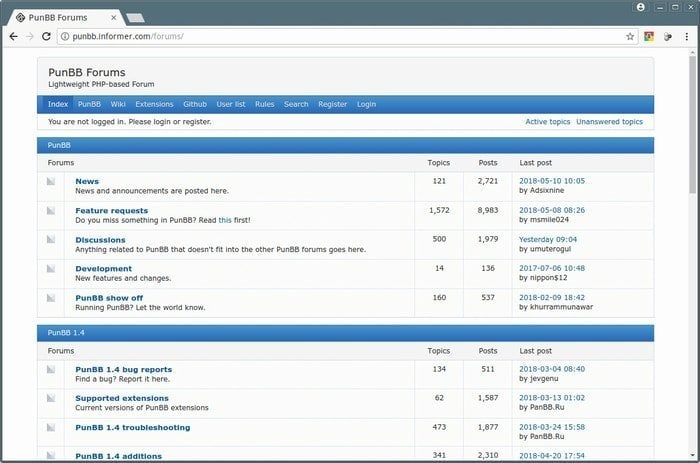 Noteworthy Features
PunBB ensures a faster and lightweight platform compared with other applications.

It provides a simple and easy-to-handle layout.

Supports MySQL, PostgreSQL, and SQLite for storing forum data.

Consists of structured and well-documented code to read and understand.

PunBB is available in different languages, including English, German, Czech, Italian, Polish, and Russian.
12. YaBB
---
YaBB is another leading free forum software to communicate with friends, various communities, neighbors, and fellow clubs. It allows you to provide support to your customers and make a communicate 24/7 with the visitors.
You can make the conversation with your members, and anyone can join there anytime from your communities. YaBB works like an online bulletin board and can become a consistent communication tool for your professional demands.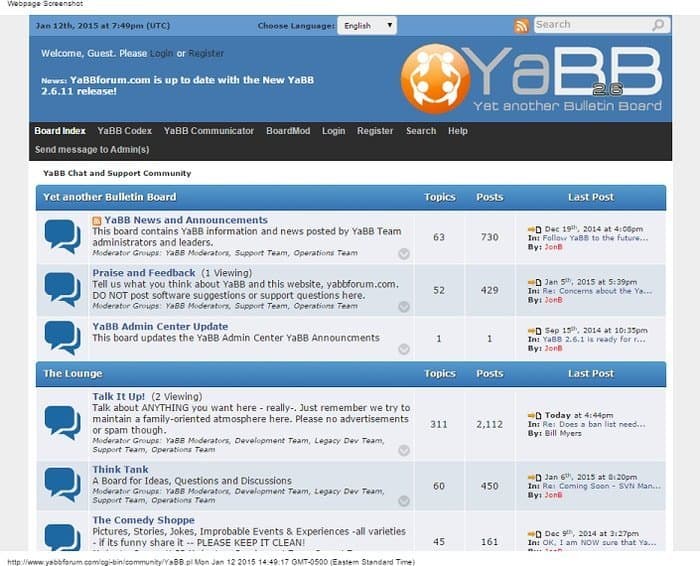 Noteworthy Features
YaBB provides customization support to fit your desired design.

It consists of built-in security, sensor controls, and spam eliminators.

Provides Flat Text Database for ensuring more flexibility.

It allows easy integration with an existing website.

YaBB provides extra security features with encrypted usernames and passwords.
13. Flarum
---
Flarum comes with a full of innovation, beautifully designed PHP-based forum software. It's something out of the box that enables you to spend less time clicking and more time talking with your community members. Its front-end is built with a lightweight JavaScript framework, Mithril.
Flarum provides a two-pane interface to ensure a flexible working environment. You can continue the discussions without opening dozen of tabs. It is entirely responsive by default and optimized for touch, smooth animations, and some more.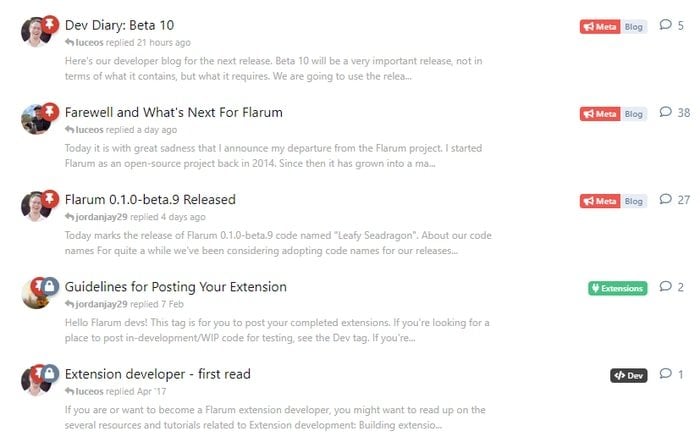 Noteworthy Features
Ensures easy installation to set up a forum.

It lets you develop new functionality with its comprehensive and well-documented APIs. 

Provides color scheming to change the color scheme easily.

Flarum allows smart notifications.

It allows importing your existing data from phpBB, FluxBB, MyBB, and SMF2. 

It provides the control of the forum with fine-grained permissions.
Get Flarum
14. Flask- Open Source Forum Software
---
Flask is a kind of different free forum software that is not PHP-based like the others mentioned in the list. It is an open source application written in the Python programming language.
Another unique and interesting part of this tool is that you will need root access to install this software on your machine. Flask keeps the facility extending its functional activities with several plugins. You can also create a customized style for your site.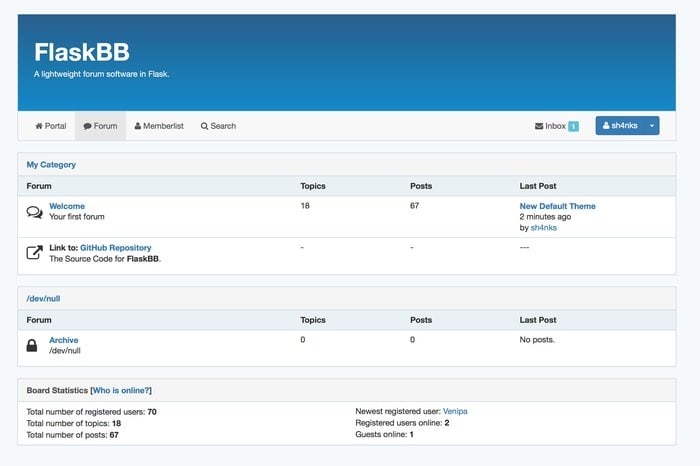 Noteworthy Features
Flask allows managing the forum efficiently with the management interface.  

It allows private conversation with another user.

It enables tracking your favorite posts with 'Topic Tracker.'

Flask supports user translated languages besides English as well.

Can be managed the forum via Command Line Interface.
15. ElkArte
---
ElkArte is another example of an open source forum software like Simple Machines Forum, phpBB, or vBulletin. You will get many advanced features without installing a lot of additional add-ons in this free forum software.
It also provides the facility to migrate your discussion forum using 'Open Importer Engine' from many popular applications like SMF, MyBB, phpBB, and more. ElkArte has the feature to mention any user on a thread and notification. It helps to increase the engagement between the members of the community.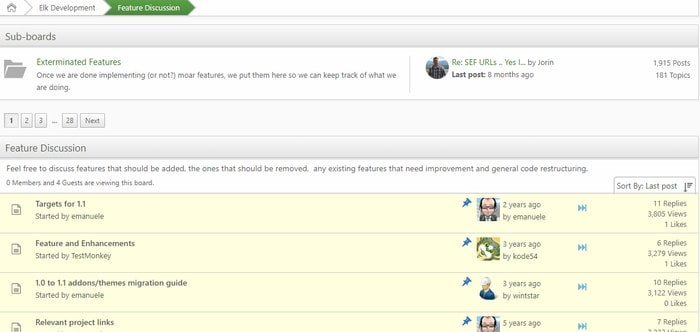 Noteworthy Features
ElkArte provides smart notifications to users.

It provides a responsive layout that suits any modern browser and device.

ElkArte allows autosave, including Drafts.

It allows drag and drop file attachments and ordering in the Admin interface.

It enables password hashing using industry standards.
Wrapping Up
---
The forum software is like alternatives to popular social media like Facebook, Twitter, or Tumblr. In this article, we provided a deeply researched list of the best forum software for Linux. Hopefully, you will find a proper solution to pick up the most suitable one for your need.
If you have some other choices, let us know in the comment below or via mail. UbuntuPit always appreciates constructive ideas from its valuable audience. If you think this is a helpful resource, please do share it with your community and friends. Thanks for your patience. Keep in touch!