Are you an Android phone user who doesn't feel any attachment to the built-in keyboard because of the typical features? If you belong to that group of people, then you are in the right place to explore some of the best keyboard apps for Android. The free keyboard apps for android phones that we have presented in this article are simply excellent because of including outstanding features such as emojis and stickers. Moreover, even after being third-party apps, the keyboard apps do not contain any malware or any other harmful element, as we have listed these after a lot of research. So, we can assure you not only pure enjoyment but also quality.
Best Keyboard Apps for Android
---
The best keyboard apps for Android that have been listed are equipped with the details of respective features so that you can easily comprehend each of these potentials. You can even visit each of their official sites to download just by clicking the button at the end of each app. However, before going into the details, you can look at my previously written review on the best photo editing apps for Android.
1. Gboard
---
It is a top-notch combination of Google and Android that assures your privacy to the utmost. This best smartphone keyboard can be a stock for you, depending on the device. When you use it, your private dictionary is automatically knotted to your Google account. Thus, your dictionary is always ready for you to be used, and it doesn't matter on which device Gboard is installed.
Important Features
Supports numerous languages

Available built-in emojis with hundreds of convenient emoticons and symbols for the users of Android 4.4 or above

Many personalization options, including the addition of a number row

Features like voice input and one-handed mode are available  

Google, you know there is no risk of adware, malware, or any other identifying pieces of stuff as Google itself is the developer

Allows you to ask Google any question without forcing you to leave a chat incompleted
2. SwiftKey
---
SwiftKey is one of the best keyboard apps for android that is vastly rated on the "Google Play Store." The app is so excellent that it has a massive fan follower who cannot but take pride in its high precision rate and predictive aptitudes extended to the emojis and slang used by you. In addition, it has a strong privacy strategy that prudently distinguishes between data.

Important Features
Offers numerous emojis, GIFs, themes, and customization options.

Allows you to switch smoothly between languages and mid-sentence that can be great for you if you are bilingual.

The app becomes better as soon as it comes to know your writing system.

The strong privacy policy simultaneously helps the keyboard observe your habit of typing and protect sensitive details.

It lets you simply eradicate your data or log into cloud services.
3. Multiling O Keyboard
---
This is a must-have best smartphone keyboard for those global readers who want to have a keyboard that is supportive of their mother tongue but hasn't yet found any keyboard like that. This "Multiling O Keyboard" belongs to those best keyboard apps for android that support over 200 languages. While using it, you can pick the look and layout of the keyboard after your mind.
Important Features
Super-fast to insert different words, sentences, and symbols,

Requires no internet permission

Lots of emojis and swiping are available.

Provides you with four-row and five-row layouts; thus, you can simply shift between DVORAK, QWERTY, and AZERTY.

It lets you make a design of your personal layout.

Though it doesn't have the analytical abilities like other keyboards, yet the keyboard turns to an unbeatable one in case of customization options and multilingual support.
4. Fleksy
---
This "Fleksy keyboard" is the best keyboard app for Android that had been used twice for setting the quickest texting global record. Therefore, we confidently recommend it for you if personalization for speed and abrupt response time is your main issue. Furthermore, the app is obviously free that doesn't contain any trivial, let alone significant irritating adware.
Important Features
In it, you can tap with which you have been habituated and even can use motions for deleting words or selecting autocorrect options.

You are allowed to contract or increase the keyboard and alter the layout and colors based on your requirements.

Its privacy policy is too sturdy to break.

Visibly summaries the information it is capable of seeing.

Lets you opt out of any application found uncomfortable by you.
5. TouchPal
---
TouchPal is another best keyboard app for android that has been providing satisfactory service to a huge number of Android users for the past 10 years. It is the winner of the "GSMA Global Mobile Awards." The android keyboard app is a matchless one in terms of its strong safeguard and privacy policy.

Important Features
Able to handle add-ons via an internal store that also comprises a tiny app store for the purposes of advertisement.

Has its own artificially intellectual assistant.

No adware or other similar types of apps are featured that can take control of your device.

Includes a bunch of outstanding ones better than another feature such as one-touch writing, emojis, voice recognition, stickers, and other attractive tricks.

It also includes T+ or T9 layout that can be a fantastic choice for you if you prefer neither swipe typing nor gesture typing for faster typing.
6. Minuum
---
Minuum is another best smartphone keyboard for android that is significantly focused on being small. This fabulous keyboard is a master of autocorrect that can figure out your typing easily and swiftly before you make any mistake. The keyboard is especially supportive for you if your device has a screen of 4-inch.  You need this keyboard urgently if the real estate of the screen is especially significant to you.
Important Features
You are allowed to modify the keyboard size contracting the spare letter rows into smaller units.

Its interface is so resourceful that it can even function equally on any smartwatch.

Supportive for a number of dissimilar languages, over 800 emoticons, and gesture shortcuts.

Owns a wide-ranging privacy policy with which you can contribute to the usage of data namelessly or keep it a secret.

With it, you can promptly access the dictionary, thesaurus, search, and then share
7. Swipe Keyboard
---
Swipe is one of the fastest free keyboard apps for Android phones, which is nifty and magical. Unlike many other keyboards, it offers you a smooth and unique typing experience. With its design and features, you can keep yourself up-to-date among the friend circles. Furthermore, you can personalize your personal keyboard in the "Theme Store" just by picking a background from numerous wallpapers, your own images, fonts, touch tones, and button skins.
Important Features
Provides you with over one thousand most popular stylish gifs and emojis.

It also provides an accurate auto prediction.

Comes with overwhelming functions, which are beyond your dreams.

Flexible with 85-languages of 138-countries.

It lets you select texts simply with the assistance of arrow buttons

Availability of over 3,000 keyboard themes, including numerous kinds of animals, nature, cartoons, etc.

Suggests your answers based on the messages you receive.
8. Chrooma Keyboard
---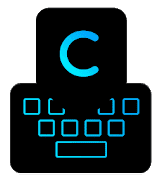 One of the best keyboard apps for android is Chrooma, which is quite analogous to the Google keyboard though Chrooma provides you with more personalized-able options. The keyboard app is powered by a smart synthetic astuteness that offers you more precision and improved circumstantial prediction at the time of typing. Most interestingly, Chrooma has an adaptive color mode capability, which automatically adapts to the color of your use app.

Important Features
Almost all the crucial features, including swipe, predictive, and gesture typing, autocorrect, and keyboard resizing, are available in it.

Includes certain bonus features such as an addition of a distinct number row, support of emojis, one-hand mode GIF search, support of multilingualism, and so on.

A night mode feature is also available, with which you can change the tone of color of the keyboard.

You can even set a timer to schedule the night mode.
9. Go Keyboard 
---
Go Keyboard is such a best keyboard app for Android that you will not hesitate to replace your current default keyboard with it once you learn all of its cool features.  Primarily, the keyboard owns a simple and minimalist design. The design is quite convenient and perfect for improving and easing your typing styles. Though the Keyboard app is free, yet it contains some in-app purchases and ads as well.

Important Features
Supportive for numerous types of languages, even for ones that don't utilize a Roman script.

Includes combined lexicons that can show you the denotation of any vocabulary in any language you ask for.

Packs more than thousands of different themes, fonts, GIFs, emojis, and so on.

It also includes a charge mode feature and a "swipe-to-unlock" lock screen feature, making the app a unique one.

Voice input and gesture typing options are available
10. Graffiti Pro for Android
---
Graffiti Pro is a perfect replacement for the in-built typical keyboard, also known as an "input method". Graffiti characters are typically single-thump drawings that narrowly match the normal alphabet and quite tough to produce. But, this keyboard app has made the production simpler to so that you can enter the characters swiftly and easily.

Important Features
The numeric and text input areas improve your recognition ability of the input.

Interprets the strokes drawn in the numeric range and text range as numbers and letters, respectively.

With this best keyboard app for Android, you can draw the Graffiti characters either with your fingers or a flexible stylus.

Supports English and Japanese language

It makes the text input faster with word learning and auto-capitalization

Teaches you Graffiti, if you have been unfamiliar with it

No annoying advertisement is available
11. Flit Keyboard
---
Flit Keyboard is a lightweight, soft keyboard for improving your typing precision without relying on auto-correction. With it, you can type accurately on any device as small as well, such as a smartwatch. In addition, the keyboard app features four to eight big size buttons with both slide and tap typing approaches. Therefore, you can even type on small devices accurately despite having big fingers.
Important Features
Features 8-buttons with complete-QWERTY style for all the usual keyboard characters comprising a cursor-arrow key, letters, symbols, and numbers.

It also features 4-buttons letter-only tiny-QWERTY style to offer you extra screen space.

The user-defined shortcuts allow you to input your favorite text speedily, while "Dynamic Shortcuts" help you input the present time and date easily.

Availability of installable plug-ins for extending features like adding word suggestions and keyboard layout and changing the appearance

Its "Key Mapper" lets you customize the key buttons' letters to suit your private habit.
12. Smart Keyboard Pro
---
Smart Keyboard Pro is another best keyboard app for android that makes your typing experience to another level. However, it is a lightweight yet influential international keyboard app. With it, you will feel competent immediately because of its dozens of personalization options, including skin, calibration, layout, smileys, sound, and prediction. However, if you are a Samsung user, you must ensure that the Optimizer is disabled.
Important Features
Provides you with downloadable themes and Built-in

Features a self-learning smart dictionary where you can add words just by pressing the word in the suggestion bar

Contains layouts for a variety of languages, including English, Hindi, Italian, French, Kurdi, Afrikaans.

Allows you to switch between languages very easily

Custom text shortcuts, emoji keyboard, and voice input are available

Predicts vocabularies with the physical keyboard

You can fast actions only with gestures



13. Hacker's Keyboard
---
If you are used to using a key layout of the computer and now missing it for any reason, this one of the free keyboard apps for Android phones is ideal for you. This best keyboard app for Android includes a distinct number of keys, arrow keys, and punctuation in natural places. It is especially convenient for you if you adopt "ConnectBot" for an entrée to SSH.

Important Features
Provides functioning arrow keys and Tab/Esc/Ctrl keys, which are indispensable for your device if it doesn't have D-Pad or a trackball.

It is supportive for multi-touch for the modifier keys as it is grounded on the "AOSP Gingerbread soft keyboard."

Flexible with many languages
14. MessagEase Keyboard
---
MessagEase is another best keyboard app for Android, considered the most advanced touch screen keyboard app globally. It is the niftiest keyboard for smartphones, smart-watches, and tablets in which place the QWERTY keyboard appears to be very inefficient. MessagEase is also the perfect keyboard for any wearable device.
Important Features
Includes 9 big-size keys with a resourceful letter assignment that maximizes your typing speed and eases your writing.

It also comprises a word prediction feature that saves your time and energy.

You can alter the keyboard size simply by dragging down/up on the Hand-button and the font adapted for the keyboard.

Allows you to recolor and reshape the keyboard in numerous ways

It lets you even reallocate fresh characters or conceal and take out a number of the characters

No awkward auto-correction feature is available



15. ai.type keyboard Plus + Emoji
---
It is the canniest and most customized keyboard for tablets and smartphones. With more than 50-million users globally, this one of the best keyboard apps for Android has transformed the experience of messaging. The new edition has a complete set of emojis comprising all the new emojis from iOS 9. With the app, you can type faster and better, allowing you to customize the keyboard in the way you prefer.
Important Features
Availability of thousands of themes for free that are excessively attractive

Allows you to design your personalized layout and share that with friends

It also lets you upload the theme to the app's official site, where other users can see, appreciate, and download it.

Suggests the correct emoji considering the vocabularies used by you and the context as well

Neither share users' data nor learn anything from the password fields.



16. FancyKey Keyboard
---
FancyKey is the number 1 iOS third-party keyboard that allows you to fine-tune the keyboard, making customization the way you long for. It belongs to that group of the best keyboard apps for Android with which you can use your own photo as the background image on the keyboard. Most interestingly, the font size of each letter, the font style can easily be changed with many more fabulous advantages.
Important Features
You can make use of tons of dissimilar free themes simply by downloading those from its own store.

Allows you to form a keyboard that will 100% of your with your preferred background image and font

Includes the most sophisticated auto-suggestion and auto-correction engine

It contains an integrated emoticon and emoji keyboard that is flexible across all the popular apps

Supports more than 50 languages

Availability of clipboard option for numerous rapid copy-paste
17. Grammarly Keyboard
---
The "Grammarly Keyboard" is the private editor that you can use irrespective of place and time. Grammarly is one of the best keyboard apps for Android has hundreds of features and checks and a seamless combination that help you type easily in any program. So it doesn't matter whether you are sending an email or LinkedIn message; the app can be used with conviction. It supports Android 4.0.3 and all tablets.
Important Features
It contains the most sophisticated contextual spelling and grammar checker

Features radical punctuation correction option

Easy synonym finder and vocabulary enhancements are available

Allows you to integrate it with all the applications and set it up easily

Offers clear and easy clarification of each mistake you make so that you can learn it and avoid making it further

Informs you of the auto-correction of spelling so that you can identify the failure of auto-correction before sending



More info & Download
18. Simple Keyboard
---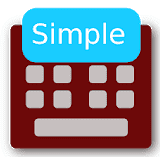 Simple keyboard is as simple as its name yet, and it is one of the best keyboard apps for Android. Actually, the keyboard is an ideal one only for those who simply need a keyboard and doesn't long for extensive facilities of emoji, correction of punctuation and spelling, GIF, and swipe typing.  Moreover, the installation of the keyboard requires a number of things that you may find boring.
Important Features
Occupies very little space that is more than 1 MB only

The keyboard height is flexible to offer you more space on career

Lets you choose the theme with customizing color

This best smartphone keyboard is completely ad-free

Moving pointer is easier that requires swiping of space
19. Typany Emoji Keyboard
---
Typany is probably the first keyboard app for android that has an excellent combination of each of the dissimilar "DIY" features comprising DIY message and theme, emoji maker, animoji, font, sound, and many more. In addition, the keyboard app is also supportive of the immediate translation of over 100 languages. Thus Typany keyboard is considered one of the best keyboard apps for Android that offers you a personalized and high-speed typing experience.
Important Features
It lets you customize your personal keyboard theme, picking your preferred photo or wallpaper.

Offers plentiful keyboard themes for free where the up-to-date and most prevalent themes, including a hologram, fidget spinner, neon, and hurricane, are available

The built-in translator lets you type in your mother tongue and get an immediate translation in your preferred language.

Provides you with many sorts of emoji figures such as universal galaxy and spider face to let you make your personal emoji-maker.  
20. Ginger Keyboard
---
Ginger Keyboard is included in the best keyboard apps for the Android squad that allow you to produce high-quality writing. The app has piles of themes, emojis, animated GIFs, stickers, and in-app games. It also includes sophisticated synthetic intelligence so that you can scrutinize your text, find fault with writing and bring corrections to grammar, spelling, and punctuation.
Important Features
Provides you with more than 1000 fabulous emojis, stickers, animated GIFs, and emoticons, allowing you to express yourself perfectly.

Understands your writing and offers vocabulary prediction

It offers 100 impressive themes for free, and you can even create your own theme

You can translate your expression in over 58 languages
To Conclude 
---
So, this was all from our part about the best keyboard apps for Android. We hope you cannot but like each of the free keyboard apps for android phones after going through them one by one. If you like these, then don't make it late to install any of them. Otherwise, you will be responsible for depriving yourself of the thrill of such the best smartphone keyboard apps.