Keeping a pet dog has no alternative to make our life enjoyable. But for different situations, it cannot be possible for us to keep a pet dog. For those who obsessively want to have a pet but cannot manage, playing a dog game is a very good idea. There are lots of best dog games for your Android devices available that will help you fill up the place of your pet. Some games will provide you with a virtual pet that you can nourish, feed, and play with. Finding out some best dog games from PlayStore is not very easy as there are millions of games that are not worth playing. If you really want some suggestions on dog games, just glance over here.
Best Dog Games for Android
---
Here, you will find a list of the best dog games for Android that you can find in the play store. Here, you will find different types of games like Simulator pet games, pet games, cafe games, 3D games, etc. That means you can choose your favorite types from here. So, let's enjoy your off time with some best dog games.
1. Boo – The World's Cutest Dog
---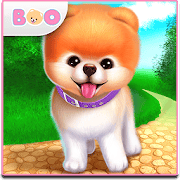 Pet games are always fun to play, and Boo offers you to hang out with the cutest of dogs you have ever seen and all that just in your mobile devices. It is integrated with sophisticated graphics and lots of interactive functions to keep you interested. Let's you rear up your beautiful dog just as you wish, feed him, dress him up and play with him anytime.
Important Features
Includes options to play and cuddle him in different environment settings.

It offers a lot of interactive tasks and simulating mini-games as you take care of your cute dog Boo.

As a racing game, it provides challenging dog races and lets you level up for many features.

Gives you options to feed your cute dog Boo and dress him up as it suits you.

Lets you have fun with your virtual pet in the home and park environment.
2. Pet Hotel – My hotel for cute animals
---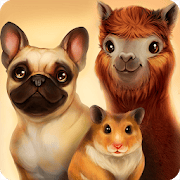 Pet Hotel is a multi-featured simulating animal rearing game. It is available in almost all popular mobile operating systems, and many players considered it one of the best dog games for Android. It features a variety of cute animals to play with as you remain in the beautiful animal world set up as a hotel. Pet Hotel is equipped with advanced graphics and numerous features.
Important Features
Featuring a lot of animals as a pet, such as dogs, cats hamsters, and many others.

Allows you to care for your animals and provides opportunities to improve your hotel and other buildings.

Provides a lot of tasks to complete and continues to upgrade the level for unlocking more features.

Offers a lot of interesting quests, animations, and rare collectibles to keep you coming back.

Collect coins and resources for animals around your hotel and neighborhood.
3. Dog Sim Online
---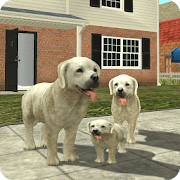 Animal role-playing games are very fun to play with, and Dog Slim Online is one of the very few RPG games equipped with top-notch graphics. It lets you get into the world of animals with lots of adventure. It provides a huge in-game environment, and all this is ready for your Android devices.
Important Features
Let's play as a dog and live a life full of different adventures and opportunities.

It provides challenging combat and clan-making to have an interesting life among different dogs.

Offers online integration and multiplayer gaming option with your friends.

Let's explore the open-world environment, both cities, and countryside all in mind-blowing 3D graphics.

Offers you the options to make your own clan and competition among your friends, and all these can be saved in cloud storage.
4. My Talking Dog – Virtual Pet
---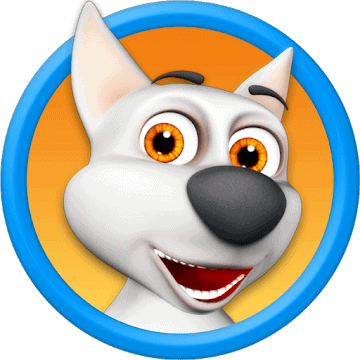 Smartphones and mobile devices made our life easier and convenient than ever. Nowadays, one can have a pet rearing experience can play My talking Dog on their Android devices. It is integrated with top-of-the-line animations and graphics. It provides you with many interesting tasks to keep you playing.
Important Features
It offers interactive talking and caring options with beautiful cute puppies.

Lets you have a virtual pet that is no less than the real one, play with him, dress him up as you wish.

Let's talk with Charlie and also allows recording both audio and video files for sharing.

Includes a variety of mini-games; play them to advance your game levels.

Integrated with a beautiful game interface with classic settings that support almost all updated mobile devices.
5. Talking Ben the Dog
---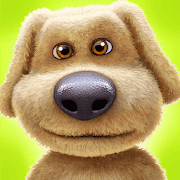 If you love to cherish a dog as your pet but cannot manage to enjoy it, then try Talking Ben the Dog. Ben is a super cute and funny dog who loves to seek your attention. For many people, it is one of the best dog games for Android. You have to feed it, a makeover for it, wash and dress it, and so on. You can also participate in various little but interesting games with "Ben" to earn coins.
Important Features
No internet connection is required to play this game.

You have to earn coins and use them for Ben's accommodation.

There are a lot of inside small games.

Amazing visual graphics and sound quality.

Daily rewards, lottery, and bonuses are available for taking shortcuts.
6. Talking John Dog: Funny Dog
---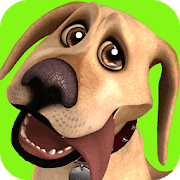 Let's meet another sweet and cute dog to make it your loving pet. It is Talking John Dog. Like other talking games, you can play lots of mini-size games with this game. Also, you can find it both in the play store and app store. So, it doesn't matter which device you are using. Let's see whats more John will provide.
Important Features
Amazing 3D graphics and visual effects.

Includes voice interaction. John can copy your words.

Suitable for players of any age.

Lots of small games to earn coins.
As a dog simulation game, you can deal with various activities with it.

You can nourish your pet, feed it, wash it, and play with it.
7. Talking Tom & Ben News
---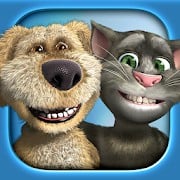 Now Tom and Ben are together on a news channel. To enjoy their funny and interesting interaction, you have to download Talking Tom & Talking Ben. It is the best dog game that you can find in both the play store and app store. Here, you can show your creativity by making their conversation yourself. However, let's see what's more it has.
Important Features
Includes studying visual effects and 3D graphics.

Tom and Ben continue the hilarious conversation to entertain you.

They will repeat what you say.

You can make their news script with its voice interaction and make the video too.

You can share video recordings on different social media like Facebook.

Also, you can share photos here.
Playstore 
8. My Pet Village
---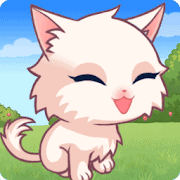 If you love to play a game with a touch of both the cafe game and farming game, then My Pet Village will be one of the best dog games for you. In this game, you can run your cafes and build your village paradise by the side of the blue ocean. The scenery is breathtaking, and your pets are the best companion of you here. So, let's check out the features of this game in short.
Important Features
You have pet dogs that will help you in your cafe.

You have run your cafe and works for its development.

You can enjoy interesting interactions with your customers from the village.

Maintaining and taking care of your pets will be funny and entertaining.

Amazing video and audio quality.

It is a Simulator game, and so, you will enjoy lots of real-life activities.
Playstore
9. My Puppy Friend
---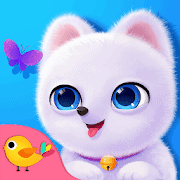 My Puppy Friend is one of the best dog games for Android. People of any age can enjoy this game if they love puppies. Here 6 cute puppies are waiting for your nourishment and care. They are easy to handle, and you can play lots of mini-games with them. Let's check out its features in short.
Important Features
Includes 6 sweet puppies to take care of.

It provides lots of mini-games to enjoys.

You have to collect hearts to get things for decoration.

Lots of rewards and achievements.

Each mini-game gives you a heart after you complete them.

Satisfying video quality and interaction system.
10. My Talking Lady Dog
---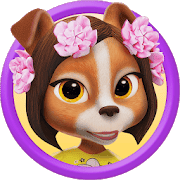 Are you a lady dog lover? Then try My Talking Lady Dog. A cute, adorable, and sweet lady dog, Daisy, is waiting for you, love. You have to take care of her, and she will entertain you in her adorable interactive way. With this virtual pet, you can play different exciting and addictive minigames like puzzles, arcade games, and so on. Also, you will have lots of updates and rewards.
Important Features
Amazing voice interactive, and Daisy can copy your words.

Lots of mini-games to play and earn coins for Daisy's care.

You have to buy food, make-up accessories, a dress, and so on for her.

The video quality is satisfying.

With time she will grow like an adult dog from a baby.

There are the magic bone that you can feed Daisy for more fun
11. Pet Run
---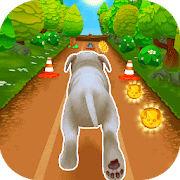 If you don't have your pet and still want to go for a run with your little pet dog, I have a suggestion for you. Just go for a walk with your pet virtually. Don't you get it? Well, Pet Run is an amazing game where you can perform in a running competition with your pet dog. The theme story is also interesting where someone lets your pet dog run out, and you have to catch it up. Don't you get excited? If yes, then get ready to catch your virtual pet here.
Important Features
A different location for running, including cities and parks.

Colorful and high definition graphics and resolution.

You have to avoid hundreds of obstacles and collect coins for leveling up.

The scoring board is there, and you can see the scores of your friends.

You will get lots of power-ups and rainbow modes for extra advantages.
12. Duddu: My Virtual Pet
---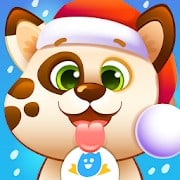 Duddu is a new virtual pet that can fill up space in your mind for not having a real pet. You can play with Duddu from this game and take care of it regularly. But you have to keep it in your mind that you are the owner of Duddu, and so, you are the one to feed him, wash him, and play with him to make him happy. This one is not like a traditional virtual pet game, and a lot of rare functions are available in case of this game.
Important Features
It provides daily challenges to learn more about Duddu's habits.

There are a gym, dancing club, bath, Salon, etc., simulation spaces for Duddu.

You can get lots of surprise gifts in your mailbox.

There are 30 different mini-games you can play with Duddu.

You can go shopping with your pet and buy things for him.
13. Crazy Dog Racing
---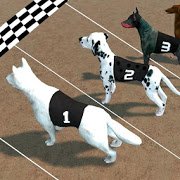 Did you ever experience a dog race? Well, you don't have to find it in real life. Now you can perform in a dog race with your pet dog. Let's play Crazy Dog Racing. Here, you are allowed to choose a dog from many. Now, take care of your dog and make it fit for the racing. Then the most exciting moment will come when you can perform in the most competitive dog race. Now, see if your dog can reach the finish line quicker than the other highly skilled dogs. That's the game here.
Important Features
Very quick racing game with obstacles on the way.

Includes a very addictive and adventurous gameplay

Realistic dog racing tracks with high-definition graphics.

Matched sound effects with the 3D environment.

Multiple dogs reaching modes and tournament racing options are available.

There are numerous levels to enjoy the game with different modes.
Download
14. Puppy Pet Daycare
---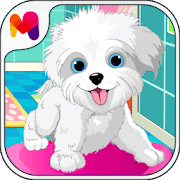 Many puppy pet lovers want to be vet doctors and take care of week puppies, right? For those future vets, I have an exciting Android dog game. It is Puppy Pet Daycare. Here, a lot of cute puppies will be waiting for you. And you have to take care of them. You can dress up the pets from a variety of collections and wash them up. Don't they sound interesting? If you think so, they don't make your puppies waiting for a long time thinking of you.
Important Features
Interesting tools like a nail salon, germ-killing tools, etc., for you to use for your puppies.

You can wash them up and dress them with your own choices.

You can play coloring puppy books to pass your free time.

There is a huge collection of puppies' accessories like dress, caps, shoes, etc.

Learn to give first aids to the puppies and taking care of them.
15. Pug – My Virtual Pet Dog
---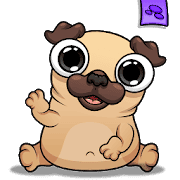 Another virtual pet dog is waiting for you. It is Pug, a very popular virtual pet dog game for Android users. You can make Pug you every companion and pass your free time with it. Pug is a cute, smart, and active pet dog who can fill the space in your mind for a pet. You can also play a lot of mini-games with Pug and earn coins to buy things for it. So, what do you think about it? Don't stop thinking. This game has a lot of exciting features that you may not be aware of.
Important Features
It is a multiplayer game, and you can play the game with your 4 friends.

Over 50 different types of mini-games to play and enjoy.

There are over millions of dresses and accessories for your Pug. Just play mini-games and earn money to buy them.

You can build a home for your pug too.

You can customize the wallpaper, furniture, and other things of Pug's house.
16. Wash Pets – Kids Games
---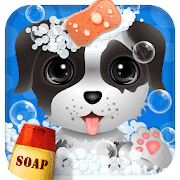 If you want to keep your hyperactive kids busy with a game, you can choose Wash Pets. It is a very popular kids' game with a lot of cute and fluffy puppies and kittens. There is no way that your kids won't love this exciting game. Because all those pets are very dirty and your task is to wash them up. So, your kids, even you, must find it very interesting to pass your time with those cute puppies.
Important Features
Pet spa care game with exciting simulation activities.

Vet doctor's activity with pet's x-ray, virus killing, and medical treatment giving tasks.

You can wash them up and brush the dirty teeth.

Eye protection visual effects for kids.

Kids-friendly sound effects and colorful background.

Tons of dress collections for the pets from where you kids can choose for their pets.
Download
17. Dog Town
---
Want to play a Dog game on your Android device? Try Dog Town. It is an exciting simulation game where you can buy pets from the store and take care of them. You can play with it, wash, feed, and dress it up regularly. But the best part of this game is the level-up option. Here, you have to train your dogs up to get a better level so that they can perform better. Also, there is a lot of exciting gaming support that will make your days beautiful.
Important Features
There are lots of realistic dogs that behave just like real dogs.

Satisfying 3D graphics and sound effects that match the game well.

There are over 60 dogs with different looks that you can collect from the pet shop.

There are lots of decorating tools for the room decoration for your dogs.

After leveling up your dogs, you can send them in different quests.
18. My Virtual Pet Shop
---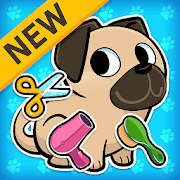 Another pet shop simulator game is here waiting for you. It is My Virtual Pet Shop. Here, you can buy pets and take care of them properly. Washing and dressing your pets up will be great fun here. You can play lots of mini-games to buy more dresses and food for your pets. Also, there are lots of unlocked features that you can enjoy only when you have a pet at a higher level. So, get ready and start your days with your new pet from this game.
Important Features
Bathing sponge, shampoos, and other things are there to wash your pets properly.

Very simple but realistic gameplay for pet lovers.

By upgrading different items, you can improve your shop for better business.

You can enjoy four different activities like pet grooming, vet doctor, pet bath, and pet dressing.

Bugs cleaning option to keep your pet healthy.
19. Wild Dog Survival Simulator
---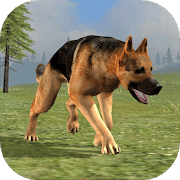 This time, it is not a cute pet, but a wild one. It is Wild Dog Survival Simulator. It is quite like a very adventurous journey of a wild dog in the jungle. Here, you can see the behavior of the wild dogs in the jungle and play with them. In this open-world game, you can explore a huge area and enjoy taking plenty of dangerous challenges. So, it is quite a different kind of dog game that is not for the cut puppy lovers but the extreme wild adventure lovers.
Important Features
Lots of ways to upgrade your dogs' strength and stamina.

There are 4 members in your wild dog's family.

4 big boss giants with whom you have to fight for your survival.

A huge map and 3D open-world area to explore.

10 different types of forest animals are available to fight with.
Download
20. Dog Simulator Puppy Craft
---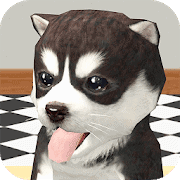 Lastly, it is an arcade game with a dog in the main role of it. This simulator arcade game will let you buy little puppies from the pet shop. You can pick different beads for the puppies, and there are lots of homes to explore with them. But the most exciting option of this app is quite rare in other dog games. Want to know about it? Well, you can bully the passerby with your dogs just like some people do in real life.
Important Features
There are 7 homes with beautiful gardens you can explore with your pets.

6 different quests are available that you have to pass to level your pet up.

You can play the mouse catching game with your pet dogs.

Smash and destroy vases of other people's homes and get fun.

It provides 3D graphics with an easy controlling system.
Final Thought
---
Hopefully, you have found the one your searching for. To be true, all of them are known as the best dog games for Android. Still, if you want me to make it more specific, then I would like to suggest you playing Talking Ben the Dog. To have more fun, play Talking Tom & Ben News. If you want more puppies, then try My Puppy Friend. I hope you will enjoy and love to play these games.
Let me know if you have something in your mind about this topic. Also, to clear all your confusion, you can leave your questions in the comment box. I will come with the answers soon. Thank you for staying with us.