Who doesn't love to enjoy things on the big screen? For sure, we all are. But what we have in our smartphones is pretty hard to enjoy on a big screen like a PC or TV. Often, we like to enjoy sharing the screen of our Android device with family and friends. In that case, the small screen cannot be a sharable option. If you manage to share it through a big screen like a PC or TV, it would definitely be nice. Well, there is a new technology that can mirror the smartphone on the big screen. And PlayStore contains a considerable number of apps that provide such an excellent option. We call them the screen mirroring apps for Android, and today, we are going to get introduced to some of these apps.
Best Screen Mirroring Apps for Android
---
No doubt that screen mirroring apps brought a brand new service for smartphone users. But all the available in PlayStore ain't effective enough to satisfy you. So, after checking the functions of a good number of apps, we kept aside those unusable apps and made a list of the 10 best screen mirroring apps for Android to PC and TV.
Aside from that, we tried hard to figure out the basics of these apps and attach the functions along with the list to help you understand them instantly. So, check the list below to get an app that can mirror your smartphone to the big screen.
1. Screen Mirroring – Miracast for android to TV
---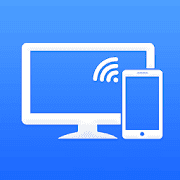 Screen Mirroring is one of the best and open source screen mirroring apps, and I like to begin the list with it. This app has come along with some of the excellent features that allow you to mirror the Android device on your PC or any bigger screen. Plus, you don't need any wire or adapter, and it let's enjoy broadcasting the Android screen and audio live. However, it offers a couple of options that can play music, videos, movies, photos, etc., with the best streaming experience.
Important Features
Screen Mirroring ensures the best security that keeps safe all your data, files, application, and so on.

The app lets you enjoy your own personalized Hub on the smartphone mirror to the TV or tablet, along with all the advantages.

The video and sound quality will never let you down.

It also allows Bluetooth connection to your Stereo system.

Make sure that your TV is also connected to the WiFi, as same as your Android device.
Pros: The app allows easy casting from the phone to the TV screen. Moreover, Chromecast support is not mandatory in this app.
Cons: The Bluetooth connection of this app is not very much smooth.
2. Screen Mirroring with TV: Play Video on TV
---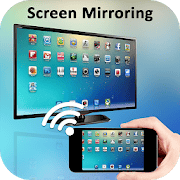 Let's get introduced to the best screen mirroring apps for Android to TV, which we call Screen Mirroring with TV. This app gives easy access to mirror your phone screen to Smart TV. Also, it is able to broadcast the device's screen and audio in real-time. Moreover, you can enjoy watching videos on your phone and then share them on TV and other bigger screen. With the multimedia player, you can indeed watch all the popular audio and video by connecting your devices with Screen Mirroring with TV.
Important Features
The app contains a user-friendly interface, and it lets you enable or disable different profiles for several forms of display.

As soon as the display gets connected with another device, it starts to load the profile automatically.

It comes with a free multimedia player, and it enables both video and audio players.

This screen mirror app permits to lock of the screen orientation, so no worries about the screen switch in landscape or portrait.

You have to be connected with a WiFi network or Bluetooth, and it helps to mirror or scan on Smart TV or display.

It gives an entrance to play music, videos, photos from Smartphones to bigger screens anywhere, anytime.
Pros: You can enjoy the best video streaming as it has come with a powerful video decoding ability. Furthermore, it lets you change the resolution and density of the external display.
Cons: The connection often losses without giving any signal.
3. Screen Mirroring, Wireless Display – Castro
---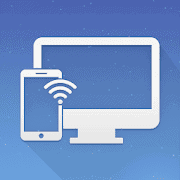 Screen Mirroring, Wireless Display is a great screen mirroring app by Castro. It is an all-in-one screen mirroring solution that works on both phones tablets without any issues. This app allows the users to see the phone's screen to your big screen of home TV. You can add them flawlessly by using its quick access panel. It offers a very beautiful and snappy UI. A good quality wireless connection is all you need to get started.
Important Features
It users a very limited amount of system resources.

You can select and make shortcuts for your TVs.

It supports multiple languages with a simplified menu for users' convenience.

This app includes comprehensive instructions for new users.

It offers the industry's best data protection and security features.

Users can easily stream media files, such as music, video, and lightweight games on other supported screens.
Pros: This app comes in a lightweight package and works on almost all Android phones. In addition, the user interface is accessible to all kinds of users, and operations are swift.
Cons: Some users found data inaccuracies while remaining in prolonged sessions.
4. Screen Stream Mirroring
---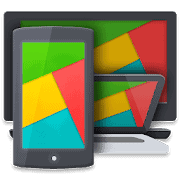 MOBZAPP brings you an unparalleled screen mirroring app with high-quality streaming facilities. It is a lightweight yet powerful app that will surely meet your screen sharing needs even in a heavy gaming situation. This app is a great solution for any presentation or home media sessions from Android devices to big screens. Additionally, it works through WiFi, USB, Bluetooth, and other connection protocols. One of the special attributes of this app is complete support without any need for rooting.
Important Features
Users can mirror audio and video content from Twitch, Facebook, and YouTube seamlessly.

It allows live broadcasting sessions to PC, Chromebooks, DLNA, and other supported devices.

The free version offers a huge range of features with certain limitations, and users can get unlimited access by shifting to the pro version at any time.

It includes camera overlay while recording or live streaming for your convenience.

Users can add microphone audio along with the internal sound effects without any issues.

This app is ready for Google Cast and also supports the KODI system.
Pros: You can use it to mirror the TV screen for monitoring purposes and enjoy playing games while having a bigger view. It works very fast without any system issues.
Cons: There can be some connection issues and stutterings in large sessions.
5. ApowerMirror – Screen Mirroring for PC/TV/Phone @
---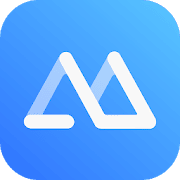 ApowerMirror is an excellent app choice for those who want to connect Android screens to PC, Mac, TV, or other devices. Though you have to make sure to work with USB or WiFi to continue the streaming. You will also find full-screen mode available on PC or Mac and lets you share meeting contacts, play popular Android games, and so on. However, The Screen Mirroring app is good at screen mirroring, but it has other screen activities.
Important Features
The app initially brings more features like recording the screen, capturing screenshots, adding notes, etc.

It works more than a remote control, thus gives you capabilities like casting phone by auto-detection, pin code, or QR code.

The app supports screen mirroring TVs like

Sharp TV, Xiaomi MI TV, Philips TV, Hisense TV, along with TVs running Android OS.

Apowermirror lets you enjoy a screen mirror over the air, and that enables you to connect devices from two different networks.

It doesn't only allow you to connect your phone mirror via PC or TV, but you are allowed to mirror the screen via another phone or tablet.
Pros: The screen mirroring app permits you to send any SMS, Twitter, Facebook, or any other messaging, and you can also change the input method of your PC. 
6. Screen Mirror – Screen Sharing
---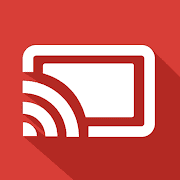 Another best and easiest option to enjoy the second screen is Screen Mirror. Smart Dato vGmbH has launched this app with all the capabilities to share the device's screen to any other device through an Internet connection. Well, this app has a super easy interface, and all the other functions will help to present the phone's screen in front of the audience or any ceremony. Only very few apps can hardly beat the quality streaming of this best screen mirroring app for Android to PC.
Important Features
All you need to do is start the screen mirroring process, scan the QR code, and the rest will continue on its own.

The app doesn't indeed require any software or remote device for mirroring other devices.

You have to make sure to connect your Android device to another notebook, laptop, or tablet. And you have to join in the same WiFi network or hotspots.

Screen Mirror does its job great along with Apple, Google Chrome, Firefox, Samsung MU series, etc.

This app does not work with all the browsers like Smart TVs as they do not offer all the required features.
Pros: The app offers how-to videos on YouTube for understanding the better usage of it. Moreover, it grants an option to prevent ads, and only you have to update the app to the pro version.
Cons: Note that the app only deputies the content of the screens, not the device's audio signals.
7. Screen Mirroring Assistant
---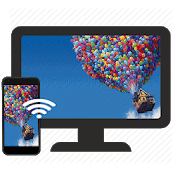 The 7th app on our list is Screen Mirroring Assistant. The app will support a lot of miracast wireless display adapters such as Chromecast, Roku, FireTV, and Anycast, etc. For many users, it's the best screen mirroring apps as it allows local media streaming. Plus, you will get a balanced audio and video synchronization through its impeccable protocol. Moreover, you can even get connected to your PC. Your private chats are also secured.
Important Features
This app lets screen mirroring from mobile phones to smart TVs and Miracast dongles.

It is usable for corporate meetings for better presentation on a bigger screen.

You will be able to play games and watch movies with this app to stream from your mobile to TV.

When you need to describe any topic clearly to your students, you can simply use this app to take classes.

Full-screen sharing is possible with this mirroring assistant.
Pros: You can even use this app to mirror in non-Smart TVs, just within an extra adaptor.
Cons: The projection from zoom misses the audio if it is not connected with phone audio.
8. TV Smart View: All Share Video & TV cast
---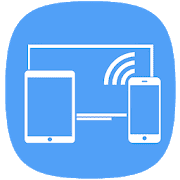 Based on its user's rating, TV Smart View, All Share Video & TV cast is one of the most popular screen mirroring apps for your Android device. You can either use the Wi-Fi or simply add adaptors or dongles to start screen mirroring. Besides playing content, this app can send screens like MHL, HDMI, Chromecast, Miracast, etc. If you are facing any problems, you can easily check out the FAQ section.
Important Features
Screen mirroring is possible in laptops and all smart TVs.

This app will help you to cast and scan the screen for mirroring on TV from Android devices.

You can cast to products like Netgear Push2TV, Chromecast, and all different Smart TVs.

If you wish to access the app directly, you can add a shortcut widget called Miracast Widget.

When you cast on TV or monitor, the app will show the name of the screen.
Pros: This app is trusted for operating on most Android devices. Also, it will allow you to watch videos, play games, and view photos anywhere.
Cons: There are some complaints that the app freezes when you access Instagram.
9. Screen Mirroring – Cast Phone to TV
---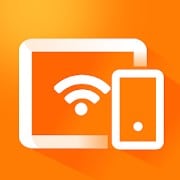 Screen mirroring will be a piece of cake with Screen Mirroring, Cast Phone to TV. With high-quality maintenance, you get to watch your favorite content on a large screen. You can use it for your home entertainment. All you need to do is to pair your Android device with another preferred display. Additionally, the technology of this app lets you experience a better user-friendly guide for beginners.
Important Features
You can cast live videos on Twitch, BIGO LIVE, and also YouTube within a few taps.

The app supports all the media files such as audio, photos, PDFs, E-books, etc.

You can enjoy your time with your family watching travel slideshows.

When you need a better presentation or a clear demonstration in the office, you can use this app and cast it on a broad screen.

The screen share will follow the real-time speed with a clear interface.
Pros: This powerful app supports various devices, including Google Chromecast, Roku TV and stick, Amazon Fire TV and Stick, DLNA Receivers, etc. Initially, most of the smart TVs and other wireless adapters are also supported.
Cons: Some users complained that this app only refers to wireless display settings.
10. Smart View TV All Share Cast & Screen Mirroring
---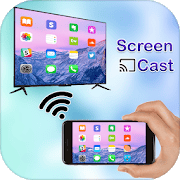 And it's time we get to know the final recommendation for today. For that, I will go for Smart View TV All Share Cast & Screen. To connect your device with the big screen, you can use this app for sure. To protect your data, this app will provide a very secure degree connection. At the same time, to stream videos and movies as well as to have access to photos and apps on your big screen, this app will work as the best screen mirroring app for android to TV.
Important Features
To use it, you just have to click the button and choose the channel.

You can connect the TV Screen with just one click.

The same wifi connection is required for the Android device and the big screen.

This app is supported by almost all Android devices, and it works on any smart TV.

It also supports all share Casts like HDMI, MHL, Roku device, Chrome cast, and Mira cast.
Pros: You can browse and control the screen remotely with your Android device. Additionally, you don't need to interrupt the TV playback to access your favorite app on the big screen.
Cons: To use this app, the TV has to be wireless. Otherwise, it may not work properly.
Our Recommendations
---
All these apps come with a satisfying mirroring ability, and they are quite powerful in functions. No way, any of these apps can disappoint you, and we can just choose any app from the list. However, as always, I have to expose my personal recommendations for you in any case; the list can confuse you.
I love to go for either Screen Mirroring or Smart View TV All Share Cast & Screen Mirroring for TV. And if you love to try the one for PC, you should go for ApowerMirror or Screen Mirroring Assistant. These apps, as we found, have fewer flaws and more facilities.
Finally, Insights
---
If you didn't ever try screen mirroring, just believe me and try at least once. Definitely, you'll thank me anyway. And if you are determined to that, these 10 screen mirroring apps for your Android devices will suffice your expectations. However, it's time to leave for today. Help us share any apps that you think are more compatible than the mentioned ones. Also, don't forget to share your experience using the apps you have selected from the list above. Thank you a million folds for your support.