Undoubtedly, YouTube Vanced is the most popular platform to enjoy YouTube videos without any commercials or restrictions. But, on March 2022, it stopped working as the Vanced authority received a legal threat from Google and instantly made the app action discontinued. So, people who were not used to the regular YouTube experience full of advertisements and restrictions are depressed about it. If you are one of them, I have good news for you. You can surely enjoy using a YouTube Vanced alternative on your Android device.
Best YouTube Vanced Alternative for Android, Your Must-try
---
To be honest, many people wished to use YouTube vanced but couldn't do it for the high subscription cost. For them, I have the ultimate good news. Many YouTube vanced alternatives for Android are free to use, still giving the same vibe. If you are interested, follow the list below. But make sure to check the details that will help you to choose the correct option.
1. Vanced Extended
---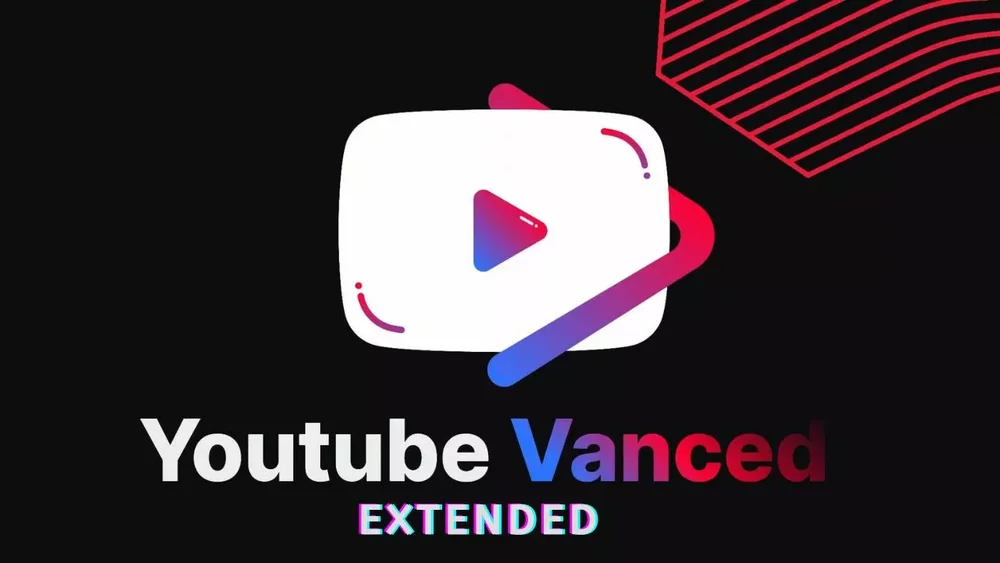 Vanced Extended is a dedicated Vanced Project project, similar to the old YouTube Vanced. It has many new updates with the old outlook. For YouTube Vanced fans, it will be a great alternative as the outlook and interface are pretty much the same.
The navigation system is so easy that you will get acquainted with it in no time. It packs all the essential features available in YouTube Vanced, and users can access their Google account using MicroG.
Important Features
This app initially uses a minimal amount of system resources.

It usually does not implement any irritating ads.

Versatile support and full-fledged Google access are available here.

This app is free to use without any hidden charges.

It indeed offers a familiar UI and welcoming functionalities.

The app also runs great on most devices with minimal system bugs.
Download
2. NewPipe
---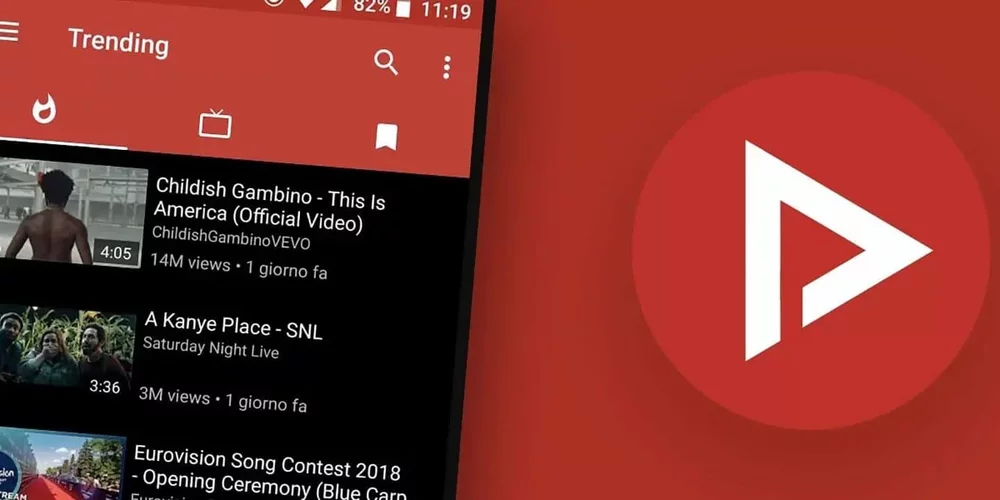 Let's talk about NewPipe, another highly convenient alternative to YouTube vanced for Android. This app is wonderful in the UI department and packs the essential features. One of the best things about NewPipe is that it does not depend on YouTube API, which makes it immune to irritating advertisements.
You can easily use it without running any Google services in the background. This app also supports background playing. One downside is that you can not log in to your Google account using this app. It will not be a problem if you are not concerned about data and history synchronization.
Important Features
It primarily supports video downloads on your local device.

New Pipe is entirely free of pesky ads and irritating website links.

Indeed, it is free to use without a subscription or hidden charges.

This app offers a modern and sleek app interface.

It also comes with a familiar app environment that suits all users.

Additionally, this app allocates very tiny system storage and resources.
3. ReVanced
---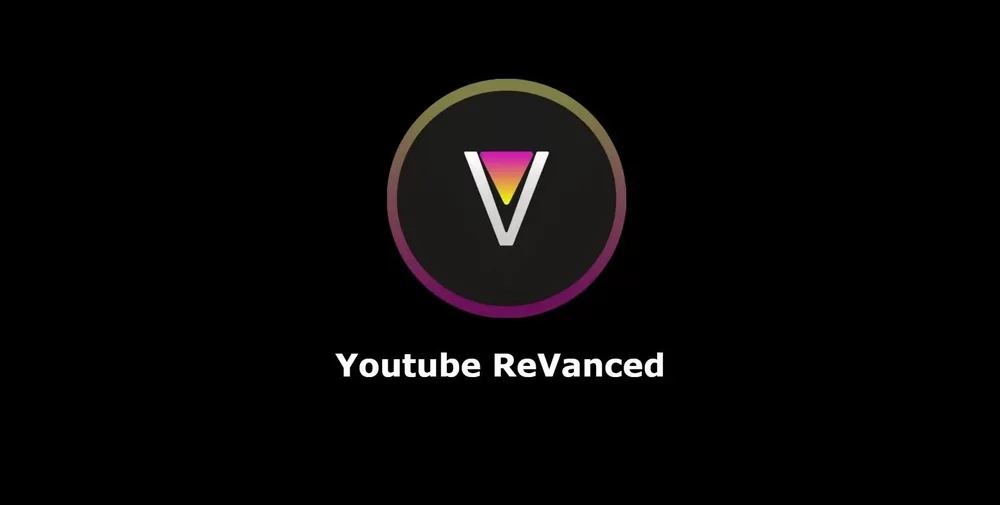 Here is another Vanced app with all the necessary features: simply ReVanced. It is free to use and offers a similar user interface to YouTube Vanced. This app saves you from YouTube ads and lets you store your favorite data without any hiccups.
You can easily log into your Google account using MicroG, but it was not present in the earlier release. Many minor fixes and improvements made it one of the best Vanced apps for all types of users. One rare yet sweet function is its minimized playback support.
Important Features
YouTube-style

UI and a

familiar navigation system will ensure a comfortable video experience.

Revanced does not come with any pesky advertisements.

It is entirely free to use and does not have any obstacles.

Users can have versatile app support and account support.

This app also supports background playback and resume functions.

You can manually disable the create button.
4. LibreTube
---

I am sure you are familiar with LibreTube if you like YouTube Vanced. It is a trendy YouTube vanced alternative, especially for Android and Linux users. This exciting video platform lets you explore and enjoy unlimited videos with suggestions of trendy ones. Eventually, you can make your playlist full of your favorite songs and media. Also, if you need to find a particular video, you can use its active search engine.
Important Features
It is a free and open source app under the Libre License.

This app can go totally ad-free to enjoy a simultaneous video experience.

Eventually, it will have a SponsorBlock function that will stop showing sponsored videos.

You can make unlimited playlists and video chapters in this app.

This privacy-friendly app lets you subscribe to your favorite channels.
5. GoTube
---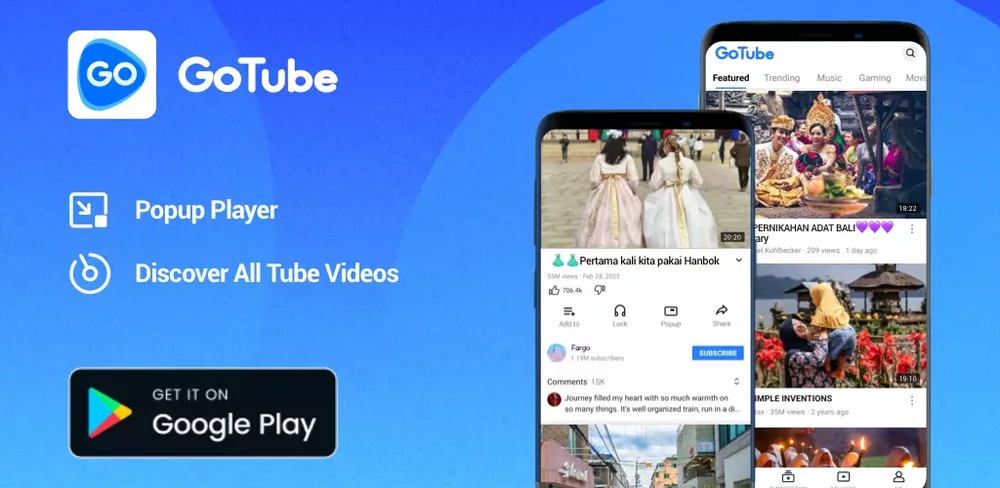 GoTube is the perfect Vanced app if you want a hassle-free YouTube client from PlayStore. Yes, you can get GoTube from the PlayStore, unlike other apps from shady 3rd party websites. The app features, and account supports are up to the mark.
This Vanced alternative comes with a new outlook and a fancy blue-colored theme. You might miss some of the essential features of similar apps on GoTube, such as background playing, downloading videos, etc. Although, the refreshing UI and implementation of a dedicated ad-blocker make it stand out against others.
Important Features
GoTube offers an ad-free platform with all the features of YouTube.

This app's great UI and YouTube-like theme will help you enjoy it smoothly.

It is eventually easy to connect with Google accounts.

This app is readily available on the app marketplaces.

It simply requires a minimal amount of system resources to run.

The bug-free environment of this app yet has some shortcomings.
6. SnapTube
---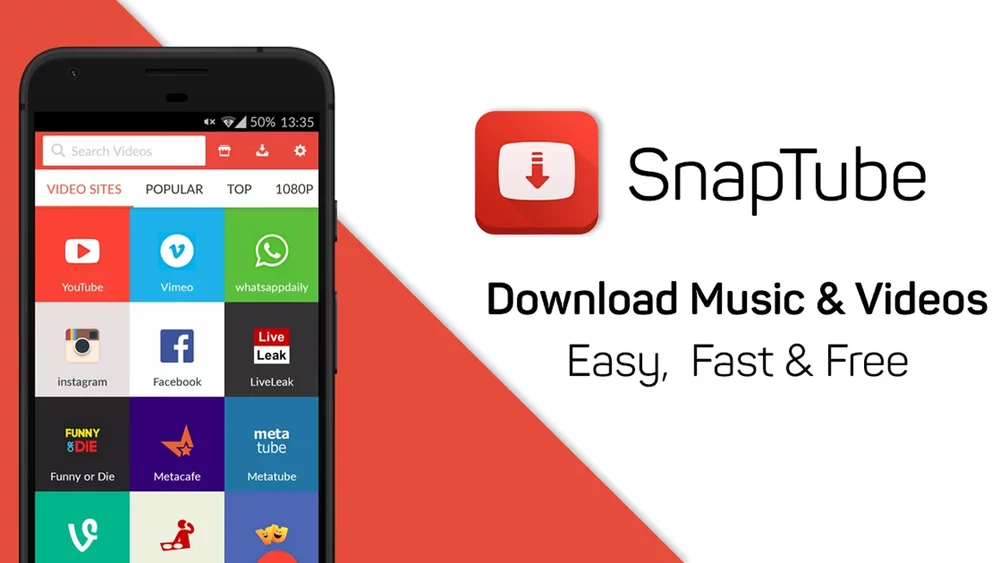 You should use Snaptube as a dedicated YouTube vanced alternative designed for Android and Chrome users. This app lets you enjoy YouTube videos uninterruptedly, and also; you can download them too. Not just from YouTube, you can enjoy downloading videos from any social media app.
Eventually, this app lets you download videos with different resolutions and files. Also, it comes with all the YouTuve Vanced-like features you can expect. Let's have a glance over them.
Important Features
With SnapTube can download videos with different media formats, even 4K videos.

Not just video files you can also download audio files and images using this app.

The one-click downloading option will save you time.

SnapTube doubles the browsers so you can go through different sites simultaneously.

It indeed comes with a very minimalist app interface and different themes.
7. VueTube
---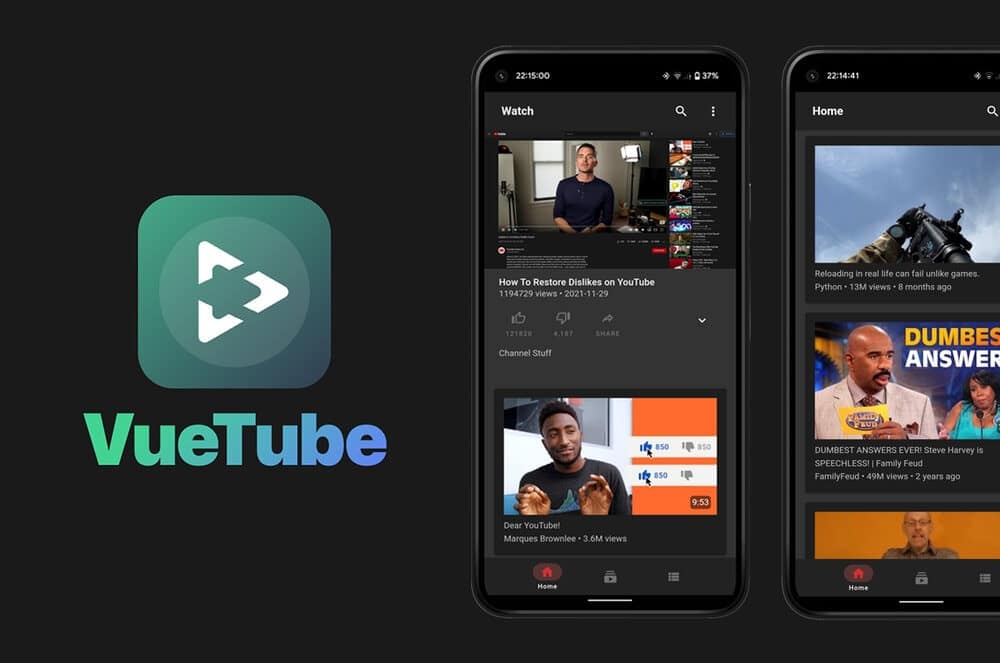 How about a FOSS video streaming solution that will work precisely like YouTube Vanced? Sounds interesting, right? Then Try VueTube. This cross-platform supported app is ready to give you a smooth and uninterrupted video experience.
But still, now, this app is under heavy development. So, you can expect changes to its interface and action even though it has gained vast popularity for its fast video-displaying functions.
Important Features
VueTube comes with a minimalist user interface that is indeed free to customize.

It supports additional extensions and plugins like Sponsourblok.

Also, it won't let any video sponsor send you a message or an email.

You can enjoy videos for hours without a single commercial with this app.

Indeed, you can use a dark or light theme based on your preference.
8. SongTube
---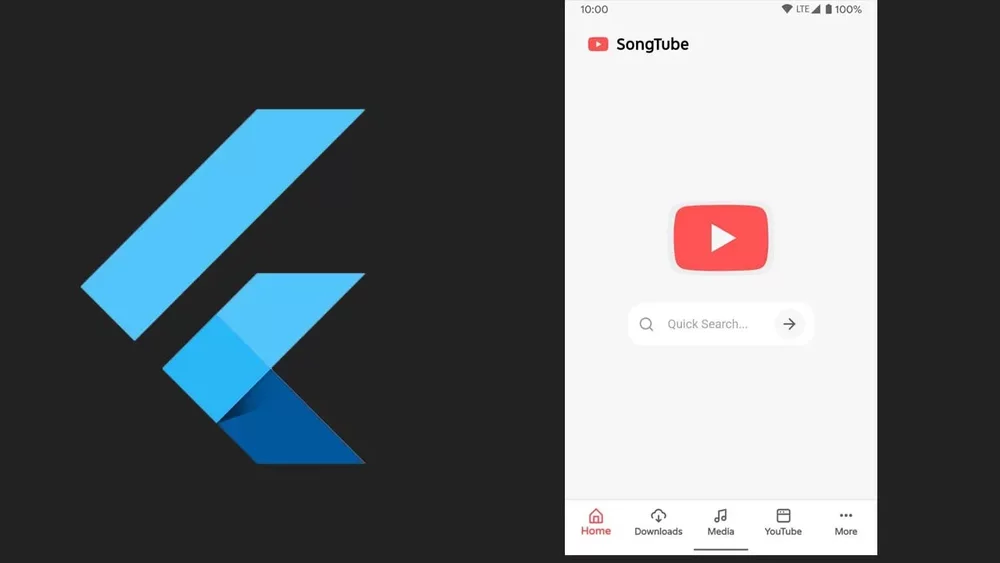 The next one is SongTube, a handy YouTube Vanced alternative you can use on your different devices. Eventually, some users prefer SongTuve over YouTube Vanced for a few reasons. This app works smoothly and lets you download videos and audio files without video more effortlessly than YouTube Vanced. Additionally, it shares a similar user interface and theme with YouTube, making users feel free and comfortable using it.
Important Features
This open source app is free to download without any restrictions.

While downloading a video file or audio, you can choose the file formats.

You can download an entire playlist at once or go for a single one.

Eventually, it comes with a built-in Android sound equalizer to customize the audio settings.

Its built-in ad-blocker is powerful enough to let you enjoy an uninterrupted video experience.
9. FreeTube
---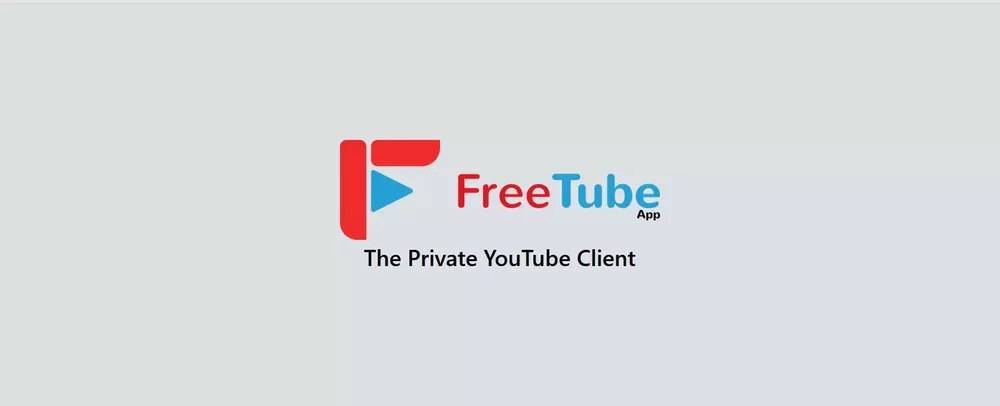 If you want to enjoy YouTube freely, then try FreeTube. It is one of the most popular YouTube Vanced alternative applications you can try on Android too. The best part of this app is that it lets you enjoy YouTube without encountering any security issues. Not just on Android, you can enjoy using this app for a better YouTube experience on your PC with Linux or Windows. Eventually, it works well on MacOS too.
Important Features
All the data of this app will be stored on your device to have strong security.

While using this app, a different interface won't bother you as it comes with the same user interface as YouTube.

No commercial will appear on your way to disturb you while you are using this app.

This open source Android app lets you share videos with your friends directly from the app.

This app won't track your viewing history for a single time.
10. YouTube Premium
---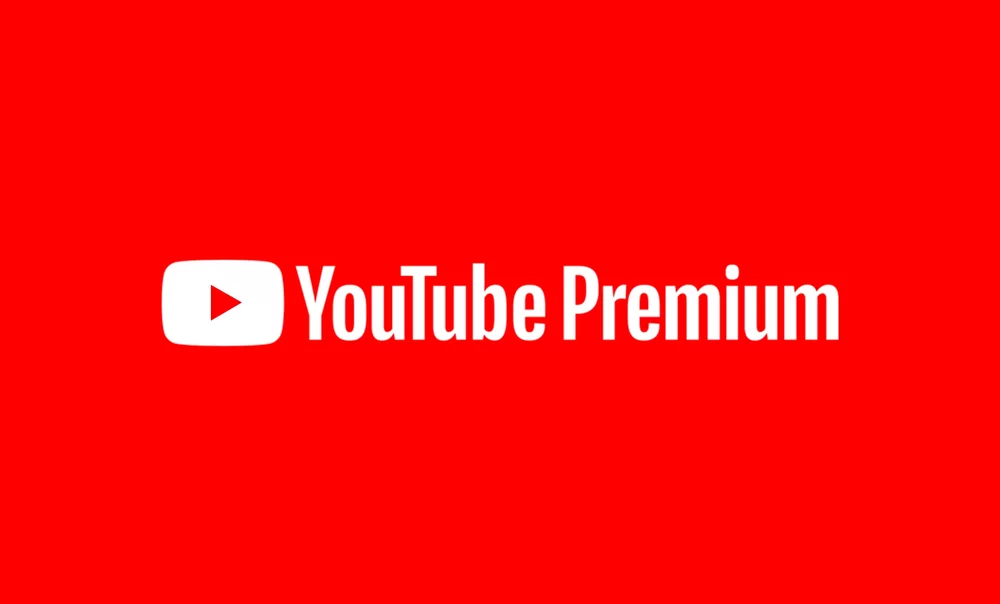 Finally, you can use the premium version to enjoy the most YouTube experience with no restrictions. Remember that the money you'll pay for the premium version won't go to waste as the authority of YouTube is well aware of what is offered in the free version and what the paid version should have.
So, you will be able to enjoy many features that are restricted to the free version users. Let's check what the YouTube Vanced-like features the premium version offers.
Important Features
Whether you simply enjoy a video or lock the screen, no advertisement will bother you on the premium version.

You can save unlimited videos and can enjoy them even when you are not online.

When you start using the premium version of YouTube, you'll get free access to YouTube Music Premium.

With your effort, you can initially support the content creators as well.

The premium version of YouTube lets you enjoy 4k resolution videos uninterruptedly.
FAQ
---
Q: What is the best alternative to YouTube Vanced for Android users?
A: NewPipe, LibreTube, and SnapTube are the best YouTube vanced alternative for Android users. All these apps are free and open source. They let the users enjoy videos without being interrupted by any commercials and download videos for free.
Q: Is it legal to download and use YouTube Vanced?
A: No, it is illegal to download and use YouTube vanced right now. This app has been shut down due to some legal issues. The vanced authority received a legal threat from Google, and on March 2022, they completely removed the install link and stopped the app.
Q: Is NewPipe better than YouTube Vanced?
A: Certainly, NewPipe is not better than YouTube Vanced if you only consider the app design and operations. But Newpipe is free and still available for users. On the other side, YouTube vanced is currently discontinued; previously, it was a premium app. NewPipe usually has issues that are easy to solve by clearing the cache. Otherwise, this app has no serious problems.
Q: Can I download YouTube Vanced alternative from GitHub on Android?
A: You can easily download different apps from GitHub on Android. Indeed, GitHub supports Android, and most of the popular YouTube Vanced alternatives are only available on this platform. There are different methods to download apps from GitHub on Android, like downloading the GitHub APK.
Q: Is there any app with a better UI than YouTube Vanced?
A: Yes, many apps have better UI than YouTube Vanced. LibreTube, SnapTube, Revenced, etc., have the same YouTube-like user interface. Even most of them let you customize the interface as well.
Finally, Insights
---
Hopefully, your reason for being sad about the discontinued Vaned is gone. Use the best YouTube Vanced alternative on your Android device, and I am sure you will soon forget about Vanced. Here, most apps, except the last recommendation, are free and open source. Indeed, all of them work more or less similarly. Still, if you ask about my preference, I would defiantly recommend SnapTube, ReVanced, and FreeTube.
Now, let us know which one you plan to try. Also, don't forget to share your experience using the app with us. Thank you for being so supportive.