It is quite elusive to find any people, regardless of age, who do not like to play games in this modern age. On top of that, if these games can be found in a device that is neither very expensive but can be exciting too, then it adds another distinctive dimension to it. Chromebook has made it possible by allowing its users to access millions of games and apps after merging with Linux and Android with mouse and keyboard compatibility. However, getting perfect games for Chrome OS is troublesome as Chromebook differs in terms of higher or lower specification.
Initially, there was trouble in playing games in Chromebook due to its lower configuration, lower resolution, hard drive, and confinement only to Chrome OS. Still, after paving the way to both free and paid games with upgraded hardwires, Chromebook has established itself as a superfluity of games for all.
Although all android games are runnable in Chromebook, perhaps not all the games run smoothly in Chromebook as they do in windows laptop. Thus, our mission is to get you those compatible games.
Games for Chrome OS or Chromebook
---
The more mobile devices get cheaper and handier day by day, the more people become obsessed with games. Despite the good ratings given by both users and critics, the users sometimes do not enjoy the games for Chrome OS due to their high requirements. Therefore, I have envisaged reviewing the 20 best games for Chromebook as well as for Chrome OS. I hope this review will help you choose the best games.
1. Asphalt 9 Legends
---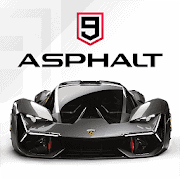 If you want to shift away from the longstanding reign of Need for speed, then giving a go to Asphalt 9 Legend will be a good idea. With a brilliant rating from Google Play Store, Asphalt mesmerizes the gamers with its visual enhancement, splendid graphics, with a collection of over 50 of the world's most phenomenal speed machines such as Lamborghini, Ferrari, and Porsche, enriched information about cars with nearly about 90000 polygons and many more.
The astonishing fact of this car game is the release of the "TouchDrive," which allows the drivers to easily control the car while keeping the device in a stable place rather than holding it for too long. After winning several awards, including the Webby award for the best sports game, I will definitely refer this game to you to justify it.
Important Features
All 50 cars are chosen based on their top driving performance in this game.
Using of new car editor starting from choosing the color and materials from rims to the main body is an outstanding feature.
Completion of 60 seasons and 800 events in career mode leads to the opening of multiplayer mode.
Pressing the drag button twice on the screen can spin the cars to smash the competitors.
New 3D icons of nitro booster help only to focus on the game.
2. Sonic the Hedgehog Classic
---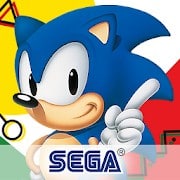 Who did not play the Sonic game series originated in 1991 by a famous game developer called Sega? Although hard to imagine, this iconic game character Sonic who was previously seen chasing the evil named Dr. Eggman, has returned in Sonic the Hedgehog Classic, which is available on Google Play Store. This visually enriched game allows the users to enjoy this game through Sonic's eccentric air-dashing style that seems really enjoyable.
Spinning with the loop de loop helps the users collect the rings and destroy the enemies within a snap. Most of the best games for Chrome OS are optimized for the touchscreen, and so is the Sonic sequel. Therefore, this game helps the gamers race either on the tablet or tent mode.
Important Features
The soundtrack has been remastered again to enjoy the tracks enriched with more clarity.
New time attack mode is sufficient to make the gamers ready to face hard challenges.
Being particularly optimized for mobile devices, including Chrome OS, this game can run at a smooth rate of 60FPS easily.
Ability to impersonate characters of Sonic's friends such as Tails and Knuckles for the very first time.
The Android version of this game supports the use of Power A Moga, Nyko, and other HD controllers for smooth control.
3. PUBG Mobile
---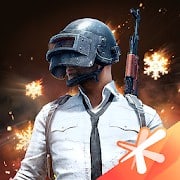 After released in 2017, this game took a massive storm in the gaming world by creating enormous popularity amongst gamers. Playing as a mercenary, from landing on to an island via parachute with 99 other opponents, hankering after weapons, and other necessities to becoming the last man are the encapsulation of this game. It is challenging to find  FPS games for Chrome OS most of the time because Chromebook barely supports those high-resolution games, but PUBG is an exception to that.
Besides PCs, this game seems more enjoyable in Chromebook due to its improved texture, constant framing, and less propensity to crash. Options developed by Tencent to automatically grasp the items such as guns, ammo, health items, collection of various bonuses, and connect to Facebook friends easily have attracted the audience to its vast compacted world.
Important Features
This game has almost all the features like PC, including the PUBG's original map called Erangel.
Matchmaking process works faster in this game in Chromebook without delay like PC.
The built-in voice chat enables the gamers to combat the opponents in the absence of a phone's speaker or mic.
Revere Bungee creates an amazing ride of a player to a significant height, which gets double as fun in Chromebook as other platforms.
Absence of sound prompts and manually opening, or closing doors render a more realistic experience.
Additional games and attractions such as a shooting range, gashapon machines, and trampoline are also offered.
4. Alto's Odyssey
---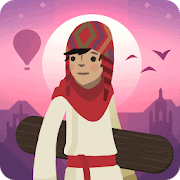 Sometimes we forget that even a game with simple but magnificent graphics can enhance the beauty of enjoying a game. On top of that, if the soundtrack adds zen and peace, then how will it feel? Well, don't be surprised because Alto's odyssey has changed that perception too. Just like the predecessor known as Alto's adventure, this game has many reasons to love for. Alto's odyssey proves that a prominent game for Chrome OS does not necessarily need HD animation all the time.
This game portrays a journey to the mysterious desert with an unparalleled combination of breath-taking visuals and outstanding background music. The journey to this huge world with the skill of sandboarding is essential.
Divided into three individual biomes, with each having distinctive nature, sandboarding can be performed from down to a desert level to gliding off on hot air balloons or to slide against the temple wall to get air time and speed.
Important Features
This edition has replaced "hover feather" with "lotus flower" to prevent the player from slowing down whilst forfeiting rocks.
Innovate the unique features of each biome from dunes to canyons, temples, rich and diverse landscapes.
Provide options like wall riding, moving grind rails, and ride with hot air balloons.
Options to swap the characters from Alto to his friends to see each and everyone's power and ability.
Take the screenshot of background sceneries by pausing the screen and share it with friends or set them as wallpaper.
Do not miss out on the remarkable soundtrack of the game. Thanks to Todd Baker.
5. Agar.io
---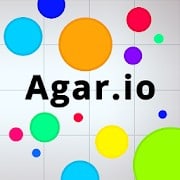 Developed by Brazilian developer Matheus Valadares, this game does not require any specific device to run in any device. Still, in particular, Chromebook is the right choice for it as Chromebook without using too much space in the hard disk can run it through the internet. The game starts with a cell in a smeared graph paper that targets to eat other smaller cells.
The player's cell is also vulnerable to other bigger cells and should avoid them. The player's cell gets bigger and slower as it eats and often gets difficult to cope with other faster cells. Whenever I searched for the best Chromebook games, Agar.io always appears. Why not? The ordinary design and the ability to grow excitement amongst users are the major reasons people like this game.
Important Features
Introduction of Chinese New Year Season from 21st of January 2020.
Rat tokens can be collected from any arena and in potions to earn more rewards galore.
There is an improvement in arena performance, and bug fixing is included.
A Golden pass can be bought to upgrade Chinese New Year to the next level to earn super exclusive rewards.
Typing certain names such as earth or any country's name will convert the cell into that shape of a flag.
This game has a multi-player option, which leads the gamers to gain more weight by eating the other player's cells.
6. Riptide GP: Renegade
---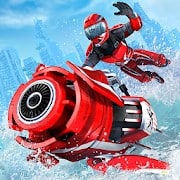 Riptide GP: Renegade is the latest edition of Developer Vector Unit, which has filled the jet-ski with lots of visually stunning graphics with an outstanding motion of physics. This game abides by all the natural laws of water physics to give you a vivid experience of skiing on water. However, this makes the game more challenging as, quite often, drivers lose control over the wave of water.
In this game, you have to win back your reputation with every maneuver to re-join GP league by racing against your opponents illegally through a city surrounded by floods, waterways, or factory machinery.
Using the WASD keyboard on the Chromebook rather than depending on tilting is the best part of this game, thus, making it one of the best games for Chrome OS, in my opinion.
Important Features
Explore the thrill-ride environment packed with various sets of racing tracks, which create an impediment to your challenge.
Chance to ski on a mighty hurricane to a barraged factory platform and cause the blitz on the military base.
Participate in the thrilling 8 online multiplayer options at the same time to battle against each other from any corner of the world.
Enjoy battle of 4 players simultaneously on the same screen but in a split-screen mode in the same device.
Win money, upgrade and customize your vehicle. Don't forget to use your reward in collecting a vast range of hydro jets.
7. Fallout Shelter
---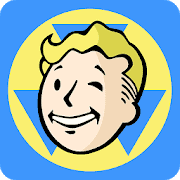 Bathesda, the developer of the Fallout series, gave another benchmark of the Fallout series and that too a mobile game. This plot is set in a post-apocalyptic world in which the gamer might create a bunker that will dwell the people who were scared to step into a wasteland. Dwellers will be given a job to produce energy, weaponized the vault and protect them from creatures, and lastly, explore the ground in search for resources in the wasteland.
Besides, gamers should ensure the swift supply and balance of food, water, and power among the dwellers. As Fallout Shelter is supported in Chromebook for its access to the Google play store, this unique game will immerse you into a whole new experience in a larger screen. Still, you can also switch your Chromebook into a tablet version.
Important Features
Excavate 2000 feet deep sediment of a surface to build up the protective vault by picking the advanced and modern-day rooms.
Ensure weapons, uniforms, and training to the new dwellers and get the job to establish themselves.
Options to turn invaluable junk into a useful necessity through crafting and modify the look of any dweller in a barbershop.
Opportunity to seek the right person from dwellers to perform special jobs. You can explore their personal lives to play matchmaker.
Get new armors, weapons, caps to the dwellers to ensure that they don't die in a vein outside the vault.
Build a radio room to entice new dwellers.
8. Pac-Man
---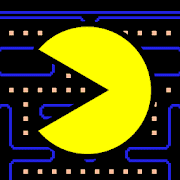 Pac-Man, an arcade-based retro type game, has been put in the list for best games for Chrome OS since it reminded you of the 80s when you used to play those addictive retro arcade games in your videogame device for an enormous number of hours. Having made it available in Chromebook through the Google Play store, you can play this game using both tablet and keyboard mode as the game supports the use of up, down, left, and right keys in Chromebook.
You will have to score higher by allowing the Pac-Man to eat all the dots and fruits in a maze while escaping from the enemy ghosts. Having resembled almost everything similar from the retro-type graphics to characters, this game is still a representation of the popular culture of the 80s. Hence, the gamers from the 80s may easily fancy this game.
Important Features
You can enjoy the same old-school game in classic 8-Bit for either chasing or running away from ghosts.
Get brand new exclusive mazes through conquering challenges.
Earn tokens by playing different gameplay challenges such as; eating 20 ghosts, and 4 fruits will earn you 1000 points.
Score high enough to lead the opponents by simply competing for 3 difficulty levels at your own spontaneous pace.
Tips to make you one of the best maze runners in the world.
9. Arcane Legends
---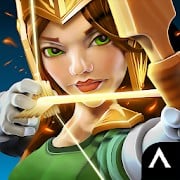 Out of all the RPG (Role-playing game) or MMORPG (Massively multiplayer online role-playing game) games for Chromebook, Arcane Legends will get your Chromebook on board. Spacetime Studio presenting Arcane Legends is that kind of game that allows you to play three characters (warrior, sorcerer, or rogue) in a deserted island to battle against enemies. Your role is to triumph in each stage to survive.
While progressing, gamers might have a chance to choose their distinctive pets for the backup support to fight and help loot items left by the dead characters. With its swift animation, unique art direction, and standard graphics, my recommendation is that this game for Chrome OS is worth playing.
Important Features
Co-operate with other players to join the PvE campaign.
Do not miss out on looting lots of weapons and items to aid your future survival.
There are many pets to select from to help you win the battle rather than sticking to one pet.
Three distinctive classes, thousands of items, dozens of skills to increase the customization of your character.
Three PvP models are useful to get you to capture the flag, Deathmatch, and duel mode.
10. Roblox
---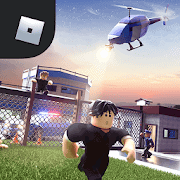 If you are used to playing Minecraft despite knowing that it does not support Chromebook, then Roblox corporation will fulfill your demand. Thanks to David Baszucki for bringing a masterpiece game named Roblox, which allows gamers to join a community of millions of users. A vast number of developers develop the game and disseminate it across this platform. This game provides a unique opportunity of surging propensity for creativity, collaboration, and imagination between the members of this gaming community.
Initially released in 2006, this game offers a privilege to build multi-platforms and make different types of games such as; RPG, simulations, puzzles, and racing games for the
users in a whole new dimension.
Having the presence of all kinds of games, Roblox should never miss the title of the best games for Chrome OS. Initially available on Windows and Mac, Google Play Store allows easy access from Chrome OS.
Important Features
You won't be bored because this game will generate millions of new strategic worlds that you can explore and customize.
Millions of devices can be connected to keep pace with other competitors meaning that you can form a new community.
Tons of brochures, catalogs, shopping carts are there to customize your heroes with hats, shirts, faces, hear, and many more.
Easily get connected with your friends and millions of users by having a live chat, private messages, and group texts.
New updates include bug fixes and improvement in speed and reliability.
11. Shadow Fight 3
---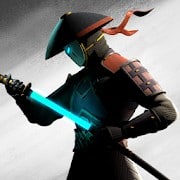 If you want to join in a fistfight in an ancient era where your task is to sabotage the shadow power imposed by the Gates of Shadow, then there is no alternative to playing Shadow fight 3. As a player, you will choose either legion to refrain the shadow power from being misused by clawing back an orb or dynastic to exploit the power or become a messenger to use the power for a noble cause.
This modern 3D-style game offers an enormous amount of in-depth graphics, buttery smooth control on the keyboard, and extensive detail of visual fights during gameplay. Physics involved during the fight is unerring and subtle, which seems evident when a heavy attack on an opponent compels it to fly while dropping the sword.
Important Features
Choose supreme heroes from 3 different clans to acquire 3 different fighting skills and combine them to craft your own style.
Absorb in shadow energy to perform a heavy and mighty attack on the battle to change the pattern of fighting.
When the career mode is over, don't worry. You can continue to fight in regular in-game events with exclusive prizes.
You can reach the TOP-100 leadership of your region by having an affray and outnumbering the strongest warrior.
Pick your favorite looks and choose your preferred weapons. Choose them from a range of weapons and armor available in the store.
12. Rick and Morty: Pocket Mortys
---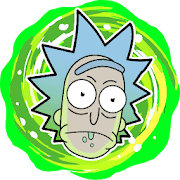 When a game resembles Pokemon but involves the replicated versions of zany characters like Rick and Morty, who will be after each other's destruction, wouldn't it be nicer? Pocket Mortys fills you up with a Pokemon-based storyline, Sci-Fi mumbo-jumbo, characters from the incongruous world, and eccentric plotlines. You can play as a Rick, who will discover bunches of Ricks giving training to hundreds of different Mortys to harm against each other or to announce war against other copies of Ricks.
These days, games for Chrome OS try to bring conspicuous elements in their games to make them look distinctive over other platform's games. For example, you will come across characters like Bird Person, Mr. Meeseeks, and others from famous TV shows. Besides, the co-creator of the original TV show named Justin Roiland, reprised to give his voice for both Rick and Morty. Since the control is straightforward, playing this game in Chromebook is real fun.
Important Features
Train your own preferred Morty and give the best-selected looks to Morty to finally play the game.
You have an option to fight and exchange Morty with your friends and enemies in multiplayer mode.
Without customizing, you can discover over 300 distinctive and weird Mortys such as; Cronenberg Morty, Pickle Morty, or Car Morty.
Evolved clones of Mortys possess special skills and abilities. Developers keep on adding different wry Mortys in each update.
Feel the same vibe as TV shows with their spot-on dialogues and exciting storylines.
13. Need for Speed No Limits
---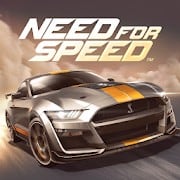 Need for Speed has been reigning the title of the best game for decades. After a successful launch of No Limit in a platform like the Android store, now it is leading the mobile gaming world. If you think you can dominate the racing world by toppling the championship to retrieve the crown of the best racer, then Need for Speed, No Limits is the best podium for you.
This game will submerge you into a world where you will race both day and night in any adverse environment through diverse racing tracks. Collecting exclusive cars as well as using customization on any vehicles by converting every simple thing into a useful machine is the main motto of this game.
Although people think that Chrome OS games involve low-end games, these ravishingly pleasing graphics and realistic gameplay have changed that perception.
Important Features
Access to piles of exotic manufacturers such as Ferrari, Koenigsegg, McLaren, Pagani, Lamborghini, Hennessey, and many more.
Mod shop and Black Market provides you a sheer collection of over 2.5 million custom combos to pick the right customization for cars.
Burn your tires through 1000 challenging races by absconding from police cars as well as outnumbering them to reach the finish line.
Complete-time-related special events that enable you to win the loaned cars as long as delivered before time out.
Drive fearlessly on the street of Blackridge, boost up acceleration, purging debris from the road, and use Nitro to jump on the glacier.
14. Load Runner 1
---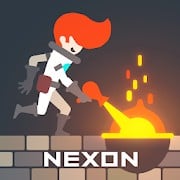 If you hadn't tried Lode runner, then you must acknowledge that the sequel of this game, known as Lode runner 1, is one of the best puzzle games for Chromebook. Nexon, the developer behind these two epic games, made this game more interesting by adding more visual genesis and further contextualization to allow its core audiences to turn themselves into a futuristic person to hanker after gold by climbing up the ladders, wandered poles, and exploded brick floors to entrap the enemy robots.
The Android version of this game offers slightly improved graphics and keyboard functionality. This game is even more enjoyable in Chromebook. Besides using the touchpad, which is essential, you can control shifting arrow keys and Z & X keys to target the shots. Since the games for Chrome OS these days mainly prioritize more on control features for keyboards, I think this game has successfully adapted it.
Important Features
Alongside the keyboard, the touch mode can double the excitement of solving the puzzle.
Challenging puzzles full of danger and intrigues are solved through undertaking necessary strategies.
You can create and share your own platform with the Stage Editor.
Able to play stages imported from the original lode runner in a more classic model.
You can jump, climb, run, and explode in every unique stage up to 300 new stages.
In the Championship mode, you can throw challenges to opponents from any corner of the world.
The control system is straightforward and mobile/Chrome supported.
Download
15. Into the Dead 2: Zombie Survival
---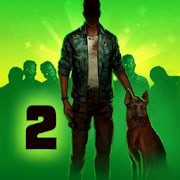 Having released in 2017 by PikPok into platforms like Android and iOS, this game took a massive turn amongst those who wish to move to a whole new genre of playing zombie types of game. It is considered one of the best Zombie games of all time to date. This game began off with the leading character running from the start till the end in search of saving the life of his sister, who absconded from the attack of the zombie invasion.
While running after the gauntlet, the character can move left and right as back and forth movements are automated. Although these restricted movements have been panned by many, which could derail it from filling the criteria of games for Chrome OS, this game has been hugely praised for its extraordinary graphical presentation along with beautifully made cutscenes and a decent level of voice acting.
Important Features
Complete 7 action-packed chapters with 60 stages and finish hundreds of challenges to have a series of multiple endings.
Don't forget to unlock tons of super weapons such as ammo perks, firearms, and explosives.
Explore a wide range of environments, including various locations ranging from oil fields, military bases to campsites and rural farm communities.
Special events are discovered daily to win exclusive prizes through your ability and skills.
You can play this game anywhere without having a connection to the internet.
Don't let your fear destroy you. Use your special technique to obliterate any incoming weaponized or running zombies.
16. Injustice 2
---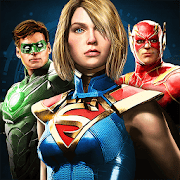 Want to see how the vigorous endeavor of Batman restores Superman's power into Gotham city? To find the answer, you must play Injustice 2. This sequel of Injustice: Gods Among Us has finally hit the android world and dazzled gamers with its excellent graphical presentation. NetherRealm presenting Injustice 2 shows how Batman teams up with Supergirl, Aquaman, and many of his allies to battle against the 'Society' group, including Gorilla Grodd, to restore the faith of the people in that city.
Injustice 2 revolutionizes the gaming world by showing a detailed level of each character and thorough experimentation of visual upgrades. Most of the games for Chrome OS are now heading off for comics as they are equally demanding in film media as well as in-game media. Since super move and other features require swiping, it is wiser to use a Chromebook with a smaller screen to handle it better.
Important Features
Unleashing combos on your enemies using Superman's ruinous heat vision, The Flash's lighting gesture, and cupcake bomb of Harley Quinn.
Use the Super move power of each individual to transform your battle into an epic war zone to annihilate your encounters.
Earning rewards will render you upgrades of five gears and help you unlock characters like armored Superman, Arkham Knight Batman, etc.
Ally with your friends to make the unbeatable league to save the world from the grasp of Brainiac finally.
Socialize with your friends through chat and donate hero shards if possible and try to join in Raids.
Feel the immersive phenomenal graphics of each character like Superman, The Flash in HD combat.
17. Grand Theft Auto: San Andreas
---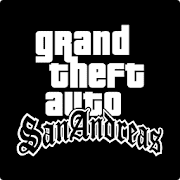 Rockstar Games has been crunching in their success by releasing GTA San Andreas. With the same old chasing between cops and thugs, looting money, unleashing the powerfulness, dealing with a plethora of drugs, roaming on the street with different vehicles, this new sequel pivots the journey of Carl Johnson who fled away from Los Santos and returned to his home with a hope to search for his mother's murder and reconciled with his friends to lead the gang.
The graphics of this game have been redesigned, and the resolution was reformulated to create an enhanced lighting gesture to make it feel more realistic. Besides touchscreen, you can attach a GameSir G4s controller to play in Chromebook. To me, this game has all the merits to appear in my list of best games for Chromebook.
Important Features
Reengineered HD graphics to fit the optimized mobile device to feel the enhanced lighting effect and detailed color palette.
Cloud saving is the most significant improvement of this game, enabling the users to save it across all the devices.
Dual analog stick controls can be used for easy movement and swift control for the full camera.
An adjustable graphics setting enables you to customize your graphics according to your device.
Compatible with MoGa Wireless Game Controller.
18. Modern Combat 5
---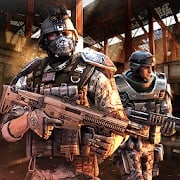 Android apps are getting popular day by day, and thanks to Google Play Store for bringing such a merged platform with Chromebook for its users to take the most advantage of it. Credit should be paid to Google Play Store for bringing another gigantic First-person shooter game named Modern combat 5. You will be a bolt out of the blue to discover that inside the game, it is the same animation that you see on the photo thumbnails.
These fantabulous HD graphics will immerse you into a real-life battlefield loaded with tons of weapons to take orders from seniors and follow the lead to accomplish the mission.
Some of the games for Chrome OS are now allowing the users to use various additional controllers such as GameSir G4s or DualShock 4 to navigate the control in Chromebook to minimize the handling of the touchpad, and so is Modern Combat 5.
Important Features
Build your own battalion from 9 distinctive classes who possess different skills and abilities to perform combat.
Choose the suitable play-style from Assault, Recon, Sniper, Support, Bounty Hunter, Sapper, X1-Morph, or Kommander.
Earn a reward to activate and unlock those special 9 classes and ask your friends to join in the team play.
This high HD game will enable you to battle with other players through online eSports competition without boring you.
Assimilate yourself with this fast-paced action game, which will take you from Tokyo to Venice for various missions.
Solitary and team-play missions will help you upgrade the levels by earning more XP and tons of high-tier guns.
19. Gangstar Vegas
---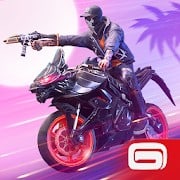 I think my passion for reviewing either first-person or third-person shooting games has still not finished yet. If you want to play another resemblance of GTA, but in different locations with different tactics and notions, then you must try Gangstar Vegas. Professional fighter Jason as a protagonist, has to take oath for wiping off the existence of his briber as well as the leader of a gang named Frank Veliano.
Accomplishing the missions require shooting rival gangs, driving wide ranges of vehicles, including tanks and riding choppers, robbing cars, and flying a fighter jet to take the lead. Even though it seems identical to GTA, this game possesses almost the same unique graphics as GTA, making it dynamically enjoyable on Chromebook.
Important Features
Complete 80 missions and explore every corner of the city where you will be paid for every sin you commit.
Are you bored of driving? This game provides options for playing cards in some of the best casinos in the world.
Make your boxing against mafia cartel worthy as you will be rewarded for proving your excellency to the gang world.
Use deadly drones to cover fire, counter strike, and protect you from risky attacks.
Try tons of powerful weapons, including six guns, sniper rifles, grenade launchers, swords, and rockets as you advance the game.
Access to a strip club gives you a frisky feeling while trying to cope with the mafia.
20. Baldur's Gate 2: Enhanced Edition
---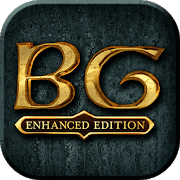 I am putting an end to my review by discussing Baldur's Gate 2: Enhanced Edition, a sequel of 1998's Baldur's Gate. Most of the time, a sequel of any game does not turn out fruitful, but this sequel, on the contrary, has proved it wrong. Developed by Beamdog, this RPG game is particularly lauded for its consolidated HD resolution. This dungeon and dragon game depicts the character who was heavily deprived of inheritance and is yet to be apprehended by Irenicus.
Therefore, your mission is to forfeit the wizard by killing all the enemies. The reason for recommending the enhanced edition is due to the arrival of a new thief named Hexxat, who intrigues the gamers with her charms.
This exceptional story of magic and monster with
improvement in visual and technical content is rarely found in some of the available best games for Chrome OS, but Baldur's Gate 2 has got them all.
Important Features
This enhanced edition consists of authentic 60 hours of shadows of Amn adventure.
Set out your journey to Bhaalspawn through Tethyr to enjoy the new expansion of the throne of Bhaal.
Deceive the captors by creating a feud between them and run for your life in the Black Pits 2: Gladiators of Thay.
Improve connectivity in a multiplayer mode to enhance the smooth transition between the players.
This game is optimized for Chromebook to double the comfort to enjoy the game in a bigger screen with high resolution.
Final Verdict
---
Since Chromebook is a lightweight laptop with minimal built-in hardwired, which barely supports the high-resolution game, I have tried my soul hard to enlist these 20 games compatible with either Chromebook or Chrome OS.
If you find it challenging to find the right games out of 20 games, my recommendation is to play Asphalt 9 Legend. You should also play Fallout shelter, GTA, Arcane Legend, Roblox, and PUBG for If you want to test simulation, action, RPG, and multiplayer online games, respectively.
I have just figured out that I have run out of words. So, I need to bid farewell. Don't forget to let me know which genre of games you have downloaded or yet to download and why you think that those are the best games for Chrome OS, and on what basis. Also, leave any suggestions or any improvement that I can use to alter my review. Thank you.