If you think about the sources of fun in social media, memes will be the first thing you will have in your mind. Basically, a meme refers to short content with funny photos, including relatable quotes. It can be a short video or even short writing too. Whatever the content is, it is mostly taken from common funny issues of our life. However, many of us have a lot of ideas for memes, but we cannot make one because we don't know how to do it. If you are one of them, I suggest you try the best meme maker apps for Android.
Best Meme Maker Apps for Android
---
Because of the huge popularity of memes, app makers have launched hundreds of meme maker apps on the PlayStore. But I can presume you may not like most of the apps out there. It's because of the complete functions, no pre-made templates, fewer customizing options, and weird interfaces. But we are also amused by some gorgeous apps that are worth trying. And we cover all these apps in one list here to help you get the best app to try. We suggest having a glance over the brief details on each app so that you will get the exact app you actually imagine about.
1. Meme Generator Free
---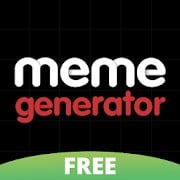 You must be familiar with the popular app launcher, ZomboDroid. It released one of the best meme maker apps for Android, and it is your must-try. Meme Generator Free will help you make the funniest meme in the easiest way. This app comes with the simplest interface and tons of easy meme-making tablets. Additionally, it's a free app, and you can enjoy lots of customizing functions as well. Let's see more details of this app that will definitely amaze you.
Important Features
Over hundreds of meme, templates are there that you can indeed use to make memes instantly.

You can use tons of fun effects to your memes to make them funnier.

This app lets you share your funny creations to different social media directly from this app.

You can eventually use hundreds of stickers and emojis to customize your memes.

It also lets you adjust the color, size, and fonts of the text you add to a meme.

This app won't add any watermark on the mem.
Pros: There is a big community with all the users of this app. You can initially post your creation there and check others to get more ideas.
2. PiZap Photo Editor, Meme Maker, Design & Collages
---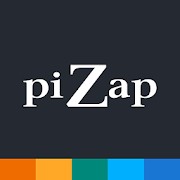 If you love to try a multi-functional app that lets you edit photos while making memes with the photos, then you should go for piZap Photo Editor and Meme Maker. However, if you just focus on the meme-making facility of this app, I promise you will love it from the very beginning. There are lots of pre-made meme templates that will minimize your effort and time as you don't need to take you from the starting point. This powerful photo editing app has almost all basic photo editing functions. Also, you can use it either for free or pay to unlock more features.
Important Features
You can initially customize your texts with different colors and change the size of the texts.

Over 365 different fonts, you can choose your favorite font for the texts.

To customize your memes, you can indeed use hundreds of vibrant and colorful filters.

Thousands of funny, relatable, and colorful stickers and initial emojis are also there for you.

You will also get tons of collage layouts to make memes, and there are layouts of hearts and other shapes.
Pros: You can use a lot of images to make a meme. Eventually, this app has millions of stock images for you.
Cons: So, users think that the premium version of this app is quite expensive.
3. Meme Creator
---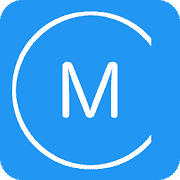 Meme Creator is now one of the best trending meme maker apps for Android that you will find today. No wonder the app contains everything to generate a funny meme, and It's easy to share with your friends as well. Additionally, you can bring pictures from your gallery and make a list of your favorite memes. Besides, the simple interface makes it easy and quick, and you can choose the font and style of the captions too.
Important Features
The app offers almost 600 memes, and you can choose any of those.

More than 200 font sizes will apparently be available for you to generate the best meme.

You are also allowed to use saved memes and later use them for your own comic.

You can eventually share your memes on social media, including WhatsApp, Facebook, or other sites.

Here, you can choose classic-style impact for your memes.
Pros: You are eventually allowed to write captions on the bottom and the top of the meme. Furthermore, The app doesn't have any watermark to bother you with putting the fonts and other changes.
Cons: The app covers your writing with the image if it is too big.
4. Memasik – Meme Maker Free
---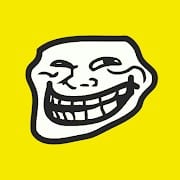 Memasik lets you make your own meme where you can publish your creation on the wall of this app. The app will help you to generate memes with emojis, texts, stickers, and so on. Initially, it will continue its update with the most trending meme of all time. Besides, the simple interface makes your meme creation easy, and there will be thousands who will love to share your funny meme posts eagerly.
Important Features
The app includes all sorts of classic and popular memes, and you can save those on your device.

You are apparently allowed to choose your photo, sticker, or image while generating any memes.

Of course, You can adjust the meme's text size and style along with a bunch of thematic stickers.

This app initially lets you crop any images and move or rotate them with text captions or emojis conveniently.

You can also filter your news feed with New, Top, or Followings posts.
Pros: Here, you can follow any users if you like their meme posts and comments. Moreover, you can draw any memes and boost your post in the Top using meme coin.
5. Meme Generator – Create funny memes
---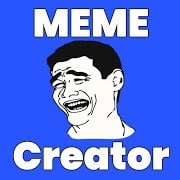 If you enjoy making funny memes with images, then Meme Generator might be the right choice for you. This is one of the convenient meme maker apps for Android that will provide you with a decent and focused interface to be a bit more creative with the meme-making process. The interface of this app is also simple, and you will eventually understand all the functions on your own. Moreover, the enormous library meme lets you work with your favorite and popular meme frames.
Important Features
This app allows you to make memes with your gallery photos.

You will be able to make memes from photos effortlessly in this app.

Again, there are many meme categories available with preloaded memes in the app.

This app lets you save and share your creations directly without any hassle.

In addition, this app offers 5000 plus stickers and lots of message bubbles.

The app features a great number of fonts and color variants.
Pros: This app won't put watermarks on your memes. In addition, you will find this app super handy and effortless to adjust any setting.
Cons: It sometimes shows ads with every click.
6. Memes Maker & Generator + Funny Video Meme Creator
---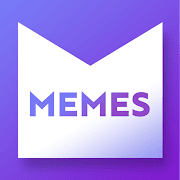 Let's check out a compact and funny meme maker app for Android available on the Play Store. Memes Maker & Generator is the one I am talking about. This app comes with tons of editing tools and a fruitful working area. The best part is that you will also create funny video memes with video editing tools. Also, you can communicate with worldwide meme-makers through this app. Let's see what more this app will provide.
Important Features
You can initially create deep-fried memes with this app in an easier editing environment.

There is an option to create a meme collage using multiple photos.

Also, you will find lots of awesome stickers and distortion effects that eventually help you make awesome memes.

This meme app also provides lots of editing tools like speed control on videos.

You can apparently discover thousands of popular memes through this app.

This app also lets you use free-style words and fonts.
Pros: You can add your own watermark in your memes. Moreover, you can interact with 30 million meme creators worldwide.
Cons: You will need an internet connection to use several features of the app.
7. Mematic – The Meme Maker
---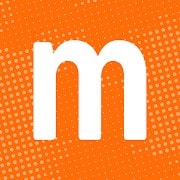 I have another meme app that comes with a very user-friendly meme-producing process. Mematic is a convenient meme maker app that gives you a comfortable place for making memes. This app will definitely boost your ideas and help you make creative and motivational memes. Unlike some other apps, mixing colors for making a meme is quite easy here. Additionally, this app is faster than many similar apps, has an elegant working zone, and a great tool for creating memes.
Important Features
Mematic initially offers easier editing and a convenient workspace.

You will eventually find one of the largest meme templates collection in this app.

Also, you have easy access to all editing tools that initially make it a much productive meme maker app.

Moreover, you can also use photos from your device to make memes.

This app ensures the privacy of your provided data.
Pros: Mematic includes quick styles to make memes within seconds. Besides, sharing memes are painless with this app.
Cons: Some users don't like the interface of this app.
8. Video & GIF Memes
---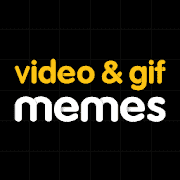 I have another app to suggest, and this time, it is Video & GIF Memes. This is the must-try app for those who simultaneously make memes from videos, gifs, and photos because this app is a perfect editor for all these three. Besides the basic photo editing tools, this app also offers a great amount of useful video and gif editing tools. A unique thing about this app is that you will mix all these three types of files to make one meme.
Important Features
You can initially make GIFs or video memes with this app.

This app eventually supports multiple captions, and you can move them freely.

Also, this meme maker app includes Tenor GIF search, where you can find millions of GIFs for your memes.

It indeed provides an easy sharing and storing system.

The meme-making sessions are initially painless because of the step-by-step editing process.

You can combine multiple videos, GIFs, and pictures in one clip with this app.
Pros: The app features a square video ratio for Instagram. Besides, this app doesn't need a high-configured device to run smoothly.
Cons: This app may force you to see ads sometimes.
9. Meme Faces: Rage Comics Maker
---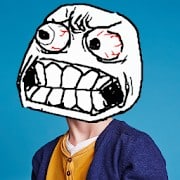 If you think about the most popular meme faces, the black and white hand-drawn image of a man and a woman's face will come to your mind first. I guess the image already appears in your mind. Now, you can simply make a meme by just replacing your friends' images with that funny face. For that, you have to try Meme Faces. Believe me, and it's one of the best meme maker apps for Android with the easiest meme-making system. Let's see what to do to make a meme with this app.
Important Features
There are multiple meme categories in this app, and you can indeed choose multiple to make one meme.

You can use tons of meme filters, too, in this app.

This app lets you use the photos from your gallery to make memes.

You can also use the stock images from the collection of millions and resize them as you need.

Directly from this app, you can share your creation on different social media.
Pros: This app initially lets you write funny quotes on the mems. You can indeed use different text colors, fonts and change the size of the text.
Cons: For some users, this app doesn't provide so many customizations.
10. Meme Generator (Old Design)
---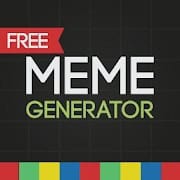 So, the last one, we love to cover with a classing app. We can make a classic meme generator app for Android because of its old fashion meme-making facility. Maybe that's why this app is named Meme Generator, Old Design. However, the old design mem has basically a funny image with a quote on the upper and lower side of the image. And this app provides all the facilities to make memes in the same design. So, if you are a regular meme maker, I think it's a must-try for you.
Important Features
You will get hundreds of pre-made meme templates and use them to make memes instantly.

There is a collection of millions of images, and you can also select images from your gallery.

To add text to a meme, you can customize tools like fonts, resize, color corrections, and similar.

To find the appropriate filters, you can initially use the interactive search tool.

This app eventually leaves no watermark on your meme.
Pros: Unlike most other meme apps, this one lets you make complex memes with up to 10 captions. Additionally, in the MULTI PANEL meme folder, you can save all your creations safely.
Cons: You may not find the image collection very rich in this app.
Our Recommendations
---
For today, it's pretty much harder to specify one or two apps to try. But, eventually, all these apps are compatible, and I can ensure that you will not be disappointed with any of these apps. But if you ask me one I am trying right now, I can just share with you the app I have on my phone.
It's Meme Generator Free and Meme Generator Old Design. These two apps, I think, provide the most number of meme-making templates, and there are more variations too. You can also use piZap and Meme face two. I personally wish to use these two apps in the future.
Finally, Insights
---
So, making memes of your friends and having a great source of entertainment won't be a difficult idea anymore. Just try out the best meme maker apps for your Android device and share your creation with us. It will eventually inspire us more to help you get more apps and games reviews. You can also share this content with your friends to share the enjoyment of making funny memes with them. Thank you for your support and time.