We all know Microsoft as the developer of the most popular desktop operating system, Windows. They are also popular for their signature productivity suite Microsoft Office. These are their very first product lineups. However, nowadays, Microsoft has a wide range of products from their main company as well as from the subsidiaries. One of them is their video games business. They have a decent portfolio of Microsoft games for Windows systems. Even Microsoft is competing pretty well with giant video game vendors.
Best Microsoft Games for Windows PC
---
Microsoft develops games of a variety of genres. Formerly their game publishing business was named Microsoft Game Studios. However, now it has changed its name to Xbox Game Studios, and Microsoft has made this division more powerful than ever.
So, you will surely get lost while roaming inside their huge catalog of games. This is why I thought it's high time to make a list of the best Microsoft Games for Windows PC. I hope you will get to pick one from this list to pass your boring leisure time.
1. Microsoft Flight Simulator
---
I know this game is not for everyone. This was intended for the niche segment of the gamers and aviation geeks. But Microsoft surprised the world with this game. From the stunning and realistic visuals to the excellent physics-based gameplay, this game is one of the best games of the decade in terms of craftsmanship. This is why this game got popular among people who were never a fan of this type of game. I will say that this is a huge success for Microsoft as a game publishing company.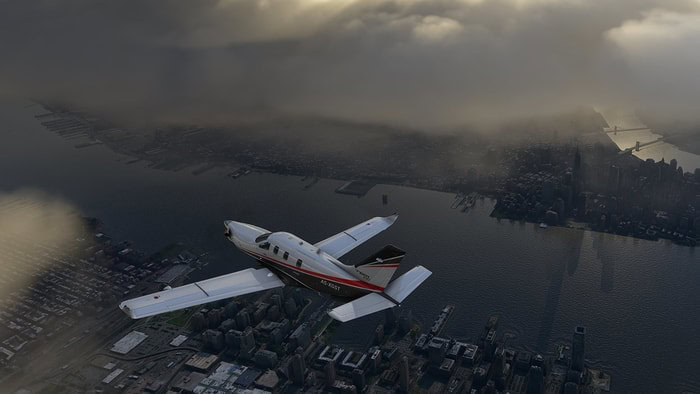 Gameplay Highlights
You can experience the whole planet with excellent details with the help of satellite imagery and Microsoft Azure AI.
The in-game world features more than 37000 airports, millions of real cities, and billions of buildings, which is amazing!
The dashboards of the airplanes are designed to resemble the real aircraft with every small detail possible.
You can hover with a large number of private and commercial jets to test your pilot skills.
Wind speed, temperature, humidity, and other weather parameters are based on real studies and research, making this the most realistic simulator ever.
Pros: This is not only a game. Rather this game is great for using as a simulator in aviation schools. This is also a great medium to travel the world virtually.
Cons: The super-realistic details took a toll on the game size. The game with the full map is a few terabytes. However, you don't need to download them all to play the game.
2. Forza Horizon 4
---
Forza Horizon 4 is a complete driving package for Windows 10. The most interesting thing about this game that it is not only based on story-based racing competition. Rather you can use this as a driving simulator because of its realistic physics and close-to-life visuals. The game has three different editions such as Standard, Ultimate, and Deluxe. I will say that the gameplay and overall experience justifies its price tag, and the game is a treat for your eyes and brain indeed.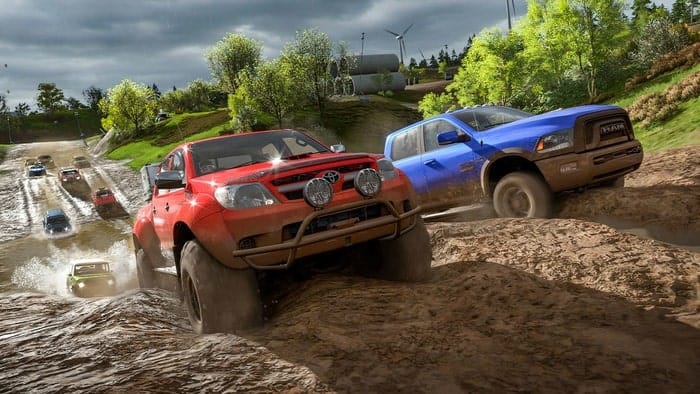 Gameplay Highlights
The game features mighty car models from more than a hundred different manufacturers.
It is an open-world game where you can roam with your car just like a real driver.
The story and missions are open-ended, and thus, you will get different types of endings based on your interactions.
You will get to compete with real players from all over the world in the multiplayer mode.
The in-game world is based on Britain's beautiful lakes, castles, valleys, etc.
Pros: The game supports HDR 10 graphics on the supported devices, which will give you a realistic driving experience right from your computer desk.
Cons: It will not run on old computers. Even if it runs, you will not get smooth frames, which will ruin the joy of playing.
3. Minecraft
---
Minecraft is a different kind of game developed by Mojang Studios. After the acquisition by Microsoft, it has become a strong part of Microsoft Games for Windows PC. You can put this game in any major genre, including adventure, action, simulation, educative, and what not! This is because of the diversifying gameplay and innovative design. You will have to build your world and elements using the lego blocks. There are a lot of action scenes too and don't forget about the enemies at night, by the way!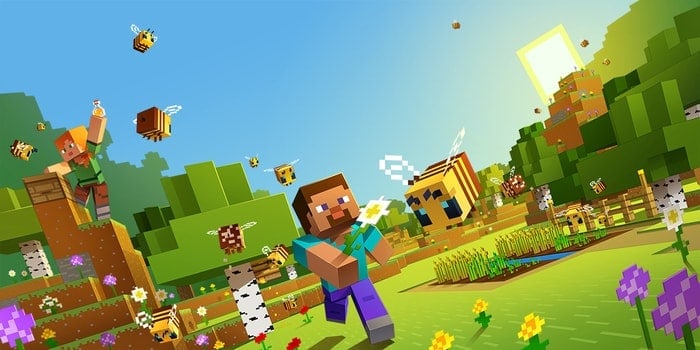 Gameplay Highlights
You can select from different modes based on your taste and expertise.
The trees and other resources in the environment can be used to craft creative things.
The mobs will always try to attack you, and hence you have to be careful to defend your creations.
Several items can be added from the store to expand the game.
You can host your very own Minecraft server to extract more fun from the multiplayer mode.
Pros: The game has a large number of players from various devices. So, you will get a great experience while playing online. Besides, it is educative and can be a great medium for a kid's brain development.
Cons: The low-poly retro graphics can be the deal-breaker for some players who are habituated to realistic graphics.
4. Age of Empires II: Definitive Edition
---
Who has forgotten the 2D medieval battle game Age of Empires? This franchise is also known as AoE. I spent a long period of my childhood playing the original Age of Empires. The game has been developed a lot since the original release. Now in the age of modern 3D games, Microsoft has come up with a remastered version of AoE, which is Age of Empires II: Definitive Edition. As you can see in the name, this edition is made with more details and modern graphical elements that look stunning on a high-resolution display.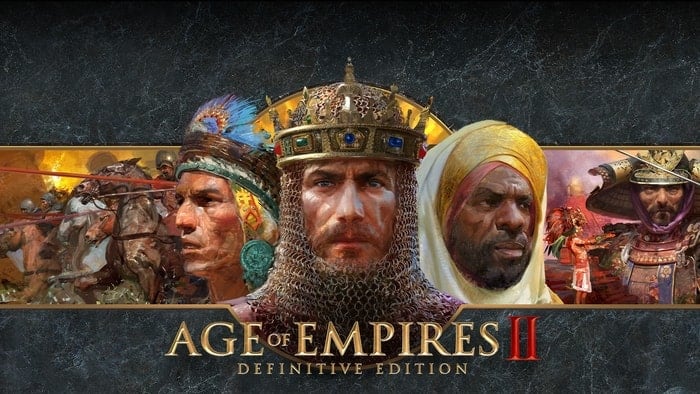 Gameplay Highlights
The game is based on world history, and you will get the experience of going back to the past.
Campaign mode has a long gameplay duration of almost 200 hours, which is long enough.
You can fight with other players online who will resemble different civilizations of the world.
The developer has introduced a battle royale mode that is similar to PUBG and other popular games.
Graphical elements have great detail and colors that look vibrant and realistic.
Pros: This game is 4K compatible with modern graphics, which has the same old strategical gameplay. This hybrid nature of the game made it stand out from the crowd.
Cons: As a strategy game, the game progress slowly. This may seem boring to some gamers who love action or racing games.
5. Sea of Thieves
---
Have you ever wanted to be a pirate like Captain Jack Sparrow after watching the movie Pirates of the Caribbean? If so, then this game is for you. Sea of Thieves is an adventure RPG game published by Microsoft that has gained much popularity over the last few years.
The thing I liked about this game is its movie-like graphics and a lot of narratives. You will feel like you are watching a movie where you are the hero. You will have to lead a pirate life, loot ships, navigate to the next destination, and much more inside the game world.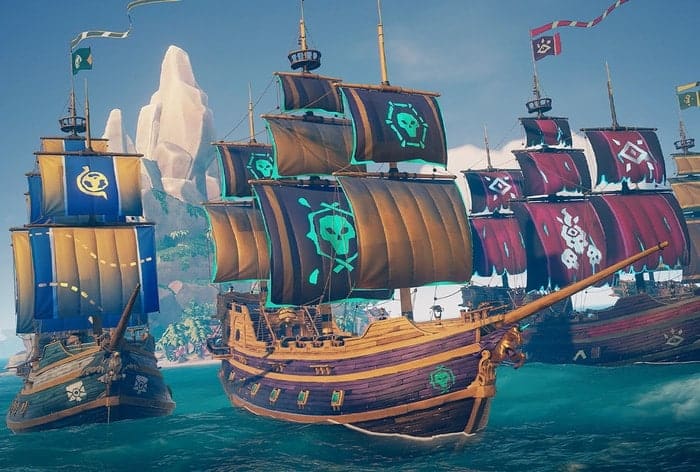 Gameplay Highlights
You will have to explore the world just like a real sailor and a pirate.
There are a lot of side quests like hunting, fishing, etc., that will provide more fun.
It has 11 different stories to play, and the cinematic sequences are stunning.
You will have to face the enemies, and you can battle with them with realistic physics.
The ships, characters, and many other things can be customized based on your taste.
Pros: The developer pushes regular updates every month to bring new characters, ships, and events.
Cons: The package size of this game is huge. Besides, updates and online events require a high-speed internet connection, which might not be convenient.
6. Gears 5
---
Gears 5 is the latest installment of the Gears of War franchise. In the world of other popular Microsoft games for Windows computers, this game couldn't get the attention it deserves. But in terms of both gameplay and storyline, Gears 5 is decent with some exclusive characteristics that are not available in other games.
The plot is a bit sci-fi, but I am sure that you will love the intense action. Apart from the story mode, you can play player vs. player and player vs. enemies to co-op with your real friends. Sounds cool, right?
Gameplay Highlights
The campaign mode has classical Gears of war characters, including Kait, JD, Del, and Marcus.
PvP and PvE modes are highly competitive with real-life players.
You can fight along with three of your friends in the story mode locally.
The accessibility option features a lot of customization, including controller and keyboard remapping.
The developer pushes regular updates and promoting esports regarding this franchise.
Pros: Although having graphically intense gameplay, this game is not demanding. Microsoft optimized this game pretty well for Windows PC with weak hardware.
Cons: It didn't bring any significant upgrades over the Gears of War 4 in terms of gameplay. So, some people complained that this is not worth upgrading.
7. Halo: The Master Chief Collection
---
You might have heard about the Halo franchise. This is a shooting title/games from Microsoft Game Studios. The series has several games that were released in the past few years. The interesting fact about this series is that the games were designed to work on Windows mobile devices such as laptops and hybrids. In this Halo: The Master Chief Collection, you are getting six different Halo games in a single package, which is convenient and affordable at the same time.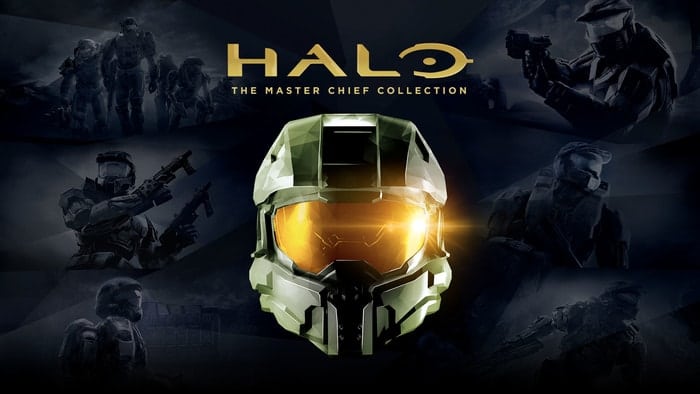 Gameplay Highlights
You can choose from the six different Halo games, including the latest blockbuster Halo 4.
The campaign modes are built upon a strong storyline with engaging narratives.
The bundle includes more than a hundred multiplayer maps with stunning visuals.
You can build your maps by using the in-game map editor named Forge.
New features and functionalities are added frequently by the developers, which makes this bundle futureproof.
Pros: This game is optimized for delivering 60 fps, which will ensure smoother gameplay. On top of that, you will get ultrawide monitor support with a lot of graphics customization.
Cons: Some gamers reported bugs and glitches here and there. Although I didn't face any of them, you should consider this while paying for the collection.
8. Ori and the Will of the Wisps
---
This is yet another game from the adventure games genre. However, this game from Microsoft is a bit different. The game plot is based on a fantasy world just like its predecessor Ori and the Blind Forest. Here you will find the same old spirit named Ori. The most interesting feature of this game is the unique storytelling along with the adventure.
From my point of view, this is not only a game; rather, this is a piece of art. Ori and the Will of the Wisps feature several heart-touching scenes and moments that will make you cry sometimes.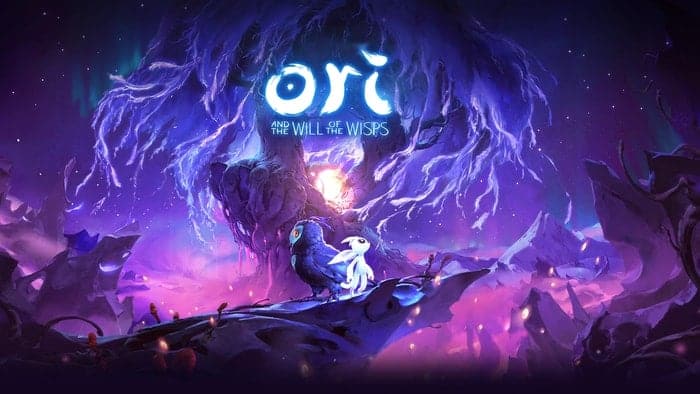 Gameplay Highlights
The story is very engaging and emotional, with awesome background music.
You have to take Ori on an adventure in that mysterious world and save it from danger.
There are a lot of puzzles here and there to bring some twist to the gameplay.
New characters are added with regular updates to keep the game fresh and engaging.
The in-game world is not realistic; however, it is vibrant, with a touch of imagination.
Pros: This game is highly suitable for kids. The puzzles can help to develop their analytical abilities and imagination.
Cons: Microsoft targeted a niche segment of gamers for this game. If you don't love fantasy, then you should avoid this game.
9. Microsoft Solitaire Collection
---
The list will become incomplete without this classic king. We all played Microsoft Solitaire when we were kids on the Windows computer. This game came preinstalled with the Windows operating system back then. Now that the Windows 10 and UWP apps are introduced, Microsoft revamped the old game into this new package.
It features all the classic modes, including Klondike, Spider, Freecell, Pyramid, etc. There are also some modern features added, such as Xbox Live integration, and much more.
Gameplay Highlights
The graphical elements are rebuilt to match with the modern HD and 4K displays.
You can choose from the five different game modes from the menu itself.
There are a lot of daily challenges pushed through the internet, and you can earn rewards by solving them.
The theming and customization option is great for bringing back the retro look.
Multiplayer mode allows you to compete with other players, and you can keep track and sync your progress across devices.
Pros: If you love card games, then there is no better alternative than this. On top of that, you are getting nostalgic gameplay, which is invaluable.
Cons: Microsoft should introduce more game modes related to cards in this game. Otherwise, it may lose it's impression gradually.
10. Microsoft Ultimate Word Games
---
This is one of the best free Microsoft games for Windows PC. However, this game is popular even on other operating systems. Of course, there are other world games from different vendors, but this game has a special appeal to the gamers. It's because of the years of experience of the Microsoft Game Studios developing this type of game. As you can see from the name, this is not a single game. This bundle includes blockbuster word games such as Wordament, Crosswords, and Word Twister.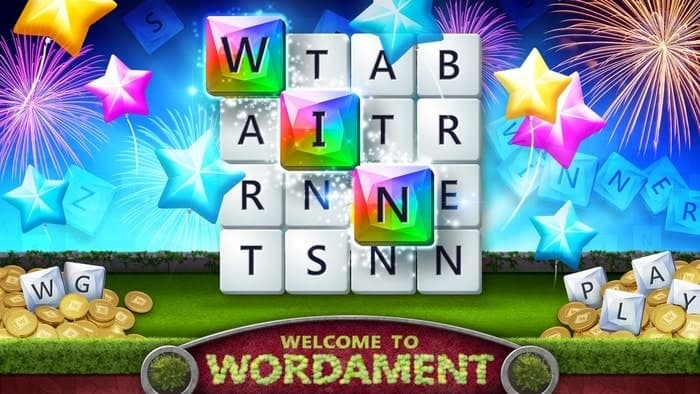 Gameplay Highlights
The single-player mode has several levels that you will get tired of completing.
Daily challenges are refreshed every single day with new puzzles and rewards.
The game is very easy to play that doesn't need a learning curve other than a good vocabulary.
The game is integrated with Xbox live services for syncing your progress and achievements.
Small package size made it easier to install on tablet devices, and it is also optimized for touch inputs.
Pros: This is an educational app. This game will surely develop the vocabulary of the kids in a fun way.
Cons: This game doesn't have a level customization feature, which would be great for using it as a learning tool in the schools.
Our Recommendation
---
As you have seen that Microsoft publishes different types of games. This is because they know the gamers well. Different gamers have different choices. So, it's not easy to recommend a single best from the list of the best games.
But still, I'll suggest you play Forza Horizon 4. No matter what kind of gamer you are, you will love the stunning graphics and realistic gameplay. If you love traveling the world, then Microsoft Flight Simulator is the thing that you should check out at least once.
To Conclude
---
Microsoft is getting serious into the game business day by day. This is great news for the gamers. Because nowadays the third-party developers are leaning towards consoles to release exclusive games. If Microsoft continues to develop such great games for the Windows system/PC, the gamers will be benefitted in the long run. Unfortunately, I couldn't include some other best Microsoft games for Windows in this shortlist. But if your favorite one is missing from this list, then please comment below and let us know. Happy gaming!