In an emergency situation, you are most likely to have no internet connection. And if it is in a remote or unfamiliar area, only a map can help you reach your destination by yourself. But when you have no internet connection, getting a map must be difficult as most of us think. But the truth is no, and it's not difficult at all unless you don't have the best offline maps on your device. Basically, there are many apps with third-party mapping apps' collaboration that lets you download the maps without an internet connection. And today, we are going to talk about them.
Best Offline Maps You Should Install for Emergency Use
---
Generally, most of the GPS and navigation apps from unknown developers promise to provide offline maps. But when we checked their functions, most of the apps failed to provide clear maps when we didn't rely on an internet connection. That was quite disappointing.
But we also got some of the apps that worked pretty cool without an internet connection. So, we listed them below and shared some of the basic details of each app. Hopefully, you'll find the most appropriate one for you.
1. Sygic GPS Navigation & Offline Maps
---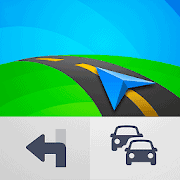 First, you can check the world's most downloaded offline map, Sygic GPS Navigation & Offline Maps. This 3D navigation map is built to help you find a place while hiking or camping. Once you have this app on your device, you can download maps even if you don't have a stable internet connection. So, it will work as a lifesaver, especially for those who love hiking and camping in remote areas. Besides, there is a huge database of maps and so, finding the map of a particular place is easy here.
Important Features
The POI function is the best part of this app that shows the most important places in a particular area.

This app indeed provides routes with light traffic jams.

Dynamic Lane Assistant will initially help you to drive on the correct lane.

This useful navigation app supports voice-guided GPS and comes with advanced cockpit functions.

It will also warn you about the laws and speed limit of the particular area.

You can also use the Head-up Display (HUD) projects to drive securely at night.
Pros: Generally, Sygic uses maps from top-class third-party map providers like TomTom. So, you will get maps of almost all the places.
2. HERE WeGo Maps & Navigation
---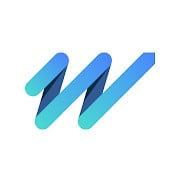 You won't get lost ever again if you have HERE WeGo Maps & Navigation installed on your phone. It is a powerful and accurate map that can flawlessly guide you without an internet connection. You only have to download the map while connected to the internet, and that's it. Then you can effortlessly go offline and start traveling, knowing you have a specific map that will guide you. Moreover, this brilliantly designed app is effortless to use, and mappings are really simple to understand for all.
Important Features
With HERE WeGo Maps & Navigation, you will initially have the most current map of any area. Apparently, new roads, bridges, tourist spots, etc., appear on this map as soon as the construction finishes.

All the downloaded maps barely take any space in your device's storage with this emergency hiking app.

You can always save your favorite spots on the map. You even can also organize them for easier reach in the future.

The offline mode is very reliable and navigates far better than any of the best offline maps.

With this amusing app, you can enjoy a stunning night mode. It eventually feels much comfortable for nighttime traveling.

It even lets you add your personal shortcuts to reach your destinations quickly next time.
Pros: This app offers lots of ways to roam around, such as car-sharing or bike riding features, etc. In addition, it also provides services like nearest hotel booking and parking area finding and more. These are really a crucial part of traveling abroad.
Cons: The app update sometimes may erase your saved locations.
3. CoPilot GPS Navigation & Traffic
---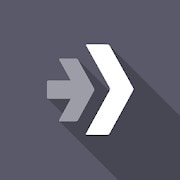 If you solely like to drive cars, then CoPilot GPS Navigation & Traffic is suitable assistance for you. Because it is a "Build for The Drivers" app that provides road-wise maps instead of a simple GPS map view, it can show you which lane you should choose next to reach your destination. Meaning, it will tell you to change your lane while you are on a highway or show you the shortcut to avoid long traffic. Besides, it is also the perfect app for safe RV or truck driving.
Important Features
In the offline mode of this app, you still can see the nearest important locations like restaurants, hotels, gas stations, hospitals, etc.,

There is always updated information about the road conditions. It eventually helps you skipping damage or under-construction roads.

This app is quite safe and only analyzes your data for developing much reliable maps. It won't share or sell your data to other organizations under any circumstances.

It indeed features voice-guided offline mode. Apparently, it includes navigation, route planning, traffic, and more.

You can eventually make multi-stop route plans on it according to your vehicle size and load.
Pros: This incredible app is developed for non-distracting guiding. Meaning, it won't divert your concentrate on the road. Moreover, it consumes less power than most similar apps, which is a great advantage.
Cons: The app updates may sometimes be lost in your marked locations.
4. Google Maps
---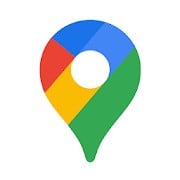 Google Maps by Google LLC is undoubtedly one of the best and popular maps you can find. Even it's also the best for the offline mode. Google Maps provides the most frequent map of any location. Also, I have one of the broadest map coverage. You eventually can navigate almost all the places on the earth with it. Like online mode, the offline or "Map Download" mode also includes terrain and satellite view to provide the best navigation to you. Additionally, the minimize navigation lets you use other apps while monitoring the route simultaneously.
Important Features
The perfect and clear voice navigation makes traveling easier with Google Maps. Apparently, the voice navigation also works on offline mode.

It is also publically open for adding information about places. Meaning, one can upload photos, contact info, opening hours details of a place, and others can get benefits from it.

You can indeed share your location with others, and they can easily track you.

This powerful app eventually features "Group Planning". It eventually let you share a shortlist of options and take votes from others to make a perfect hangout plan.

The transit information such as bus schedules, train schedules, etc., are available in it. You even can call for a ride-share vehicle with few clicks from it.

It fluently runs on almost all Apple and Android devices that exist in today's world.
Pros: You can easily create a favorite place list with it. You also can share them with friends. In addition, its smart AI can save your time by automatically rerouting based on live traffic.
Cons: Some of the features of Google Maps are not available in all countries.
5. Polaris GPS Navigation: Hiking, Marine, Offroad
---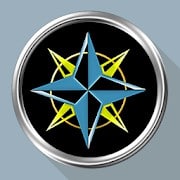 Why not choose a high-performance GPS for your safer travel anywhere in the world? Well, Polaris GPS Navigation is a complete package, and it will navigate you in the wilderness and anywhere around the city. Besides, the app only uses your device's GPS location abilities, and you can share the location too. Surely, there is no limit to downloading maps offline, and all of them will show with great detail, and you can read the labels clearly.
Important Features
The app initially helps you search and find nearby trails, and it records tracks and navigates trails.

You will indeed get all navigation charts in Polaris, and they are absolutely free.

The off-road navigation will support you for Jeep or any 4×4 vehicles.

It is apparently packed with a magnetic compass, odometers, chronometers, speedometers, and so on.

There will also be a GPS info panel along with Vector and Topographic maps.
Pros: This application supports British OSGR and OSGB-36 Datum. Moreover, you will find Military Grid Coordinate Reference System too.
Cons: The portrait mode doesn't work properly.
6. MAPS.ME: Offline Maps, GPS Nav
---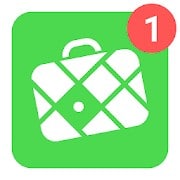 MAPS.ME is one of the best options for travelers for its fast services and detailed offline maps. Definitely, you can use this app for walking, driving, or cycle navigation, and you will never miss an interesting place. In fact, this app is a readymade travel guide that will save your time planning the trip, and you can save the location too. Also, it is packed with an excellent travel guide catalog with hundreds of destinations.
Important Features
The app will show the direction of point to points of interest, and you can find the missing places too.

It is indeed an app with an open-source alternative to Apple or Google maps.

You can eventually share the location with your friends via social media or text message.

The app allows you to search through different categories, including ATMs, Public Transport restaurants, tourists, etc.

The GPS also runs in the background of your device may decrease its battery life.
Pros: If there's any barrier on the way to your destination, it shows an alternative way. Besides, You can make hotel bookings with Booking.com directly with this app.
Cons: The app takes a little time to download each location.
7. Guru Maps
---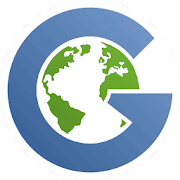 If you are looking for the best offline maps to travel with, Guru Maps will perfectly fit your demands. This application has a very user-friendly interface, and it gives very detailed offline maps. Also, this software records your GPS track and allows you to bookmark your favorite location too. You just need to download the map once, and then you can use it without any limitations. Moreover, the maps get updated automatically with recent fixes and lots more.
Important Features
This software initially supports voice instructions with 9 languages available while navigating the way.

It indeed guides you to the best routes for walking, cycling, driving, or to the shortest nearby locations.

The app certainly allows you to navigate turn-by-turn driving locations.

The app will automatically rerouting your ways back and supports printing your itinerary.

You can also keep a record of your whole travel routes collection as a GPX or KML file.
Pros: The app monitors your real-time speed, time traveled, and distance during the trip. In addition, you can customize your map and choose from 11 different map languages.
Cons: You can merge all the search results on the main screen of the device.
8. MapOut
---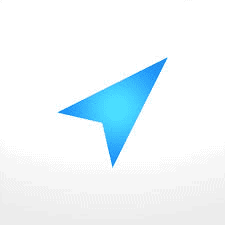 How about an offline map that shows the route similar to any paper map? Well, MapOut is one of the best options for hikers as it allows for easy-to-read representation terrain. Moreover, it shows the cycling route network, speed, and distance on the display of your device. Additionally, this beautiful map is specially designed for tourists, and it gives city maps with every detailed information with a 3D tilt view.
Important Features
You can initially search for streets, places mountains offline with this app.

This powerful compass app indeed lets you download the map of any area of your choice without the internet.

You can draw your own routes with the offline map.

The application apparently allows you to keep the recordings of your tour, and you can share them with your friends.

You can also import the recordings of your tour files via email, gpx, or kml.
Pros: You will get a topographical map along with counter lines and shading. Besides, The app offers information about each tour like map section, length, route profile, etc.
9. Organic Maps Offline Hike&Bike
---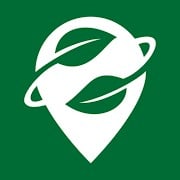 While hiking, you should try an app that offers detailed offline maps with places with the fastest service. Organic Maps Offline Hike&Bike is packed with excellent features that don't exist in other maps. The app certainly shows walking paths, hiking trails, and cycling routes, and it is totally free from all kinds of trackers. Surely, the app won't bother you with any spam email or push notifications. Also, it is with an open-source code so you can be safe anywhere around.
Important Features
You will get a fast offline search on the map and bookmark to any place.

There will be turn-by-turn cycling and car navigations with voice guidance service.

The app indeed allows for a dark mode feature, and it will help to protect your eyes.

This software is extremely handy as it saves your battery life.

It doesn't apparently collect any data and keeps your privacy safe.
Pros: The farmland is visible with this software. Moreover, for voice guidance, the app supports multiple languages, including Brazil, Portuguese, etc.
10. Pocket Earth Maps
---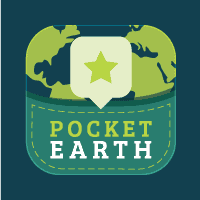 If you are looking for Topologic contour maps for the outdoor, Pocket Earth Maps will surely fit your demands. And it is our final recommendation for today. This application is basically loaded with excellent features, and it is the best travel guide for abroad or in the wilderness. Moreover, the app works thoroughly offline, even with GPS, and it doesn't cost any charge. Additionally, you can share your location and the map links with your friends, and you can download large area maps too.
Important Features
The app gives beautiful retina-quality maps and allows you to search online street addresses.

You will initially find detailed worldwide maps along with 10,000 locations online or offline.

You can even save your multi-stop itineraries with offline voice-guided navigation.

The application allows you to search for restaurants, tourists site, metro or public transport, etc.

You will also find more than 25,000 detailed Wikivoyage travel guides and almost 1 million Wiki Articles in 7 available languages.
Pros: GPS track recording will help you never get lost again. Furthermore, the application supports GPX and CSV files, and you can share them with PE archives.
FAQ
---
Q: Can I download maps without the internet?
A: Yes, you can download maps without an internet connection. Basically, there are different offline map apps for both Android and iPhone that provide downloadable maps. And you won't necessarily need an internet connection to download maps using those apps. Most of the apps have a collaboration with other third-party mapping apps, and they filled their database with the maps.
From their huge database, you can find the area and then download it as well. Also, these apps upgrade the maps whenever you have an internet connection. Unfortunately, these apps cannot point to a particular location if you don't have a connection or do not activate the GPS option on your device. But you can easily download maps of anyplace using these apps.
Q: What map app works without the internet?
A: There are lots of map apps that work without an internet connection. Among them, Sygic and Google Map are the best for both Android and iPhone users. Both of these apps come for free, and they let you download offline maps of any place.
Android users can also use Here Wego and Polaris GPS Navigation as well. These apps also have a great popularity for their offline maps. And for iPhones, CoPilot GPS Navigation and Maps.Me can be the best Google Map alternative.
Q: Can I use Google Maps offline?
A: Yes, you can use Google Maps offline. But not always. Basically, Google Maps lets you save the map of an area that you are going to explore. And when you don't have an internet connection, the saved map will be available for you. But, this app cannot show you the map of a particular place that you didn't save before. So, in that sense, you can partially use Google Maps offline.
Q: Can GPS work without a SIM card?
A: Yes, GPS can work without a sim card. Basically, GPS has no overlapping connection with a sim card. And the GPS function uses an internet connection on the older devices only. New and high-end smartphones come with a built-in GPS cheaply, and so, they don't need any source of the network to work. Eventually, it works on its own with the help of the cheap. So, it doesn't even need the sim card as well.
Q: Which navigation app is most accurate?
A: Here, Wego and Sygic are the most accurate navigation apps. Both of these apps are available for Android and iPhone users too. And you can install and use them without paying a single penny. But if you wish to enjoy their premium facilities, you must have to pay for the premium subscription. Aside from these two apps, you can also use Google Maps, Polaris, and CoPilot too.
Finally, Insights
---
So, here we come to the end of today's discussion. But before we leave, I have something very important to share. If you are a hiker or camper, please check twice that you have already downloaded the map of the area you are going to explore. What I am trying to say is that you shouldn't take any risk when it is a matter of place where help is not available.
Your safety should be your first priority. And if you are not planning to hike or navigate anywhere, just keep one of these best offline maps on your device to use in any emergency situation. Thank you for your time.