Most of the time, we delete lots of files together from a folder. It happens mostly when the folder is about to be full, or the phone doesn't have enough space. And that time, we often select our essential items like images, files, or documents mistakenly. Because of having no extra recycle bin function we just lost them for good accidentally. It becomes a regular issue for many of us. And if you are one of them, I will borrow a few minutes of you to introduce you to the best recycle bin apps for Android.
Best Recycle Bin Apps You Should Use for Emergency Restoration
---
We are going to cover the best apps for Android only because the iPhone doesn't support any recycle bin apps anyway. However, for Android, we have checked out a lot of apps, and then we come to an end with the best 10 apps. All these apps are good enough to restore all deleted files and images instantly. You will also find the short details of each app, and thus, you can be sure of which app to try first.
1. File Commander – File Manager & Free Cloud
---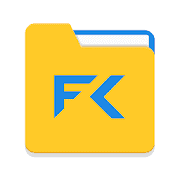 What if a powerful file manager app provides you the best recycle bin function? File commander is like that. Being a powerful file manager and organizer, this app works as a complete recycle bin app. It has a separate folder to store all the items you will delete. And the option to restore them will be available there. So, whenever you fail to find your important images or files, you can simply check this app to restore them.
Important Features
You can certainly restore any type of file, including images, music files, videos, PDF files, documents, and others.

It takes only a few seconds to restore a file using this app.

When you clean the trash inside this app, it will ask you again to ensure that none of your necessary apps is deleted permanently.

You can manage everything about files and documents with this handy app.

PC file transfer is the best part of this app that initially lets you share your files on your PC from smartphones easily.
Pros: You don't necessarily have to think about the storage of this app as it comes with 5 GB of storage.
Cons: Some users find issues with Premium subscriptions.
2. Dumpster – Recover Deleted Photos & Video Recovery
---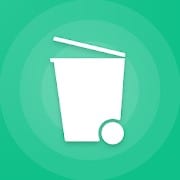 No doubt that Dumpster is the most popular photo and video restoring app. Basically, it works on any Android smartphone and tablet. Though the name only mentioned photo and video restoration, this app works pretty well to restore any type of file and document. And all the deleted stuff will be saved in the recycling folder in this app. So, you don't need to think about any accidental deletion of your necessary stuff.
Important Features
You can use all the functions of this app without an internet connection.

It also lets you use the inbuilt lock screen facilities.

It only takes a few seconds to retrieve any files that you have deleted from your device with this app.

You don't particularly need to root your device to use this app.

Using this app doesn't require an internet connection, and it is completely a free app.
Pros: This app will efficiently backup all your media files continuously. And it does its work automatically.
Cons: You can be annoyed with the unavoidable commercials in this app.
3. Recover Deleted All Photos, Files, and Contact
---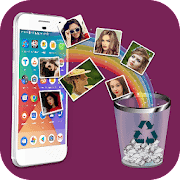 There is no way to avoid Recover All Photos when it is about the best-restoring app. With this powerful app, all the stuff in your device will be safe and secure. You will find them completely okay in the restore folder in this app when you have mistakenly deleted them. And only one tap is enough to restore any file from this app. Additionally, it worked quite faster and came with a very minimalist interface.
Important Features
While cleaning the trash inside the recycle bin, it will warn you again that you are not permanently deleting any necessary documents or files.

This app consumes a tiny space on your device, and it doesn't absorb more battery power.

This app doesn't indeed require a rooted device anyway.

You can also use this app to manage your contacts and save them as well.

This app provides the best backup function for sure. You can even synchronize this app with your other devices.
Pros: Duplicate remover is the best part of this app. It will eventually delete the duplicate documents and images automatically to keep the space clean.
Cons: The quality of the recovered images won't be the same as before when you use this app.
4. Recycle Bin
---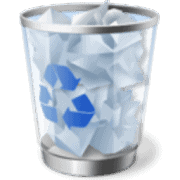 You can now double-check your files before deleting them with Recycle Bin by AA-Android Apps. This minimalist app will provide you with a similar feeling to the recycle bin of a computer. Basically, Recycle Bin keeps the files you deleted in your phone and gives you a second chance to restore them. Or you can permanently delete those files through it. Besides, this app is much smaller and takes a couple of megabytes of space to operate.
Important Features
You will initially get the same quality media files after restoring.

This app is much handier than you think. Apparently, the delete, detail, and restore buttons are just below the files.

A confirmation box will appear while you proceed to delete files and provide more safety permanently.

Android devices with version 4.0 or above can run this app.

It indeed works silently in the background with a little ram usage. Eventually, you won't notice any performance lag on your device.
Pros: You can simply turn the recycling process on or off with a simple tap. Moreover, it is one of the most reliable recycle bin apps for Android since it never stores your files on its server.
5. DiskDigger photo recovery
---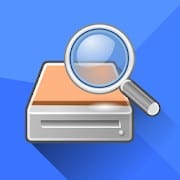 DiskDigger photo recovery is a great choice if you are looking for a productive recycle bin app for Android. It certainly recovers files at lightning-fast speed, and also, it is easier for everyone to use. Although it mentions "Photo" in the name, you can restore several types of files and documents with it. Moreover, it runs flawlessly on almost all Android devices with very little power consumption. Let's check out more details of this app.
Important Features
It initially works in the background to catch the files you deleted.

This powerful app can scan and restore some of the previously deleted files. It also uses the cache and thumbnails to restore those files.

This app doesn't indeed give high pressure on the device's ram while scanning.

You can eventually clear the whole item permanently with just one click. It apparently will free up more space in the device memory.

No device rooting is necessary to recover your previously deleted photos, videos, and other files through it.

Both list and grid view are available in this app. It ultimately lets you use this app in your comfort preferences.
Pros: It can run the scan on both device memory and SD card. Additionally, the multiple selection system is included in this app.
Cons: Files recovered through cache and thumbnails do not provide the original quality.
6. Cx File Explorer
---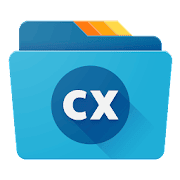 Cx File Explorer is an entire file manager app with file recycling features instead of being a very simple recycle bin app. That means it has all the functionality of recycling, but it is also an appropriate file manager app. It can quickly manage the files on your device, play media and analyze storage capacity, and more. In addition, you will fall in love with its spectacular and smart interface design.
Important Features
Accessing the recycle bin is quite straightforward. Apparently, you will see it on the very first page of the app.

It initially lets you choose multiple items at once to restore or delete.

Browsing through this app will indeed give you a convenient feeling.

You can eventually preview files inside the recycle bin. These eventually will help you recognize the contents instantly.

This incredible app can also manage your cloud files too.
Pros: It lets you manage installed apps on your device with it. Also, the deleted files can be permanently deleted or restored with a simple click.
Cons: The files deleted only from this file manager can be found in the recycle bin.
7. Data Recovery, Trash bin, deleted Video recovery
---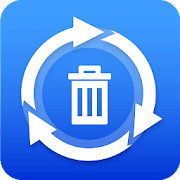 With Data Recovery, recovering deleted photos and videos will be easier than ever. It initially keeps track of all your deleted photos files and gives you a chance to recover files you accidentally deleted. Besides, all the file backup process done by the app happens in the background quietly. Then when you regret deleting any file, you can simply enter "Data Recovery" and revive those files automatically.
Important Features
You don't have to do much to restore anything from it. You eventually have to open the app and tap on restore.

Processes for backing the deleted files barely put pressure on the device.

You won't indeed need to root your device to get the erased files. All processes are done legally.

It features recent-delete sorting. Apparently, it hugely helps to get just-deleted files instantly.

No internet connection is necessarily needed to restore your deleted files.

This app is remarkably smaller in size.
Pros: You can apparently find any item in it even more effortlessly with its searching functionality. Additionally, you can search by file types, including images, videos, documents, etc.
Cons: Data can get missing if you reinstall the app after a long time.
8. Simple Gallery – Photo and Video Manager & Editor
---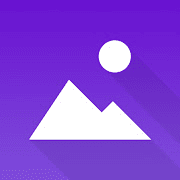 Are you looking for a recycle bin app that is more functional than the others? Then you must try the Simple Gallery. This amusing app lets you edit your photos along with the facility of recovering accidentally deleted media items. It is a simple yet powerful app that does its jobs pretty well. Besides, using this app is incredibly comfortable. You will find every function of this app at your fingertip.
Important Features
The recycle bin initially appears as a folder inside this gallery app. It eventually makes recovering photos and videos much easier.

You can certainly secure the recycle bin as well as other media with a security lock.

It lets you share your photos and video files straight from the app.

In the recycle bin folder, you can preview the photos. You eventually can know with files you deleted.

There is an "Empty Recycle Bin" button that you can tap and clear the bin in a second.

This app indeed has a very user-friendly interface than most other recycle bin apps for Android.
Pros: This app is highly customizable with tons of colors. Moreover, it never stores your files or data.
9. Recycle Bin
---
Recycle Bin by RYO Software is one of the most serviceable recycle bin apps for Android. So if you have the habit of accidentally deleting important files, you can try this one. Essentially, it works with your existing file explorer to monitor your deletion. When you delete any file, it moves to the recycle bin instead of getting deleted permanently. Moreover, this app drinks a tiny amount of power while observing in the background.
Important Features
It simply supports a vast number of file types, including compressed files and application files.

You can initially set a timer to delete the files automatically. Eventually, it saves you from manually deleting those.

Multiple selection features are available in this app.

There are several sort types available in the app. Apparently, you can use those to organize the deletes and group them.

Retrieving and deleting files from this app is really simple and happens with a single tap.
Pros: This app lets you select a specific folder to recycle data. Besides, you can backup your deleted files with this app so you won't lose them.
Cons: Its appearance may not feel modern to some people.
10. Recover Bin Free: Restore Deleted Photos & Videos
---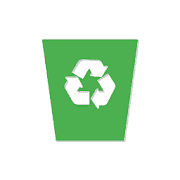 Last but not least is Recover Bin Free by DiskForensics Software Ltd, a fully functional recycle bin system for your phone. It basically gives you a chance to retrieve your files after you delete them. But it is better than other recycle bin apps for Android with its super-quick and easier functionality. Moreover, it organizes your deleted files properly so you can find your expected file quickly and restore it. Let's check out more about this handy app.
Important Features
In this app, you can schedule automatic clearing. So you eventually won't have to go to the bin and empty it manually.

You can simply recover files or delete them permanently with few taps.

Here in this app, you can run deep scans in the hope of retrieving already deleted files. It sometimes may succeed in retrieving those files.

This app initially lets you sort the deleted files variously. Apparently, you can easily get to the files you are looking for.

If you want, you can preview and have a peek at your files inside the app.
Pros: This app includes lots of elegant themes which you can use as your choices. Another best thing is, you can share your files right from the bin.
FAQ
---
Q: Do I need a recycle bin app for my iPhone?
A: Basically, an iOS device doesn't support any recycle bin app, and there is no possible way to restore deleted files and images from the devices using a third-party app or tool. So, you cannot possibly find any restoring app on the AppStore. But it has the stock restoring option. So, you don't necessarily need any of these third-party apps for restoring files in an iPhone.
Q: Which is the best Recycle Bin for Android?
A: File Commander and Dumpster are the best free recycle bin apps for Android. There are other restoring apps, too, but these two apps are also similarly compatible. When you have this app on your device, there is no way to lose your images, documents, videos, a d other files by deleting them accidentally. These apps will save them automatically and provide you another chance to restore them.
Q: How do I restore items from the Recycle Bin app on my phone?
A: Restoring an item that has already been deleted is easy when you have the best-restoring apps. In the app, all your deleted stuff will be saved. And there will be an option to restore them once again. So, when you tap on the restore button, the selected items will be saved automatically.
Q: Does an Android device contain any in-built recycle bin?
A: Generally, no Android device contains an inbuilt recycle bin. But you can use a third-party app for that. There are many frees recycle bin tools on the Playstore, and they work just like the recycle bin function on your PC. So, it is better to have a recycle bin application on your device so that you can instantly bring back what you have accidentally deleted.
Finally, Insights
---
So, from now on, none of your essential files, images, or documents will be deleted permanently by mistakes. When you have these recycle bin apps on your device, you can restore them in a blink of an eye. Eventually, you can manage everything on the recycle bin functions with the apps. Now, just share the name of other apps of the same category if you know something better than what I have mentioned. Also, share this content with your friends if you think they need it. Thank you so much for being so supportive.