Chromebook by Google Chrome is the most recent invention, and it has already started competing with Laptops. If you consider the surface and outlook, both of them share the biggest similarity. But inside, they have a lot of differences. Well, the battle of Chromebook vs Laptop can help you learn about the points where they are not the same. And that's exactly what we are going to discuss today.
Basically, we understand Windows PC or Macbook by the word, Laptop. But when it is about the security, interface, gaming, software availability, and storage, there are lots of dissimilarities. Windows pc can be of different brands and prices. Chromebooks also are of different brands and values as well.
That's the reason many of us get confused about which one to buy. Well, if you are also confused about the same fact, you are on the right track. Today we are planning to discuss the points where Chromebook and Windows laptops are different from one another. So, you can easily get your point to choose the best one from Laptop and Chromebook.
Points of Comparison: Laptop vs Chromebook
---
If you see it from the outside, you will not see any major difference between a laptop and a Chromebook. Initially, they look the same, but they don't perform similarly. To choose the best one, you have to find out your requirements first. So, think about what you need and then compare one with another. You must get a precise answer to all your confusion from the below facts of the battle Laptop vs Chromebook.
1. Operating System
---
This is the major difference between a Chromebook and a traditional laptop when it is about the OS. Traditional laptops are generally based on Microsoft Windows OS or MacOS. Chromebooks are laptops too but come with a lightweight OS.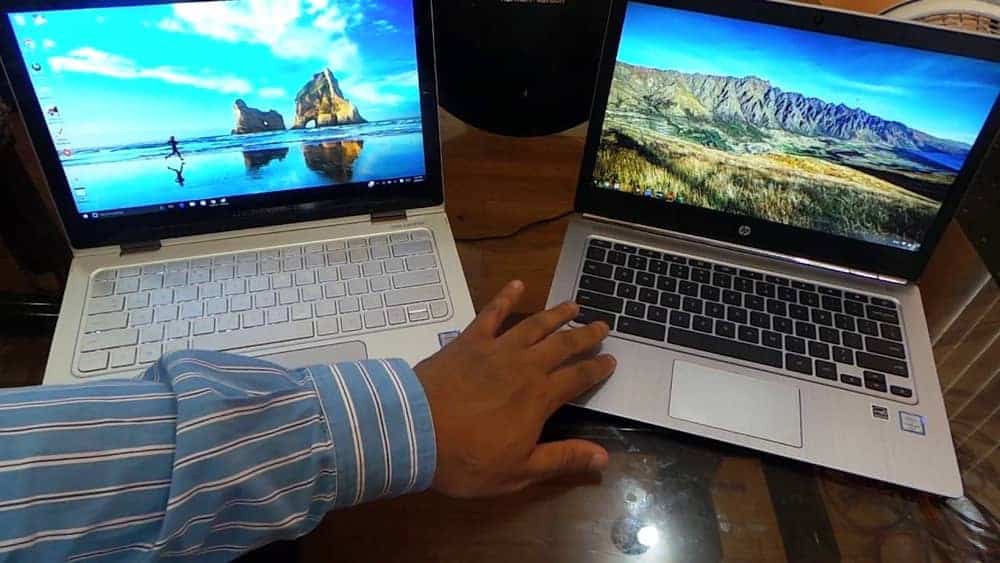 Chromebooks use Google's own operating system, Chrome OS, a highly online service-based system. Most of the works rely on online-based apps and cloud storage, similar to the Android that we use on Android phones and tablets. It is mostly based on Google's flagship web browser, Chrome.
After the full integration of the Google Play Store's app support, Chrome OS became capable of handling offline workloads like MacOS and Windows. This made Chromebooks an alternative to other generic laptops. Traditional laptops require heavy hardware setups to run smoothly, whereas Chromebooks can run pretty well on barebone systems.
With the support for Linux-based apps, Chrome OS has become much more productive than before. Now, users can execute many operations and workloads offline, similar to its competitors. Chrome OS is great for old desktops and laptops for being light and less demanding. Traditional laptops are indeed far more productive and capable than Chromebooks.
It is up to the user's preference and, of course, not dependent upon hardware specifications. The choice is mainly about the use case scenario and ecosystem. If you are concerned about Chromebook vs Macbook, I must say that MacOS is far more advance for its dependable and multi-device synchronization facility. Chrome OS might not provide that type of complete experience, but Chromebooks are cost-effective compared to Macbook, obviously.
2. Gaming Performance
---
Gaming on a Chromebook is a mess and primarily for its OS limitations. Moreover, the hardware specifications are not up to the mark to run mediocre PC games, let alone the demanding AAA titles. It is not like Chrome OS can not handle demanding AAA games; this is mainly for the scarcity of capable Chromebooks available in the market.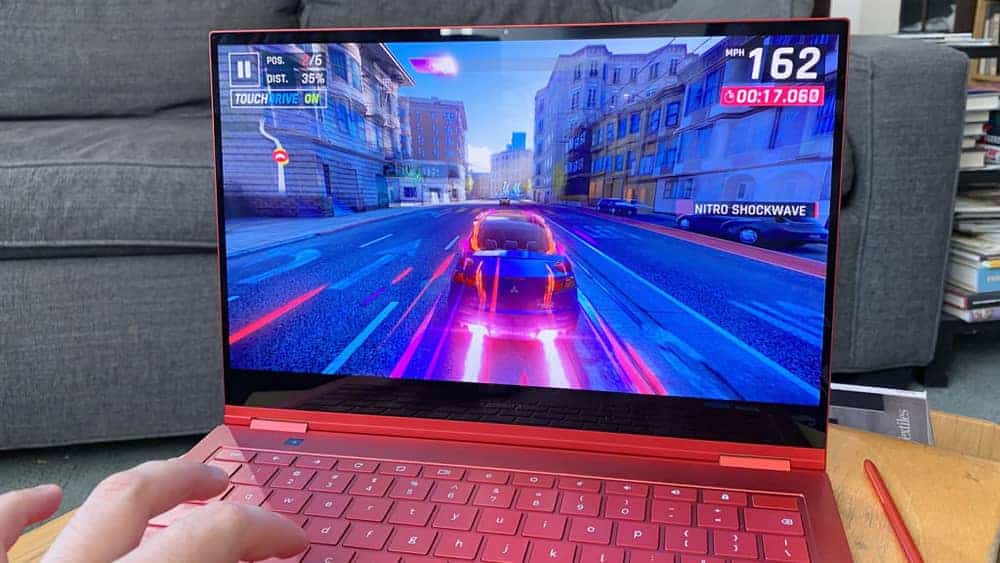 Chromebooks are not made for gaming on it, at least not for now. We hope we will see many Chromebooks with solid hardware offerings' to meet gaming needs in the near future. There is some support for Android-based games, but they are not comparable to the highly complex Windows platform's games.
Even popular game clients like Steam, EA games, Epic, Uplay, and others are not available for Chromebooks. So, you are out of any luck if you want to play titles like Witcher 3, Assassin's Creed Odyssey, Dota 2, and so on. These types of games are too much for Chromebook hardware and don't have any support from the OS ecosystem.
Some Chromebook users have Google play store available on their system, while many others don't have that facility. If you have access to the Google Play store, you will be able to play some Android-based games on Chrome OS. Keep in mind that if the game is solely based on touch control, then you will have a hard time playing that title.
Many Chromebooks come with touch screens, and some even have very good touch response rates, especially from the Chromebooks offered by Samsung, Lenovo, Dell, and other popular manufacturers. These Chromebooks are capable of playing some Android-based games, except PUBG mobile. But, if you compare gaming performance with regular laptops, the gap is literally huge.
One of the best features for Windows 10 and later versions is the support of Xbox One games for the PC platform. Users can even experience console-like gaming performance on Windows 10 based laptops.
Another great perk is the Xbox One controller compatibility. But the console should remain idle when accessing games on the Windows PC with the same account. So, in gaming, traditional laptops are significantly ahead in the battle of Chromebook vs Laptop.
3. Hardware Support
---
You will find a lot of choices if you want desktops or laptops based on the Windows ecosystem. There is an astronomical level of variations, from storage grades, CPU choices, screen types, sizes, capabilities, GPU choices, and much more. Within just Windows 10 based laptops, users will find laptops for different purposes from 10.5 to 21 inches of screen sizes.
If you go for Chromebooks, you won't find many variations. The market has been growing gradually over the years but not like the Windows counterparts. Chromebooks tend to have smaller display sizes and generally come around 10 to 15 inches. Some of the popular manufacturers are Lenovo, Samsung, Acer, HP, Toshiba, and some other notable ones.
Windows-based PCs come in tablet forms, 2-1 type laptops, mini desktops, full-fledged laptops, gaming-grade laptops with heavy specifications. Users have plenty of choices from Windows offering, whereas Chromebooks have tablet form and notebook-style offering. Well, a touch-based system with a very lightweight package has some perks too. But in power usage, it lags behind.
Chromebooks are vastly portable and easy to use. It packs just the things you need to browse the Internet all day long and consume some lightweight media content. Some Chromebooks feature an eye-catching display and buttery smooth touch responsiveness, such as Google Pixelbook, Samsung's Chromebooks, etc.
In a nutshell, Chromebooks are not ready to replace Windows laptops and MacBooks in terms of hardware offerings yet. So, here, once again, we cannot give a call for Chromebook in the battle Chromebook Vs Laptop.
4. Software and Apps
---
The winner must be very obvious when the fact is the availability of apps and software in the battle, Chromebook vs Windows. If you are a fan of Chromebook, I assume you won't be happy with its app and software availability.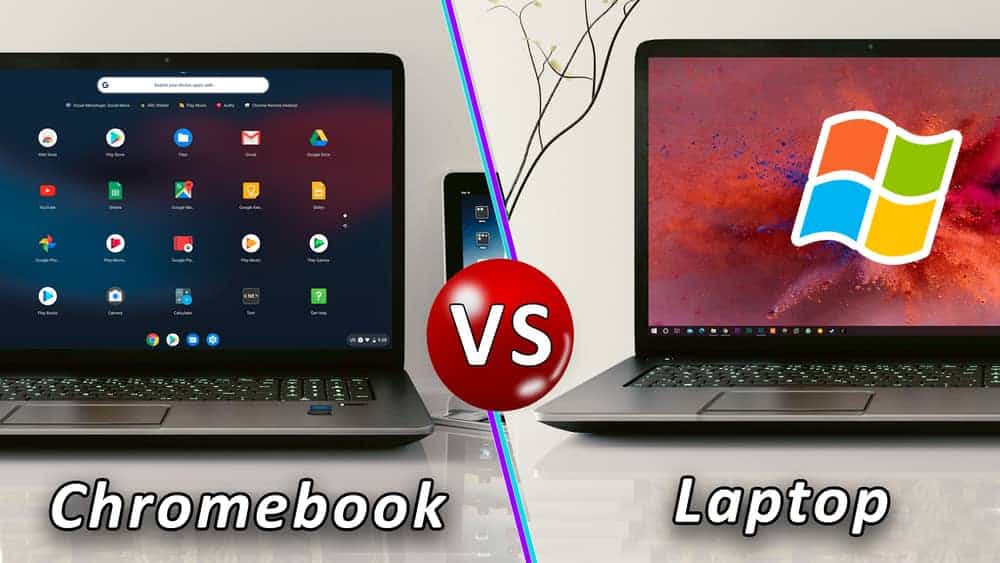 For sure, here, Windows and MacOS have accessibility to most software. And Chromebook needs a huge development in this case. Even Linux-based laptops have better apps accessibility than Chromebook. But the software that you have used via browsers works perfectly on Chromebook.
But here, Chromebook has a plus point. Some of the Chromebook, including the recent Chromebooks from Aser, Asus, Haier, Google, Dell, EduGear, HP, Lenovo, Hexa, Lava, Samsung, Toshiba, etc. supports almost all the Android apps from the Google Play store. So, you will get access to a huge number of apps for sure.
Also, you have to remember that most of the powerful apps require MacOS, Windows, or Linux, and you cannot probably run them on Chromebook. Significantly, the software that is not available on Android, you may not get access to them easily. However, if you are going to buy a Chromebook, make sure that it has access to the Android apps anyway.
5. Storage
---
There is no way I can take sides for Chromebook in the battle of Chromebook vs Laptop. It's because Chromebook doesn't come with a huge built-in storage, and so we have to store all your files in the Cloud storage. In this case, it must be more secure anyway. It's because if you destroy or just break your Chromebook, you will get all your files back in a second.
On another side, Laptops of all brands either come with an SSD or a hard disk. Some of them initially come with both. So, you don't have to rely on Cloud storage in this case. As a result, you will get more access to store games, files, images, videos, etc. That's why I must take the side of a windows laptop in this case.
6. Protection
---
It is pretty much difficult to declare the winner in the battle Chromebook vs Laptop when the fact is about the security. Both of them are pretty much strong to secure your protection. But still, we cannot deny the probability of both OS being in a threat.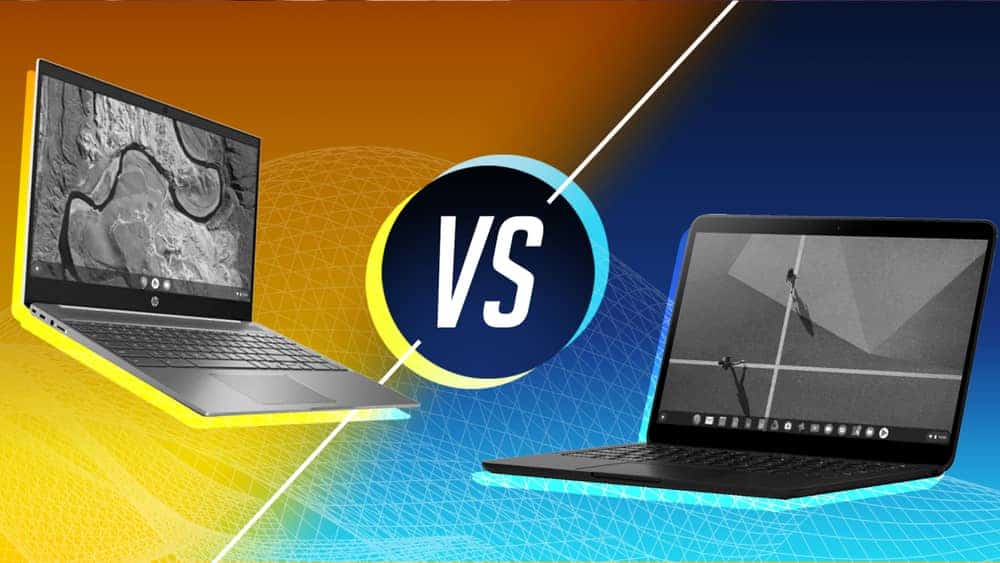 Basically, all the tabs and apps in Chromebook run in its own Sandbox. That's why it can secure you from virus attacks easily. Also, Chrome OS never boots a system that is already infected by the virus. Google initially handled the booting system. And while booting the system, it checks all the files and resolves the files that are already being infected.
When it is about a Chromebook, we don't say it is the Factory Reset. Instead, we call it Power Wash. And here, the powerwash process wipes everything on your Chromebook when bringing it back in its primary condition. And you can manage it if you are feeling unsecured with the system. As Chromebook doesn't have huge built-in storage, all the files will be there in the cloud storage. So, you will get them again in the backup storage.
On another side, the security options of Windows have always been getting updated. It mainly works to make the system stronger against hackers, malware, and virus attacks. As the operating system of Microsoft is pretty much complicated, hackers don't get an easy opportunity to have access to your system.
At the same time, windows are the most used and popular platform. So, hackers often find a way to have access to your system. That is sad for sure. However, the developers are ways looking for a way to develop the security system. That's why you don't have to think more about it.
7. Price Tag
---
Yes, price is a big fact we consider when we are buying something. And when it's a fact of Chromebook vs Windows, most people consider the value of the product first. Well, in this case, Chromebook got the point for sure.
If you want to buy a Chromebook with average configuration, you will almost get it from $150 to $300. In this price range, it is pretty much harder to get a laptop with a similar configuration. We all know that laptops are of different brands and so of different price ranges. If you want to buy a laptop with at least Core-i 3 processor, you have to pay a minimum of $400.
MacBook is even more expensive, and I am sure you are aware of that. However, there are many Chromebooks from popular brands like Lenovo, Samsung, Dell, etc., that you have got at a lower price.
8. Microsoft Office
---
I can be specific here about Chromebook. You cannot just run it on your Chromebook as it doesn't support Chrome OS anyway. But Microsoft has already taken steps to make it available for Chromebook users. It eventually gives access to its own cloud-based Word, Outlook, Excel, PowerPoint, and One Note for the users. So, if you need to use Microsoft Office very often on your PC, Chromebook cannot be your choice anyway.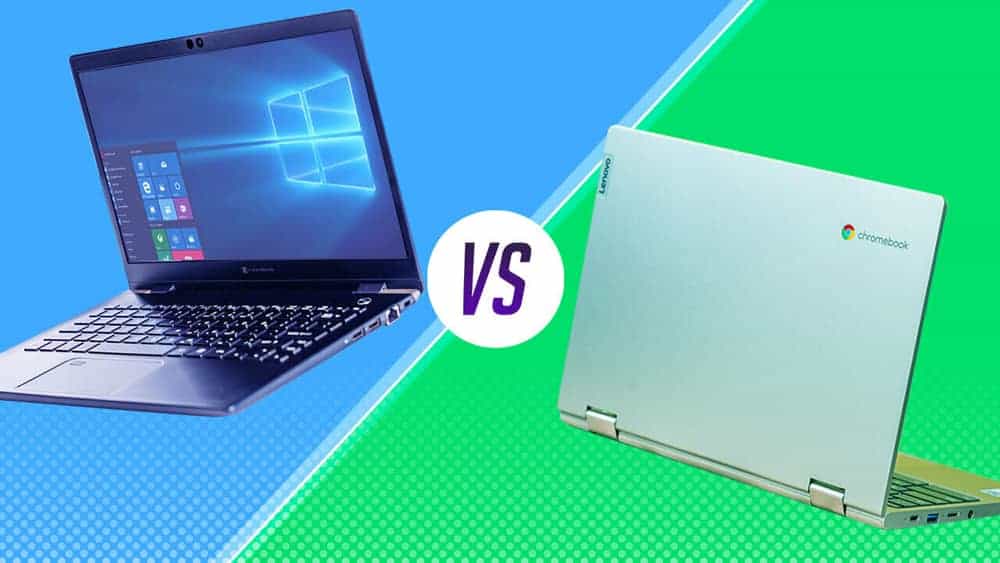 On the other hand, Windows PC, whether Laptop or desktop, performs the best to run Microsoft Office and other related software. MacBook also supports that software as well. You can use Microsoft office even without an internet connection on Windows and Macbook. However, as a better alternative to Excel and Doc, you can use Chrome's native Sheet and Google Docs in the Chromebook.
9. File Manager
---
Generally, people get familiar with the basic folder and files in the file explorer program. No wonder, Laptop offers a convenient system to save files, pin important documents and make new folders in a flash. Moreover, Laptops will allow access to Microsoft OneDrive files, and thus one can check the stored files in the cloud.
Besides, OneDrive storage is totally free with a Microsoft account. It shows a start menu in file explorer, and Cortana integration will work with commands. Additionally, it will bring up files that go with the criteria of one's command.
However, Chromebooks also have a Files folder in their main menu. But it is not similar to Windows 10, and one may not find it in the start menu. The main inconvenience is it consists of a smaller space in its hard drive. In most cases, one must pay after a certain time to continue with cloud storage. That's why it's a tie in the battle of Chromebook vs Laptop in the case of file manager.
10. Portability and Access to Printer
---
Chromebook is mostly very light weighted, smaller, lean-bodied, and cheaper in price. In the meantime, ultra-portable laptops are very exceptional, and very little can go with the portable qualities of Chromebook. Moreover, these qualities in laptops require a lot of money which is quite unusual.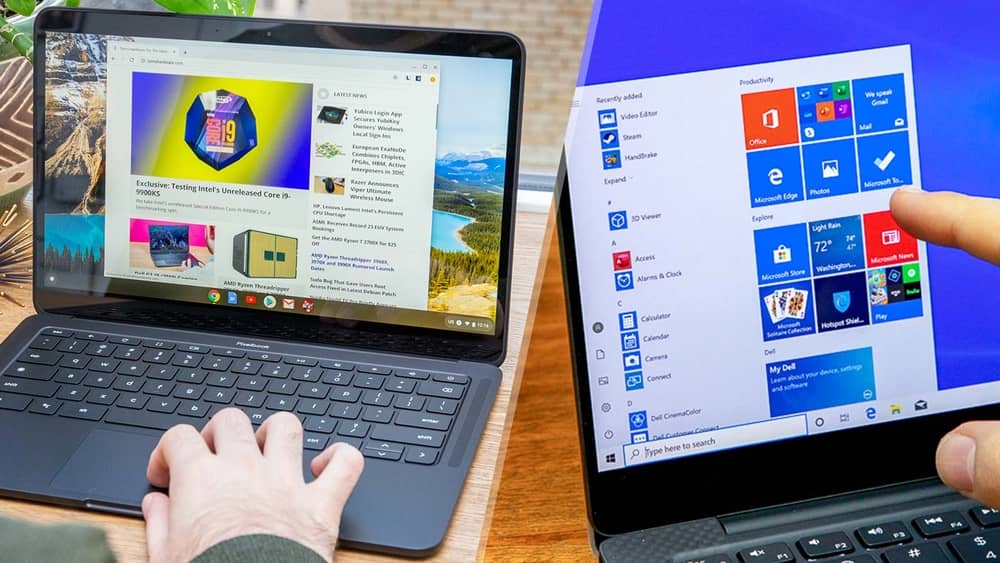 Access to the printer is another field where Windows laptop has a plus point in the battle of Chrome OS vs Windows. Generally, Chromebook doesn't have access to the printer via WiFi or USB port. That doesn't mean you can't print anything with it. Chromebook initially offers Google Cloud Print, and the system is totally different from what we generally do to make a print copy of a file from a Laptop. Indeed, Laptops will work fine with USB ports or WiFi. 
11. Media
---
We cannot assure you that Windows can run any file format anyway. There are lots of files formats that are not supported on Windows, not even on Chromebook. But you can download codecs to play those files on your Microsoft-powered PC. So, for Windows PC, media is not a problem for sure.
On Chromebooks, you can easily run file formats like mp4, m4v, mp3, Mkv, 3gp, avi, mov, ogv, ogm, WebM, etc. But it doesn't support files with .aac or iTune. Additionally, it cannot plat web video with .h264 files as well. Besides, it doesn't support tiff image files too. So, for Chromebook, there are a lot of limitations in terms of media file support.
12. Battery
---
A heavy processor, SSD, hard drive, and video card all of these require colossal energy. Usually, Chromebook consists of a very light operating system, and it doesn't have all those tools that will consume its battery life. Thus one can enjoy working a full day with Chromebook.
On the other hand, a Laptop or MacBook holds on to the battery charge all day long. But it consumes all the battery power while gaming or photo editing. Normally, it needs more charge than Chromebook, and especially the powerful hardware of windows laptops requires it to change frequently.
So, these are the basic points where we can enjoy a battle of Chromebook vs Laptop. As we see, the Windows laptop wins in most of the points in the battle. So, if you are planning to go for a Chromebook, you should give it a second thought. Remember the following points as the drawbacks of a Chromebook where Windows got a better performance.
Chromebook cannot operate any other operating system without Chrome OS.
Google Chrome is the only browser Chromebook supports.
Chromebook doesn't have huge built-in storage. It relies on cloud storage mostly.
Only the applications from Chrome web store and Android playstore are available for Chromebook. Now few Chromebooks do support Linux Apps.
Microsoft Office, Direct access to the printer, and a few essential media are not available for Chromebook users.
Chromebook cannot be the best option for gamers.
If the following issues bother you, there is no reason; you should try a Chromebook. But if they just don't matter, you can get benefitted in some other sections. First of all, Chromebooks are relatively cheaper and good for the web experience. Additionally, the Chrome web store is full of useful applications, and almost all the Android apps are also supported here. Because of the use of cloud storage, it is even more secure.
However,  About Windows, you must have a better idea. So, make your decision wisely. I am pretty sure that the battle of Chromebook vs Laptop helps you understand the differences properly.
Finally, Insights
---
In the end, we must take sides for Windows laptops in the battle Chromebook vs Laptop. Undoubtedly, Laptop offers more access to strong software and programs. You will have more facilities in the hardware section and will definitely get a lot of options to choose from.
On the other hand, Chromebook is the newer integration and has a long way to go in development. So, if you are not buying it for professional purposes, you can go for a Chromebook. It is cheaper and will give a similar vibe to Laptop. Chromebook is the best for students mostly.
If you are buying it for purposes of video editing, handling different projects, gaming, and official jobs, you better try out a laptop with a better configuration. Hopefully, you have got your point still if you have a question about the fact Chrome OS vs Windows OS or MacOS.