A smartphone has numerous functions when type is one of the most used ones. When the typing function is not customizable, handy, and convenient, you won't feel better with the device anyway. However, any iOS device has a stock keyboard that is too normal to have a better typing experience. You may not like the usual theme and the other functions like fonts, size, color, etc. To avoid this problem, you can just install the best keyboard apps for your iPhone. Most of the highly customizable keyboard apps come with a complete pack of alterations, and you will love to customize your typing board on your device. However, if you are interested to learn about them, just check out the best apps right below.
Best Keyboard Apps for iPhone You Can Try
---
We checked a lot of keyboard apps from AppStore, and we have a mixed experience if we say it honestly. Some apps are too perfect for any of you, while some are not as good as trash. So, if you just install a random app from AppStore, there is a big possibility to get the one with no good.
And it will be more disappointing when you pay for it not knowing about its poor functions. However, we handpicked the best we got and reviewed these apps from our first-hand experience. That's why we can guarantee you a satisfying typing experience with any of these best-ever keyboard apps.
1. Microsoft SwiftKey Keyboard
---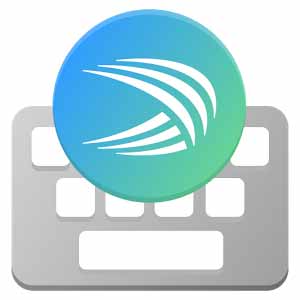 The very first one I would love to recommend is the one from Microsoft. There is no doubt that you are familiar with the name, and for sure, you will love to use their keyboard app, Microsoft SwiftKey Keyboard. However, the best part of this keyboard is its versatility.
The interface of this app is very simple, and there is no excessiveness here. You can set any background picture you want, and even you can set your own image. Additionally, you can use it for typing different languages too.
Important Features
You can use different fonts and colors of the letters on the keyboard.

The auto-correction system is here to detect and correct all your simple typing mistakes.

Intelligent technology is here to make typing easier and comfortable.

An expandable menu is here with tons of shortcuts.

Hundreds of funny GIFs and stickers are here for you to man funny conversation.
Pros: Emoji options are the best part of this keyboard with a built amount of emojis. Additionally, it has built-in themes to change the appearance of your keyboard.
Cons: Some users don't like the iPad version of this app.
Download
2. Gboard – the Google Keyboard
---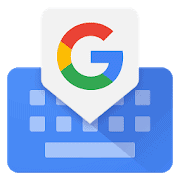 When it comes to the most familiar keyboard apps for iPhone, Gboard is worth mentioning. From a variety of themes for the background, you can choose your favorite one. This app will let you add your pictures as the background. With a few clicks, you can customize it with any picture from the gallery.
The keyboard will help you type faster, and it lets you create stickers with your own face reaction. While using this keyboard on the big screen of your tablet, you can simply pin the keyboard to the left or right side.
Important Features
The glide typing feature of this keyboard will let you type just by sliding from one letter to another.

You can simply transform all your cursive handwriting and printed letters.

It contains voice typing that is very simple to dictate.

Using the search feature, you can instantly look for quick emojis.

Funny and interactive gifs will express any reaction to share with friends and family.

This app lets you translate a sentence using Google Translate.
Pros: Multilingual support is the best part of this app, and it almost supports all the known languages on the earth. Additionally, different languages are supported in this keyboard, including Italian, Japanese, Korean, German, Chinese, etc.
Cons: There are some complaints that swipe-typing often gets the wrong words.
3. Custom Color Keyboards
---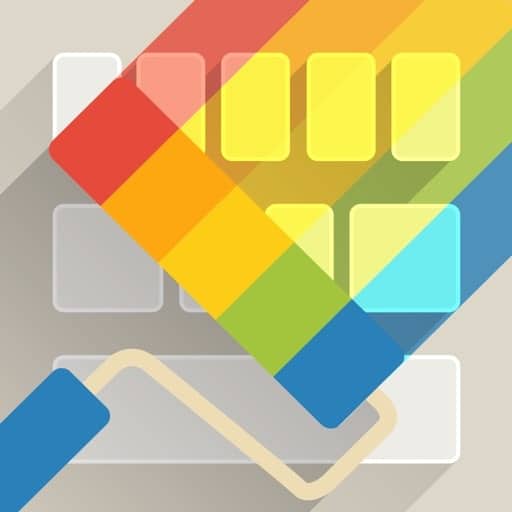 More than the usual service is provided at Custom Color Keyboards from Pixel Mafia LLC. With a color burst in your iPhone, the app comes totally for free. The most interesting part is the customization of this app. It allows customization in details. You can choose gradient, solid color, or texture for the background. Using your own picture as a background is also possible. Although, it has other facilities like autocorrect, emojis, and GIFs too.
Important Features
You can explore hundreds of themes and keyboard skins here.

In this app, you can earn coins, and initially, you can use them to unlock new interesting themes.

A lot of key styles and fonts are available with different color-picking options.

For replying instantly, you have quick messages in this app.

The color palettes are customizable with your picked colors.

The design of the keyboard is simple so that you will feel easy to use.
Pros: Here, you can rotate the cursors. Besides, you can change the color of the buttons and borders as well.
Cons: The placement of the letters is in slightly different places than the default keyboard, so you will need some time to get used to it.
4. Font App – Cool Fonts Keyboard
---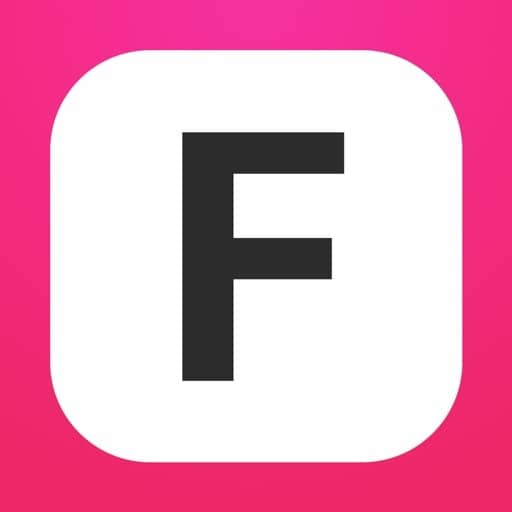 You can now upgrade your typing experience to the next level with an amazing keyboard app for your iPhone. You can try Font App to transform your usual text into a cool style. You will get different text symbols that you can apply in the bio of your profile.
You can even personalize your profile username, photo caption, tweets, status, and much more. You can customize the settings as per your preference. Font preview allows you to decide whether you like it or not. This keyboard will help your feelings in a better way.
Important Features
Up to 150 font styles are accessible from this keyboard.

More than 180 elegant themes are available to pick from.

This keyboard is initially compatible with any app on your device.

Here, you will get a huge collection of emotional text collections.

The user-friendly interface is flexible, easy to use, and provides an aesthetic look too.

For text-decoration, you can choose from a variety of icons, emojis, and more.
Pros: You can share GIFs with others right from this keyboard. Besides, you can make your social media profile look fancy using this app.
Cons: Some users complained that the app is too slow for online gaming.
5. Fonts Keyboard & Cool Art Font
---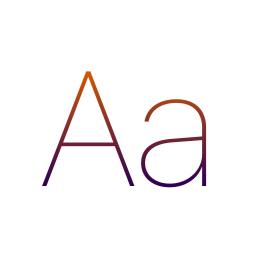 Impressive and stylish fonts are the most important features you will get in Fonts Keyboard & Cool Art Font. You can use this app anytime and anywhere. With this app, you can send text messages, chat, and comments on social media, email, and more stuff. The fun and beautiful text styles and funny emojis are very handy. This is the simplest and fastest way to customize fonts. Furthermore, you can preview before using any font on this keyboard.
Important Features
More than 50 fonts are available in this app, and you can select any of those.

The handy reverse tool initially allows you to type messages backward.

This app works in both portrait and landscape mode.

It supports iMessage, Facebook, WhatsApp, Instagram, Twitter, Kik, etc.

The emoji font is a fun addition to the regular keyboard.

You can write with circled letters, upside down, and so much more to do.
Pros: Each week, the app is updated, and it comes without any cost. Additionally, you can use this app on any of your favorite note-taking apps.
Cons: You need to grant full access to use this keyboard.
6. Grammarly – Keyboard & Editor
---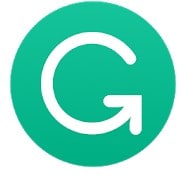 Several brilliant features are nowhere to find except Grammarly. For long reports or emails, this app can assist you effectively. It works with all the apps you have on your device. It is compatible with hardware keyboards too. A personal writing statistics facility can upgrade your writing for sure. Moreover, there is an additional document editor as well. Cloud-based document management makes it more convenient. Your privacy is not interrupted at all, and you can enjoy safe writing.
Important Features
This app will have a grammar checker to avoid any typing mistakes.

It provides recommendations for streamlining wordy sentences.

You will get suggestions to complete a sentence that is not clear.

A synonym finder helps you with vocabulary improvement.

Here, you have a tone detection feature for feedback on writing clarity.

Wrong words are replaced with smart autocorrect. In addition, the app has sophisticated spelling.
Pros: There is a tool to support multi-word text predictions. Also, you will have a search bar in this app.
Cons: The autocorrect isn't very accurate within this extension.
7. Emoji Keyboard for Texting
---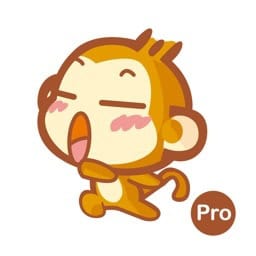 Some of us are true fans of emojis. If you are one of them, I am now grabbing your attention to introduce you to an amazing emoji keyboard app for iPhone. This keyboard basically comes with a vast collection of emoticons and Japanese emojis. Instead of regular letters, this keyboard comes with tons of emojis on the board.
So, when to chat with your friends, you can send emojis and faces to make a symbolic conversation. Still not impressed? Please check out the following details to make sure that you are searching for this app.
Important Features
Over thousands of Japanese emotions are initially available in this app.

More than 5000 Unicode characters will let you make symbolic conversations with your friends.

You can indeed use hundreds of kawaii faces and cute animation pictures as well.

With an extended search bar, you can find your favorite emojis within a second.

Both black-white and colorful emojis are available on this keyboard plate.

You can easily switch to this fun keyboard from a text keyboard from the keyboard setting option.
Pros: This keyboard app almost contains emojis of all the activities. Additionally, you will have multiple emojis, face symbols, and emoticons for a particular activity.
Cons: You won't comfortably type letters with many customization options with this app. It is suggested to use this app to change the settings and use it occasionally for fun.
8. Kika Keyboard for iPhone, iPad
---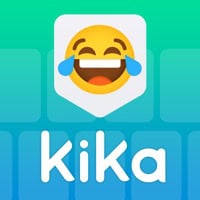 Kika Keyboard for iPhone comes with thousands of themes, And they are completely customizable. Here, you can personalize the keyboard size. Text background creates a nice combination with the fonts. It also lets you change the way your social media account looks. In the background, you can even add your own photos from the gallery.
You can also pick the sound and music of your choice for the keys. Besides, making your personalized avatar emoji using your picture will be more fun. Later, you can indeed unlock the quotes templates too.
Important Features
More than 150 languages are initially supported in this keyboard.

Over 100 kaomoji, themes, stickers, fonts, symbols are available.

The app can translate between 15 different languages here.

It works with iMessage, WhatsApp, Instagram, Snapchat, TikTok, and more.

Input engine indeed works with AI word association so that you can quickly fill in your thoughts.

There are about 200 fonts, and new text colors and fonts are added frequently.
Pros: Your communication is totally safe and secure with data encryption transmission. Also, if you participate in the mini-games, you can collect gems.
Cons: Sometimes, there are random autocorrects.
9. FancyKey – Keyboard Themes
---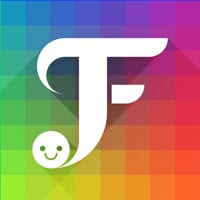 Developers of FancyKey managed to combine both useful and aesthetic features. And that's the reason for the vast popularity of this fancy keyboard app for your iPhone. It matches the user's personality, and you can design your own theme and mix several functions for a beautiful effect.
Along with English, you will get language support for Spanish, German, Portuguese, Turkish, Arabic, and so many more. Furthermore, the keyboard will comply with typing behaviors and layouts of the default keyboard too.
Important Features
About 50 integrated themes and more themes are added regularly.

More than 100 cool fonts are here, and you can select any.

Advanced auto-correct engines will also provide text suggestions.

Fun emoticons and emojis will spice up your conversation.

With a single tap, you can specially design emoji compositions using Emoji Art Keyboard.

Here you will get support for one-handed mode and swipe cursor.
Pros: In system settings, you can create shortcuts for a function. Additionally, you can turn on or off the keyboard, clicking sound depending on whether you like it or not.
Cons: You can turn the clicking noise off, but you can not change it to the default clicking noise.
Download
10. Neon LED Keyboard – Glow Keyboards for iPhone with Colorful Themes and Fonts
---
What if your keyboard glows? Neon LED Keyboard can do that magic in your device. Well, this one will conclude the list for today and so, check it twice. The fascinating key styles can add more fun with colorful text fonts. In addition to the smooth app interface, you can type faster. The premium version lets you unlock additional backgrounds as well. You should definitely try out these creative and decorative themes on your iPhone.
Important Features
A variety of neon lights are available, and you can pick any of them.

The design, colors, symbols, and styles will glow in the dark.

Auto-correction of words and predictive text gives you a better typing experience.

Countless emojis, emoticons, symbols, and more are here to express your feelings better.

You can add a new keyboard just by a long press on the language button.

Different sounds while tapping on the keys makes it more interesting.
Pros: The keyboard is shareable in social networks like Facebook, Instagram, Twitter, etc. Plus, there are stunning keyboard skins for retina display.
Cons: This app has no autocorrect option.
Our Recommendations
---
Basically, we aimed to pick the best keyboard apps for iPhones from a variety of types. I am sure you have already noticed the variations in the apps mentioned above. Hopefully, it will help you to choose a particular one easily. Still, if you are interested in learning about our suggestions, I would like to recommend Gboard and Microsoft SwiftKey if you have to type very often and for longer.
But if you prefer themes and fonts, you should go for Custom Color Keyboard or Neon LED Keyboard. For fun emojis, just try either Kika Keyboard or Emoji Keyboard. Now, you must find it easier to pick the appropriate one for you.
Finally, Insights
---
The keyboard is the most used part of a device as we have to make verbal messages, make conversation, take notes, search topics, and many more using it. So, a keyboard should be cool and customizable. And I am sure that any of these best keyboard Apps will provide you with an amazing experience in this case. So, share your favorite app with other viewers and help them choose one. Also, stay with us till we come with something new. Thank you.